Living one life was not enough … Los abrazos rotos [Broken Embraces]
Movie Review
By Jared Mobarak
Films opening this week:
Book of Eli - Maple Ridge; Market Arcade; Elmwood, Transit, Galleria, Quaker, Hollywood Regals; Flix - REVIEW
Broken Embraces - Eastern Hills Dipson
A Single Man - Amherst Dipson; Eastern Hills Dipson
The Spy Next Door - Maple Ridge; Market Arcade; Elmwood, Transit, Galleria, Quaker, Hollywood Regals; Flix

Growing up, there was only one thing on TV that I found more amateurish and unprofessional than soap operas—Spanish soap operas. The actors played their parts in such an over-the-top manner that the drama and the insanity was too much to bear for longer than a few minutes. It is my conception of Spanish soaps, though, that makes me see Pedro Almodóvar as the genius he is. His entire filmography shows characters striving or failing through the exaggerated lens of melodrama—and he turns that over-dramatic genre into deep, personal masterpieces. In this year's Los abrazos rotos [Broken Embraces], Almodóvar proves that age has done nothing to slow him down.

A common theme throughout his oeuvre is the woman in trouble. His heroines are usually played by whomever his muse is at the time—Penélope Cruz is still the reigning queen. (Why is she so underwhelming in English films? Almodóvar demonstrates that she is by far one of the best actresses working today.) His actresses always excel, whether in supporting roles, or front and center. Even though every piece of promotional material, including the stunning poster, features an image of her, Cruz is not the lead, but rather the driving force of the plot. Just as Almodóvar needs a beautiful Spanish actress, he also seems to need a handicap of some sort, adding even more emotional and dramatic edge to the story. Lluís Homar's Mateo Blanco/Harry Caine is a former film director who is now blind. The man he was, Mateo Blanco, died with his sight, relegating him to a screenwriter's role, never to see the celluloid again. Caine gets by well, reading his Braille, getting around town with his cane and help from strangers, writing with a young man named Diego, and still staying in the biz thanks to his agent Judit García. It is tough to decipher through his introduction where the film will be going—there are allusions to father/son relationships that do eventually play an important role—but once he discovers the death of businessman Ernesto Martel, the plot truly begins, drawing us into the intrigue, the movies, the sex, the love, and the betrayal.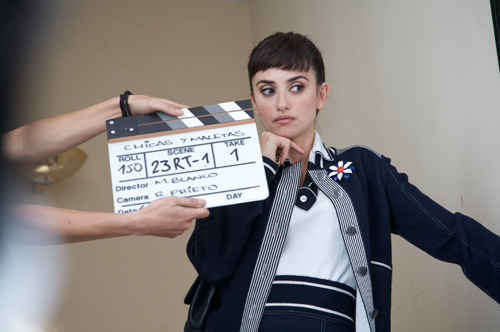 Through flashbacks, the audience soon discovers the relationship between Martel and Cruz's Lena, a boss and secretary who form a close bond while helping to cure her father of cancer. Caine's desk is filled with photos and memories he has shut away with his loss of sight. Diego looks in the drawer to find an image of a strange visitor who had just left, director Ray X. It is quickly revealed that Ray is in fact Martel's son and a past acquaintance of Caine's, soon shedding light on why the deceased man's name struck such a cord—there is also a photo of Lena hiding away amongst the images. This evokes a fourteen-year-old love triangle and a horrible tragedy that resulted. Caine has done his best to forget about his previous life, instead looking toward the future with Judit and Diego by his side. All it takes, though, is one visit from the past to stir up old feelings that can no longer stay in the shadows. Caine must tell Diego the story, not only to ease the boy's anger at his mother Judit for keeping it from him, but also to go back and relive his happiness—despite the pain endured.

By hopping between the past and present, Almodóvar shows the audience how the relationships between characters changed over the years. We see how close Judit and Caine are in the present, but also see the distance and jealousy of the past. We know of the difficult life Lena lived trying to break into acting, but also her jubilation when a real shot at success presented itself. As viewers, we infer and hypothesize what might have happened to change these connections, and some of these guesses prove correct. But the bonds between them all have a much deeper and darker hold than what we see on the surface. This is Pedro at his best—showing the constant tug between love and heartbreak, and how one cannot exist without the other.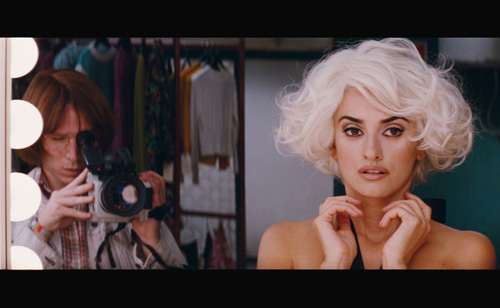 Maybe Almodóvar is successful with melodrama because he can afford to hire much more talented actors than the soaps provide.Cruz is beautiful and vulnerable, the epitome of a broken person desperately trying to be whole for once in her life. Homar is magnificent in his dual roles: Mateo's zest/Caine's weighty despair. And Blanca Portillo shows her range as the friend/possible lover watching as Mateo/Caine morphs between personas, all the while knowing the part she played in the transformation. Everyone, including José Luis Gómez as Martel, Rubén Ochandiano as Ray X, and Tamar Novas as Diego bring a sense of realism to the film. In a welcome touch of of humor, the movie being shot by Mateo and Lena is a comedy, an interesting juxtaposition with all the tragedy going on behind the scenes. Almodóvar weaves it all together perfectly.

Los abrazos rotos [Broken Embraces] 9/10

photography:
Courtesy of the Toronto International Film Festival.