Movie Review: Inception
By Jared Mobarak
Films opening this week:
Coco Chanel & Igor Stravinsky - Amherst Dipson
Cyrus - Amherst Dipson; Eastern Hills Dipson
I Am Love - North Park Dipson - REVIEW
Inception - Maple Ridge; Amherst Dipson; Market Arcade; Elmwood, Transit, Galleria, Hollywood, Quaker Regals; Flix; Transit Drive-In
The Socerer's Aprentice - Maple Ridge; Market Arcade; Elmwood, Transit, Galleria, Hollywood Regals; McKinley Mall Dipson; Flix; Transit Drive-In

Batman Begins and The Dark Knight both demonstrated Christopher Nolan's skill at telling a riveting dramatic story.. But what really sets this auteur on another level is his vision, imagination, and intellectual gravitas.
Picking up where the career-making Memento left off, Nolan's new film, Inception, asks what if people had the ability to go inside our dreams, infiltrating and orchestrating every move we make to discover shrouded morsels of information? What if there were trained extractors who create worlds to mirror reality—able to change it to their needs—and they brought you unknowingly inside? Without defenses, without the knowledge to build walls or set filters, we'd be sitting ducks willing to say whatever these puppet masters require.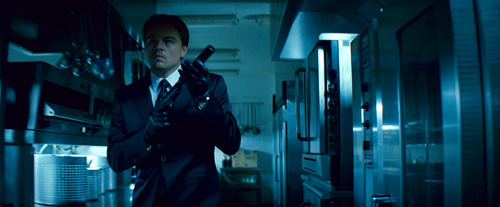 And if we were to believe that a planted thought was our own, it could not only reshape our entire course of self-existence—it could potentially be our very undoing. This is where Christopher Nolan has engineered his own sci-fi dream world, created the rules behind it, and woven in a mystery.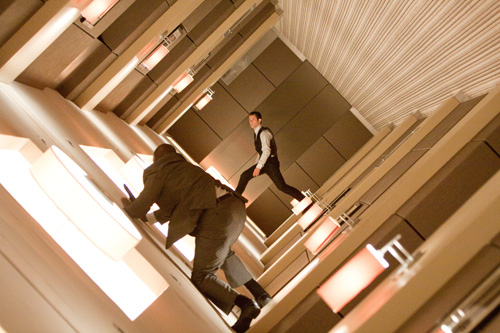 Nolan's biggest success is his capacity to explain everything simply, not only allowing us to understand what's happening, but to enter the world as though we knew it all along. Rather than lecture the physics of an infinite loop, for example, he creates a working example—pretty much a manufactured version of MC Escher's staircases from Relativity.
The character of Ariadne (Ellen Page), a young architect, is our entry point into the entire extraction process. Tom Hardy lends his sarcastic wit to Eames, the chameleon capable of becoming whomever necessary to disarm a subject. Ken Watanabe's Saito is a shrewd businessman willing to learn the new technology and even partake in the fun. And Joseph Gordon-Levitt's Arthur is the voice of reason as well as the stoic warrior of strength and intellect, working on the fly to allow all to run smoothly—if that's even possible. But it is Leonardo DiCaprio's Cobb and Marion Cotillard's Mal who are the driving force behind the story. The two greatest architects the world has ever seen, Cobb and Mal are the one's to have uncovered the dream's brightest jubilations and its darkest dangers.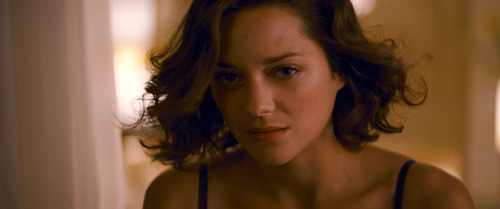 Nolan asks the audience to ask itself: whether we believe what we think is real is just a lie or not; if we believe we are truly happy and in love, should we care? Ask yourself this question when the screen cuts to black, lingering on a final image full of meaning and profound answers.

Inception 10/10

photography:
[1] LEONARDO DiCAPRIO as Cobb in Warner Bros. Pictures' and Legendary Pictures' sci-fi action film "INCEPTION," a Warner Bros. Pictures release. Photo courtesy of Warner Bros. Pictures
[2] JOSEPH GORDON-LEVITT as Arthur in Warner Bros. Pictures' and Legendary Pictures' sci-fi action film "INCEPTION," a Warner Bros. Pictures release. Photo by Stephen Vaughan
[3] MARION COTILLARD as Mal in Warner Bros. Pictures' and Legendary Pictures' sci-fi action film "INCEPTION," a Warner Bros. Pictures release. Photo courtesy of Warner Bros. Pictures