Movie Review: Just Wright
By Jared Mobarak
Films opening this week:
Just Wright - Maple Ridge; Market Arcade; McKinley Mall; Transit, Elmwood, Galleria, Hollywood Regals; Flix
Letters to Juliet - Maple Ridge; Amherst Dipson; McKinley Mall; Transit, Elmwood, Galleria, Hollywood Regals; Flix; Transit Drive-In
Mid-August Lunch - Amherst Dipson
Robin Hood - Maple Ridge; Market Arcade; Transit, Elmwood, Galleria, Hollywood Regals; Flix - REVIEW
The Secret of Kells - Eastern Hills Dipson - REVIEW
It is a pleasure to see Queen Latifah in a starring role. I often forget her knack of acting naturally and ability to charm her way across the screen when she's stuck in thankless parts like the ones she had in Valentine's Day or Stranger Than Fiction.
Latifah is the shining light in Just Wright, an otherwise predictable new entry to the romantic comedy genre. Writer Michael Elliot and director Sanaa Hamri began their careers with safe projects just like this one, although now they're targeting adults, unlike past kid-friendly fare such as Like Mike and Sisterhood of the Traveling Pants 2, respectively. If you look past the contrivances and abundance of romantic triangles involving best friends clichés, however, there is an enjoyable experience at the movies underneath.

The love interest involved is the NBA's best player, New Jersey Net Scott McKnight, who, playing against clichés, is an intelligent, down-to-earth jazz fan. Ever the gentleman, he has risen from the city courts and absent father (Phylicia Rashad plays his mom) to form a lucrative career. McKnight drives his own car, pumps his own gas—if he can find the tank—and always says "bless you" when someone sneezes. (That tidbit was displayed a bit heavy-handedly). He even admits to enjoying Joni Mitchell.
The biggest surprise, though, is that this guy is played by Common, a star we usually see kicking butt and walking the streets with a chip on his shoulder. He isn't bad as McKnight, but he may lack some of the range necessary to pull off such a substantive leading man persona.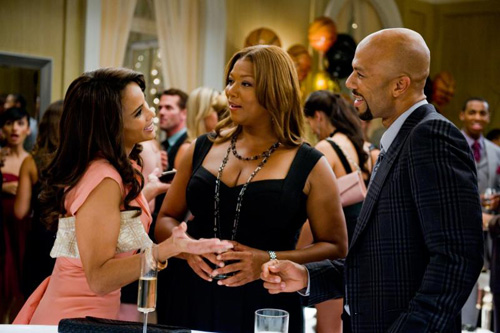 Radiant Paula Patton is Morgan Alexander, a by-the-numbers gold-digger from frame one. She refuses to eat in public, wears full make-up and expensive dresses to attend a basketball game in the nosebleeds, and even pretends she volunteers with sick children to get her man. Her introduction to McKnight at his birthday party is absolutely priceless, played to perfection as she ignores him and tells Latifah's Leslie that she just got a call and needs to go. She could have remained this shallow, empty shell of a person for the duration—and it does appear she will—but don't count her out.

The simple ambition of Just Wright is getting Latifah into the arms of the man-candy basketball star, and they do a creditable job. The chemistry is palpable from the start, and Latifah's Leslie always puts the needs of others ahead of her own happiness, but
knows what she wants, and can disarm any man into being comfortable and giggly around her.



As a result, you pull for this against-all-odds relationship to work out. However, while the romance and shattered emotions depicted here are as authentic as you could hope, the basketball is not—it is rushed, and cut awkwardly, causing the viewer to go along for the ride without daring to ask questions.
Questions? Yes, there are many. Why would they fire the successful physical therapist assigned to work with McKnight so quickly? His well-established career on the line, yet in comes Latifah—without any experience working on a professional athlete—and no one bats an eye? And how about the weirdest last-second, game-winning shot ever put to film?
I know, I know, it's not about basketball—I hope you don't want to know who wins the championship, since you never find out—it's about romance. I'm just not quite sure they are as mutually exclusive as Hamri would have us believe. At least Laitfah and company do their best to get the love part right.

Just Wright 5/10

photography:
[1] L to R: Paula Patton, Queen Latifah and Common in JUST WRIGHT (Photo by David Lee)
[2] Common as Scott McKnight in JUST WRIGHT (Photo by David Lee)