Movie Review: Please Give
By Jared Mobarak
Films opening this week:
The Girl on the Train - select times and dates at HD Video Cafe and The Screening Room
Jonah Hex - Maple Ridge; Market Arcade; McKinley Mall Dipson; Transit, Elmwood, Galleria, Hollywood Regals; Flix; Transit Drive-In
Please Give - Amherst Dipson
Toy Story 3 - Maple Ridge; Market Arcade; Transit (IMAX also), Elmwood, Galleria, Hollywood, Quaker Regals; Flix; Transit Drive-In

I had never seen a film by writer/director Nicole Holofcener until her newest work, Please Give, but now I understand why her past films were so acclaimed. I must say, though, that I did not expect the bevy of breasts that appeared during the opening credits. Breast after breast took center frame, in close-up, awaiting the mammogram machine in front of them. It's definitely an attention-grabber, the clinical assembly line of lead Rebecca Hall's day job flashing between the black and white text frames. She is doing what she can to save lives, and giving of herself both when on the clock and off it.

The title Please Give holds multiple meanings. There are familial bonds, gifts of charity, hopes of finding the time to volunteer, expressing one's love in extramarital ways, introducing two kindred spirits together, or being there for a neighbor in times of need when one's own family walks away. Examples expressing this title are all around, with each character pleading to those in their lives to show them some semblance of the gratitude that has remained hidden for too long.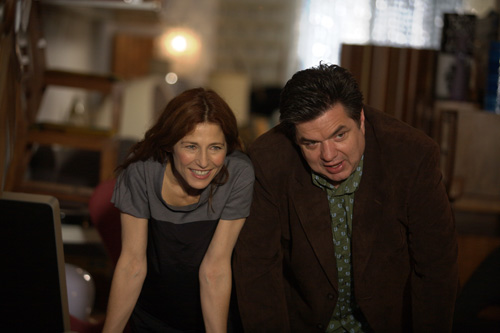 Leading the way are the respective matriarchs of the two families at the center of the film: Catherine Keener's Kate and Hall's Rebecca. Both performances are astonishing, and show how good these two actors truly are. Keener is a vintage furniture seller, and with her husband Alex (Oliver Platt) is coping with a recent crisis of conscience. Having nabbed the apartment of elderly neighbor Andra and practically stealing antiques from the children of deceased parents, she tries to assuage her guilt by donating her money to any person on the street, giving all she has to strangers—but standing firm on the subject of not buying her young daughter Abby (Sarah Steele) a $200 pair of jeans.

Andra's granddaughters are Rebecca and Amanda Peet's Mary. Mary is a selfish brat who has built a shield of sarcasm and cynicism to protect her from the pain she found at too young an age. This attitude only pushes Rebecca further into the role of caretaker. As Please Give progresses, we see abandonment, adultery, and the sticky subject of how some can be busy volunteering and giving to charity while family members are treated poorly and neglected like complete strangers—traits seen in both woman's lives.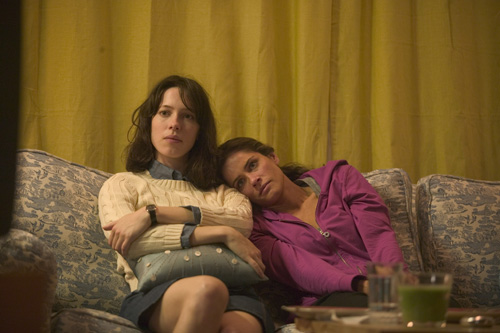 Holofcener has crafted a tale of humanity at its purest, with every blemish brought to the surface for all to see. The film's honesty and authenticity in dealing with family relationships brings laughter along with the heartache. The inevitable death of the elderly neighbor Andra—wonderfully portrayed by Ann Morgan Guilbert—hovers above each event that takes place, and it makes for some uncomfortable but darkly funny moments. Elements like this make Please Give a powerful document of life's painful tragedies, and also of the importance in carrying on.

Please Give 8/10

photography:
[1] Left to Right: Catherine Keener as Kate, Oliver Platt as Alex Photo taken by Piotr Redlinski © 2008, Property of Sony Pictures Classics
[2] Left to Right: Rebecca Hall as Rebecca, Amanda Peet as Mary Photo taken by Piotr Redlinski © 2008, Property of Sony Pictures Classics