Movie Review: The Back-up Plan
By Jared Mobarak
Films opening this week:
The Back-up Plan - Maple Ridge; Market Arcade; Elmwood, Transit, Galleria, Quaker, Hollywood Regals; Flix
The Joneses - Amherst Dipson
The Losers - Maple Ridge; Market Arcade; Elmwood, Transit, Galleria, Quaker, Hollywood Regals; Flix; Transit Drive-In

Over the years Jennifer Lopez has been involved in some undeniably strong films. I'm talking Out of Sight, U-Turn, and The Cell—movies that have a dark edge to them and stay far, far away from the romantic comedy genre. So let's just say I had zero expectations going into her newest entry, CBS Films' sophomore effort, The Back-up Plan. I'll admit to wanting to be anywhere else but in that theater, but the fact that I began to warm up to the characters and their stories has to count for something.

For all intents and purposes, this is a generic rom-com: boy meets girl, love is found and then torn apart, and eventually, the couple has an opportunity to start over. But it does have something a little different in its make-up—this couple is having a baby together, even though they're on just their third date. Here is a successful businesswoman looking to begin a new chapter in her life—willing to do it alone—and along comes a man who has lived a charmed life. He's just getting around to college, and is unsure if children are in his future. These two characters are therefore more complex than just sexual beings who will inevitably fall for each other and live happily ever after.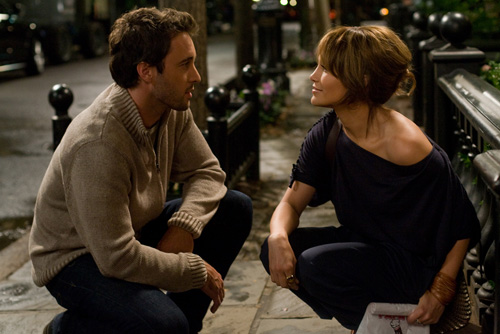 Lopez is actually quite effective, bringing a nice mix of feminine vulnerability and strength. You constantly see that no matter how involved her Zoe gets with Stan, the baby is first and foremost on her mind. This isn't some television personality or high-pressured attorney role; she is the kind of girl you can meet at a farmers' market or in a cab. And as far as Stan goes, Alex O'Loughlin is pretty great as the dorkily romantic goat farmer and cheese creator with a keen sense of his own ego. It's a role that easily could have gone too far into caricature, but to the actor's credit, it does no.

To keep things light and humorous in a rom-com like this one, a cast of eccentrically crazy supporting characters is a must. The Back-up Plan has them in spades: the dry-humored gynecologist unafraid to say "vagina" in order to scare Stan; a handicapped dog in a wheelchair that is prone to falling over sideways; an overtly bubbly Single Moms and Proud group leader played by Melissa McCarthy; a kindred spirit to Stan in Anthony Anderson's playground father, teaching him the way of raising children—"it's awful, awful, awful, awful, and then something special happens … and it's back to awful"; and Zoe's own best friend (Michaela Watkins) whose profanity-laced rants about motherhood are all well-executed.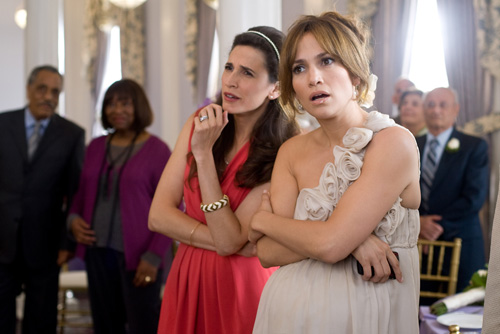 Director Alan Poul has made a career working on some well-received HBO shows, and it shows with a strong style and a few brilliantly orchestrated comic sequences that make a film such as this worthwhile for a guy who'd much rather stay home watching sports on TV. Just don't tell anyone I said that.

The Back-up Plan 6/10

photography:
[1] Alex O'Loughlin (as "Stan") and Jennifer Lopez (as "Zoe") in CBS Films' THE BACK-UP PLAN © CBS Films, Inc. All Rights Reserved.
[2] Michaela Watkins (as Mona) and Jennifer Lopez (as Zoe) in CBS Films' THE BACK-UP PLAN © CBS Films, Inc. All Rights Reserved.