The 360 | 365 George Eastman House Film festival
By Jared Mobarak
The night may have ended in a rainstorm, but you wouldn't know it looking at the sold-out crowd attending the inaugural 360 | 365 George Eastman House Film Festival. Formerly known as the High Falls Film Festival, 2010 marks its first year partnering with the prestigious George Eastman House—where film was born—to infuse an injection of archival titles and restored masterpieces along with some new releases. The brainchild of filmic trio Linda Maroney (filmmaker), Jim Healy (Eastman curator), and Jack Garner (critic), tonight's festivities were just the beginning of what has shaped up to be an impressive lineup of films, guests, and parties. I only wish I didn't have to drive home right after the premiere film.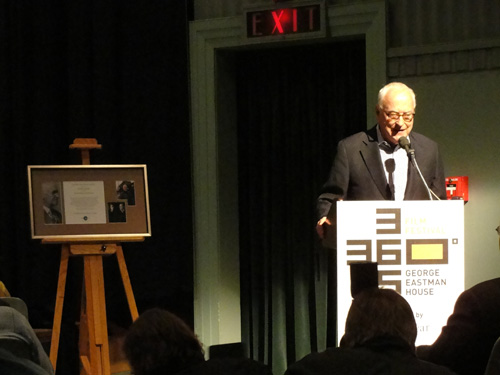 Photo: James Ivory being presented his George Eastman Honorary Scholar plaque.
Since the Eastman House recently took over archival duties for the Merchant Ivory collection, it was only fitting to start things off by bestowing the title of George Eastman Honorary Scholar on James Ivory before screening his newest work, The City of Your Final Destination. Giving the legendary director what he called his first standing ovation was certainly justified, since the work he put onscreen was superb. It's a film that has been many years in the making—locations were actually scouted for in 2004, while Ismail Merchant was still alive—including money woes during post-production, but it was all worth it. Ending the night with a lengthy Q&A illuminated more tidbits about the prolific man, raising the bar for all subsequent screenings to equal the level of enjoyment and professionalism demonstrated here.

That is just the tip of the iceberg, though, with more can't-miss events on tap. Honored Guest Thelma Schoonmaker, Oscar-winning editor and collaborator of Martin Scorsese, will receive the Susan B. Anthony "Failure is Impossible" award before presenting a newly restored print of her late husband Michael Powell's The Red Shoes on Saturday, while the festival also sees regional debut screenings of the Oscar-nominated animated feature The Secret of Kells (5/8), Michael Caine's Harry Brown (5/9), and Tilda Swinton's I Am Love (5/9). And closing out the week will be the premiere of the 1920 silent film adaptation of Huckleberry Finn. With a total of eighty-seven films from twenty countries, there is something for everyone to enjoy, and it's only a short hour's drive away.
Bills great Jim Kelly even supports the festival with his Fifth Year Productions, and you should too. Screenings continue through Sunday, May 10. Tickets are on sale at the festival website as well as Spot Coffee at 200 East Ave.
360 | 365 George Eastman House Film Festival
May 5-10, 2010
Screenings held at the Dryden Theatre at George Eastman House, 900 East Ave. and the Little Theatre, 240 East Ave.
For more information and a schedule of films, please visit film360365.com.