You sweet angel of the lavatory … Youth in Revolt
Movie Review
By Jared Mobarak
Films opening this week:
Daybreakers - Market Arcade; McKinley Dipson; Elmwood, Transit, Galleria, Hollywood Regals; Flix - Review
The Imaginarium of Doctor Parnassus - Amherst Dipson; Transit Regal
Leap Year - Maple Ridge; Elmwood, Transit, Galleria, Hollywood, Quaker Regals; Flix
Youth in Revolt - Elmwood, Transit, Galleria, Hollywood, Quaker Regals; Flix

Never underestimate the drawing power of Michael Cera. This kid is the most awkward-looking and acting actor on the planet, and seems destined to be relegated to one-trick pony status, unless he stops letting himself be typecast. But my goodness, does he have comedic appeal. The screening I attended for Youth in Revolt was sold out almost an hour in advance, something unheard of and worthy of mention. You'd think people would be sick of him by now—I know I am—but the glimmer of hope that his character Nick's alternate persona (Francois) could grow some hair on the chest of his boyish innocence was too strong to resist. And you won't be disappointed in that department; Cera's creepy wide eyes, prepubescent moustache, and uninhibited actions are a laugh riot. Unfortunately, too much of his nerdiness still comes through the façade of cool. Still, it's not enough to make this otherwise pretentiously dialogued, long-winded tale devoid of merit—it's worth seeing.

Miguel Arteta has had his hand in creating some very good subtle comedy, often pairing with talented actor-writer Mike White. Arteta was behind the camera on The Good Girl and a brilliant short film Are You the Favorite Person of Anybody?, not to mention some episodes of the dramedy "Six Feet Under". So he knows how to get laughs while keeping a film poignant and reserved. His involvment with Revolt was a bit surprising to me, especially since the trailers billed it as an uproarious comedy with "that dude from The Hangover." (Hate to break it to you, but Zach Galifianakis is only onscreen for about ten minutes). However, the film turns out to be a nice hybrid of styles. It's the most purposeful comedy he's done, but it still retains indie sensibilities and artistic flourishes. I tolerated the overzealous use of slow-motion, especially since it's utilized so cautiously. And I actually enjoyed the charmingly crude animation sequences, as well as the humorous technique putting both Ceras in frame together.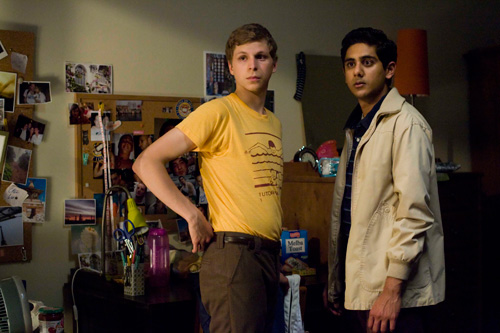 The plot concerns a soft-spoken, way-too-nice sixteen-year old, Nick. He meets Portia Doubleday's Sheeni Saunders, a girl cut from the same cloth as he—she's in love with the French New Wave while he adores Italian cinema; she plays Serge Gainsbourg records to his Frank Sinatra. Even their parents are similar, as their children are aliens to them; Nick's are borderline trailer trash and Sheeni's are religious kooks. But, while their delicate tastes are congruent, their lifestyles are not. Sheeni wants an adventurous future with a man of confidence and strength, two things any Cera character is lacking. Francois Dillinger, on the other hand, is the man Nick never had the guts to be, an unruly juvenile delinquent and sexual deviant.

I really liked the supporting cast going along for the ride, despite their limited involvement. Jean Smart has been playing the unbalanced, aging beauty queen to perfection for years now; Steve Buscemi is the ideal loudmouth, hard-nosed parental figure; and Fred Willard has a voice made for comedy. Adhir Kalyan is starting to make a name for himself of late, here playing a Brit and kindred spirit of Nick's; Erik Knudsen, as our lead's best friend, Lefty, is a perfect awkward obsessive; and it's always great seeing M. Emmet Walsh in front of the camera. As for our leading lady, I thought Doubleday did a fine job pulling off a wiser-than-her-years' attitude. Her muse behind the destruction is definitely worth the effort.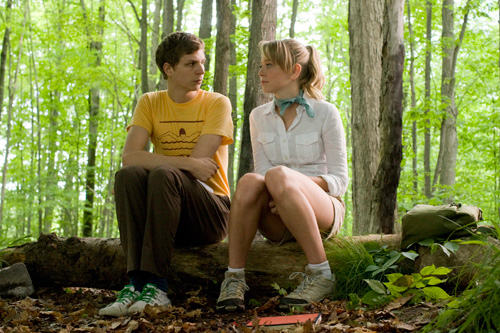 And that brings us to the indispensable work of one Michael Cera. It never ceases to amaze that he can play the same role over and over again, but this time he does it so well that you forget you've seen it before. No one can deliver these lines with better timing or sarcastic wit. It also doesn't hurt that he is so natural in his actions and expressions (oddly crossed forearms or goofy arm-flailing when running). Just the way he smokes his cigarette, putting it to his mouth cupped in his palm and then out again, gripped between his ring and pinkie finger, is mesmerizing. Cera's imagined miscreant is my new hero.

Youth in Revolt 7/10

photography:
Courtesy of the Toronto International Film Festival