When filming on A Quiet Place Part II took place in locations throughout Western New York in summer 2019, local crewmembers, actors and extras, media, and film fans rejoiced loudly. It was not the first time Hollywood came to town, of course, but rarely had a production so completely embraced the community. Director/actor John Krasinski and wife Emily Blunt practically became honorary Buffalonians. The occurrence was the culmination of years of hard work from the Buffalo Niagara Film Commission and scores of hard-working WNYers. 
The film was dated for release on March 20, 2020. Then the world was upended by a different kind of monster. Cinemas went quiet, and Buffalo was forced to wait for its moment in the sun. A planned September 2020 release came and went. However, the film was finally released in May 2021 to rave reviews, tremendous box office, and lots of praise from the locals who saw themselves and their hometowns on-screen. 
It was a strange, fascinating, ultimately successful journey. Here is a brief, not-entirely-thorough timeline of the creation and release of A Quiet Place Part II.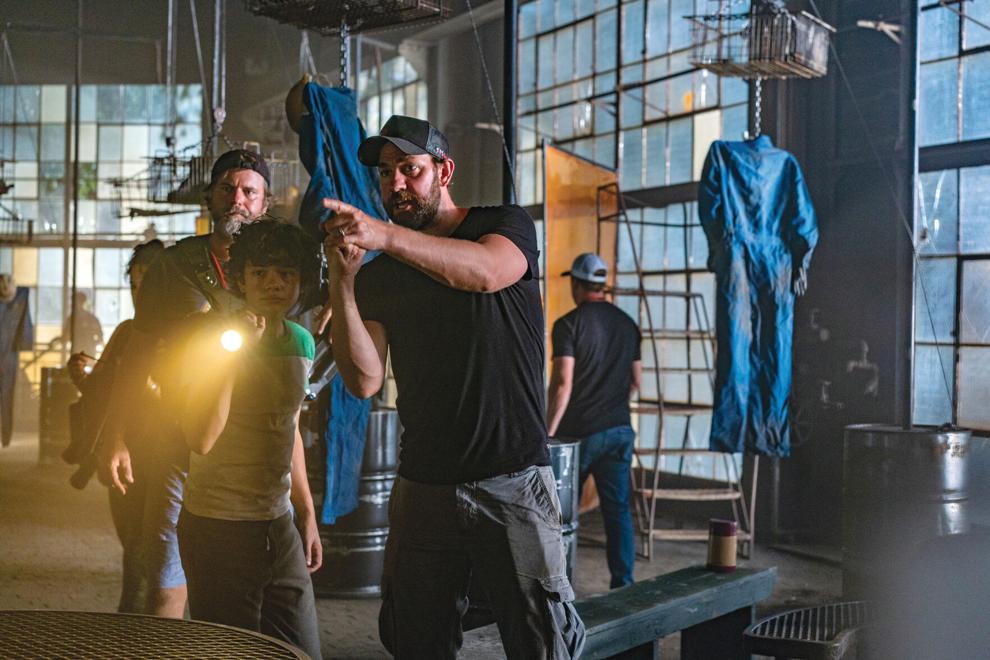 April 2018: Krasinski's A Quiet Place, a horror film about a family's struggle to silently survive in a post-apocalyptic landscape teeming with monsters ready to strike at any sound, opens. The film is a worldwide smash. 
May 2018: Paramount Pictures announces a sequel.
February 2019: Krasinski is officially confirmed to return as director. 
 April 2019: Krasinski is spotted scouting locations in Akron and elsewhere, causing a social media stir. There will be many enjoyable AQP-related social media stirs in the months to come. 
June 2019: A call goes out for local extras ages eighteen or older.
July 2019: Production begins in Olcott, before moving to Akron. In one of many delightful social media photos featuring Krasinski and company, the director and Blunt are pictured on Instagram with Newstead Public Library Director Kristine Sutton "at a Meet and Greet in Newstead."  Another key shooting location is the Grand Island Bridge, while additional scenes are shot in Orchard Park, North Tonawanda, Dunkirk, and Chautauqua County. 
September 2019: Shooting wraps; Krasinski tweets a photo of himself and Blunt with the caption, "Well... that's a wrap on #PartII See you on March 20th!"
December 2019: The film's first teaser trailer is released, while a full trailer follows in January. 
February 2020: A final trailer debuts during the Super Bowl in February, and tickets go on sale in advance of its planned March release. 
March 2020: In a feature for the April Spree (written pre-COVID-19), writer Joseph DiDomizio discusses the film's production, and its impact on WNY: "A Quiet Place Part II is a studio film, and its production scale has brought a higher profile to the area, with plenty of local job opportunities, and a boost to the economy that may have changed the landscape for filmmaking in Western New York." In the piece, Buffalo Niagara Film Commissioner Tim Clark estimates the economic impact of the production to be almost $4 million, including about 250 local people hired, nearly 12,000 hotel room nights booked, plus 2,700 additional nights at other rental properties. 
Then comes the pandemic. On March 12, Krasinski tweets the following announcement: "One of the things I'm most proud of is that people have said our movie is one you have to see all together. Well due to the ever-changing circumstances of what's now going on around us, now is clearly not the right time to do that. As insanely excited as we all are for you to see this movie, I'm going to wait to release the film until we can all see it together. So here's to our group movie date. See you soon!" The release moves to September 4, 2020, then April 23, 2021. It moves again to September 17, before moving back to May 28.
May 2021: Finally, on the 28th of May, A Quiet Place Part II opens in North America. As Barbara O'Brien puts it in the Buffalo News, "Recognizing places such as Akron, Olcott, the Grand Island bridges, and the former Bethlehem Steel plant made the suspense all the more thrilling." Indeed, a significant part of the appeal for locals is spotting locations, glimpsing themselves, and, for extras, crew members, and set onlookers, thinking back to their brush with Hollywood. "For Akron residents, Thursday evening was about remembering the exciting time when they got to look behind the scenes when a movie came to town and you could glimpse movie stars walking down the street." The film opened to $58.5 million over the four-day Memorial Day weekend, the largest opening since before the pandemic.  
June 2021: Deadline announces that a third Quiet Place film is set for release on March 21, 2023. Krasinski is stepping out of the director's chair, instead turning to the talented Jeff Nichols (Mud, Take Shelter). The film is "not a threequel, but rather based on an idea from John Krasinski." Still, that could mean a return to Western New York … right? Fingers crossed. 
Oh, and how is the film itself? Surprisingly stellar. Why is it surprising? While the first film was enjoyably suspenseful, the nature of the story seemed difficult to continue effectively. However, it is a more expansive tale that is full of surprises. Blunt is as strong as she was in the first film, as are Millicent Simmonds and Noah Jupe as her determined but ever-stressed children. The greatest addition here is Cillian Murphy as a neighbor who reluctantly assists the family in their quest to stay alive. Featuring some stupendous parallel editing and killer jolts, A Quiet Place Part II is a fine film to herald the full-scale return to cinemas. The ultra-sudden ending is a bit of a letdown although it is no surprise, really, but seeing Western New York sights and people on-screen adds to the fun. 
If you still have not seen it, AQPII was set to debut on the Paramount+ streaming service in July. However, you kind of owe it yourselves to see it on the big screen. Watching it there is a satisfying conclusion to a long, twisty journey.