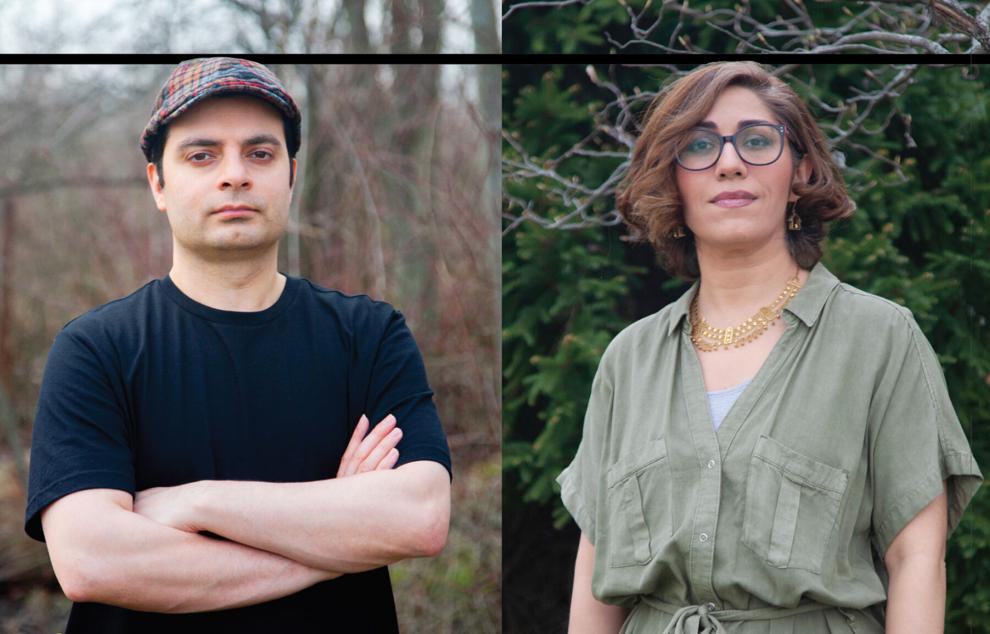 In Spree's April 2020 local film feature, writer Meg Knowles discussed a number of "exciting documentary film projects currently in production with an eye on both the promise and challenges of life in Western New York." A prime example was the work of the Buffalo Documentary Project. Founded in 2016 by husband-and-wife filmmakers Mani Mehrvarz and Maryam Muliaee, BDP has drawn worldwide acclaim. Originally from Iran, founding director Mehrvarz and art director/researcher/animator Muliaee recently earned PhDs from the University at Buffalo Department of Media Study.
A passion for storytelling led BDP to the Buffalo-based music collective Wooden Cities. This collaboration resulted in The Price of Oil, an animated effort based on the group's interpretation, and a new film, WORK, documenting the making of Wooden Cities' first full-length album. Influenced by documentaries like One More Time with Feeling, Andrew Dominik's account of the recording of Nick Cave and the Bad Seeds' Skeleton Tree, and D. A. Pennebaker's Original Cast Album: Company, the film features a mix of interviews, stop-motion animation, and still images. WORK can be watched in full, along with BDP's other efforts, on its website, buffalodocumentaryproject.com.
Here, Mehrvarz and Muliaee discuss their films, what drew them to Wooden Cities, and why Buffalo is such a fruitful home for artists.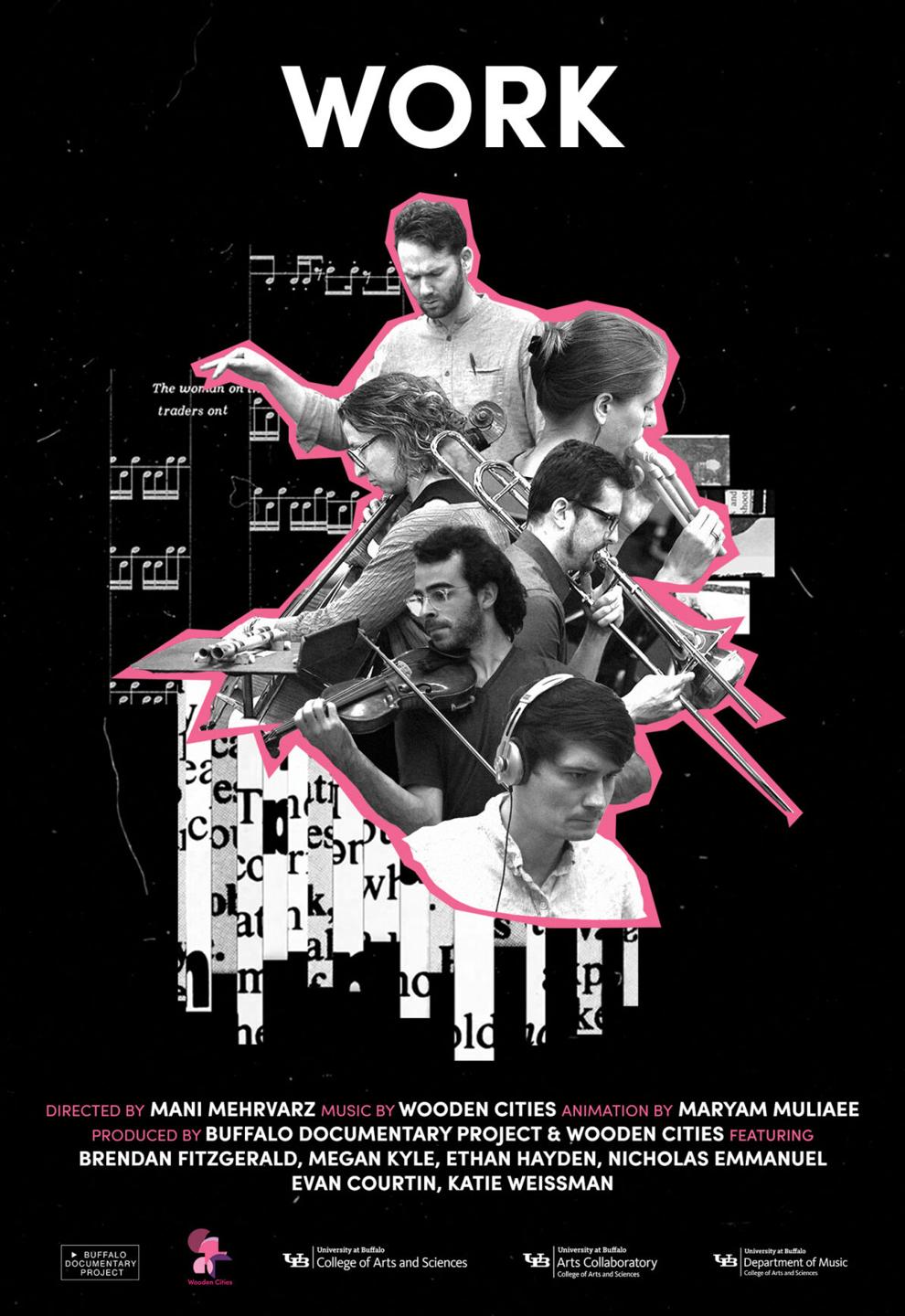 What was the impetus for creating the Buffalo Documentary Project?
Mani Mehrvarz: I founded BDP in 2016 partly because I have a passion to give voice to communities and individuals in Buffalo and WNY whose stories are not generally heard or told in mainstream industry. I am also interested in the relationship between oral history and documentary practice, how capturing individual narrators, personal memories, and lived experiences of a city can go beyond the established historical, official, and mainstream records to portray the city differently. I decided to produce/direct short documentaries to tell the untold stories of the City of Buffalo. So far, we have highlighted the city's architectural history [and] fading craftsmanship, and the marginalized voices, individuals, and communities whose work in various ways has contributed to the city's cultural growth and shaped its character on different levels.
What makes Buffalo a fruitful home base for your work?
Maryam Muliaee: Buffalo is a good city for artists to thrive, considering it has many sources of inspiration, from its unique architecture to its history of avant-garde art and experimental music. Also, it could be a great place for filmmakers to dedicate themselves to their passion and accomplish creative film projects. Buffalo has a deep history in media art and experimental film practice for more than fifty years. The pioneer artists and experimental video/filmmakers working here in this city in the early 1970s—Steina and Woody Vasulka, Tony Conrad, Hollis Frampton, Paul Sharits, Peter Weibel, James Blue—are some of our favorite artists, and their work has inspired our art practice as well. As a media artist-scholar, this was what motivated my decision to choose Buffalo and come to this city to pursue my PhD in UB's Department of Media Study, where these artists once worked and taught.
How did you first connect with Wooden Cities?
Mehrvarz: Before I first met Wooden Cities' director and associate director, Brendan Fitzgerald and Ethan Hayden, I worked with one of their team members on a different film project in 2018. In 2019, Brendan and Ethan contacted me to talk about their work and asked if I was interested in documenting the process of recording their first album, titled WORK. We met several times and discussed our shared objectives and work aesthetics. With Maryam, we began working on this film; over several sessions of filming, we did some interviews and documented their work. The main style and aesthetics for the film came out in the process of editing; we all experienced the joyful experimentation process. In our case, it led to shaping a twenty-minute animation for one of their pieces, The Price of Oil. 
The Price of Oil received worldwide acclaim. What made WORK a proper follow-up project? 
Mehrvarz: WORK presents a meeting point between experimental music and experimental film, which both have a rich history in Buffalo. I believe it is a noteworthy piece because it emphasizes both avant-garde music and filmmaking all at once. It exemplifies a productive collaboration between young artists whose work and style of practice are beyond cliché, distinct from the common attention and space that nowadays are given to pop culture in both music and film industry. This film could be seen as one that builds on Buffalo's history of experimental music and film but takes a more contemporary, updated approach in terms of engaging visual elements, techniques, and even concept. While it is still experimental, it has a distinct making process and an independent final product [comparable to] similar experimental projects of the 1970s. 
What other projects is BDP working on now?
Mehrvarz: We have completed Fight for Good, a new film that portrays Community Health Center of Buffalo and its mission to serve people, particularly in the time of pandemic. The film emphasizes the role of women, particularly the leadership role of women of color who are at the forefront of the fight with COVID-19 and how their key roles, message, and insight are means to address the problems that impact communities of color. The film gives awareness to the issues faced in the healthcare system such as healthcare disparities, systematic racism, and so on, through the lens of the doctors in the "fight." Now we are in the preproduction stage for the second episode of this film and want to explore and capture the vaccine phase and its challenges.