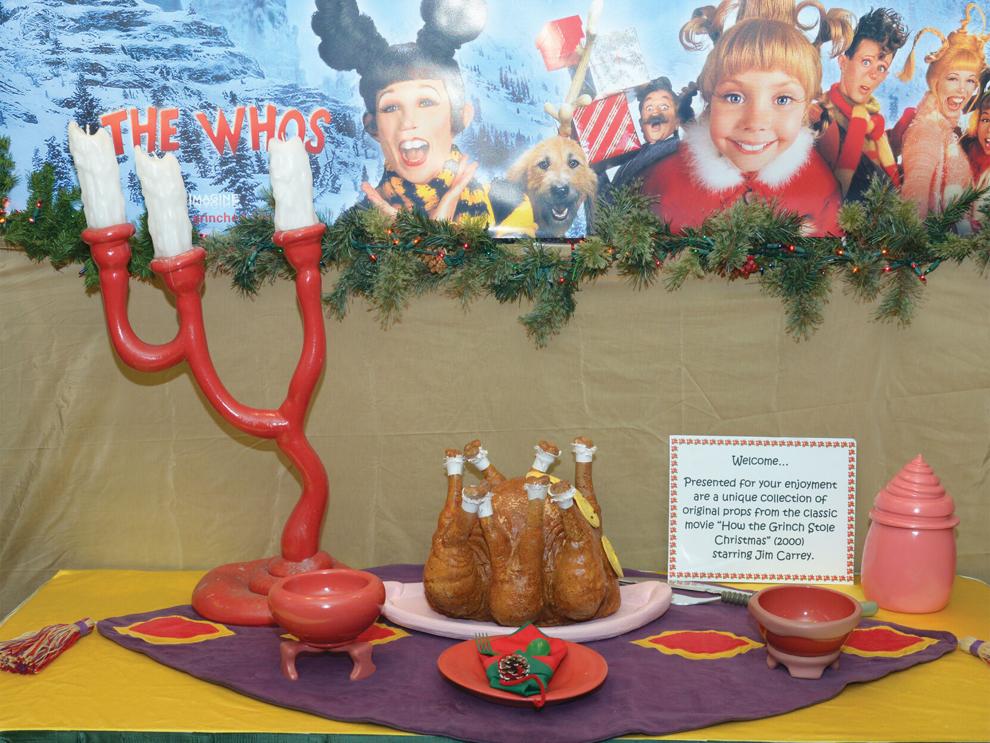 Is the world of cinema nearly back to normal? Hard to say, but things are trending in the proper direction. Fall saw a return from a number of old favorites, like Cultivate Cinema Circle, Hollywood Holidays at Aurora Theatre, and the riverrun Global Film Series. Read on for December details from all three.
Hollywood Holidays at Aurora Theatre
The Aurora Theatre in East Aurora is known for its unmistakable marquee, its delightful popcorn shop, and its legacy of showing new releases along with beloved favorites. One of its most well-known traditions, Hollywood Holidays, is back in a big way in 2021. The free series began in November (with the Grinch on November 26, Elf on November 27, and the East Aurora-filmed A Prince for Christmas on November 28) but it takes full flight in December, with seven films planned. Additional highlights include props and costumes from Dr. Seuss' How the Grinch Stole Christmas, and visits from Santa. Aurora Theatre owner Lynn Kinsella chats about the series and response from audiences. 
How has it been welcoming back audiences?
Lynn Kinsella: It has been wonderful seeing people back enjoying movies on the big screen. Our holiday program has always been popular, and we expect this year to be especially popular as people are excited to hopefully have a more normal holiday season. Our free summer movie series saw record numbers and we are sure the same will be true for the holiday series.
What's one of the standouts on the holiday lineup?
Grinch Day (December 4) is always a highlight. [We have a] showing of the 2000 film starring Jim Carrey, we have characters dressed in original costumes from the movie and, weather permitting, our collector brings the Grinch's sleigh—one of two that was used in the movie.  
Are there new ideas you are pursuing for 2022?
We are looking to work on programs that we had just started to offer when COVID hit.  These include rental programs for schools; building on our TIC (Throwback, Independent, Classic) Series on Tuesday evenings; and reaching out to area filmmakers to premiere their films and partnering with local restaurants on special events such as our dinner and a movie program. Lots to do!
Dr. Seuss' How the Grinch Stole Christmas and Christmas Vacation: time TBA on Dec. 4; A Christmas Carol: 11 a.m. on Dec. 5; A Christmas Story: 11 a.m. on Dec. 10; White Christmas: 11 a.m. on Dec. 11; The Polar Express: 11 a.m. on Dec. 17; and It's a Wonderful Life: 11 a.m. on Dec. 18; at the Aurora Theatre, 673 Main St., East Aurora; theauroratheatre.com.
riverrun Global Film Series: Chinese-Language Cinemas: Mainland China, Hong Kong, and Taiwan
Since 2016, the riverrun Global Film Series has aimed to create dialogue between the community and institutions of higher education through lectures and screening of films chosen to provide a better understanding of our existence in the world. After breaks in 2019 and 2020, the festival returns this year with a different format and focus. Here, series curator Tanya Shilina-Conte, Assistant Professor in the Department of English at the University at Buffalo, explains what makes the 2021 incarnation of riverrun (which began with screenings and lectures in October and November) so unique. 
What's different about this year's riverrun?
In the three years pre-COVID, the Global Film Series was staged at the Burchfield Penney Art Center, featuring screenings and guest speakers on the national cinemas of Iran, Cuba, and Mexico. This year's festival, sponsored in part by the UB Confucius Institute, is instead organized as a lecture series presented via Zoom by distinguished scholars of Chinese-language cinemas. Rather than screen the films on a single weekend in the fall, each speaker will recommend one or more films from mainland China, Hong Kong, or Taiwan. Links to the films are provided to the audience in advance.
Describe your December 2 selection, 2010's We Are Alive, and the accompanying lecture.
We Are Alive is an experimental documentary directed by Yau Ching, who is based in Hong Kong. The film is a collaboration of sorts with "bad children" who have been confined to juvenile detention centers in Hong Kong, Macao, and Sapporo, Japan. The teens are permitted to record their own stories of survival on audiovisual equipment, giving voice to (among other transgressions) their gender identity and sexual orientation, in the hopes of imagining a better future for themselves. Professor Zhen Zhang, in the Department of Cinema Studies at NYU, will speak on the "minor transnationalism" of these teens, whose relegation to the margins of Asian society crosses national borders.
What do you hope audiences take away from the series?
Shilina-Conte: I spent two months lecturing and traveling in China in 2009, also visiting the China National Film Museum in Beijing. While I know that there is tremendous interest in Western films and popular media among the younger generations in China, I feel that American audiences are only somewhat familiar with Chinese, Hong Kong, and Taiwanese directors. I hope that this fall's Global Film Series on Chinese-language cinemas, in the hands of expert lecturers on the films, will take a step further toward introducing American viewers to the very rich history of Chinese-language filmmaking.
4 p.m. on December 2; virtual (to register, write to ubci@buffalo.edu); buffalo.edu/cas/english/news-events/upcoming_events/global-film-series.html
Cultivate Cinema Circle: "Pre-Code Perfection"
Cultivate staged its 100th film screening in November, a fine achievement for a well-curated series that has offered everything from The Terminator to The Passion of Joan of Arc since its start in 2015. After a brief hiatus during the pandemic, CCC returned in the fall with some classic sci-fi films (Forbidden Planet, Invasion of the Body Snatchers, Them!). This was followed by a collection of Marlene Dietrich and Josef von Sternberg collaborations from the 1930s. The Pre-Code Perfection Series started in November and will finish with two greats in December, Shanghai Express and The Scarlet Empress. These are prime examples of the fascinating, morally complex films made before the advent of the Hays Code in 1934. 
Shanghai Express: 1 p.m. on Dec. 4; TheScarlet Empress: 1 p.m. on Dec. 18; at Mason O. Damon Auditorium, Buffalo & Erie County Public Library Central Library, 1 Lafayette Sq.; cultivatecinema.com.