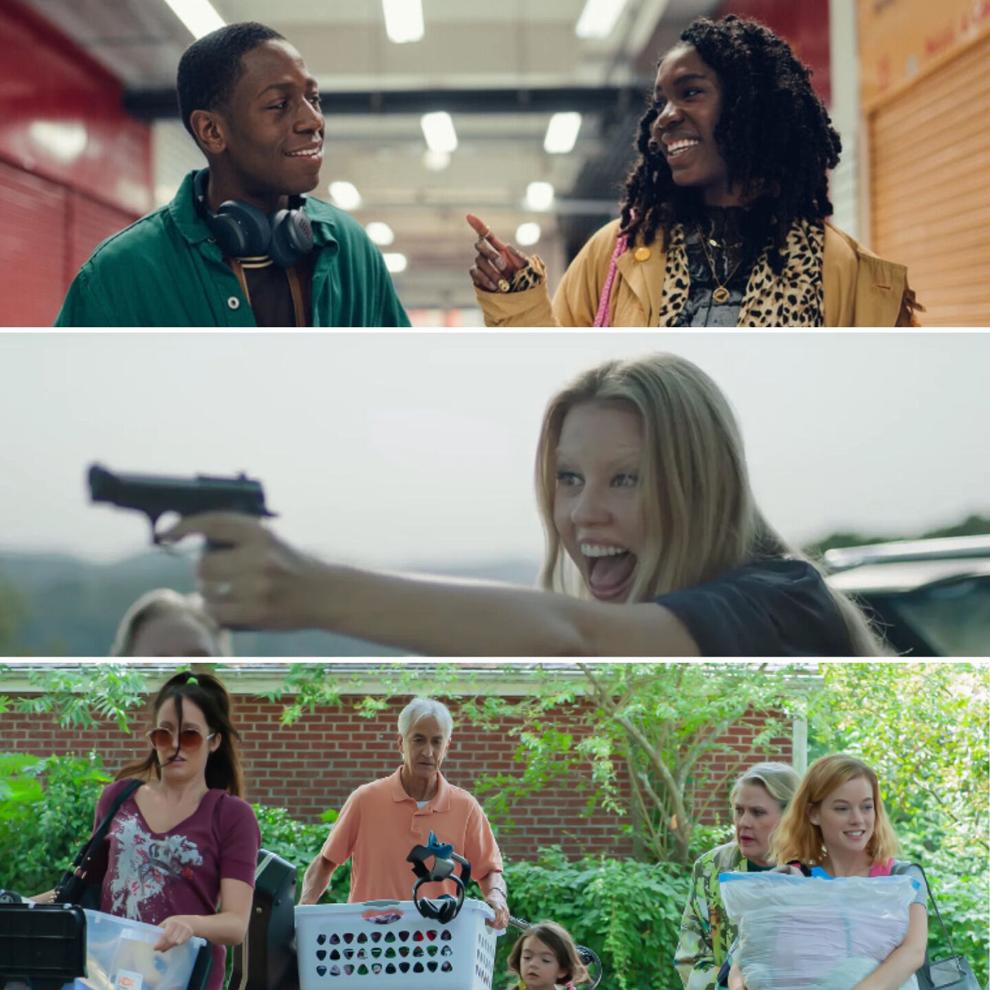 Following virtual fests in 2021 and 2022, the Sundance Film Festival was back in person in 2023. However, Sundance also smartly offered most of its entries online for audience members (and film critics) around the world. The result was another stellar virtual festival experience, with a string of standout films and, for me, zero technical glitches.
Here is my rundown of 2023 Sundance entries that entertained audiences in Park City and thrilled me (for the most part) at home.
Rye Lane: A-
Raine Allen-Miller's Rye Lane is not just the best film of the festival — it's the most fresh, funny, genuinely wonderful romantic comedy in years. It is the story of two twenty-somethings living in London whose lives intersect when both are coming off devastating breakups, and whose encounter upends each other's lives in ways that can only be described as delightful. Beautifully played by David Jonsson and Vivian Oparah, main characters Dom and Yas are smart, funny, and believably wounded. Uproariously funny, directed with stylistic verve, and smartly scripted, Rye Lane is an across-the-board winner — even if it did not pick up any awards at the festival. It is the kind of word-of-mouth film that should earn some attention upon release, and I can't wait to see what Allen-Miller does next.
Infinity Pool: A-
After the creepily fantastic Antiviral and Possessor, I was greatly looking forward to whatever ghoulish treat director Brandon Cronenberg would next unleash. His third feature, Infinity Pool, does not disappoint. It is, in fact, his best film yet, a deeply disconcerting and surprisingly funny satire about the privileged elites who can — quite literally — do anything they want. Set at a resort in the fictional state of Li Tolqa, Infinity is centered on James Foster (Alexander Skarsgård), a married author with writer's block who finds himself in way over his head. The casting is right-on, most notably Mia Goth as an increasingly unhinged guest skilled at luring James into ever more dangerous (and ever more disturbing shenanigans. To say any more would be unwise — Cronenberg has many surprises to unveil. Get ready to swim (or drown).
Little Richard: I Am Everything: B+
From my review for The Film Stage: "Rarely has a music doc so successfully checked all of the usual boxes — difficult upbringing, disapproving father, the first signs of prodigious talent, successes, and downfalls, all bolstered by talking heads and archival footage — while also highlighting the contradictions and personal failures of its subject with respect and awe. There are numerous moments that call to mind other recent documentaries, but just as the artist born as Richard Wayne Penniman was unlike any other performer, so, too, does I Am Everything chart its own unique path."
A Little Prayer: B+
For me, this warm-hearted but hard-hitting family drama was the festival's most pleasant surprise. Like Writer-director Angus MacLachlan's Junebug, Prayer understands the complexities of family life — in this case, centered on the marital difficulties of a long-married couple's adult children. That couple is played by the tremendous David Strathairn and Celia Weston, and with any luck, they will be remembered during the next awards season. Straithairn, especially, is heartbreakingly believable as a man trying to do right by his daughter-in-law (played with tenderness by Jane Levy) while also watching his son make several destructive life choices.
Sometimes I Think About Dying: B+
The Star Wars sequel trilogy inspired no end of debate, but what should be agreed upon by both the lovers and the haters is that Daisy Ridley was a stellar lead. Director Rachel Lambert's Sometimes I Think About Dying gives Ridley the acting opportunity she has deserved. As Fran, an office worker whose job seems to consist of a painful series of awkward encounters, Ridley is subtly agonizing. While Fran is gripped by deep sadness, however, the film becomes a beautiful testament to finding goodness in the everyday. Sometimes is a quietly extraordinary film, and one of the festival's breakout achievements.
STILL: A Michael J. Fox Movie: B+
The most emotionally affecting documentary of Sundance 2023 was, for me, STILL, a creative and loving look at the life of actor Michael J. Fox. The latest from Davis Guggenheim (An Inconvenient Truth) does not shy away from the sad realities of living with Parkinson's Disease, but also shows the love and support in Fox's life. It is a special film, one that should capture a great deal of attention when it streams on Apple TV.
Birth/Rebirth: B+
Apparently, this gory horror thriller left some in-person audience members woozy, and I get that. Its mix of motherhood, medicine, and a reanimated corpse is audacious and, at times, hard to watch. Still, I found it to be a mesmerizing directorial debut by Laura Moss — albeit one that is, at times, rather traumatizing.
Fair Play: B+
It's not shocking that writer-director Chloe Domont's debut film was one of the festival's buzziest entries — it is full of surprises, sexually-charged, and positively dripping with tension. It also features killer performances from leads Phoebe Dynevor and Alden Ehrenreich. This one is a serious conversation-starter.
You Hurt My Feelings: B+
Every few years, Nicole Holofcener writes and directs a comedy like Friends With Money and Enough Said, and each time, that film is sharply written, hysterically funny, and genuinely moving. Her latest, You Hurt My Feelings, is one of her strongest yet. Julia Louis-Dreyfus and Tobias Menzies shine as a married couple navigating aimless careers, marital secrets, and the feeling that something is missing from their lives.
Passages: B+
The latest from Ira Sachs is this hugely entertaining relationship drama starring a delightfully eclectic trio of actors: Franz Rogowski, Adèle Exarchopoulos, and Ben Whishaw. There is so much to take in here — the story, the performances, the clothing sported by Rogowski — that one viewing probably does not do it justice. I expect it may seem even stronger a second time.
Kim's Video: B
The story of this documentary — a cinephile is on a quest to find the thousands of videos and DVDs that made up the collection of legendary New York video store Kim's Video — won't entice everyone. For film fans, though, David Redmon and Ashley Sabin's film is a winner. It also features one of the more amusing heists in the history cinema. (Seriously.)
The Starling Girl: B
This tale of a teenage girl struggling with her burgeoning sexuality and increasing closeness with a dashing youth pastor is undeniably predictable. However, Starling Girl  lead Eliza Scanlen is exceptional, and the script from Laurel Parmet never hits a wrong note. Like A Little Prayer, this is an old-school-style Sundance entry that succeeds.
Talk to Me: B
Some horror movies are remarkably effective at scaring the audience while also being so upsetting that a re-watch is wildly undesirable. That, to me, sums up Talk to Me, a haunting success from twin brothers Danny and Michael Philippou (a.k.a., RackaRacka). Conjuring spirits on screen has rarely been as memorable (and terrifying) as it is in this story of a high school student trying desperately to connect with her late mother. What follows is … well, trouble, to say the least. Talk is a wild (and wildly original) horror film.
Theater Camp: B
It is no surprise that the lovable documentary Theater Camp sold to Fox Searchlight in a big-money deal and earned a festival award for its talented ensemble. It's a sweet, funny comedy that audiences will simply adore. I'm not as high on it as many of my colleagues, but it is hard to imagine not walking away from Theater Camp without a smile.
Squaring the Circle (The Story of Hipgnosis): B
A documentary study of Hipgnosis, the design studio behind classic album covers like The Dark Side of the Moon and Band on the Run? Featuring interviews with the likes of David Gilmour and Noel Gallagher? Directed by iconic photographer Anton Corbijn? Yes, Squaring the Circle is pretty much a can't-fail rock doc. Sure, it is a standard talking-heads-and-old-clips documentary, but for lovers of music history Squaring is a must-see.
AUM: The Cult at the End of the World: B
A documentary about the group responsible for the 1995 Tokyo subway attack that left 14 dead, AUM is conventionally told but always compelling. The story, which is full of shocking twists and turns, is sure to leave viewers deeply unsettled.
Other People's Children: B
Virginie Efira is an absolute delight in Rebecca Zlotowski's sleight but enjoyable story of a woman's bond with her boyfriend's young daughter. And Efira's co-star, Roschdy Zem, is just as strong. (Originally viewed at the 2022 Toronto International Film Festival.)
Scrapper: B-
From my review for The Film Stage: "Scrapper is a remarkably assured first feature for director Charlotte Regan, who follows a string of acclaimed shorts and music videos. While its working-class milieu calls to mind noteworthy British dramas like Andrea Arnold's Fish Tank, Scrapper has a different feel. There is more humor, for starters — some of it derived from its protagonist, a plucky tween adjusting to life on her own. Audience members will care deeply about 12-year-old Georgie and her existence on the outskirts of London."
Magazine Dreams: B-
If a savvy distributor takes a chance on Magazine Dreams, writer-director Elijah Bynum's harrowing character study of an unhinged bodybuilder, they will surely have a Best Actor Oscar nominee on their hands. Jonathan Majors, soon to be seen in two of 2023's most eagerly-anticipated sequels (Ant-Man and the Wasp: Quantumania and Creed III), is shockingly intense as a damaged young man with a quest for fame. The film itself does not equal Majors' work, but there are moments — including one hauntingly set to Patti Smith's "Because the Night" — that are simply unforgettable.
When It Melts: B-
Veerle Baetens, a well-known Belgian actor, makes her directorial debut with this somber, troubling study of the lasting pains of adolescent trauma. Like a number of entries at this year's festival, its plot — a young woman, Eva, recalls a cruel and dangerous game played by two boys during their early teenage years — becomes overly predictable. Still, the performances from Charlotte De Bruyne (as adult Eva) and Rosa Marchant (as younger Eva) are powerful and affecting, and so is the film itself. When It Melts is a *very* tough watch, but it is worth the effort.
Shortcomings: B-
Likable actor Randall Park (known for his roles in Wandavision and Always Be My Maybe) makes a fine directorial debut with Shortcomings, a modest romantic comedy. Justin H. Min plays Ben, a movie theater employee and film die-hard who faces a drifting girlfriend, a going-nowhere career, and his desire for something new. Park's film is entertaining, even if it grows a bit tiresome after a strong start.
Cassandro: B-
Gael García Bernal is the reason to see this occasionally tiresome but well-acted biopic. Bernal plays Cassandro, a flamboyant wrestler and star of Mexico's lucha libre wrestling scene. It's an unexceptional but sweet film, especially the audience-pleasing final stretch.
Pretty Baby: Brooke Shields: B-
It is a treat to hear Brooke Shields tell her own story in this career-spanning documentary. It must be said, though, that its second half — focusing on her post-adolescent life and career — simply is not as powerful or involving as the earlier Pretty Baby/Blue Lagoon/Calvin Klein material.
Eileen: B-
Thomasin McKenzie and Anne Hathaway give astonishing performances in the latest from William Oldroyd (Lady Macbeth), a dark, 1960s-set drama. The story — two women working in a Boston prison become increasingly close — grabbed me. However, a third-act shift was a huge letdown. I left Eileen feeling unsatisfied, but also enticed by the prospect of checking out the source material by Ottessa Moshfegh.
L'Immensita: B-
Penélope Cruz and young newcomer Luana Giuliani are remarkable in this family drama that explores the complexities of adolescence and gender. Emanuele Crialese's film does not quite stick the landing, but it is still a wise, worthy effort.
Slow: C+
An intimate and well-acted relationship drama, Marija Kavtaradze's Slow explores communication with admirable focus and intensity. It is, well, a bit slow, and my level engagement began to seriously lag at the halfway mark. Still, it is delicately performed and written with sharp insight. Slow will not be for all tastes, but it is undoubtedly a worthy drama.
My Animal: C+
A lean, mean Canadian horror film, My Animal takes a standard werewolf story and injects it with adolescent yearning. The result is unmemorable but admirably energetic, with dynamic acting from stars Bobbi Salvör Menuez and Amandla Stenberg.
The Pod Generation: C+
The central plot of The Pod Generation — a married couple living in the not-so-distant future must decide on either a natural pregnancy or birth-via-artificial womb — is fresh and audacious. Unfortunately, the film never quite lives up to that engaging premise, despite strong work from Emilia Clarke and Chiwetel Ejiofor. They keep things watchable, even when the story lets them down.
Cat Person: C-
Yes, Booksmart co-writer Susanna Fogel's film is based on Inspired by Kristen Roupenian's short story "Cat Person," famously the most-read piece of fiction ever published in The New Yorker. Yes, it captures the tension that defines the short story's unsettling relationship between a college student and a questionable older man. However, the film adds a positively atrocious third act that almost defies belief. Cat Person is certainly watchable, and CODA's Emilia Jones does fine work, but this is a major disappointment.
Bad Behaviour: C-
Actress Alice Englert's first feature was, for me, the fest's most notable failure. On paper, this mother-daughter drama starring Jennifer Connelly sounds like an interesting tale of personal growth. In reality, it neither entertains or enlightens, instead trudging along with sour cynicism. 
Run Rabbit Run: D+
While I was disappointed by Cat Person and Bad Behaviour, there were elements of each that held my attention. Australian thriller Run Rabbit Run, on the other hand, was a dud on all fronts. The talented Sarah Snook can't redeem this rote ghost story, and the ending fails to satisfy on any level. Netflix saw things differently, snatching this one up for global streaming. Go figure.