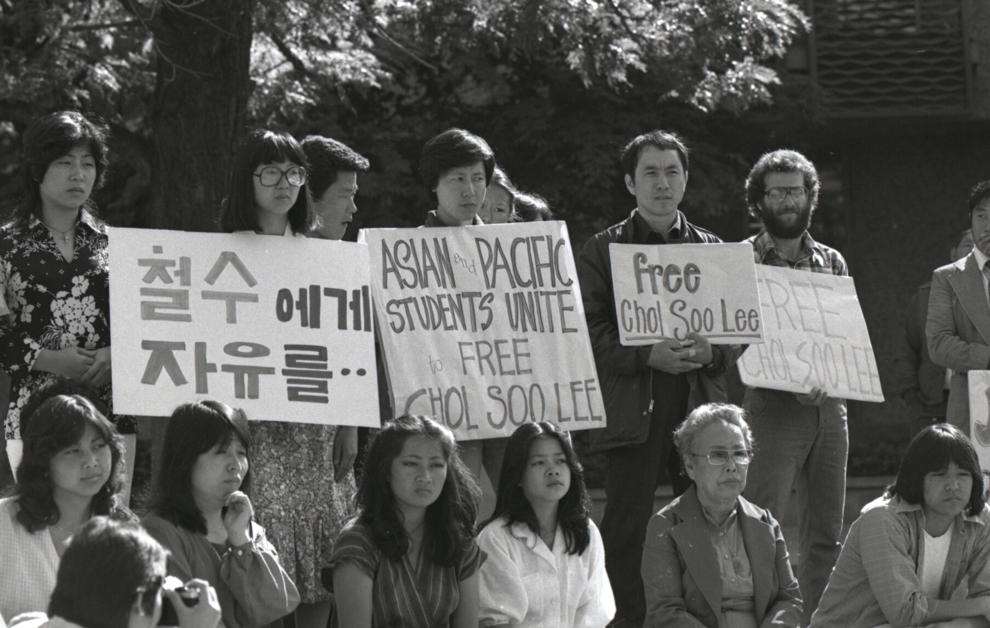 The UB Humanities Institute/Distinguished Visiting Scholars Program Film Series at Hallwalls Contemporary Arts Center features a relevant entry on May 4. The 2022 documentary Free Chol Soo Lee, directed by Julie Ha and Eugene Yi, screens at 7:00 p.m., preceded by a 6:00 p.m. reception and followed by a panel discussion.
Korean immigrant Chol Soo Lee was sentenced to life for a 1973 San Francisco murder. After ten years, a pan-Asian solidarity movement helped to overturn his conviction. "Free Chol Soo Lee is an example of a newly released film that examines recent history,"  explains Donte McFadden, Director of UB's Distinguished Visiting Scholars Program. "For Asian American/Pacific Islander/Desi American Heritage Month, this film by Julie Ha and Eugene Yi provides an opportunity for audiences to learn new stories about people of a particular identity by filmmakers who emerge from the same community."
Spree recently spoke to directors Ha and Yi about their critically acclaimed film. 
Tell me about deciding to make this film.
JH: Eugene and I have both known of the Chol Soo Lee story for some time. I learned about the case when I was eighteen, after meeting my mentor, K.W. Lee, the journalist whose stories helped to launch the Free Chol Soo Lee movement. He is also an influential figure in Eugene's life. But the seeds of this film weren't planted until I attended Chol Soo Lee's funeral in December 2014. 
At one moment, K.W. Lee stood up and, while clutching the walking stick that Chol Soo had carved for him out of a tree, cried out angrily, "He died 100 deaths in that goddamned living hell known as the California prison system and even in freedom, he suffered a thousand deaths!" And he questioned why, after all these years, this landmark Asian American social movement that mobilized around this Korean death row inmate remained 'underground' and largely unknown—not even taught in Asian American studies classes at colleges and universities. 
Fast forward nine months, and Eugene and I were talking about working together on a film. I mentioned this heavy feeling at the funeral because it had stayed with me. As individuals who share a passion for telling complex, oftentimes messy stories about Asian Americans, we knew we had to dig in. We could not allow such a singular story to remain buried in history. 
What did you discover about the historical awareness of Lee's story? 
EY: We've heard over and over from audience members that they had never heard of the case. Chol Soo himself spoke about the lack of awareness of his story. He mentioned that his case wasn't as clean as other better-remembered cases. At the beginning of our film, he talks about how he wasn't an 'angel on the outside.' He also struggled mightily once out, with addiction, aftereffects of institutionalization, and trauma he'd experienced. Not to mention the pressure of being a public figure, a symbol for the community. 
What do you hope audiences take away?
JH: We encourage individuals to personalize the message because this story has so much to impart. Some see it as an indictment of the American criminal justice system and a wake-up call to the damage of mass incarceration. For others, it's arming them with this sense of history, and they connect the dots between what's happening now in the United States—this horrible spike in anti-Asian violence—and the racism our community has experienced since first arriving on these shores. This is often a history that is not known or acknowledged. But part of this history, too, is this remarkable movement of resistance led by Asian Americans who stood up to one of the most powerful institutions in this country—the criminal justice system—and boldly asserted, "You did wrong, and we're going to right this wrong."
Not only that, but they also asserted that this poor Korean immigrant man—who was no model minority, actually, but did have a criminal record even before his unjust incarceration—was worthy of their time, attention, love, and care. This act of compassion and courage connects to one question we would like audiences to think about, one Chol Soo Lee himself expressed before he died: "Who are the other Chol Soo Lees in our society, the unseen, unheard, the voiceless, or forgotten?" We'd like the film to help extend a lasting legacy for Chol Soo Lee and the movement he inspired. 
Why does Lee's story resonate so strongly today, especially for Asian Americans?
JH: Funny enough, Hollywood early on recognized the inherent drama in this incredible story and made the 1989 film, True Believer, loosely based on the case. But they did the usual whitewashing. The stars and heroes of the film were the white defense lawyers, played by James Woods and Robert Downey, Jr., and there was no Korean American journalist, no band of Asian American activists. Our community is used to that kind of treatment, the erasure of our stories and our roles. But in our film, Asian Americans get to take their rightful and accurate places in the story. 
Learn more at humanitiesinstitute.buffalo.edu.