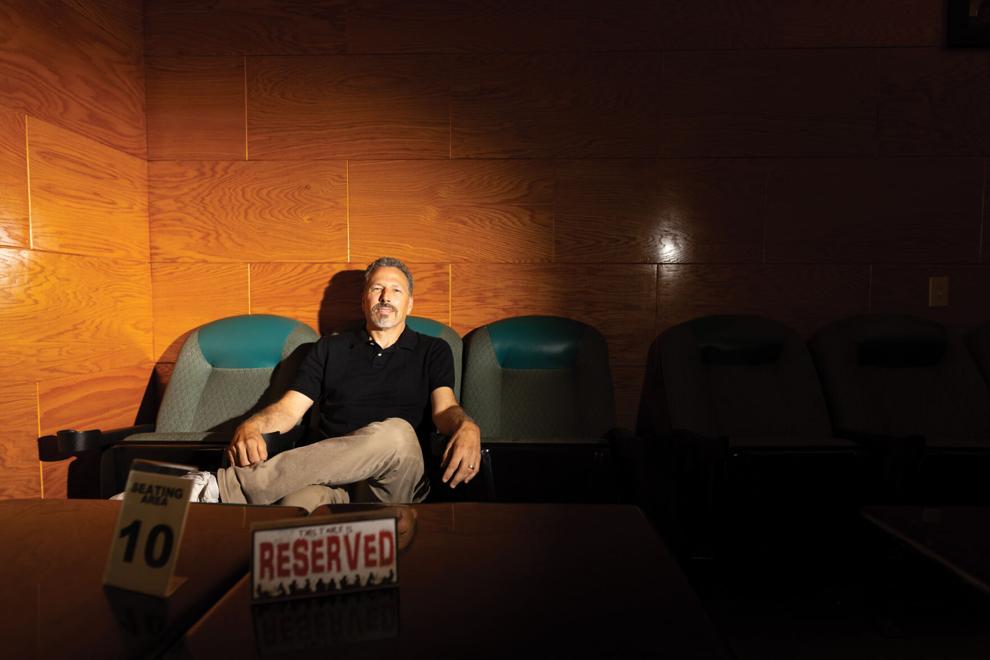 On a warm Saturday evening in July, I took my eleven-year-old son to see one of his favorite movies, Back to the Future, in a way he had never seen it before: on the big screen, at the Screening Room in Amherst. Located at the Boulevard Mall (880 Alberta Drive, on the outside of the mall facing Wegmans), the "cinema and arts café," as it is known, has built a dedicated following over the past quarter-century-plus. Owned and operated by Bob Golibersuch, the venue moved from the nearby Northtown Plaza in 2016. Its fans followed, and newbies—like my son—continue to discover this local gem.
Like most cinemas around the world, the Screening Room was greatly impacted by the pandemic; however, takeout concessions and virtual cinema options continued. And since reopening, Golibersuch says the venue has safely drawn large crowds. 
Here, Golibersuch discusses how the Screening Room weathered the challenges of recent years, how it has remained successful, and what the future holds.
It's been a tumultuous two years. From your perspective, how are things looking at the moment?
It was definitely a challenge being closed for almost ten months, but things seem to be going in the right direction. We are seeing a lot of regulars who have not been here in a while, and people seem really happy to be back. We have decided to just keep our capacity at fifty percent for now, which allows us to separate the seating areas and add to the comfort level of our guests.
The Screening Room has had a dedicated following for many years. Did you see this continue in the past two years?
We have a great mix of audience and were given really wonderful support through all our downtime activities—popcorn takeout, ticket package sales, virtual cinema. We had a constant flow of people contacting us to see how we were doing and checking on opening dates, which was really encouraging. Even though we have been around for more than twenty-five years, we still have new people discovering the venue every week. Transplants to the area seem to find us pretty quickly, and our regulars are always bringing new friends to experience their favorite movies with them.  
What have been a few of your most popular screenings since reopening?
So far, since reopening this spring, we have been playing a lot of our classic favorites: The Princess Bride, Clue, Alien, Monty Python and the Holy Grail. They have all done well, but the largest draws have been our screenings of Jaws.
Looking back, how do you feel about your current home? It seems perfect for the cinema/café— similar to the previous space but also unique. 
We put a lot of time and effort into the design and construction of this venue and it works really well for us. The separate spaces for the cinema and the bar/café were a big improvement from our previous location, and the design works smoothly for both the movie screenings and the private functions that we host. We look forward to continuing and incorporating the theater within the new Boulevard Mall development.
What are your thoughts on the theatrical experience versus streaming? Is there space for both? 
There is definitely room for both, but viewing a movie in a cinema normally provides a less distracted, more immersive and memorable experience. You are brought into the world of the movie, instead of the movie being brought into your world. I believe like most activities, from eating to sports to movies, it is more of a mindset of whether you are looking to stay home or go out for an experience.
What do you see as the future for the Screening Room? More special events/series? 
This fall we will be adding a "Live at The Screening Room" music series, a silent movie series, and an indie film series, as well as a continuation of our comedy, poetry, and trivia nights. We are going to be expanding the kitchen facility to include several local artisan options, which we will use as we restart our "Dinner and Movie" event nights.  
Finally, what do you see as the Screening Room's place in the local cinema scene? 
We have always tried to provide a little bit of a different night out, combining the big screen experience with a more social atmosphere. You can actually come with a larger group, sit at a table, socialize, have a drink,  and then watch the movie. Our programming is a little different in that we primarily focus on the Hollywood classics—old and new—and mix it with lesser known cult movies, genre films, indies, and local productions. Buffalo has a great and storied movie theater scene, and we are just happy to be part of it, hopefully providing a unique space for movie lovers, local filmmakers, and people looking for a fun night out.