Blues musician Tommy Z's new record, Plug in and Play, debuted at number five on the Billboard Blues Albums Chart on June 12, 2021. When Plug in and Play was in its second week on the chart, Tommy's previous record, Blizzard of Blues, which was number eight in 2016, reappeared on the chart. The only albums above Tommy's when Plug in and Play was released were by the Black Keys, Van Morrison, Mick Fleetwood, and Robert Finley. When Blizzard of Blues made its comeback, positions one through seven were occupied by Tedeschi Trucks Band, Gary Clark Jr., Billy Gibbons, Buddy Guy, Joe Bonamassa, and Luther Dickinson—pretty good company.
Charting in the top ten is no small feat for any artist, let alone one artist doing it without major label support. It's nothing short of astonishing, but it's also deserved.
Full disclosure: Tommy has been a friend for more than twenty years. Over those years, I've advised him as an attorney from time to time. I also hired Tommy to play second guitar in my own band in 2004 when we toured for Armed Forces Entertainment in Spain, Italy, and Portugal. A year or so later, when I was executive producing Ian Gillan's record Gillan's Inn, Tommy guested on guitar for a remake of the Deep Purple song, "When a Blind Man Cries." I have immense respect for Tommy's musicianship and work ethic.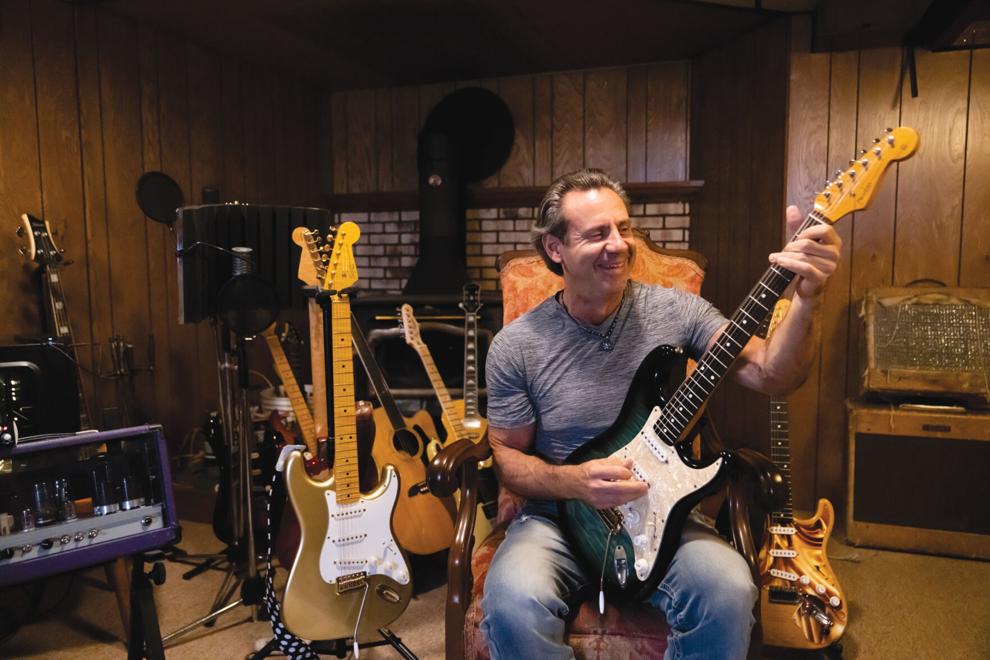 Plug in and Play starts with "Pumpin' (Let's Have Fun)," a mostly instrumental shuffle that sets the tone for the rest of the record. There's a delightful swagger, confidence, and understatement on "Pumpin',' which, along with "Alarm Clock" and "Dyd," remind me of the simplicity, restraint, playing, joy, and humor on the Vaughan Brother's record Family Style. 
Plug in and Play slows down with one of two covers on the record, a sultry version of Aaron T-Bone Walker's "Please Come Back to Me." The other is the soulful blues rock song "Ain't Gonna Wait" by Rachel Gordon and Patrick MacDougall on which Tommy gives a beautiful and intimate vocal performance and intense guitar soloing.
If Tommy is showing the listener who he is on guitar in the opening "Pumpin'," he continues the story lyrically in the upbeat "Tommy Guns," co-written with Tom Hambridge and Richard Fleming. The spacious and bare opening with naked kick drum and gated snare is a drum loop that Hambridge also used when producing Buddy Guy's "Whiskey For Sale." The funky clavinet throughout "Tommy Guns" is played by session pro Michael Rojas. (Rojas' credits include Kenny Chesney, Stevie Nicks, Willie Nelson, and Kenny Logins, among others.)
Plug In and Play ends with the laid back jazzy instrumental "Sticky Lips," a perfect bookend to "Pumpin'" that features a great organ solo by Tom Scime. 
Musically and lyrically, Tommy Z has reached new heights on Plug in and Play. It displays musical maturity that can only be achieved by hard work, dedication, raw talent, and slugging it out on stage for decades. The song writing is strong, the arrangements excellent, and the musicians first-rate. Tommy's playing is superb and melodic. While Tommy does let it rip from time to time, his playing shows considerable restraint, making the notes really count with a predominant reliance on melody and feel over pedantic technical playing. The advice Tommy got from artists Duke Robillard and Little Charlie Baty to not just focus on guitar, but to listen to horn players such as Charlie Parker, Prez, Johnny Hodges, and Louis Armstrong has greatly expanded Tommy's references for his own playing and the results are evident in the diversity of Tommy's guitar phrasing on this album.
Plug in and Play was gorgeously mixed, mastered and partially produced by three-time Grammy winner Tom Hambridge, who grew up in Buffalo and now resides in Nashville. Hambridge produced the songs "Tommy Guns," "Plug in and Play," and "X-Ray Girl," the most commercially accessible songs on the record. Hambridge also plays drums on these songs. Great riffs, grooves, choruses, harmonies, and melodic soulful solos are the ingredients that speak to me in blues and rock and roll, and they're plentiful here.
Plug in and Play was recorded in Buffalo at Robby Takac's GCR Audio (with Justin Rose engineering), Caz Creek Studios, Parker Projects, and the legendary Sound Stage Studios in Nashville, owned by Terry and Kim Pegula since 2010. There's got to be some magic in the air in those studios, given the many legendary artists who've recorded there.
Tommy is quick to credit Buffalo musician Geno McManus for his early days on Buffalo stages and his ending up in a blues band in 1991. McManus hired Tommy for a few shows and later recommended Tommy to Harvey Murello of the Hurricanes. Murello hired him to play guitar with that blues trio, and they were quickly touring, playing big stages, and supporting blues legends. 
If bluesy rock and roll is your cup of tea, check out Plug in and Play wherever you get your music. If you like it, I further encourage you to buy it, as artists make almost no money on streams. 
More on Tommy Z at tommyzband.com.