Albright-Knox Art Gallery
1285 Elmwood Avenue, Buffalo, New York 14222
716.882.8700, www.albrightknox.org
On view through Sunday, October 30
---
How to approach the art of Joan Linder? As virtuosic drawing? As political activism? As evidence of obsessive-compulsive impulses? Maybe all three. That's the quandary one faces when considering her work; it's not easily pigeonholed. It might be tempting to view her detailed renderings as acts of Believe It or Not endurance and stamina, but the serious nature of her content catapults it well beyond the realm of stunt drawing. One label sticks to the Buffalo-based artist's exhibition currently on view at the Albright-Knox Art Gallery. The archly titled Joan Linder: Operation Sunshine is a tour de force. 
Linder makes drawings from life using traditional pen and ink on paper. Many of the works are in black ink, while others use a variety of colors, sometimes aptly, sometimes inexplicably. The subjects of the drawings are panoramic landscapes, plant studies, and an array of replicated documents. What ties these diverse subjects together is their relationship to several toxic waste sites around Buffalo, Tonawanda, and Niagara Falls, starting with the granddaddy of them all, Love Canal. It sounds like it would be abysmal, but Linder's eye for meticulous detail and command of her medium makes for some stunning work. 
Drawings like Yellow Weed and Ground are large scale studies of plant life, which presumably grow at one of the toxic sites. They are rich and nuanced, with small imperfections—drips and smudges that bear witness to Linder's materials and process. By themselves, these would pass for monumental botanical illustrations, oversized versions of the kind artists have been doing for centuries. In the context of the overall theme of this installation though, they take on new poignancy, signifying among other things, nature's remarkable endurance in the face of human despoliation.
Several of the works on view are drawn in pocket-sized notebooks that fold out accordion style. Linder uses these to render longitudinal vistas that extend along great expanses of cyclone fence, rolling landfills, or whole neighborhoods. Stretching out to nearly ten feet each, the compact notebooks enable the artist to park her car and draw from life. A drawing of a cyclone fence at Hooker Chemical spans six notebooks, about fifty-four feet. The mind-boggling repetition inherent in these painstaking drawings serves as commentary on the monotony of industrial environments.  
Other notebook drawings include everyday features from the environment that we see but tend to overlook: assorted street signs, high-voltage transmission towers, a GEICO insurance billboard, bridges, whole residential streets, all laid out as they appear in life. One long drawing depicts segments of a route down Grand Island Boulevard to Two Mile Creek Road and into Tonawanda City. The path marks several hazardous sites, including a nuclear waste dump left over from the Manhattan Project, and a brownfield site that once belonged to Spaulding Fiber. Linder's drawing mimics the experience of traveling the route while glancing periodically out the window. You pass industrial sites, trees, houses, high power lines, and a school sign emblazoned with the slogan, "The Best School in America."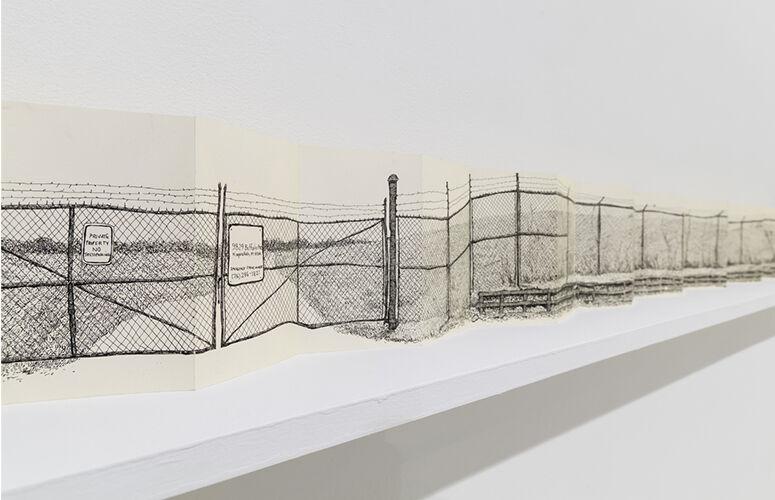 These drawings heighten awareness of the diversity and interconnectedness of our natural and manufactured environments, while infusing daily life with a faintly ominous undercurrent. But they are not by any means precise illustrations. The rambling landscapes abound with the sorts of unsteady lines and skewed perspectives that endow art with character and humanity. One thing is abundantly clear; Linder loves drawing for its own sake.
The artist's most stunning accomplishment is her meticulous renderings of paper documentation of these environmental disasters. When it was disclosed in 1978 that the Hooker Chemical Company had dumped over 20,000 tons of toxic waste in what was the Love Canal residential community, there was an explosion of media coverage and private communication that is now mostly forgotten. Linder approaches her subject matter, to a large extent, as a researcher. She rummages through University at Buffalo's archives, libraries, and historical societies, and scans the Internet to uncover long-buried documents. Then she makes precisely rendered drawings of a great many of these newspaper clippings, memos, reports, propaganda flyers, and redacted papers, complete with pictures, illustrations, notations, photocopied page edges, and coffee-ring stains. Some are nearly full pages of text, which Linder copies down to the font type.
At a quick glance, and even upon somewhat careful observation, these rendered copies look startlingly like the real thing. It's only when you slow your gaze down and observe them very closely that evidence of the artist's hand becomes apparent. These trompe l'oeil works, of which there are many in the exhibition, are perhaps the most challenging for viewers to approach intellectually. Making precise copies of documents is the antithesis of what we normally think of as artists' work; it's closer to the job of ancient scribes. Linder does not employ any mechanical methods in her process; her drawings are executed free-hand. But they are undeniably copies, as close to the real thing as she can make them. 
As with anything an artist renders, the act of drawing a document objectifies it, transforms it into an article of lasting value, draws attention to the "thingness" of printed material. These works can be seen as cultural artifacts that record significant pieces of contemporary civilization. The buried waste in toxic sites, now neatly concealed under earth and weeds, serves as a metaphor for all things that are covered over when knowing is unpleasant or inconvenient. With time, evidence of our environmental disasters becomes obliterated. The title Operation Sunshine smacks of irony, but it's also reminiscent of the Sunshine Act, which was legislated to shine light on what were formerly hidden governmental actions. Linder creates art objects that make absolute concealment of what occurred here in the past that much more difficult.                 
Artist, educator, and writer Bruce Adams contributes regularly to Spree.