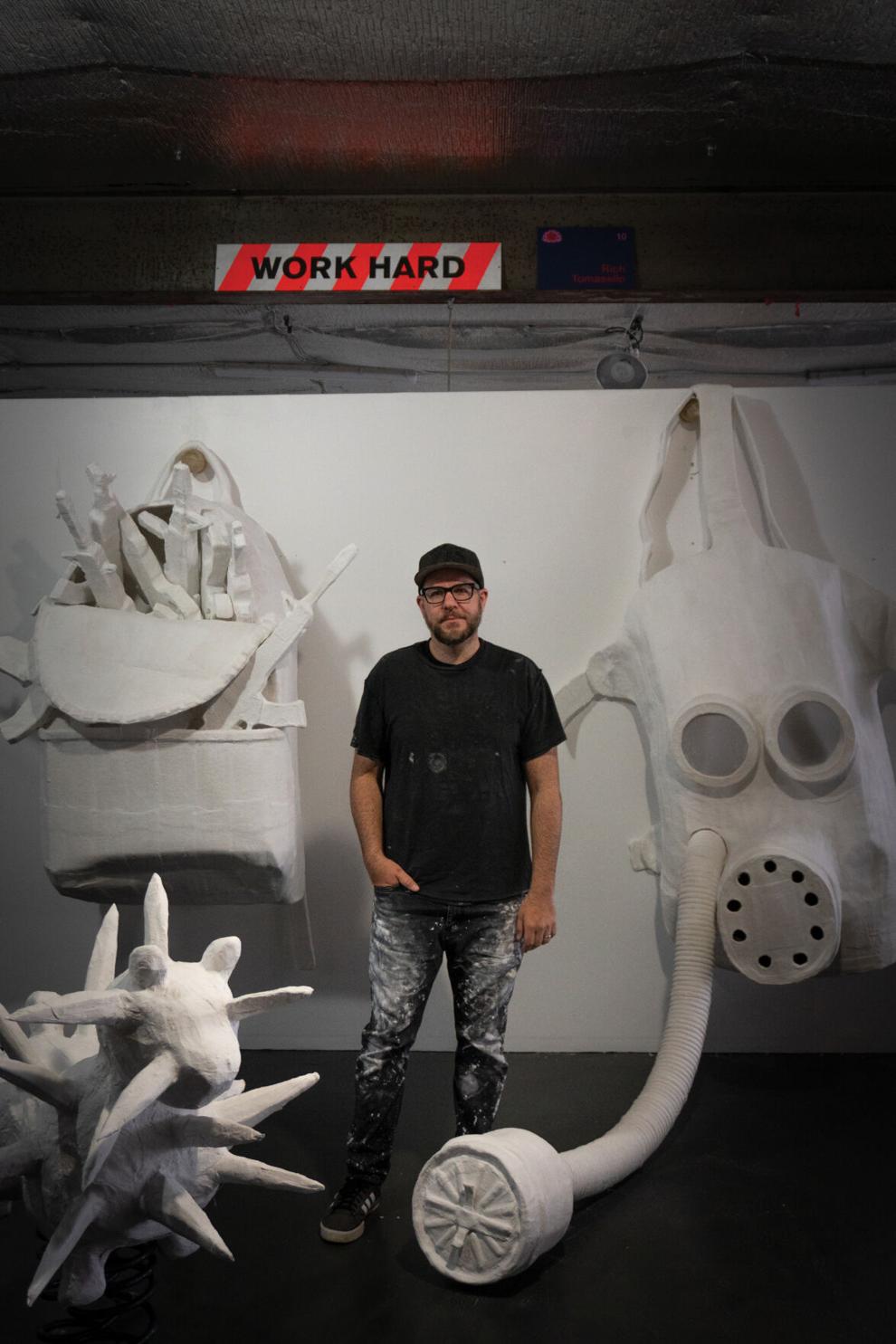 Rich Tomasello
Run. Hide. Fight.,
On view July 16–August 27 at BAM!
255 Great Arrow Avenue, Suite 200
716-939-2445, bam716.com
The ebulliently named BAM! (an acronym for Buffalo Art Movement) is located in a large suite on the second floor of the Pierce Arrow Factory Complex on Elmwood Avenue. Positioning itself as an "exhibition space and art incubator," BAM! is the brainchild of Francisco Hernandez, MD, a physician at Roswell Park Comprehensive Cancer Center who has been collecting art (much of it by WNY artists) for more than twenty years. His passion for art led to a desire to share that passion with others, and, in the process, help both established and emerging artists bridge the gap between themselves and the public. Hernandez sees the space as a commercial gallery that enables artists in the region to expand their practices here and beyond. 
Hernandez has enlisted two talented SUNY Buffalo State alumni: graphic designer Joe Babcock who serves as creative director, and Jeffrey Heras, the gallery's marketing director, who has experience in copywriting and digital content strategy. Their efforts are as much about demystifying the art experience for the public as they are about reimagining how a commercial art space can expand its support of individual artists beyond exhibiting their work. The ultimate aim is getting people excited about art and sharing the enthusiasm that creative visual art engenders.   
An exhibition of sculpture by Rich Tomasello titled Run. Hide. Fight., on view July 16–August 27, marks the first time that a single artist's work will occupy the entire gallery. Tomasello, best described as a "mid-career" artist, has exhibited his work in group exhibitions in museums and galleries across the country. The theme of his work can be traced to the mass shooting at Sandy Hook Elementary School in 2012. As father of two young children and longtime art teacher, Tomasello was profoundly affected by this tragedy, and, in response, he created a series of perversely ironic action figures and toys that comment on the trauma embedded in the seemingly innocent world of a child's life. The role of an educator as a first line of defense against terror becomes more real for Tomasello every year, as lockdown drills in schools become commonplace. Over time, his sculptures of schoolroom cubbies with gas masks or backpacks laden with ammunition became all white, suggesting a blank slate for dangers yet to come.  
As these threats continue to escalate, Tomasello has doubled down by increasing the size of his sculptures and that is the new work that is filling much of BAM!.  A backpack filled with assault rifles makes a point, but when that object is rendered six feet tall, that point is underscored. A  Big Wheel (in production since the 1970s) is fun and playful, but enlarged to more than five feet and constructed of crude plaster-covered forms, it's an ominous vehicle of terror. As Tomasello notes, "These works have become overpowering and oppressive icons of American culture as well as monuments to a more innocent past." Addressing the omnipresent role of video technology to share violence in real time, Tomasello created anthropomorphic tripod cameras that tower above us at upwards of ten feet. The effect of all the works in one space is a powerful and potent reminder that our world is irrevocably altered.   
To find BAM!, enter the building through the Great Arrow Avenue entrance closest to Elmwood Avenue. You can learn more about the exhibition and plan your visit at bam716.com.