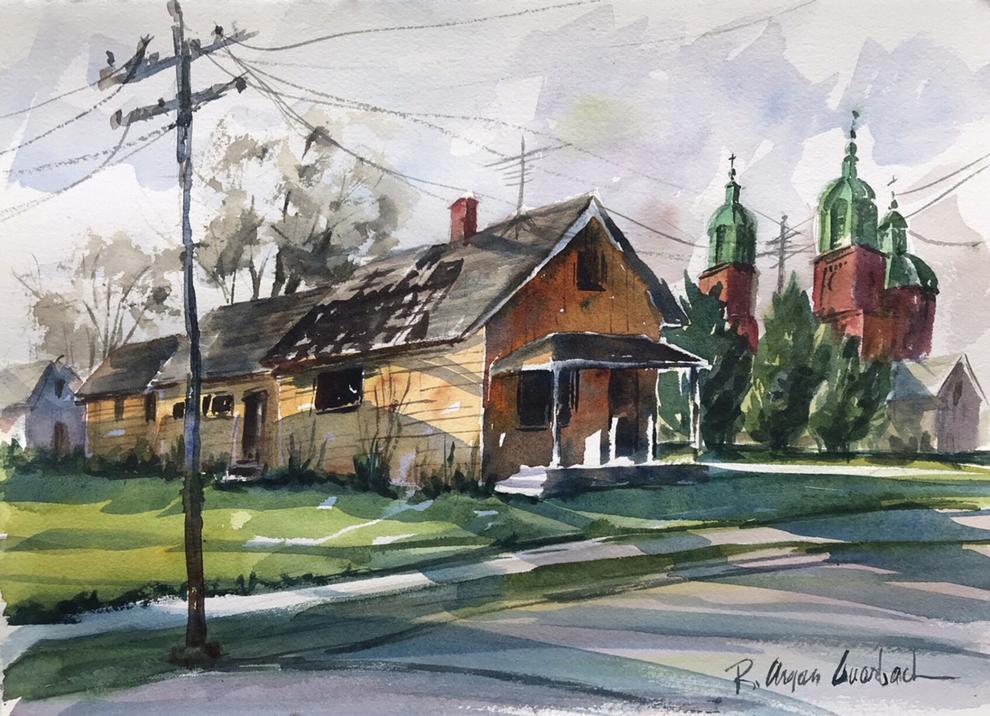 Sept. 25–Nov. 7
If These Walls Could Talk
at Betty's 
bettysbuffalo.com, 362-0633
As restaurant life emerged from its pandemic slumber this past spring, the much appreciated bimonthly exhibitions at Betty's on Virginia Street also resumed. Buffalo artist Kathleen Sherin, who has been organizing those exhibitions since 2006, is presenting a new series of paintings by watercolorist Rita Argen Auerbach starting this month. 
Chances are, if conversation turns to watercolor artists in Western New York, Auerbach's name will come up after Charles Burchfield's. Over the decades, this artist, now in her eighties, has honed a well recognized style and approach, and her subjects have frequently been Buffalo's architectural landmarks. Her celebratory depictions of these buildings are characterized by luminous washes of color and dramatic use of shadows. 
A few years ago, Auerbach sought a new source of inspiration and, accompanied by fellow artist Gary Wolfe, explored Buffalo east of Main Street, documenting vernacular architecture in neighborhoods of the city unfamiliar to her. Her focus turned to the many abandoned or derelict structures that she viewed as potent symbols of an underappreciated history. Auerbach felt these domestic buildings were an integral part of the city's fabric and and had important stories to tell. Recognizing their  beauty and charm, she embarked on a series of paintings that would cloak them in the same radiance she gave to architectural masterworks by Frank Lloyd Wright and H.H. Richardson.
Fond of pithy titles, Auerbach titled each painting by the technical name of its predominant paint pigment. What you may call blue is technically cobalt, and that reddish hue is really tangine. 
To put this new series of work in context, the exhibition at Betty's includes several examples of her more recognized work, such as street views that include Buffalo City Hall, Shea's Buffalo, and the Niagara Mohawk Tower. The show, entitled If These Walls Could Talk, is on view through November 7. To learn more about the artist's work and career visit ritaauerbachpaintings.com.