August or early September
Solo Roths mural
A celebration involving music and dance is planned.
artpark.net, 754-4375
"It was like throwing a knife into the dictionary," says Rob Lynch, one half of the curiously named Solo Roths. Lynch explains that he and his artistic partner, Matt Sagurney, had a two-person show at Buffalo Arts Studio in 2003 and then-BAS director Joanna Angie pressed the pair for a title. "We went to the Old Pink to figure out a name and then David Lee Roth (formerly of Van Halen) came on," Lynch recalls. "We're not big fans, but it resonated with us. We were laughing so hard."
Spur-of-the-moment creative activity is what it's all about for Lynch and Sagurney, who met in Buffalo State College's Art Education Department in 1995. Both went on to become art teachers; Lynch is at Niagara Falls High School and Sagurney is at Kenmore East. Both are primarily known as painters but have worked in many other media. In addition, Lynch is a musician who plays various instruments, has four solo albums, and was inducted into the Buffalo Music Hall of Fame in 2011 (one of the youngest members inducted). Spree covered Lynch's creation of an Art Alley in Niagara Falls in January, 2017.
Working as the Solo Roths, Sagurney and Lynch created their first collaborative mural in 2016 for that year's Music is Art festival and have made at least eight more since then, including projects at Crowley Webb and Oishei Children's Hospital. Though each project is very different, there are certain hallmarks of a Solo Roths mural: vivid colors, a mix of abstract and representational imagery, and strong, expressive paint handling. Don't look for subtlety, but each mural is loaded with surprises; there is just so much going on that it takes a while to explore and take in all the imagery. Perhaps the most important thing to know about a Solo Roths mural is that it is created entirely on the fly. There is no plan; like great jazz, it's all about improvisation.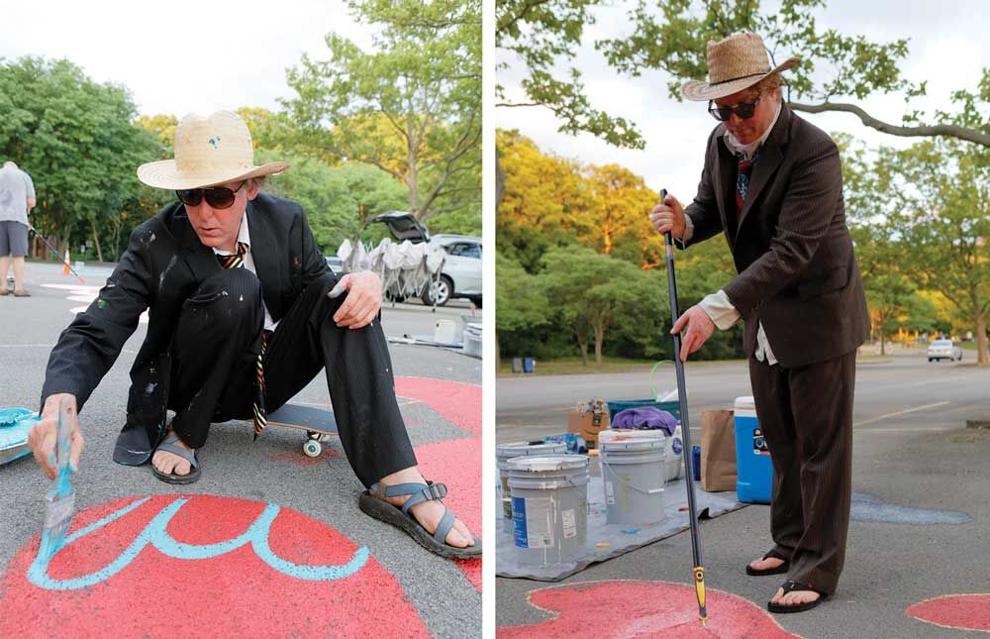 In a 2018 conversation with Newell Nussbaumer, Lynch said, "We tend to be drawn to nostalgia and the absurd—poking a bit of fun along the way. The mural is a pure improvisation and visual conversation between us. We begin without any plan, and react on the fly to what the other has put down. It is a wonderful way for us to work, as we are comfortable with each other's styles and opinions."
The two applied months ago for the Artpark project, a mural covering the facility's lower-level 400-by-400-foot parking lot; they had a Zoom interview in March and started work in June. They've had to work after 8 p.m., due in part to other commitments and in part because of the weather. "The paint is like glue when it's really hot," they explain. (The fact that the two create all their murals wearing suits might also be a factor.)
An essential aspect of this mural is the participation of People, Inc., which provides resources to the individuals with disabilities, and Parkinson's Community, which does the same for those with Parkinson's Disease. Lynch and Sagurney's weekly Zoom meetings with these groups inform their painting.  Coordinator Cynthia Pegado conducts workshops with participants that include the work of the Solo Roths.
The mural is set to be completed August 26, so there's plenty of time to check out the suit-wearing duo as they continue to improvise. Watch for announcements of a concluding celebration.