If two words could characterize the future of Artpark under new executive director Sonia Kozlova Clark, they would be "opportunity" and "challenge." Moscow-born and Columbia-educated Kozlova Clark is a veteran theatrical producer, manager, and administrator who specializes in international productions, tours, and festival programs. In person, she is equal parts energy and insight, enthusiastically discussing theater from Baroque to modern Brazil, and lighting up with ideas about incorporating our region's long history with energy production and development into spectacular creative endeavors in the Lewiston park.
Artpark has created a hugely popular and successful summer concert series under George Osborne's tenure, so a foundation exists to build upon in attracting diverse performers. Spree recently asked Kozlova Clark about her vision for Artpark's future.
Will we see a return to more challenging artistic projects like we had at Artpark in the 1970s? 
Sonia Kozlova Clark: There are stunning opportunities for this place, especially now that we have very firm ground with the help of the concerts and everything that George did.
In terms of community and the audience, everyone I talk to has curious minds. As long as we build this energy, it lives, it breathes. It's a progressive place. Our mission is mission is to become a platform for new ideas and new thinking.
Today, it's the environment and climate change. Tomorrow, it might be artificial intelligence, and who knows what it will be ten years from now. We want to lay the foundation that supports the process of bringing ideas. 
Arts and entertainment make some of these issues tangible and more accessible—visually or through music or through artists who know how to engage their audiences.
There are resources to do this. The way it was done initially with Artpark being funded by New York State Parks was a unique situation for an arts organization in this country. It's more similar to Baroque times when the lords sponsored their composers and symphonies. 
Today, most performing arts organizations function upon a complex system of fundraising, which goes on at all different levels: individual gifts, special events, corporate funding, foundations, individual foundations, corporate foundations, government institutions, state support—there are so many sources. We don't have to just live on the foundation of what concert revenue brings us. We can expand on it. 
Given your experience in tours and festivals, do you see Artpark leaving the park and going into the village or the town with maybe street theater or carnival aspects?
I'm hoping with the projects I'm already planning to invite many local community volunteers. I'm doing all kinds of participatory events. 
My primary goal for this year is to be able to do exactly that. To set up events in such a way that you just want to be part of this; you want to come and stay. And your experience is a friendly one and a joyful one and there's wonder and a sense of discovery and that we give ourselves permission to just be curious.
I'm taking a lot of things that have worked and taking them to another level. The Fairy House Festival, for example, is much beloved by this community. And I love street theater. I have the luck to have been in contact with and discovered some of the most wonderful street theaters in Europe. When people see this, it's hard not to get inspired. But how do we pay for it? This has always been my challenge. Funding things like street theater is hard, because you can't charge for tickets. The model is most challenging unless you have a great corporate sponsor, somebody who understands that writing a fifty-thousand-dollar check for something just because it's beautiful is worth it. 
There's so much natural beauty here. This area has had its share of environmental challenges, but balance that with the amazing gorge and the river—how will you incorporate that?
Very easily. I mentioned the Fairy House Festival; I'm going to bring street artists who can work very specifically with the land, the woods, and the way this environment presents itself. And they're going to create or bring pieces that fit in so naturally with the whole idea of the fairy house and the fairy tale. 
We're also talking to Mary Miss, for example, who is a renowned artist who did one of her early installations at Artpark in 1976. The way she thinks, she goes beyond thinking in terms of individual artworks; she really puts together systems. 
She has developed a way of looking at a city or park as a system for presenting ideas, artistic ideas and sustainable energy ideas, through interactive art. She started the organization City as a Living Laboratory [cityaslivinglab.org] and she has a concept connected to that, Parks as a Living Laboratory. In these models, the landscape, the organization, the programming, and the funding all work as one system. Specific projects evolve that present—again it sounds very complex—challenges, such as decontamination of the grounds, for example, or new sources of energy or sustainability or climate change. She has a way of expressing these things through interactive arts. Not necessarily doing it herself. 
So what she would do with us is develop that system, Artpark as a Living Laboratory. She would curate a program with us where she'll reach out to the artists who will come and work with us. She has already started, and hopefully we'll have one installation this summer. It's very early, but they'll be coming for a site visit in just a couple weeks. I've set up some funding base for them. It's actually going to be a team of a Buffalo-based architect and an artist in Brooklyn. It's going to deal specifically with our local environment—actually birds. We have a bird sanctuary. It's now part of Lewiston, by Portage Road as you drive in. It used to be called the "spoils pile" [originally a quarry filled with the debris generated by the construction of the Niagara Power Plant].
It can be a beautiful thing if you connect artists with scientists, engineers, and architects. And there are stunning projects around the world that do that. 
We've also started talking with this group called Land Art Generator Initiative; I'm very excited about them. Their thinking is in how do we team up architects, engineers, and technologists in energy production with artists and create interactive installations that also are producing energy? It's become an international competition where they do requests for proposals from around the world, specific to each location. They've done it in Dubai, Copenhagen, and New York City (at Freshkills Park). And they're coming to Santa Monica and LA this summer.
These are ideas—proposals built by the teams—and they may take two years to develop, but they're fully buildable. They're stunning visually. It just blows your mind.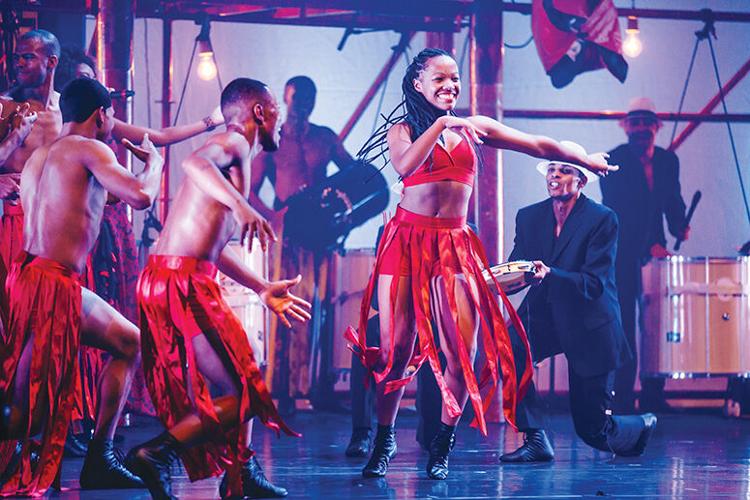 How do you like it here so far? Do you live nearby?
I live in Lewiston, almost in the village, on the river. And I love it. I do. The possibilities here are so exciting that I am in this state of constant drive. 
Speaking of energy, it feels like you're the energy propelling everything along. We should just hook something up to you.
[Laughs.] Just hook me up. 
Do you have any plans to change or have any new ideas for the concert series? That's a pretty big draw to the park.
Don't fix what's not broken, is that the saying? The series works very well. There's a future for it. 
I would love to work on establishing a closer relationship with the artists who come here and give them more of a reason to look forward to being here. Because it's Artpark and because they know us, they trust in our vision. We need to build more of a community where we'll work together and not just be a stop on a tour or a circuit. 
I'd like to give the artists more opportunity to present their causes that they stand behind as human beings—be it hunger, climate change, or any other issues that they support.
Any big surprises coming?
Absolutely. I can't avoid my connection with the artists outside of this community. My biggest challenge right now is to really get to know the local artists. I would like to take this opportunity to reach out to local artists. Tell me who you are. What are you doing? What are you working on? The more I know, the more I see, the stronger we'll get. 
At the same time, I'm naturally drawn to artists I know. And that means Artpark will be welcoming artists from Brazil, Estonia, France, and other locations. This summer, we're bringing a new show to to Artpark's Mainstage Theater July 14–17. It's the United States premiere of Baila Brazil, the ultimate Brazilian Music and Dance celebration by Balé de Rua, one of the most acclaimed Brazilian performance groups.  
We are grateful to M&T Bank, the presenting sponsor of Baila Brazil, who continues to partner with Artpark to provide our community with extraordinary cultural experiences and, specifically in this case, contributed toward keeping all the tickets very affordable for the Western NewYork community.
The show has been touring the world to sold-out houses in London and Sydney, and now comes to the Artpark stage in the wake of the Olympic Games opening in Rio. I can guarantee that it will be more than a show! It is a spectacle and an experience with after-parties on the courtyard and a daytime carnival on Saturday afternoon with maybe even an Artpark version of the Olympics with games and interactive dance and drumming workshops.
With the excitement of a hot summer night party, it is a feel-good experience for families as well. It will bring the joy of Carnival here to Artpark where we will make sure you'll dance in the aisles and on the courtyard, all the way to your cars.   
There is also a great soul to this, a philosophy of life the Baila Brazil artists are burning to share: all of the acclaimed dancers, percussionists, B-Boys, sambistas, capoeiristas, musicians, and singers come from the very poor districts (favelas) of a big town of central Brazil, Uberlandia in the State of Minas Gerais, and they want to share their experience of achieving their dreams through hard work and love. Balé de Rua originally started in the streets, and the show includes a lot of urban dance as well. It really is a thrilling journey into the heart of their African and urban roots, and I really hope that our Western New York community embraces the opportunity to just experience something new while celebrating their own experience with us.
Wendy Guild Swearingen is senior editor of Spree.