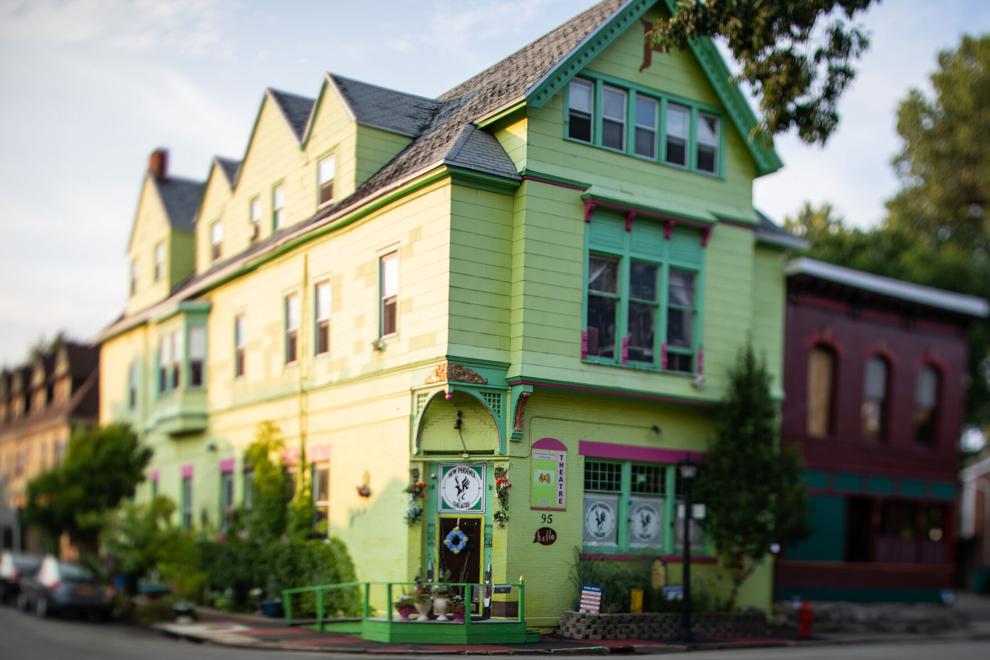 What happens when a phoenix doesn't rise from the ashes? I think about this as I buy a pretzel breakfast sandwich from the Speedway on Elmwood and Lexington, the Saturday morning frenzy chasing Friday's mistakes out of our systems. This Jesus lookalike sitting in his car is cutting open a Hostess CupCake with a house key. I guess sometimes sweetness is something you have to unlock. A room with a stage where light exists and it's pure and blazing and fierce.
Anyway, I quickly scarf down my food and drive to N Johnson Park for a liquidation sale. A theater has stopped telling stories and we're here to pick apart its carcass. Salvage the memories before they crystallize into condos we can't afford. I head inside and run into Eric who's here picking up some of his own artwork, images that made their way onto posters seen all over town.
Mice and men and full moons that we use like dice to gamble with. Without any creative community, there'd be complete lunacy. Oh nuclear bomb of unavailable therapy, this is all we got.
Pretty soon, I'm under a spell and slow dancing with armless mannequins where the seats used to be. I hold onto their torsos for dear life as a hurricane of headshots starts papercutting me from head to toe. But I don't care. There will always be pain when trying to conjure a history of sweat. All the things we've done just to do them, just so our voices don't die alone in the dark.
After wiping myself off, I walk onto the stage, kneel before the old painting of Santa, and mutter a prayer of thanks because it's a gift doing what we do. Entertaining a beaten-down Buffalo and making people think when they need it most. This place is holy and as I make my way upstairs, past the sound booth moaning for its lost tongue, I notice Emily who's looking through the leftover costumes. We chat about how sad and surreal this all feels. Like the end of the world and in many ways, it kinda is. The death of a safe space where we could all drift for a little bit. Now all the tchotchkes have gone missing.
In the room with the bed where Tom sometimes sleeps, I come across a small box with equity cards and newspaper clippings. I want to cry out, "What was it all for?" Stacks of play money everywhere I look. Of course I know what it was all for: stories to get us through the long nights, connections that will last a lifetime, but in my weakest moments, it seems that all art is endangered, and we have to do everything to persevere.
After my momentary crisis, I stumble upon Darleen in the back room and together we stare at the pictures of Flynn's on the wall. Joyful artists surrounded by ashtrays and alt-weeklies. What a time to be alive! Darleen asks if I've ever been and I mournfully tell her that I never had the chance. Closed before I developed a true taste for whiskey-soaked starlight. But I love listening to the long-remembered poems of a place like that. That's the thing. Always remember us this way: as dive bar dreamers burning the midnight oil, overworked and maybe under-loved, dropping everything at a moment's notice just to create a sense of community. It's worth it in the end, whether a stage is there or not.
When I'm back outside, the spell is broken but not really. I'm carrying a box full of oversized sunglasses and a framed poster of A Queer Christmas Carol from god-knows-when. I light up a cigarette and walk to my car. The wind is monologuing as it always does in this neck of the woods.