(Note: This is the last in a series of on-the-scene reports from the midst of Toronto's North by North East music, film, and interactive conference, presenting 650 bands in 50 venues around downtown TO. The festival ended Sunday, but will return next June.)
2 p.m. The "interactive" portion of NXNE's three-part focus (the other two being concerts and films) is mainly intended for music industry folks, including emerging bands, label execs, promoters, and tech geeks, but in the spirit of participatory journalism Don and I each head to a different panel, where we hear much talk of "turnkey platforms," "noisy spaces," "sticky sites" (online band contests, for instance), and "voter fatigue" (i.e., "please stop asking me to vote for your band in all these online contests") as everyone tries to figure out what the hell to do in a field that changes radically every fifteen minutes. (The consensus from both panels: No one really knows.) Two perhaps contradictory comments stand out: Moderator Ira Haberman observes that, despite widespread fears back in the Napster era that the internet was going to "kill" music, "the industry has never been stronger"—thanks not to the suits, but to artists themselves, who have found ever more creative ways to use technology to spread the word about their work. On the other hand, notes Supernova CEO Elliott Hurst, "Artists don't want to 'engage with their audience,' they want to pick up a guitar and play music." Exactly.
Camped out in the Hyatt lobby trying to compare notes, write, and edit photos, we find ourselves obliged to—pardon my French—network, as a series of strangers, mostly from the States, seek us out to promote their various services/bands/zines/whatchamacallits. Giving up on getting any writing done, I escape to hear a talk by "internationally published 13-year-old prodigy Adora Svitak about "how her generation uses social networking to solve social issues and spark change, as well as the new trend of young people teaching adults, in school and online." This sounds appealingly horrifying to me, but alas, it turns out young Adora has arrived and delivered her spiel a day earlier than scheduled and is already long gone; now that's what I call a prodigy.
11 p.m. Our evening begins later than planned, so we end up missing the much-anticipated (mostly by other people) Devo show in the huge free stage on Yonge and Dundas, along with several other fun-sounding gigs scattered all over downtown in no easily navigable fashion. We are also suffering from the offline equivalent of voter fatigue, so I propose that we turn our final night into a conceptual performance piece by limiting ourselves to sites we can walk to on Queen Street; that's still fairly ambitious, since there are 13 official venues on that famous thoroughfare alone, to say nothing of street musicians, impromptu art events, and non-NXNE-sanctioned concerts. (The Luminato Festival is taking place this weekend, too, bringing free shows by the likes of k.d. lang, They Might Be Giants, and the Kronos Quartet to the same neighborhood.)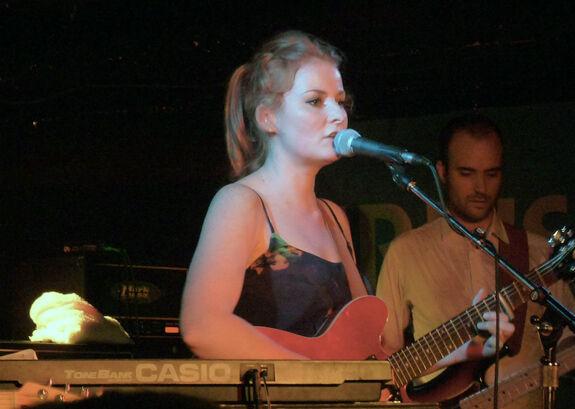 Our first stop is the Horseshoe Tavern—sorry, I mean "the Legendary Horseshoe Tavern" (that's the official name now, and the legend is even documented in a film festival entry)—for a a podcast by the channel plugging the featured artists (including Dinosaur Bones, Hooded Fang, and One Hundred Dollars), all of whom are new to me and all worth a listen. We catch "Getcha Good" has caught my ear on the podcast. I'm hoping she's got more where that one came from, and boy, does she ever: one ultraperky, effortless-sounding gem after another reflecting a wide range of genres, including synth pop, alt country, and even hiphop, thanks to a cameo appearance by cleverly named Nova Scotia rapper Buck65. It's all in the general ballpark of fellow Canadians Jane Siberry and Feist, and with any luck—which these days means placement in an iTunes ad—Grant's appeal is bound to extend across the border.
Midnight And now for something completely different, and completely amazing. My Skin Against Your Skin is one of three Taiwanese bands selected to appear at NXNE after a fact-finding mission to China by two of the festival programmers; their gig at Bovine Sex Club also gives us a chance to check out a venue whose name verily cried out to us the minute we saw it. The club itself—a multi-colored cavern that resembles a gigantic Kenny Scharf or Judy Pfaff art installation—is well worth a visit any old time. As for the band, I'm gonna go out on a limb and dub 'em the most exciting act we saw all weekend (with due apologies to these guys, a close second and a band I'd probably rather hear on album than MSAYS). Lead singer Andrea Huang is a born rock star, operating at an energy level rivaled only by Iggy Pop at his prime. One minute she's prowling BSC's tiny, cordoned-off stage like a caged animal, the next she's climbing anything sturdy enough to support her diminutive frame, including (during one of the only encores anyone took during the entire fest) drummer Tsai Tsai's kit. It's remarkable how much noise one drummer and one bass guitarist can make; a lot of it is classic three-chord-or-fewer punk, but the range of emotions Huang generates is stunning: anger, passion, sweetness, confusion, sheer joy … This is what I was hoping for from the much more ballyhooed Dum Dum Girls the night before. (Fun fact: Approximately 90 percent of the bands we see over the course of the festival are fronted by women. Coincidence or exciting sign of life in the 21st century? Either way, it's great.) I don't imagine they'll be touring these parts often, but should you ever find yourself in the same city or country as My Skin, make a beeline to see them. Dead tired as we were when we walked in, we're floating on our way out.
1-2:30 a.m. I couldn't envision anything topping MSAYS, so rather than commit to any single venue, we decide to duck in and out of a few more Queen Street clubs on our way back to the hotel. There's music everywhere, in and out of sanctioned venues: a saw player on the street; a New Orleans-style brass band (Buffalonians, think 12/8 Path) called Rambunctious whose 10 members, including the drummer, are all performing atop the bar, high over our heads; an earnest pack of hirsute lads in the back room of the venerable Cameron House with the unfortunate moniker Autumn's Canon (pictured above) whose gruff-voiced lead singer belts out a series of rock anthems (all of them on the subject of "perseverance," he informs us) clearly influenced by Springsteen and Mellencamp; in the front room of the same space, a trio of guys does a lively cover of the Band's "The Shape I'm In."
The shape we're in at this point? Exhausted but ecstatic. If you're a WNY music lover, you owe it to yourself to check out NXNE ASAP. With no less than 10 different price options, ranging from a $25 one-night wristband to a $529 festival-long "Works Pass," you're almost crazy not to. (Hot tip: Unless you're eager to learn about the industry or press the flesh, you can easily skip the "interactive" component; the five-day $50 wristband which gets you into all 650 bands and 40 films is the clear way to go for most people, even if you only drive in for the weekend.)
Every show we attended ran like clockwork; acts at all but the huge free stage start on the hour and are done by a quarter till. If that isn't anarchic and punk enough for you, think of the festival as a tasting menu: You get just enough of a certain sound to grasp the concept, and then it's time to move on to something new.
Comparing notes with some NXNE attendees who are also SXSW vets, and knowing a thing or two about the layout of Austin, I'd say the Toronto version is a perfect size: it's a smaller event in a larger city, one that's easier to get around, and while venues tend to be packed on Friday and Saturday night, we never had a lick of trouble getting into anything we wanted to see, particularly since we were open to adventure and not particularly inclined to seek out the trendiest acts. (If you really want to spend your time scouring Twitter feeds for secret shows by big stars and crowding into tiny spaces to be able to tell your friends you saw 'em, go right ahead.) Come to think of it, I'd say—leaving aside the marquee-name acts and corporate sponsors—NXNE has as much in common with Buffalo's own Infringement Festival as it does with its Texas cousin. If you're mainly interested in hobnobbing with Kanye and company (or at least pretending that's what you're doing), then Austin's your town. But if what really turns you on is taking a chance on a brand-new act (or twenty) and sampling the wares of some cool headliners past and present, then hold off on those year-in-advance hotel reservations, because you'll find a perfectly fine paradise just two hours away from home.