What is Chautauqua Institution? If the answer you're devising in your head is something vague about arts and lectures and a lake, you might not be aware that Chautauqua has a resident theater company (as well as a symphony, opera company, dance company, and more) that programs three mainstage shows and three new works over the course of its eight-week summer season. Or that Andrew Borba, who'd previously served the company as actor, director, and associate artistic director, has taken the artistic director reins from Vivienne Benesch. (Benesch had served in various capacities at the Institute for twenty-two years, and is now producing artistic director at PlayMakers Repertory Company, the professional theater-in-residence at the University of North Carolina at Chapel Hill.)
Borba, an LA resident, full-time professor at University of California, Irvine, and accomplished actor, is no stranger to Chautauqua. Benesch first invited him there when, in one of her positions, she was tasked with building a core of guest artists. "Viv has been one of my best and dearest friends since we were in undergrad at Brown," Borba shares. "We're both NYU grads, and we've stayed in touch forever. She is the singular person that I trust with both collaboration and witnessing my work, so when she asked me, it sounded perfect. And, then, of course, I got bit by the Chautauqua bug, and it became a real summer home and respite for me. And a real place of growth. And then they sucked me into the administrative aspect of it.
"I have always been a relatively organized person, especially when you put me in the pool of actors, who are infamous for being somewhat disorganized and chaotic, not to disparage my own kind, but I actually started to enjoy the procedural aspects, the ability to affect not just the programming, but the experiences of all the artists we're lucky enough to bring to Chautauqua," Borba continues. "Being able to curate that ... As much as it's trying to balance the budget and orchestrate plane fares and calendars, underneath it is facilitating the arts and the artists; that has motivated me more than anything else."
Even so, there was never a grand scheme to groom Borba to take over, and yet the seamless transition would make it seem so. "I joined because Viv and I were such good friends and artistic partners, and I enjoyed it so much that, as we went down the years, I was taking more and more administrative responsibility," Borba explains. "By the time Viv got the job at Playmakers, she was the one who turned to me and said, 'Are you interested in this?' To be candid, I had not really considered it, because of all these other things [I have going on], but I took about fifteen seconds and said, 'I'm very interested.' So it was not at all in the plans, but felt exactly right immediately."
Of course, as life happens, that was also the year Borba was offered a full professorship at UC Irvine, which also overlapped with a gig at Oregon Shakespeare Festival (Claudius in Hamlet, Jaggers in Great Expectations). "I didn't sleep a lot for two and a half months," he marvels. "I left for Oregon immediately after Chautauqua ended, and, as I was beginning the Irvine job, I commuted from Ashland to Irvine Mondays and Wednesdays. But the iron for both Chautauqua and Irvine struck at the same time, and neither would or should have waited for me. If I wanted to do both, and I had wanted to do both for a long time, I had to say yes."
Which means by the time Borba arrives in Chautauqua, it's almost like vacation—not that he won't be working hard. Under the theater umbrella, Borba oversees the Acting Conservatory (he and managing director Sarah Clare Corporandy travel in the off-season to interview/audition students for this premier training program), the New Play Workshop, and the mainstage season of three plays. 
"The biggest lesson had to do with the scope," he says. "Actors are intentionally subjective, and are rewarded for viewing the world from a subjective point of view. Directors don't do that as much, but it's still about that particular show you're directing. When you step into administration, you need to see everything, balance the needs of the interns as well as the visiting artists. It really has to do with making the best decision for all, and sometimes that means serving only a few and sometimes it means serving the many."
To learn the ropes, Borba spent a year working side-by-side with Benesch, though side-by-side often proved to be in name only. "I don't know that we will ever have a season like that; she was on her learning curve, I was on mine, and we were trying to figure out a way to do it together. We were infrequently in the same room—lots of text messages. It helped that we've known each other so long," says Borba, who laughs as he illustrates with an undergrad story. "My senior thesis at Brown was The Comedy of Errors, and, of course, I cast Viv as the mad Doctor Pinch, and put her in thirty-six-inch clown shoes, crazy makeup, wigs. It was absolutely outrageous, and Viv looked at me when the pictures came out from the show, and said, 'Really? Of all the roles you could cast me in?' but I said it was a role she could step in and out of and help me with the show. But it also encapsulates the sense of fun, play, and trust that we've always had."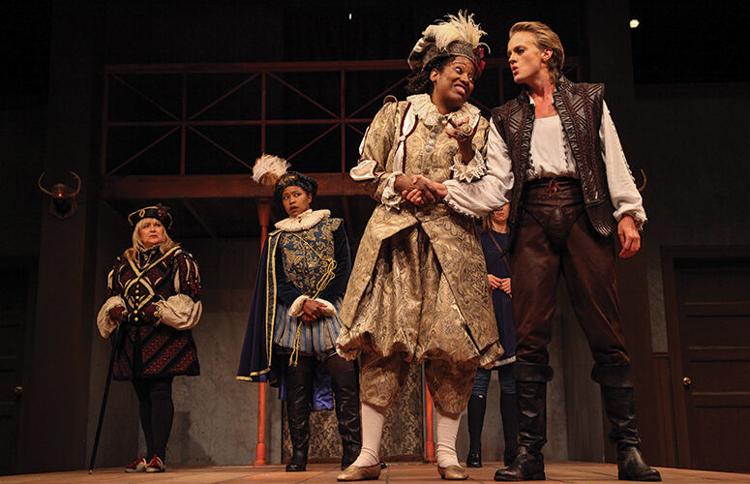 Now, though Benesch is just a phone call away, Borba is flying solo, navigating both the expected—the pillar programming—and the unexpected, like the retirement of Chautauqua president Tom Becker. "Unexpected doesn't have a negative connotation necessarily, but it changes things," Borba says. "[New president] Michael Hill has a different vision, and one that is wonderful and in line with the vision that CTC has been trying to develop for the past few years. That's terribly exciting; there's an energy between us now because many of us are new in our leadership positions, but excited to work with each other to continue to push some of that forward."
Much of "that" has to do with combining the different arts factions at Chautauqua, as the previous Go West! and Romeo and Juliet Project did. "I've been talking to [artistic director of the Chautauqua Opera Company] Steve Osgood, and trying to figure out how to create some interesting chamber pieces from operas being done right now," Borba says. "Many composers are drawing from works for theater, and creating small pieces around them. One that comes to mind is a great piece from Of Mice and Men. That's what's really at the forefront, this interdisciplinary work, and we're excited, because Chautauqua with all its arts programs in one place is the perfect place to do it. To say it's a trend is too reductive, but it's a lot of possibility; the universe is more creative than it used to be."
The other thing that both Hill and Borba are interested in is pushing the work created at Chautauqua out into the world. For the New Play Workshop, this means inviting projects slated for world premieres to workshop at CTC. The idea that the work will actually move, rather than be "evaporated into the collective consciousness of the artist returning to live somewhere else," is a prospect Borba finds exciting. He points to Zayd Dohrn's The Profane, commissioned and developed at CTC before its world premiere at Playwrights Horizons, where it extended this past spring.
"I had an amazing experience at Chautauqua," says Dohrn. "It's a strange place, out of place and somehow out of time, but it's also an incredibly supportive community for a writer. In the midst of this idyllic Norman Rockwell summer camp, they pull together a Dirty Dancing-style ensemble of New York actors, directors, and designers who can put together a production of a new play as good as any in the country. Chautauqua commissioned The Profane from me sight unseen, based on nothing but their belief in my earlier work. And unlike many commissioning institutions, they stayed committed to it every step of the way, through readings and workshops to its off-Broadway premiere."
"We're not going to become the next off-Broaway producing organization overnight, but we're using what's special about CTC and sending it out into the world," enthuses Borba, who points to the June workshop of Noah Haidle's Birthday Candles as another example. "Viv came back to direct it, and then she will take it to Detroit Public Theatre and direct it there. So we had Noah able to work his play with the director who's going to direct it professionally, but in a safe environment, where he doesn't have to worry about anything other than what is working in his play and what is not working."
The second new play, to be staged in early August, is Dan Cody's Yacht by Anthony Giardina. "He'd contacted us, because we'd been interested in City of Conversation [which ran at Kavinoky last season] years ago, and we couldn't make the dates work, so when Manhattan Theatre Club commissioned this work from him, he contacted us. He and his director will come here to do some work before they go back and stage it at MTC." 
At press time, the third play was still in question, but anybody who would like to be the first to see Dan Cody's Yacht or the third play in the New Play Workshop Signature Staged Readings can buy tickets at ciweb.org/chautauqua-theater-company. Borba has changed the calendar so that these two new works run in rep, allowing visitors to see both plays in one short visit.
The regular season opens with Michael Frayn's Noises Off, directed by Borba. "I really do like directing comedies, because there is a lack of deep, situational, character-driven laughter in our lives today, where we're looking at the human condition, and, in recognition of our folly, have a communal laugh. And I don't know if there's a more crowd-pleasing play than Noises Off."
Next up is Dominique Morisseau's Detroit '67 (which played last season at Paul Robeson), set on the eve of the Detroit riots. "It's new and it's really smart, and also moving and Chautauquan in the way that it challenge saudiences to think and question where they stand," says Borba. "[Finally], Romeo and Juliet [Shakespeare in Delaware Park, 2015] takes us into classics, but we're not a museum, and we will be mining it for its present life. That doesn't mean we'll be doing it in T-shirts and sneakers, but we'll be getting underneath the impulses of teenagers falling in love for the first time, and rival factions who are feuding and can't make headway in the world because they're locked into what they feel."
Also this month, pending final confirmation not available at press time, Lydia Diamond (Stick Fly, Smart People) visits Chautauqua as part of the Dramatists Guild Foundation's Traveling Masters program, which will include a free lunch event, something Borba hopes can be the start of a deeper, ongoing relationship with the WNY community.
For our part, with Buffalo stages all but dark in summer, we need only look south to support new play development and fill our summer theatergoing needs.      
Playwright Donna Hoke covers theater for Spree and Forever Young.