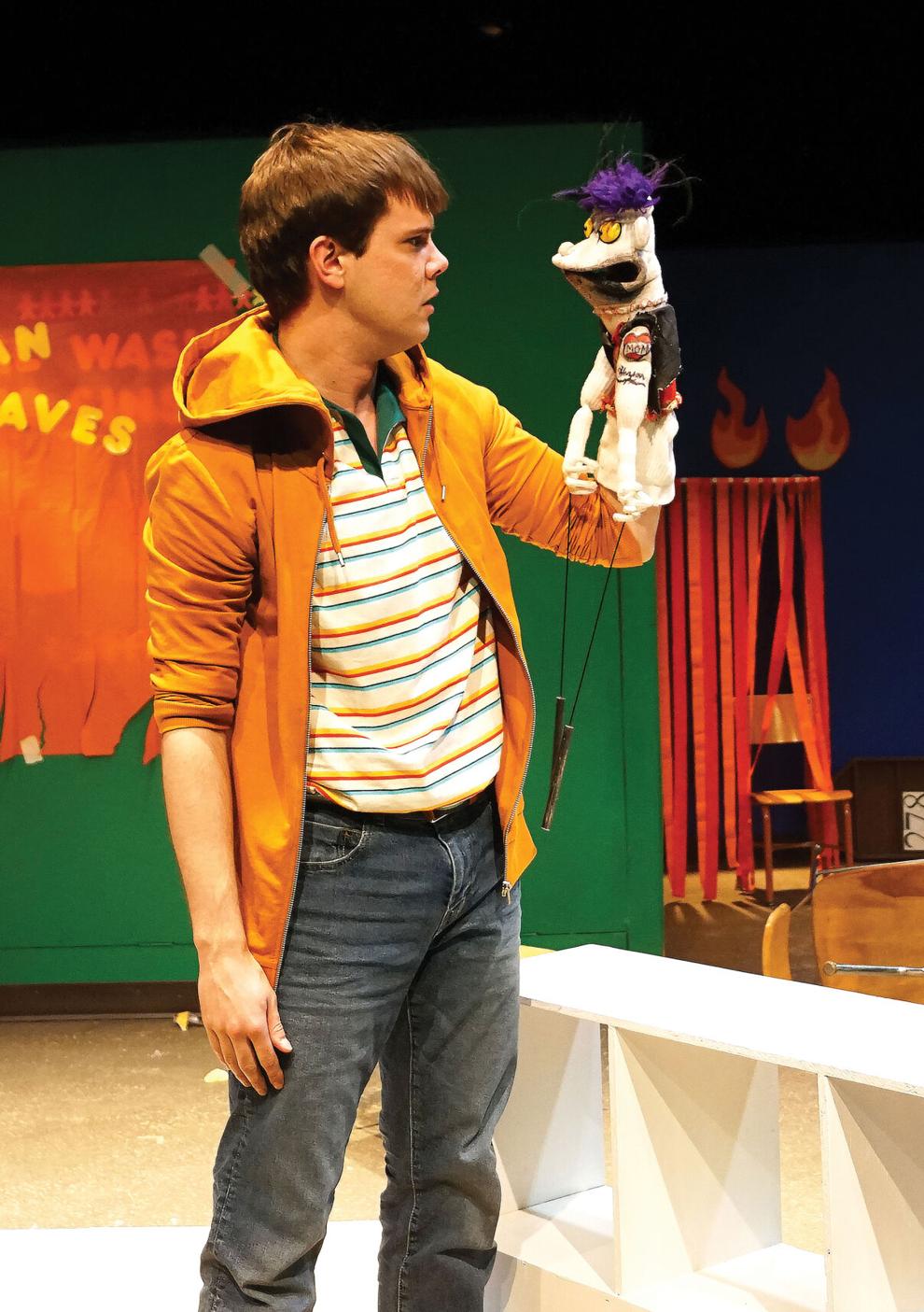 What was/is your relationship to this show?
I first learned about Hand to God my final semester of Niagara University, in spring 2014, and immediately I wanted to play the part. It hadn't come to Broadway yet, so I knew it would be a few years. Then, out of the blue, I got an email from [Road Less Traveled Artistic Director] Scott Behrend in November 2017, asking me if I had any experience with puppets and if I could come in to read, and I frantically replied, "Yes!" in the middle of the night. The show was supposed to open for Curtain Up! 2018, but that production never even saw rehearsals because Road Less Traveled Productions was moving to its new theater. The show was postponed to March 2020… and ran for six performances. Now, eighteen months later, we're bringing it back again.
What's the trick to playing this unusual dual role?
It's a challenge to keep the lines straight and to get the jokes right while also manipulating the puppet, but when it goes right, it's so satisfying. Getting to practice with the puppets was fantastic; they're the most incredible props I've ever used for a show. 
What's the best acting advice you were ever given and from whom?
Victoria Buda directed summer shows for students near where I grew up in Verona, NY. For every show, she told her students to find joy in the work. When you find joy in something, she told us, it makes you pursue it that much harder, to create something that much better. It's where passion comes from. And that's what makes great theater. That stuck with me; it's part of why I thank her in my bio for every show.
What's your best "the show went on" moment?
When I went on as the lead in Niagara's Urinetown: The Musical after finding out only the night before. I was already in the cast and we had just finished a performance on Friday night, and our next show was at two p.m. Saturday. The director pulled me into his office and told me that, due to health issues, the actor who played Bobby Strong couldn't go on the next day. I had just played the role the summer before—directed by Victoria Buda!—and they asked me if I could relearn the part in one night. I said yes and at two p.m., the curtain went up and I was Bobby Strong. It was surreal.
What's the role that got away?
I really wanted to be Riff in West Side Story at MusicalFare. It ended up going to one of my close friends. I'm almost positive we've talked about it but if he didn't know from my audition that I wanted the part, he does now.
What line from a former play have you never forgotten and why?
It's a line from Tom Dudzick's King o' the Moon. Without getting into too many specifics, my character has just let his sister down in a big way. He's in training to become a priest and, addressing God, he yells, "If this was a test, it was really unfair. Let me fail with some stranger, not with my sister." I have a sister in real life, and I would think about her every time I said it. It still gives me chills.
What "against type" role are you dying to play?
Batman.
What's your classic actor nightmare dream?
I'm sure this is pretty standard, but the nightmare having to go on for a show that I am totally unfamiliar with and have not rehearsed for. Somehow, it's always a musical and I always end up having to improvise a song. It's never good and it's always terrifying.
What audition would you love to do over?
Well, I like to think I haven't had any auditions that went that badly. I did have a pretty pitiful audition for the theater program at Ithaca College, but that was because I was waitlisted, only got an audition slot two days prior, and was totally unprepared. I wouldn't do that audition over again, though, because if I had gotten in there, I may not have come to Niagara University and, subsequently, Buffalo!
What's been your best takeaway from the past eighteen months?
Probably just not to take things like theater for granted. Being able to do theater, safely, consistently, is such a privilege and yet, even as I'm writing this, the near future is uncertain. There's still a huge risk out there and everyone needs to do their part to keep each other safe. I've missed performing. I miss using silly voices and screaming nonsense at my friends. I look forward to the day where my cast and I don't have to rehearse in masks and can perform for a packed audience without a worry in my heart. But we're not there yet. We still have to be really careful, for each other's sake. Stay safe everyone. 
Opens Nov. 4
Hand to God
Runs at Road Less Traveled Theater through December 5.
roadlesstraveledproductions.org, 629-3069