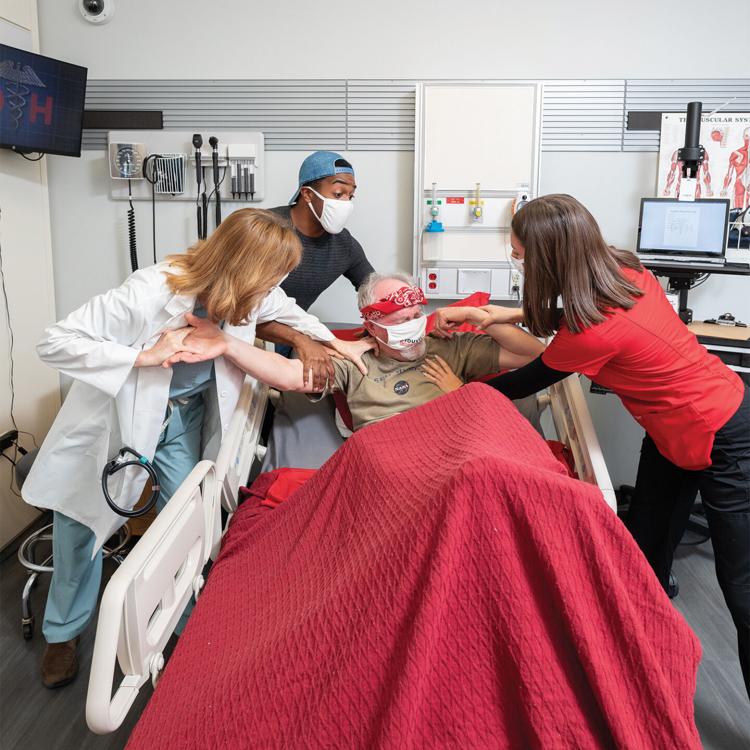 Actors have been largely out of work since theaters shuttered this past March. But while the shows haven't necessarily gone on, academics have—and that means a swath of actors are still working in medical simulations (or sims) at area institutions of higher learning.
The go-to person for many of these is Gail Golden, director of Dramatic Solutions, an interactive business theater company she helped found in 1998 and that boasts clients from Lockheed Martin to Walt Disney World to the federal government, as well as a host of schools. The company's corporate and educational training offerings generally take the form of scripted theatrical presentations centered on workplace issues—diversity, grief, empathy, unconscious bias, microaggressions, generational differences, sexual harassment, bullying, etc., followed by discussion. Medical simulations, on the other hand, are freeform and dialogue-driven. Actors (and sometimes, even medical professionals) are given case studies from which they create patient characters who interact with medical students providing "treatment" or doing intake.  
"We have a file of about 150 folks because you need all different types," says Golden. "Fluent in other languages, including ASL; all ages, ethnicities, and genders, and people who are open about being in the LGBT community and willing to bring that up in interactions with students; people of different religious backgrounds. You never know what a character is going to be like for a sim. This summer, there was a pediatric class for nurses and they wanted a newborn baby!"
For students—mostly at D'Youville, University at Buffalo, and Daemen—the intake interviews can feel like puzzles to solve, i.e., they're looking for something beyond what's being presented. "We have students seeing a patient who is getting health care because of asthma, but if they ask the right questions, they will find out she's a victim of sex trafficking," offers Golden as example. "A lot of times, there are underlying issues."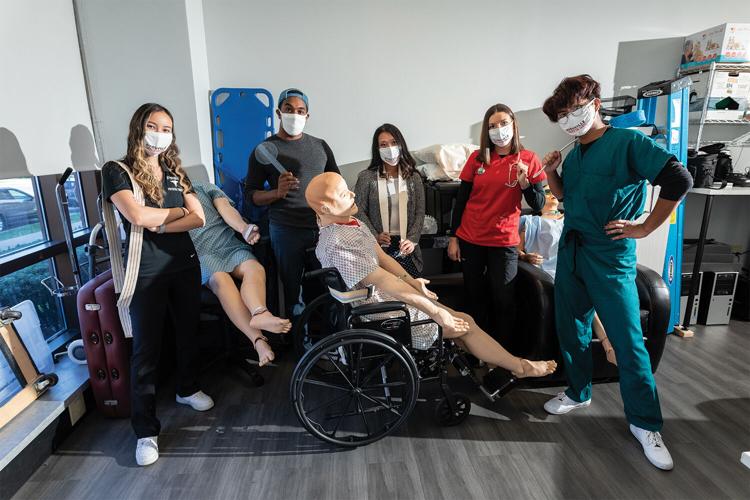 Actors are instructed to act as naturally as possible, and not make it too easy. So if asked, "Any chills, fever, night sweats, vomiting?" the actor might just respond, "No vomiting," and it's on the medical student to pursue the line of questioning. Informal advice to actors: don't give more than asked for. Make student learners earn the information. 
And if a student isn't quite getting it? "We're not allowed to give hints unprompted," says Sabrina Kahwaty, who is frequently hired to play younger patients. "We can, for example, if asked 'Are you taking any medications?' say 'Not at this time,' and hope they probe further to ask if I was taking something previously that might have created a problem. I love the look on a student's face when they recognize that they've hit on something."
If students feel awkward dealing with "fake" patients, it's a feeling that quickly disappears. "Once, I was playing a patient waiting for test results," Kahwaty recalls. "My instructions were to display anxious behavior until I was told my result was negative. Some students waited until the end to tell me, so I was anxious the whole time! When one empathetic student told me right off the bat, I reacted—a huge sigh of relief, deep breaths, 'Oh my god, really? OK. Thank goodness,' etc. I think she forgot I was an actor. She was like, 'Oh honey!' and patted me on the back and was like, 'Oh my goodness, you must have been so nervous! Everything's OK!'"
"Students love the experience and report they believed the role was with a real patient," confirms Dr. Lynn Rivers, PT, PhD, Chairperson of Physical Therapy at D'Youville. "They leave energized, excited about their learning and asking for more experiences. They almost always are amazed to meet the real person at the end as we let the actors introduce themselves."
"The scripts and characters are real-world," agrees David Mitchell, a seven-year Dramatic Solutions veteran. "It is easy to connect with them and make them real. My favorite so far was where I played a homeless man. I had a loose outline for the character and was given the liberty to fill in the blanks.  I loved and felt deep sympathy for the character that evolved. The performance got emotional; a little scary, but lovely. I have not had that relationship to a theatrical piece in a long time, and I did not see it coming!"
"Looser scenarios can feel more like traditional 'acting,' because you get to come up with a lot of backstory and develop the character, kind of follow your emotions," says Kahwaty. "With standardized patient work, there's facts and medical history to memorize, medications to learn the names of, and questions to know the answers to, but you're still portraying a real patient, and trying to provide a realistic experience. I respond differently based on what students ask, just like responding to a scene partner on stage. Last week, I was playing a patient with trauma history and I found myself starting to tear up—I remember thinking, whoa, what's wrong with me, this isn't really my childhood trauma! If that's not acting, what is, right?"
The actors surprise not only themselves, but also the students. "When we're doing an in-person sim, anything can happen," says Golden. "If we're in the hospital, the IV is just taped to our arms, and if students move us the wrong way for PT, the IV can come off, and the actor screams, 'Ah! My IV!'"
Kahwaty recalls: "Last year in a simulation on prejudice, I was instructed to deflect the first student who tried to intervene. When the first attempt was made, I responded, 'Um, could you mind your own business? I really wasn't talking to you.' I guess I must have intimidated him and the rest of the students, because no one tried to intervene again for the rest of that run-through!"
Those moments aren't planned, of course, which underscores the need for actors who are quick on their feet. "I was surprised to learn how much I love improv," says Mitchell. "I had been cautious about it for a long time. I'm used to scripts with everything spelled out. Mistakes were something to avoid. Improv has helped me with creativity and confidence. When things go wrong or circumstances are not defined, it's okay. These are opportunities to paint a different theater picture."
So, what makes a good sim actor? "They must stay true to the character we have created and attempt to insert key phrases or challenges we have built into the scenario," explains Rivers. "However, they must be able to improvise, as there is no certainty on how the student learners will act or what questions they will ask. The actors must play their role but not steal the show. They must allow the student learners to do most of the talking and doing. This is the biggest challenge for some actors. Actors who can master the art of portraying the patient and assuring that the challenges we ask them to present—for example, they are in pain and seek pain medication—occur, but allow the student time to respond and figure it out are the actors we love to have come back."
On a practical level, "they have to be really good at answering their emails," Golden adds. "And it's good if they have flexible availability because most sims are during the workday."
Golden herself has participated in her fair share of sims, often playing recurring characters for which she's a good fit. "I've learned a lot about medicine!" she says. "I can tell you a lot of things that could go wrong in a dental procedure. I can have a really intelligent conversation with people having surgery. We all enjoy doing it not just because it's an acting gig, but also because we're helping the next generation of healthcare professionals in Western New York get an education. We all find it worthwhile work and are honored to be a part of it." 
"The students and professors really value actors, and treat the work like it's important, which I really appreciate," adds Kahwaty. "I could never work in the medical field, so I kind of love that I can still help in some way."
"In health profession education, we need to do more of this rather than straight didactic teaching, chalk and talk," says Rivers. "We continue to expand our scenarios to reflect the current needs in our community. We have created scenarios around death and dying, domestic violence, elder abuse, suicide, and prejudice, to just name a few. This type of learning is as close as educators can get to real life learning."
A debrief comes at the end of the sessions, and both Kahwaty and Mitchell love when the "masks" come off.  "It's a wonderful opportunity to say thank you," Mitchell shares. "We often are encouraged to give feedback. To be able to do that for the students is satisfying." 
"By the way, I have been doing this for fifteen years, and I was always advised by those in the field not to use actors to play patients, as it is too difficult to get them not to act," says Dr. Karen Panzarella, Associate Professor of Physical Therapy at D'Youville, and Certified Healthcare Simulation Educator (CHSE). "I ignored this and am happy to report our partnership with Dramatic Solutions for the past eight years has been outstanding!"
Golden was pleasantly surprised to see how well the sims translate to the Zoom platform. "When it all first happened, we couldn't figure out how we'd get it going at all, but we took the lemons and we made lemonade," she says, reasoning, "It's telehealth and a lot of us are getting our healthcare that way right now."