Through August 15
20/20 Vision: Women Artists in Western New York
at the Castellani Art Museum of Niagara University
castellaniartmuseum.org, 286-8200
Museums are part of Phase 4 of New York's reopening. Check websites for opening dates, hours, and requirements.
Writing about art over the years, I've developed a marked antipathy toward tenuous curatorial premises. Group exhibitions—especially extensive ones—stand or fall on cohesiveness.
The well-intentioned 20/20 Vision: Women Artists in Western New York, now on view at the Castellani Museum, suffers from the feeblest of conceptual constructs: the sole criteria for inclusion is gender. The unjuried show comprises nearly 200 works by female artists from Allegany, Cattaraugus, Chautauqua, Erie, and Niagara counties, who responded to an open call.
Exhibitions built on such egalitarian premises—much like gallery members' shows—inevitably lack structure. Stacked and packed throughout the museum, the work reflects a wide range of styles, themes, subject matter, and skill levels. Though entrants were asked to write statements describing their work's connection to women, the responses were neither used in the selection process nor posted to provide context.
In the catalog essay, exhibition curator Michael Beam characterizes the shared aims of those included: "Overall, the participating artists demonstrate a keen desire to exhibit their best work and have their art thoughtfully considered," a description that applies to all artists. The other printed justification for the exhibition goes like this: "Historically, art by women has not been given the careful thought and critical assessment that art by men received."
Given that it's the centennial of the nineteenth amendment, and we're deep into the #metoo movement with the ERA gaining new momentum, and viable female presidential candidates commonplace, a women's art exhibition without thematic focus or curatorial discretion is more like deliberate 20/1970 vision. On the other hand, the exhibition's uplifting opening reception enjoyed elbow-to-elbow attendance, with a rollicking feel-good atmosphere and an artistic sisterhood vibe. The next day, though, you're left with a show so packed that individual works are swallowed up like the names in blockbuster movie credits.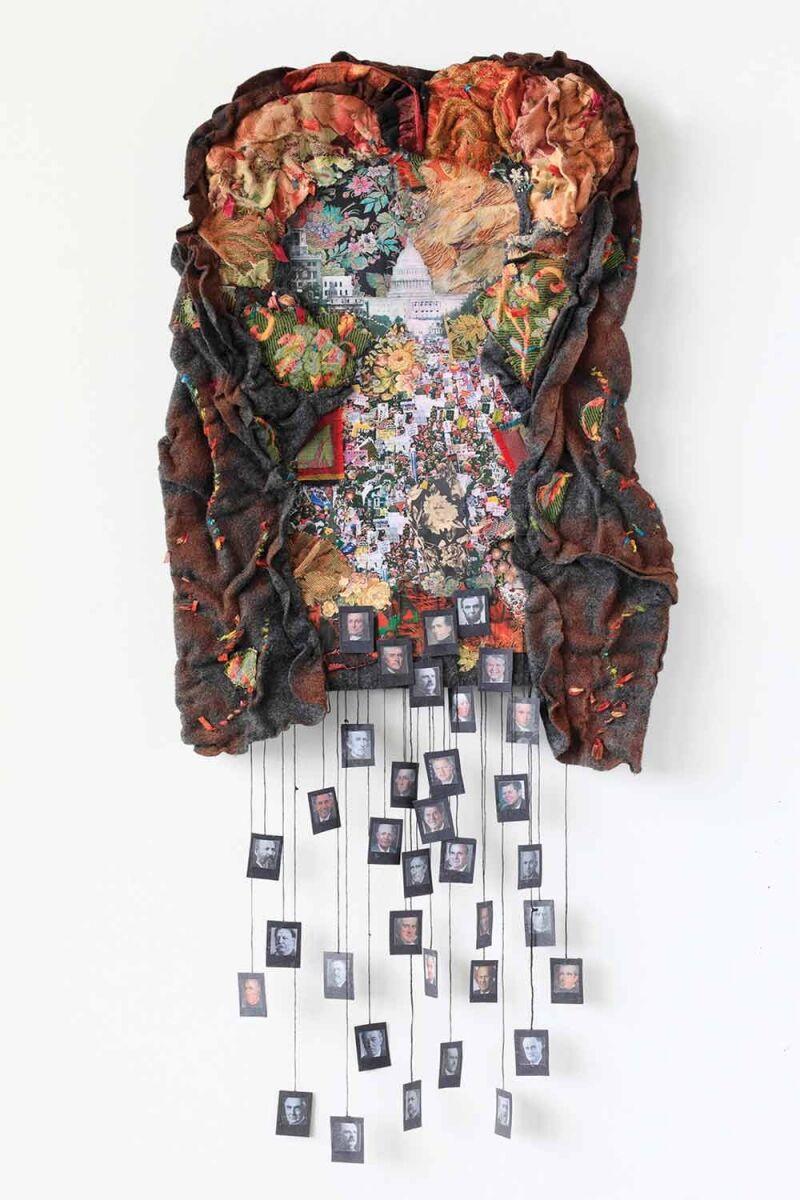 Among those that rise above the din: Chantal Calato's sculpture Mount Cecos is a texturally enticing green mound, reminiscent of the landfills on the southern approach to Niagara University. Its label says it contains nonbiodegradable garbage, craftily raising both environmental and aesthetic issues. Cornelia Dohse-Peck's Untitled juxtaposes heavy chains with feathers within a shadow box, creating a black and white composition that suggests the interface of power and grace. Iris Kirkwood's engaging mixed media I SAID NO hints at mother and daughter dynamics, one of many figurative works begging for added context.
An Untitled abstract work by Katherine Sehr features the striking minimalist drawing she's known for. Barbara Rowe's contemporary screen-print Bus Stop—Snow compellingly superimposes delicate blue leaf patterns over an undistinguishable winter-clad figure. Keeping with the inclement weather theme, Erin Ruffino's powerful oil painting Higher Ground depicts a shovel-toting raincoated girl against a flat yellow picture plane, surrounded by vaguely menacing birds. Kathryn Muranyi offers one of the more jubilant and visually cohesive abstracts in mixed media.
Most compelling are works that directly address issues relevant to women. To fully appreciate Michelle Jones' Hands—an evocative black and white photo of someone's palms pressed flat against a table—it's necessary to scan a QR code to hear an audio recording of a woman's story of overcoming abuse, exemplifying what 20/20 Vision could have been. Mary Wyrick is represented by one of her witty acrylic drawings of small-town pageantry. The amusingly creepy Boot Girls depicts mini-skirted women marching in a parade, as a portly photographer readies his camera. Debra Eck brings knitted fiber art sculpture into Yoko Ono-esque conceptual territory, with the addition of multiple paper tags with what may be different handwritten wishes. Another work that begs for an explanation.
Geri Posa offers a welcome departure from convention with A Self Portrait of Sorts. The mixed media installation of sundry objects—books, photos, political musings, and drawings—provides insight into the artist's personality. Candace Masters' Identity Theft is a painted self-portrait depicting the artist tangled in rope, a metaphor for the complexities of a supermom lifestyle. Ruby Merritt and Nicole Zayatz built an interactive room-installation titled Clinic for Well-Being. The madcap multifaceted quasi medical/psychological clinic parodies the wellness industry and included a viewer-immersive performance element at the opening. Paula S´ciuk's gets right to the heart of the matter in Untitled, a photograph of an inverted canoe on a grassy shore with a symmetrical water reflection. By reorienting it vertically, S´ciuk prompts vulvic allusions.
There much more tucked away among the masses, but a show with one fifth the work, accompanied by artist statements, would have produced a more illuminating exhibition. However, the impetus of 20/20 Vision is inclusion, and it succeeds on that level.