Best sushi (northtowns)
Wasabi
You've no doubt heard great things about the lunch specials here, including the three-roll sushi special. Owner and chef Tony Kang has made sushi for more than twenty years and the experience and expertise makes a difference.
100 Plaza Drive, Amherst; 689-5888, wasabi-buffalo.com
Best sushi (city)
Kuni's
Those unwilling to settle for subpar mass market sushi make this place their go-to. In addition to serving the best sushi in WNY, Kuni's is known for its classic Japanese dishes and house specials that quietly demand attention. The restaurant doesn't accept reservations and there is no waiting area, so many overcome these obstacles by ordering takeout. But if you have the time and the mettle, the total Kuni's experience is worth the effort. 
226 Lexington Avenue; 881-3800, kunisbuffalo.com

Best hot dog
Ted's Hot Dogs
Every major city in New York has a hot dog legacy, from the dog itself to the way it's prepared to its toppings. We New Yorkers take our bold, rich weenie history for granted, but we'd be wise to remember that many states lack this font of footlong footnotes. In WNY, Ted's rules, unquestionably. The care taken to char each Sahlen's dog just so, the quintessential topping selection, the hyper efficiency of the workers, the paper goods, and the food itself—it's all just so simple and iconic. Ted's is an institution. 
Best doughnut
Paula's
You can taste the love (Paula's special ingredient) in each hand-cut doughnut from jelly to peanut stick. Delight your taste buds with flavors like glazed red velvet or key lime. Go for seasonal offerings like apple crisp or powdered cherry; stay for specialty flavors—caramel cinnamon toast crunch comes to mind. Anyone treating the office might want to spring for a Texas doughnut that serves six to eight people. Bagels, breakfast, and deli sandwiches round out the menu. 
Best bagel 
Bagel Jay's
Someday, someone may wrest this long-held title from Bagel Jay's, but though many have tried, thus far none have succeeded. The most authentic bagel shop experience Buffalo has to offer, Jay's may be the best bagel entire generations of WNYers experience. Here in WNY, we are spoiled with three Bagel Jay's locations serving a variety of bagels seven days a week.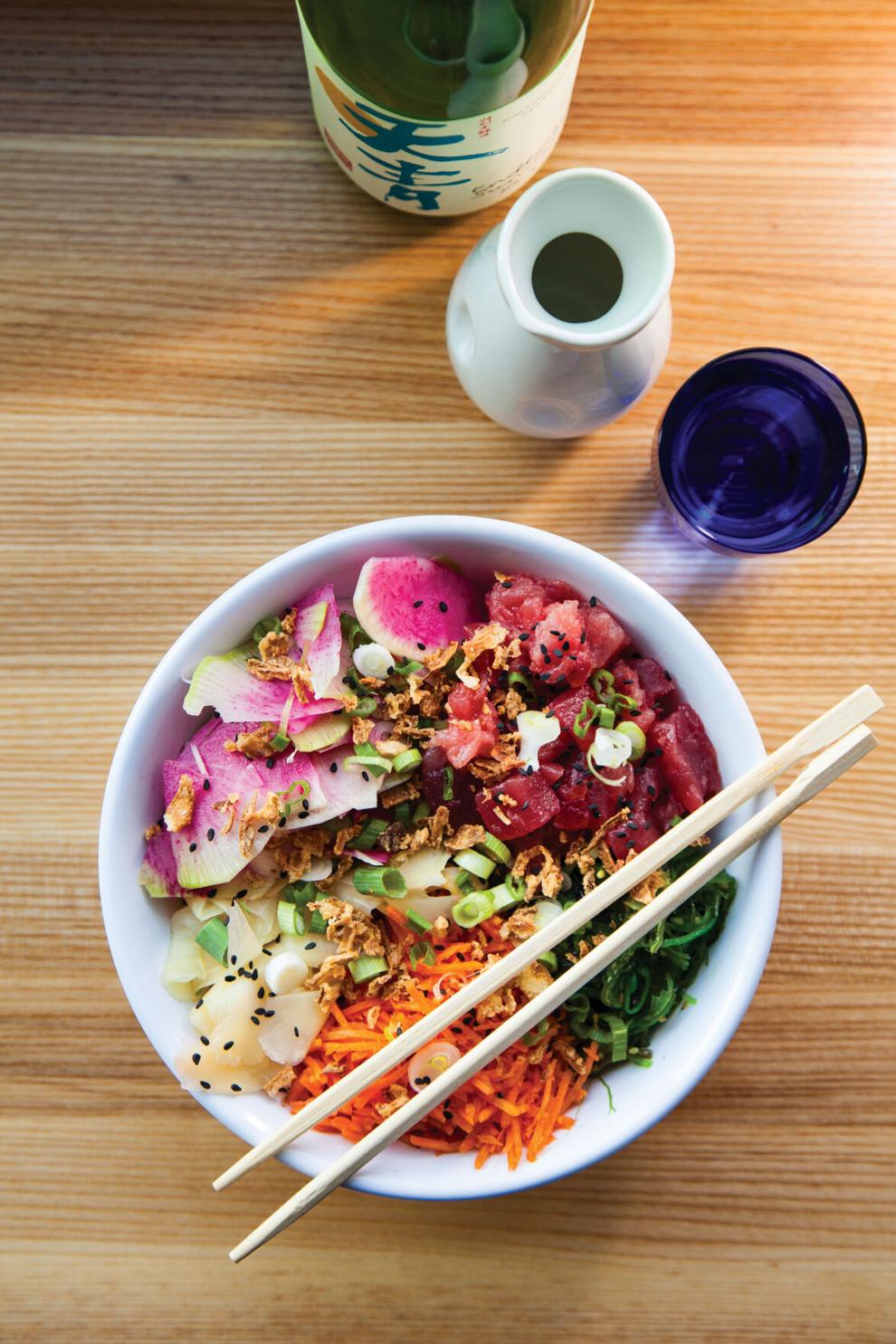 Best bowl
Fresh Catch Poke Co.
Nope, not a grain bowl, a salad bowl, or even an acai bowl. This year's best bowl goes to poke powerhouse Fresh Catch. Super healthy and super delicious, the uninitiated should be warned that a Fresh Catch habit isn't easy to break. Thanks to two locations, the region's growing population of addicts can get their incredibly fresh and robustly seasoned Fresh Catch poke in either Williamsville (on Main Street) or downtown (inside the Aloft hotel). Don't let supermarket poke fool you into thinking you know poke! If you're a fan of good sushi (or even bad sushi), a trip to Fresh Catch should be on your menu. 
freshcatchpoke.co
Best barbecue (city)
Fat Bob's
Fat Bob's is always bustling with customers from out of town, longtime Allentown residents, or families venturing into the city for a show or game. Fat Bob's has been satisfying barbecue fans since 1999. Among its features are a convenient location, spacious dining room and outdoor seating, as well as reliable barbecue, great sauces, and top-notch sides. In November, Fat Bob spread its love to East Aurora, partnering with 42 North to add a killer little 'cue to the respected brewery's tap room. 
Best barbecue (northtowns)
One-eyed Jack's
The meat here is so tender, you'll forget to reach for the sauce. Don't leave without trying the brisket.
5983 S. Transit Road, Lockport; 438-5414, oneeyedjacksbbq.com
Best fish fry
[TIE]
Wiechec's Lounge 
Wiechec's does bar fare and comfort food classics better than most. That includes the Buffalo fish fry. Though it's only available on Fridays, the perfectly crisp fillet is served atop a stack of golden fries, coleslaw, and both potato and mac salads. Due to its limited availability, we recommend arriving early! 
174 Clinton Street; 823-2828
Frank Gourmet Hot Dogs
Much like its co-winner in this category, Frank excels at grub. Healthy or not so healthy, everything at Frank is made from scratch using the best ingredients. The fish fry is no exception. It's offered on a limited basis, so you'll want to enable push notifications from Frank on Instagram.
707 Kenmore Avenue, Kenmore; 322-5933, findfranknow.com
Best seafood
Remington Tavern & Seafood Exchange
Kicking back to live tunes with a cold beer and a pike fish fry on Friday. Swooning over a date and plates of scallops and twin lobster tails by candlelight on Saturday. Sitting along the river on a Sunday slurping oysters and chilled rose. Keeping it light at lunch on a weekday with sesame crusted Yellow Fin and wasabi. Remington offers a million ways (and reasons) to enjoy its waterfront location. 
184 Sweeney Street, North Tonawanda; 362-2802, remingtontavern.com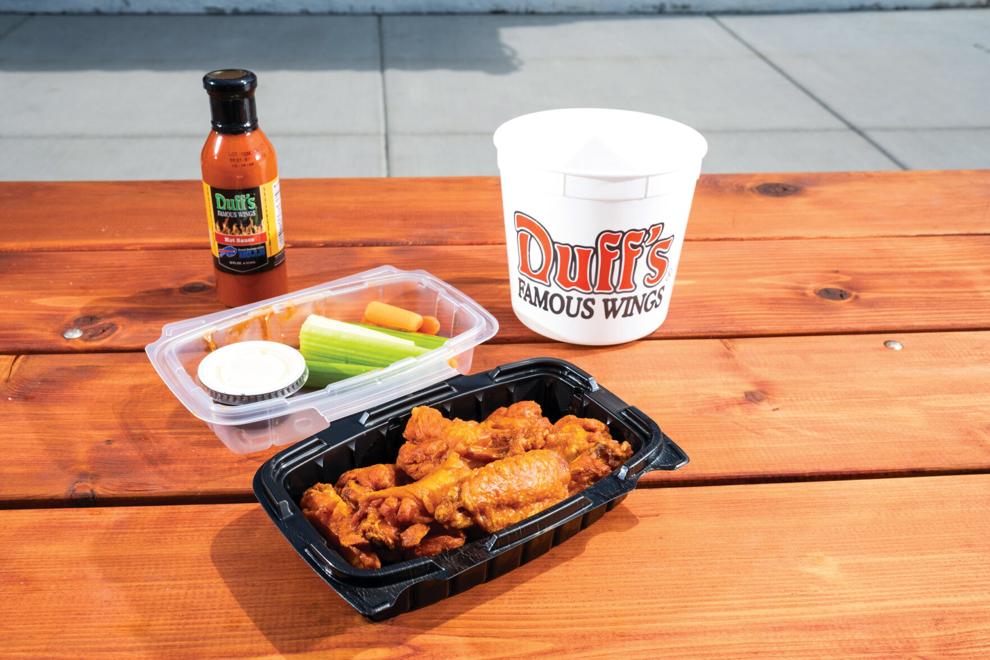 Best wings
Duff's Famous Wings
For decades, the persistent debate among WNYers focused on who has the best wings: Anchor Bar or Duff's? But increasingly, the heated conversation has transitioned to "are Duff's medium wings actually hot or are Duff's medium wings truly medium?" Regardless of where you land, the next question is always "what does that mean for all the other WNY wing joints?" We'd suggest that once you set the bar, it no longer matters what anyone else is doing. 
Best creative wing
Bar-Bill 
The East Aurora chicken wing powerhouse has doubled its presence by opening a second location in Clarence, bestowing the Northtowns with its beloved hand-painted classic wings and impeccable beef on 'weck. But don't stop there! Bar-Bill's more creative wings deserve the spotlight, too. Flavors like Honey Butter BBQ and Cajun both won votes in our Best of WNY poll this year. We can't blame anyone who chooses to stick to the classics the first ten times they visit. But we hope this award encourages you to mix it up and squeeze in a well-executed creative version the next time you swing by. 
Best steak
Giancarlo's
A bone-in ribeye, cooked sous vide before it's seared on a hot grill is a favorite Giancarlo's steakhouse offering, but other cuts round out the menu, with delicious sides for sharing. The Italian-leaning restaurant is one of the few WNY places executing the steakhouse experience well. 
5110 Main Street, Williamsville; 650-5566, giancarlossteakhouse.com
Best special occasion takeout
Salvatore's
 Fine dining in a favorite restaurant makes a special occasion even more so. But sometimes the occasion calls for an intimate setting. Salvatore's prepares a sumptuous dinner, including salad, bread, and a choice of classic entrees. Inquire about add-ons like roses, decadent desserts, cocktails, and wine. 
6461 Transit Road, Depew; 635-9000; salvatoreshospitality.com
Best game day takeout
Picasso's
Western New Yorkers know our hometown pizza is unsurpassed. Picasso's takes it to the next level, right down to hand-cutting the pepperoni. Try one of the combinations on the menu or go on a "topping spree" and create your own. Chicken wings come in a range of styles; subs, salads, and calzones round out the menu. Start planning your Super Bowl party now; this could be our year!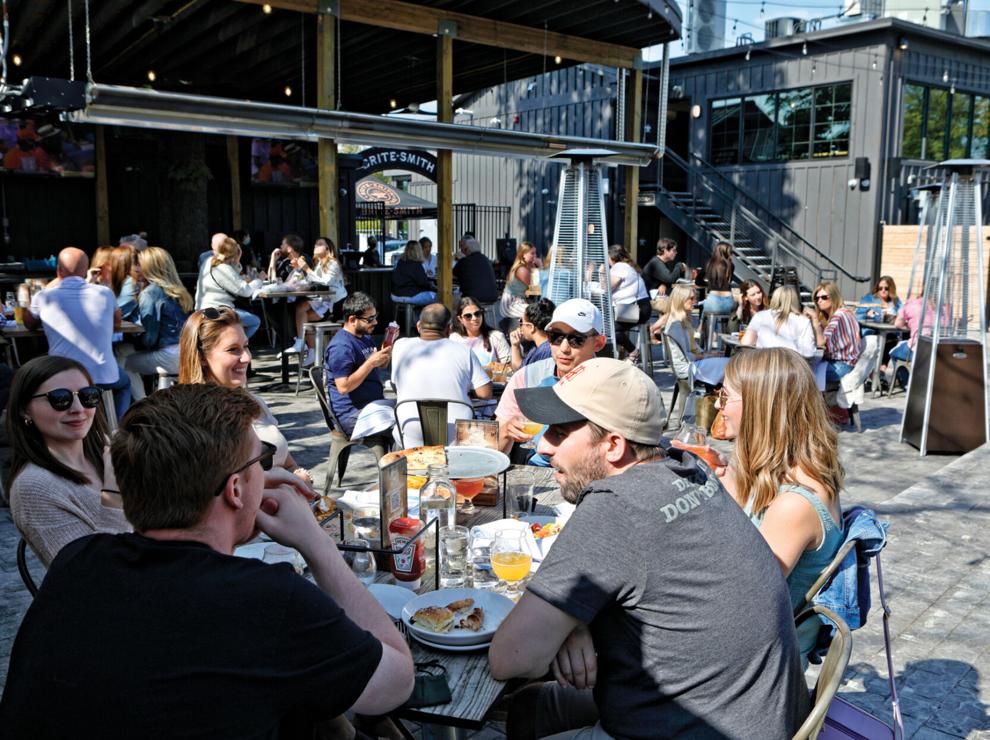 Best summer patio
Britesmith Brewing
It's hard to see how anywhere in Western New York could compete with the setting of this creekside brewery/restaurant's combination of conviviality and scenery. An outdoor bar, heat lamps for cooler days, and a view of the water rushing by make Britesmith one of the hardest tables to come by anywhere in the Buffalo area, not to mention a line of fresh-brewed beers, and food by chef/owner Ross Warhol of Oliver's.
5611 Main Street, Williamsville; 650-4080, britesmithbrewing.com
Best use of local ingredients
Grange Community Kitchen
Owned and operated by Brad Rowell and Caryn Dujanovich, Grange strives to create "community through food," and prioritizes local ingredients. The kitchen team's dedication to supporting responsible farming is reflected by its frequently changing menu, inspired by seasonal offerings from local producers. For a handmade breakfast pastry, soup-and-salad lunch, or a delicious dinner of locally grown vegetables and meats, Grange promises food served at the peak of its growing season. 
22 Main Street, Hamburg; 648-0022, grangecommunitykitchen.com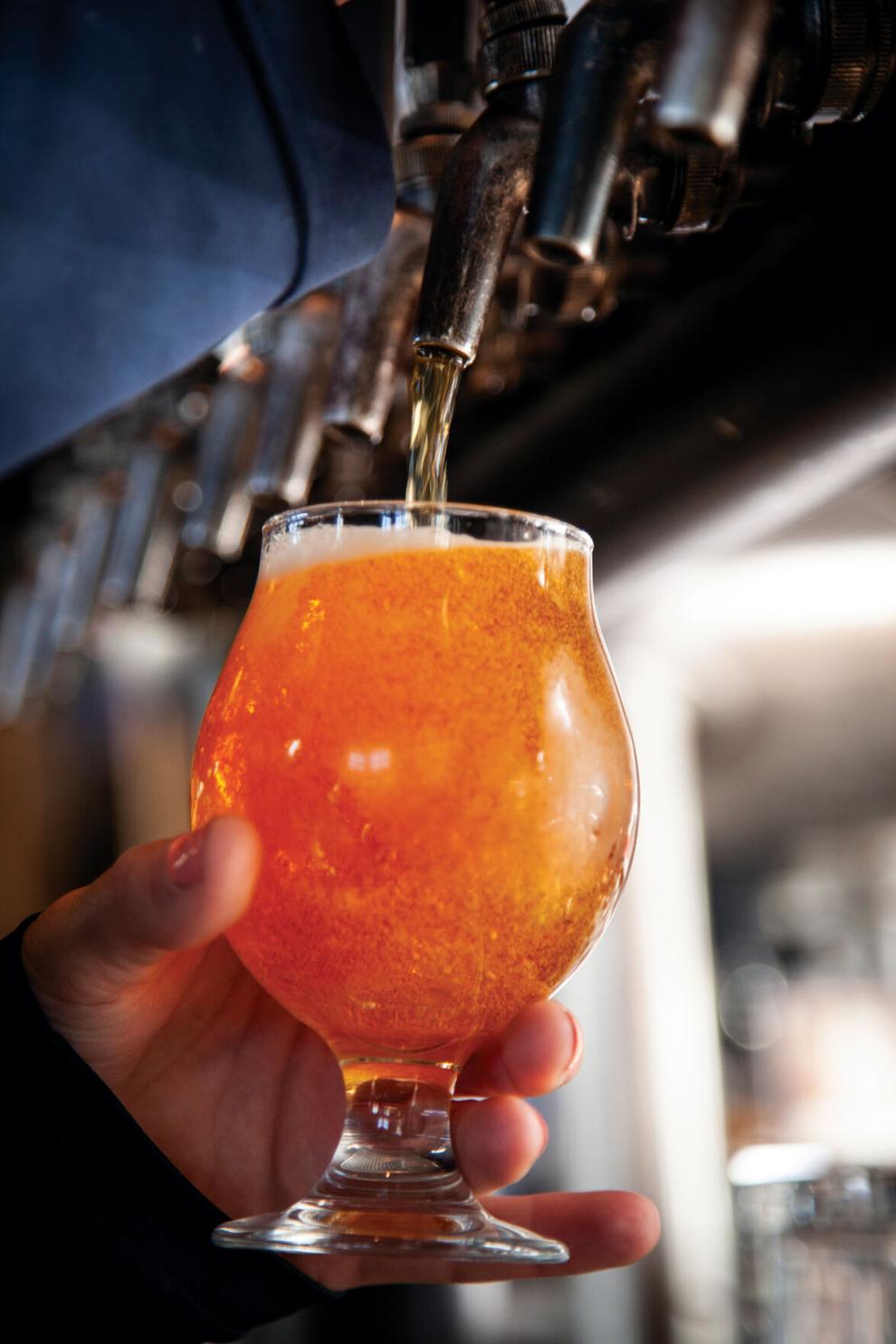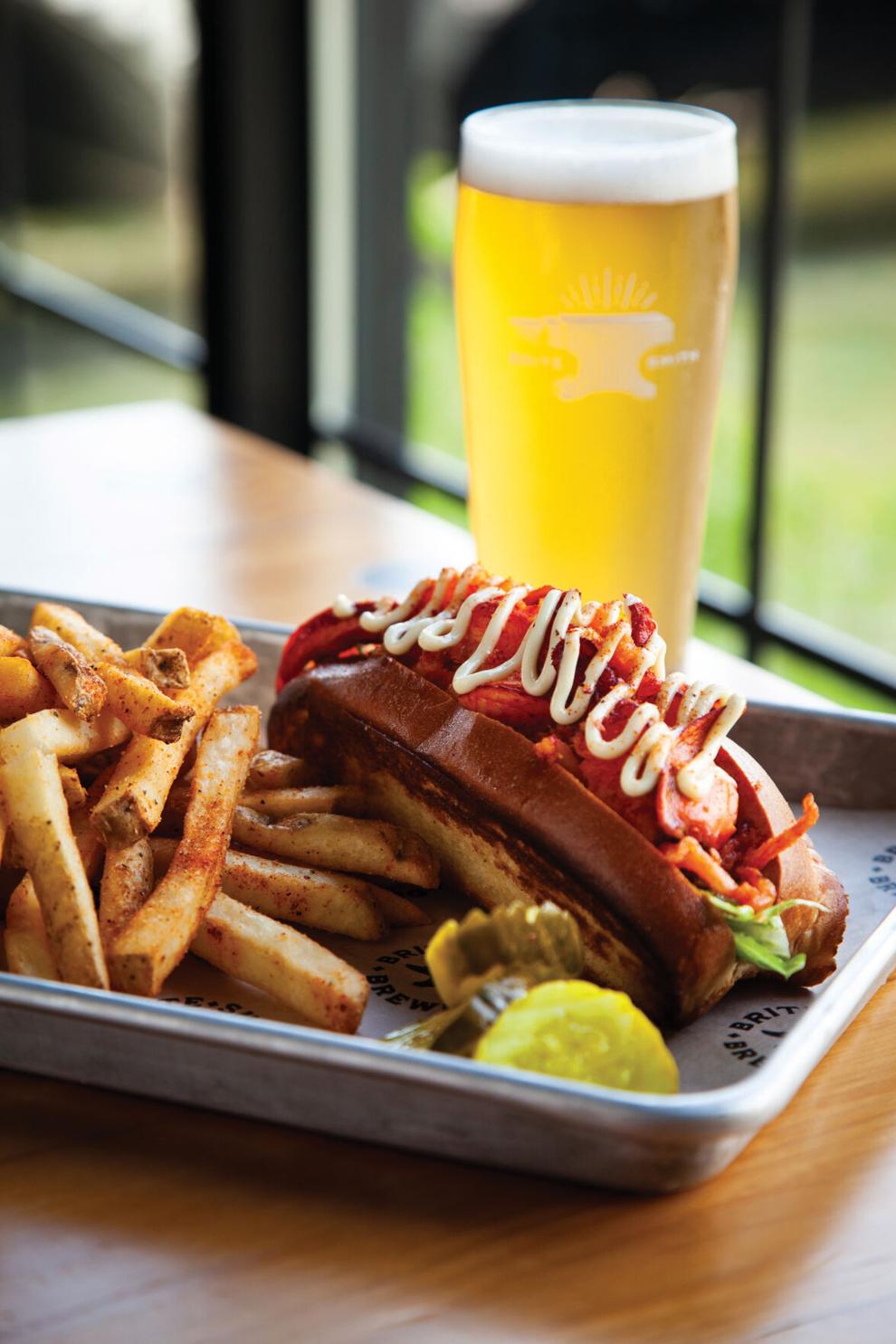 Best new restaurant
Britesmith Brewing
An 1800s blacksmith shop sounds like a unique place to dine, and Britesmith BrewPub & Beer Garden delivers. Enjoy wood-fired pizzas, sandwiches, or salads and wash them down with innovative brews. Brunch menu features breakfast sandwiches and brunch pizzas. In a recent Spree review, writer Jeff Biesinger notes, "While Britesmith produces plenty of satisfying beers, the food that pairs with the beers stands out like a thoroughbred in a set of freshly wrought shoes."
5611 Main Street, Williamsville; 650-4080; britesmithbrewing.com
Best new wine release
Arrowhead Spring Vineyards: 2019 Rosé
This year, Arrowhead Spring Vineyards in Lockport released a brand-new rosé, made from fifty percent cabernet sauvignon and fifty percent cabernet franc. Featuring hints of srawberry and raspberry, this wine is best paired with grilled chicken, pizza, burgers, or even ribs. This fresh and juicy vintage's popularity was clear when Arrowhead updated its website to announce it was sold out. 
4746 Townline Road, Lockport; 433-6000, arrowheadspringvineyards.com
Best French fries
[TIE]
Soho Buffalo
What could be better than enjoying a cool summer breeze on Soho's rooftop patio while enjoying a cone of handcut fries? Soho expertly prepares these and the other classic American pub standards to sophisticated perfection. 
64 West Chippewa Street; 856-7646, sohobuffalony.com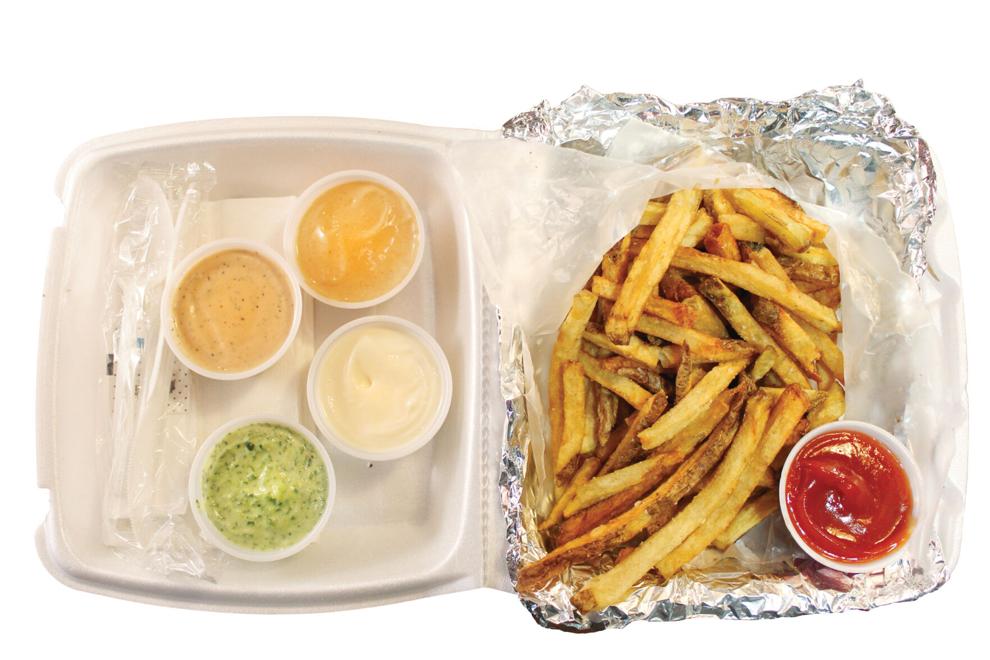 Frank Gourmet Hot Dogs
What? A hot dog joint makes the best fries in town? Yup. Frank's fries excel for the same reasons their dogs do: they're made with only high-quality fresh ingredients and cooked to order
Best ice cream
Lake Effect
Looking for an exceptional treat with a Buffalo twist? Head to Lake Effect Artisan Ice Cream, with locations in North Buffalo and Lockport. Who can resist a menu that features flavors like Cheektavegas, Date at the Zoo, and Butter Lamb? If you can't get to one of their shops, check your local grocery stores. You might find a pint of London Fog with your name on it. lakeeffecticecream.com
Best new distillery release
[TIE]
Buffalo Distilling: Mafia Sauce
Bills fans went nuts for this refreshing, fruity sports drink-inspired vodka from Buffalo's first "farm to bottle" bourbon, brandy, and krupnik distillery. Clad in a Zubaz label, Mafia Sauce sold out the weekend of its launch and continued to fly off the shelves faster than you could say "Super Bowl."
860 Seneca Street; 254-3610, buffalodistillingcompany.com
Hartman's Distilling: Loganberry Vodka
Nothing says Buffalo quite like raspberry-blackberry hybrid loganberry. When Hartman's released this new flavored vodka, Buffalonians rushed to make loganberry mules, smoothies, and slushies. Worth noting: the company is donating one dollar from every sale to Cradle Beach, an organization uniting children and families through empowerment and inclusive experiences, which make this spirit an even bigger winner.
55 Chicago Street; 551-6313, hartmansdistillling.com
Best gluten-free
Kith & Kin Bakeshop & Bistro
For people with Celiac disease, avoiding gluten is a serious gamble when dining outside of their own carefully controlled kitchen. Kith & Kin, whose owners are parents to three kids with the condition, is a welcome respite and chance to go out worry-free: the entire establishment is 100 percent gluten-free. The little blue-house bakery serves up an impressive array of oven-fresh treats that taste like absolutely nothing's missing: pizza crusts, rolls, pierogi, cakes, rye bread, and more. The bistro boasts these staples in a massive lunch, brunch, dinner, and brinner menu full of burgers, panini, pizza, wraps, apps, and all-day breakfast favorites like French toast and pancakes.
5850 South Transit Road, Lockport; 471-3305, kkbakeshop.com
Best vegan
Big Mood
Picture everything that's good about comfort food. Double burgers. Waffle fries with honey butter. Mac and cheese. Loaded nachos. Now keep all of the creamy, crunchy, crave-worthy, savory satisfaction—but remove the meat, eggs, and dairy. Yes, really. The Big Mood menu is entirely plant-based, and mostly homemade (the little Elmwood eatery buys Beyond Burger patties and Daiya vegan cheese). Even the New York Times took notice of this animal-free anomaly in the midst of wing and beef on 'weck country for its bohemian vibes and big flavors.  
423 Elmwood Avenue; 768-1878, eatbigmood.com
Best brunch
Betty's
There's a full menu of reasons why this Allentown corner comfort spot is a perennial pick in the brunch category. Betty's embodies the easy weekend morning vibe with a sunny, colorful dining room hung with ever-changing local art. It's the kind of place that serves up generous, fresh, consistently great dishes with something for every desire and diet—carnivorous or vegan, indulgent or restrained, classic or cultured. Brunch there won't eat up your entire day, either; service is prompt and starts early on Saturday and Sunday at 9 a.m.
370 Virginia Street; 362-0633, bettysbuffalo.com
Best taco
Lloyd Taco factory
A tray of tacos from lloyd is like a selection of perfect gems on a jeweler's pillow. The long-reigning taco kings of the Queen City assemble tacos to order on housemade corn tortillas with perfectly prepared proteins, wildly flavorful sauces, and unexpected adornments, finishing them with bright, fresh flourishes. Lloyd gems include familiar South-of-the-border flavors (slow-roasted pork, jack cheese, cabbage, chimi, roja, cilantro), New School combos like the Skinny Thai (fried tofu, peanut sauce, radish, cucs, scallions, cilantro), and an evolving showcase of specials inspired by seasonal ingredients and pop-culture icons.
Best Italian
[TIE]
Mulberry Italian Ristorante 
People like to poke fun at our city's propensity to enjoy inexpensive food that makes up in quantity what it might lack in quality. This does not apply at Mulberry. This neighborhood hidden gem with a welcoming atmosphere serves up generous plates of mouthwatering, homemade Italian classics at price points paid for half the quantity elsewhere. Legendary meatballs the size of grapefruits are moist and flavorful and the mountainous antipasto salad layered with fixings will yield leftovers you'll actually want to eat for several days.
64 Jackson Avenue, Lackawanna; 822-4292, mulberryitalianristorante.com
Frankie Primo's +39
Enjoy a side of people watching and downtown ambiance with your pasta at this popular hangout. There's nothing slick about the hearty Italian favorites here, though. This is peasant Italian at its best.
51 West Chippewa Street; 855-3739, frankieprimos39.com
Best Chinese
Home Taste
A menu featuring over a hundred items can sound a little daunting. But at Home Taste, culinary restraint curates a well-organized offering of dishes with a few select ingredients that come together to create fresh, light, and satisfyingly complex flavors. White radish with pork bone broth. Fish and leek steamed dumplings. Tofu, cucumber, and thousand-year egg. Pork belly with preserved vegetables. With so many options, vegetarians won't go hungry and adventurous meat-eaters can really take a cultural tour of cuts and offal not typically found in American cuisine.
3106 Delaware Avenue; 322-0088, hometaste88.com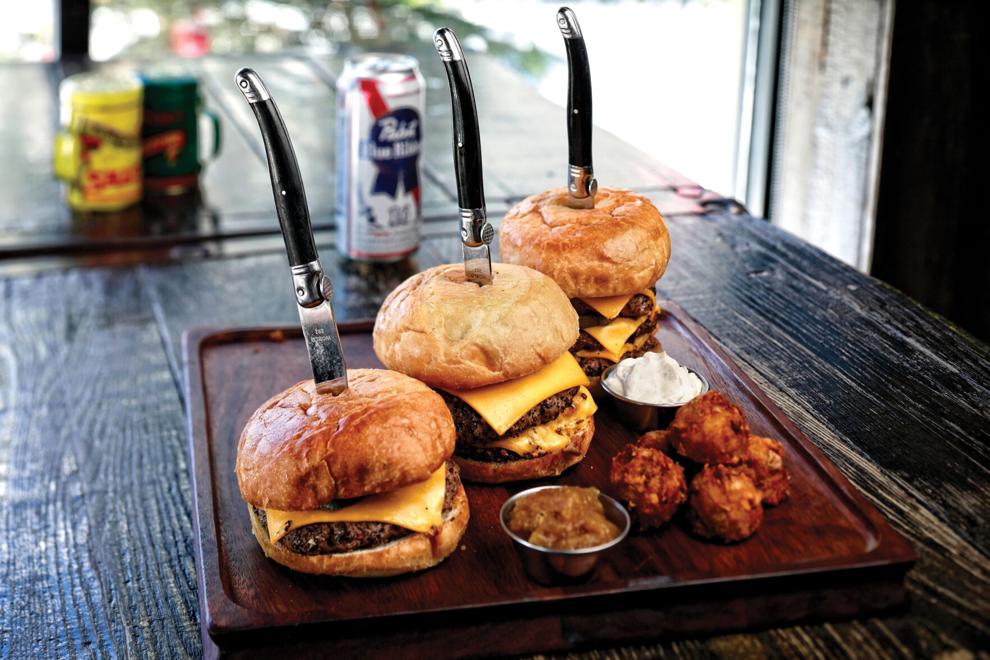 Best burger
Allen Burger Venture
In a beer town like Buffalo, when the use of the ABV acronym doesn't default to mean alcohol by volume, it's gotta be for good reason. At ABV, burgers aren't just a section on the menu, they are also the menu's majority. And there are so many mouthwatering options, it's not the place to go when you become too hangry to make decisions. Dry-aged, grass-fed Angus patties star in classic smash burgers or no-holds-barred combos like number One (forest mushroom, cambozola cheese, brandy peppercorn sauce) or number Five (peanut butter, pickled jalapeños, applewood bacon, white cheddar). Beefless options include bean, poultry, and seafood patties dolled up as fancy as their cow cousins. 
175 Allen Street; 768-0386, allenburgerventure.com
Best beef on 'weck
Bar-Bill Tavern
Bar-Bill sets a high bar for what beef on 'weck is supposed to taste like. Flavorful, slow-roasted beef is carved fresh for each order, letting it stay juicy and supple as it's piled generously on a soft kummelweck roll and served with a side of horseradish, chips, and a pickle. Plain rolls are available, too, but then it's just a darn good roast beef sammich. The Bar-Bill BOW comes in three sizes— regular (for hungry people), small (really more like a medium), and mini (which leaves room for the restaurant's killer wings). 
Best Buffalo-style pizza
[TIE]
Bocce Club Pizza
Bocce's iconic pie has a thick crust that's a balance of chewy and crunchy, signature slightly sweet sauce, evenly distributed cup-and-char 'roni, and generous toppings.
Franco's
There are many who feel that Franco's offers the epitome of Buffalo-style pizza and we're not arguing. If we had our way, we'd try a different classic Buffalo pizza every night.
Best coffee shop (northtowns)
Spot coffee
Old favorites are favorites for a reason. With reliably good food options and plenty of space to have meetings or sit and linger over a second cup without feeling rushed, Spot Coffee keeps making customers happy at its four Northtown locations (Kenmore, Snyder, Williamsville, and Clarence). This is the the coffee shop experience they're looking for.
Best coffee shop (city) 
Public Espresso 
With one location in the stunningly renovated Lafayette Hotel and another in the former Shea's Seneca Theater in South Buffalo, Public Espresso was among the first coffee shops in Buffalo to offer pour-over coffees and specialty roasts, ushering local coffee culture into the twenty-first century. Public is also beloved for its doughnuts and other baked goods.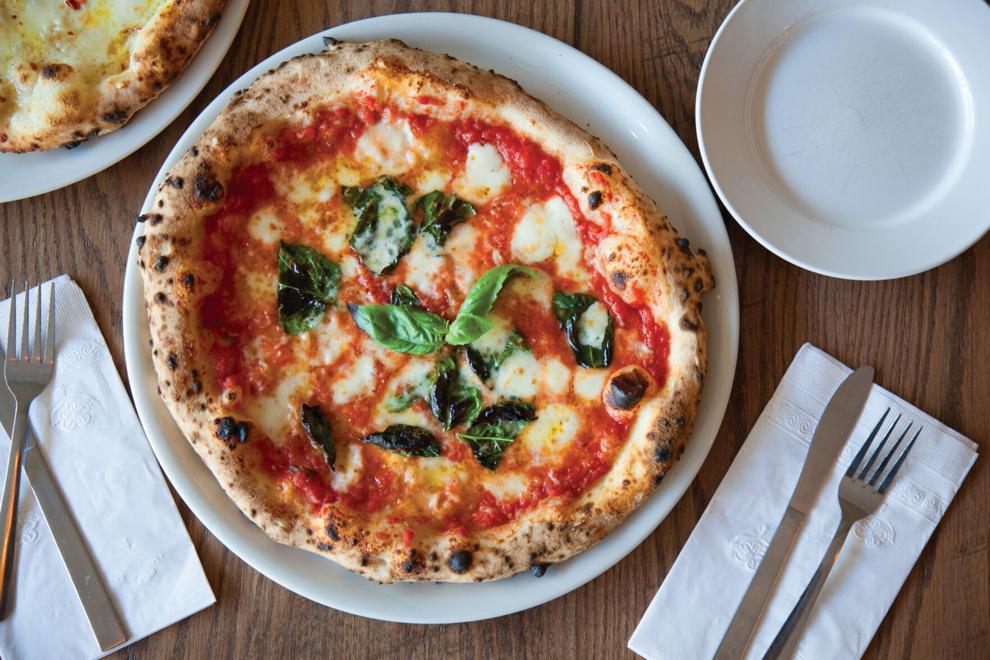 Best thin-crust pizza
Jay's Artisan Pizzeria
It's rare to find a pizza place that offers two different crust depths, much less one that excels at both. In a land where thick crusts reign supreme, Jay's thin-crust pizzas bring a welcome lightness and sophistication to the broad-boxed takeout scene. Twelve-inch, thin-crust pies are wood-fired at 800 degrees, imbuing a smokey char that's nearly addictive. Try the Ndjua (garlic, basil, fontal, Berkshire ndjua, red onion, honey) or Jay's non-traditional take on Quatro Formaggi (garlic, fontal, fresh mozzarella, gorgonzola piccante, grana padano). 
2872 Delaware Avenue, Kenmore; jaysartisan.com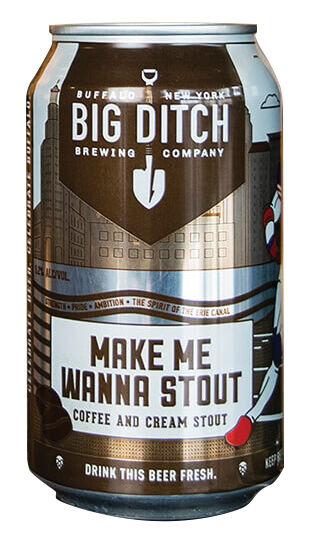 Best new beer release
[TIE]
Big Ditch Brewing Company: Make Me Wanna Stout
This coffee stout was brewed specifically for football Sundays in WNY and, during a football season with a lot to shout about, it was a touchdown. This stout is Buffalo-centric in more ways than one; it's brewed with Revolution coffee beans from Public Espresso and combined with roasted barley, milk sugar, chocolate, and oatmeal, which give it a creamy body and sweet finish. 
55 East Huron Street; 854-5050, bigditchbrewing.com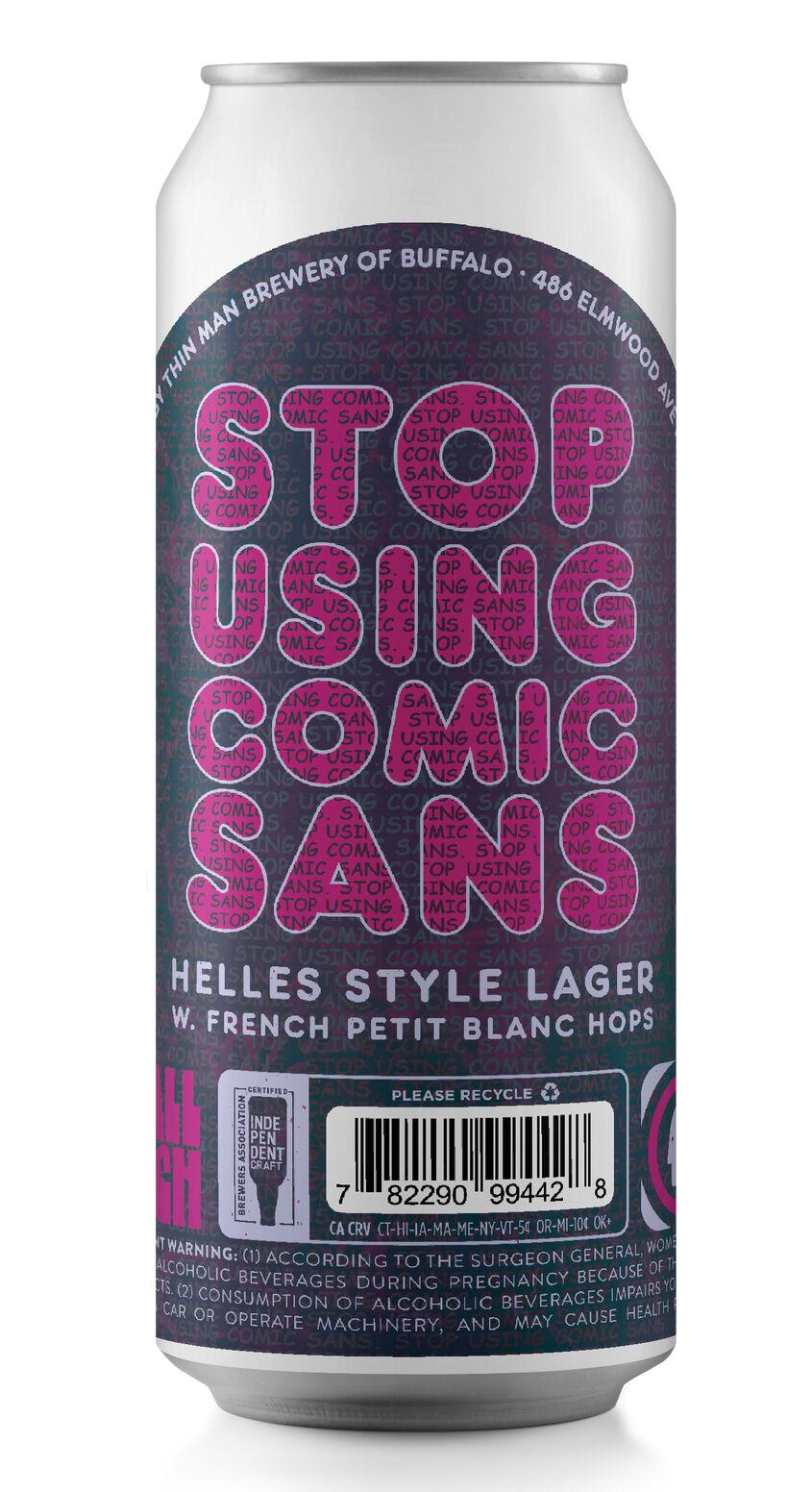 Thin Man Brewery: Stop Using Comic Sans
Patrons love this beer for more than its name (though that doesn't hurt). This naturally carbonated lager uses French Petit Blanc Hops, providing an initial melon taste and other fruity notes that give way to an earthy, peppery finish. Drop the font, keep the beer. 
Best beers on tap
The Griffon Gastropub
With four locations in the Buffalo Niagara area—Lewiston, Clarence, East Aurora, and the original in Niagara Falls—the Griffon offers diversity and convenience. Tap lists feature small-but-beloved craft operations like the Hudson Valley's Sloop Brewing, local favorites like Thin Man and Pressure Drop, and the beer nerd must-have Other Half. Customers can also order standard, recognizable brands like PBR or Guinness.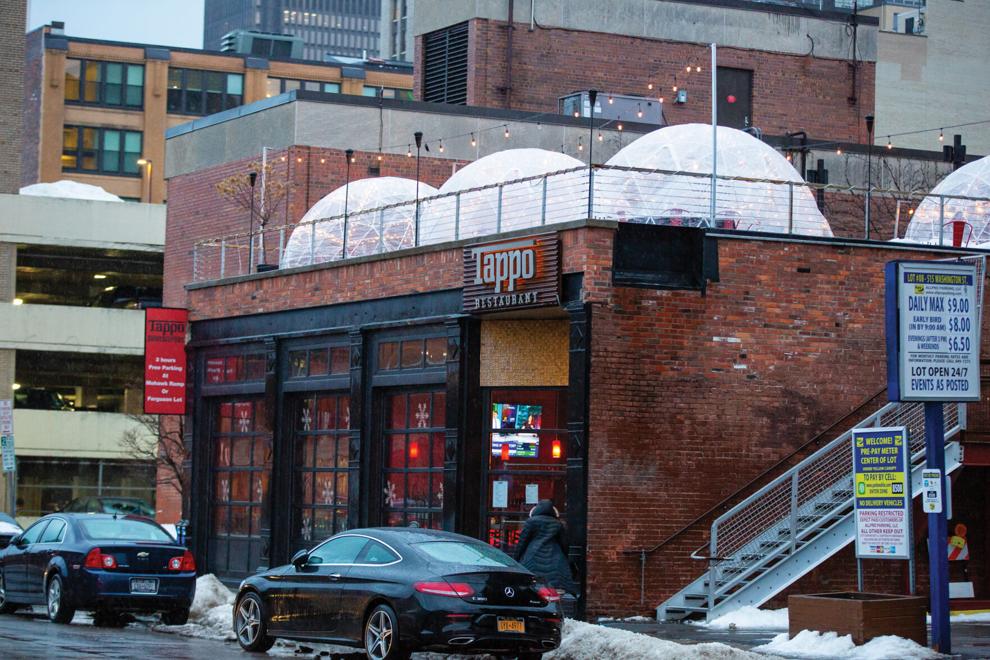 Best winter patio
Tappo
Western New Yorkers are always trying to come up with ways to make winter fun. With its rooftop igloos, built before the pandemic but more appreciated than ever this past winter, downtown Italian restaurant Tappo moved from made winter nights both fun and ideal for a Instagram blitzes. 
338 Ellicott Street; 259-8130, tappoitalian.com
Best takeout cocktails
Remedy House
During the peak of lockdown, when all restaurants were takeout/delivery only and there was not a barstool to be had at any time of day, Remedy House still made happy hour special. Remedy offers rotating seasonal cocktails sold in custom-labeled small glass bottles, and its perpetual favorites the negroni and the aperol spritz have remained available year round. Grab a bottle with your coffee in the morning and have something to look forward to at the end of your work day.
429 Rhode Island Street; 250-7724, remedyhouse.co
Best holiday takeout
Oliver's
Throughout the pandemic, Buffalo's longtime white tablecloth go-to offered exactly what we needed: hearty, comfort takeout with a few special touches. Oliver's is known for creating culinary works of art, but it can also deliver a family meal that's got something for everyone. For Thanksgiving, Oliver's offered a feast, a smaller-scaled family dinner, or a choice of traditional entrees. For game day, it had a First and Goal filet mignon package as well as a burger box. It also had us covered for Easter, 2020, when takeout was a lifesaver for families and restaurants alike. 
2095 Delaware Avenue; 877-9662, oliverscuisine.com
Best food truck
Lloyd
Though the familiar green trucks have not been on the road since April (and were still grounded at press time), we know that this unstoppable, business will be out on the streets serving customers very soon. After all, lloyd fought for the City of Buffalo to have some of the best food truck laws in the country and continues to be a pioneer in its effort demanding better food truck laws all over the region. Given its longstanding commitment to innovative and delicious scratchmade food, it's easy to see why lloyd is a regional favorite and frequent winner of this award.
Best overall beer selection
Fattey Beer Co.
With more than 500 types of bottled beer, hard cider, and seltzer, Fattey's bottle shop/taproom has brought happiness to beer drinkers throughout Western New York ever since it opened in June, 2019. During the pandemic, Fattey added appropriate freebies to its beer deliveries: packs of ramen and extra cans of beer. Now, with four more locations joining its Genesee Street headquarters downtown, Fattey has made its bounteous offerings even easier to enjoy.