Brunch
Betty's
Named after the mother of one of the co-owners, Betty's is a tribute to the comfort and care provided by mothers everywhere, and the familiar, filling, good-for-you brunch plates reflect that. Hearty riffs on classic Benedicts share the menu with savory Southern and Southwest-inspired breakfast nachos, chilaquiles casserole, and shrimp and grits. Many menu items are vegan or offer the option to be made as such. Brunch served on both Saturday and Sunday with an earlier-than-usual 9 a.m. start. 
370 Virginia Street; 362-0633, bettysbuffalo.com
Best tacos
Lloyd
Lloyd's ubiquitous electric-green food trucks and two (soon to be three) brick-and-mortar taco factories serve up signature "street food on the edge" that has made this urban-vibed empire a fan favorite for ten years. Lloyd loyalists and newbies alike line up for fast-food-paced service with sit-down quality in scratch-made tortillas, sauces, sides, and cocktails. Go old-school with a slow-roasted pork burrito with all the fresh fixings or kick it new-school with an array of tacos piled with explosive flavors inspired by southern, Thai, and Buffalo favorites.  
Two locations and a truck; whereslloyd.com
Best Buffalo-style pizza
[TIE]
Bocce Club Pizza
The near-daily question on North Buffalo neighborhood social media this summer was, "Is the new Bocce's on Hertel open yet?" People were downright giddy about getting a slice from the nearly seventy-five-year-old local institution's new spot. Secret sauce on the sweeter side, whole milk Sorrentino mozzarella, cup-and-char pepperoni, thicker crust, and toppings that go all the way to the edge make Bocce's pies Buffalo favorites.
Two locations; bocceclubpizza.co
Franco's
A thick, hearty crust, thick sauce with enough acid to balance the sweetness, and spicy cups pinging a lace veil of cheese are all reasons for the popularity of Franco's, a forty-year stalwart now with five locations. There's even a heart-shaped pie.
Several locations; francospizza.com
Best thin crust pizza
Jay's Artisan Pizza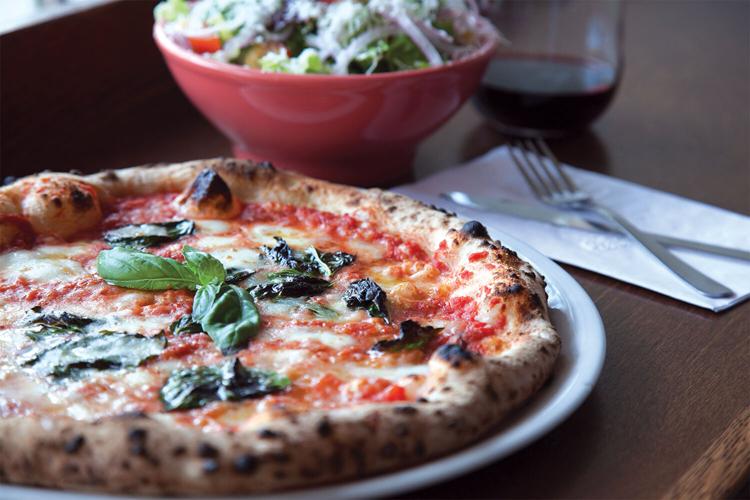 Jay's twelve-inch round pies are wood-fired at eight hundred degrees, gracing the slender hand-stretched disk of flavorful dough with just the right amount of smoky char and crisp blister bubbles. Get the fungi featuring local Flat 12 mushroom, confit garlic, fontal, green onion, cream, and truffle pecorino, or go for the signature shishito pepper and corn with Calabrian chili cream and grana Padano. Order online, but do it early; Jay's has been known to sell out of the one hundred thin crust round pies it makes (max) per day. 
2872 Delaware Avenue, Kenmore; jaysartisan.com
Best Chinese food
Home Taste
Home Taste doesn't bother with greasy Americanized Chinese takeout bogged down by heavy brown sauces and sameness. Instead, the menu is fresh, varied, and features more than forty-five authentic dishes including bone broth soups, thirteen kinds of dumplings, stir frys with a huge array of ingredient combos, and daily specials like lamb and cumin or pork belly with preserved vegetables. This tiny, tucked-away restaurant's service is as warm and inviting as a generous bowl of shredded pork in Peking bean sauce with green onion.
3106 Delaware Avenue; 322-0088, hometaste88.com
Best Italian [TIE]
Ristorante Lombardo
Even if the Ristorante Lombardo (Lombardo's to locals) service weren't so attentive and elegant and the wine list so knowledgeably curated and comprehensive, you'd still come for the exquisitely prepared and assembled dishes. From antipasti to dolce, chef Michael Obarka oversees a kitchen dedicated to bringing out the best that every morsel has to offer.
1198 Hertel Avenue; 873-4291, ristorantelombardo.com
Sinatra's
This place never disappoints. The ubiquitous red sauce with its vibrant color and jammy flavors is as close to perfect as ever. And the menu of Southern Italian specialties is all in order. Come here for traditional specialties done right and enjoy the elegant ambiance of its newish facility while you're at it.
945 Kenmore Avenue, 877-9419, kenmoresinatraswny.com
Best French fries
Frank Gourmet Hot Dogs
Frank Gourmet Hot Dogs has perfected the art of the hand-cut French fry. This American staple is deceptively simple: a good French fry that starts with a potato that gets cut into finger-food sized pieces, which are then fried to exactly the right stage of crispy. Frank's fries are all that and more, and have a range of delicious dipping sauces as well.
707 Kenmore Avenue; 322-5933, findfranknow.com
Best burger [TIE]
Allen Burger Venture
This All-American burger is the real deal. The juicy burger is formed from dry-aged, grass-fed Angus beef, and the toppings are exactly what you'd expect of a classic: shredded lettuce, sliced tomato and onion, pickles and ABV's Triple D sauce. The options don't stop there, however. A whole menu comprising just burgers? Yes, please!
175 Allen Street; 768-0386, allenburgerventure.com
JuiCy Burger Bar
Here's another place that has made burgers a decadently diverse specialty. There are few burgers you can't get here, including vegetarian and poultry-based choices. Our favorite is the Big Poppa, which is topped with a honking stuffed banana pepper, but all the burgers here are worth trying. Mission accepted!
1 Buffalo Street, Hamburg; 648-3200, juicyburgerbar.com
Best beef on 'weck
Bar-Bill Tavern
Buffalonians know their beef on 'weck, and it takes a lot to attain A-list status. Bar-Bill's beef on 'weck has all the necessary components: succulent slices of beef, fresh kimmelweck roll, and plenty of horseradish to slather on. Bar-Bill has perfected a classic, and now you can get it in the northtowns (Clarence) as well as the southtowns (East Aurora).
Best gluten-free 
Vin-Chet 
There is a dizzying variety of gluten-free products available at Vin-Chet's storefront in Snyder. In business since 1946, this local bakery has been producing high quality, gluten-free baked goods for many years. Their breads, rolls, pizza crusts, and sweet baked goods are a staple for limited gluten diets. Vin-Chet also sells in area stores, but we advise getting fresh gluten-free options right out of the oven.
2178 Kensington Avenue, Snyder; 839-0871, vinchet.com
Best vegan 
Big Mood 
The former vegan hotspot Root & Bloom got a 1970s-inspired rebrand and re-emerged as Big Mood earlier this year with a new 100 percent plant-based menu. It features classic comfort food for every mood: loaded mac & cheese (mood: "I need a hug."), a Monte Cristo (mood: "You only live once."), and fish-less tacos (mood: "I'm just here for the 'gram.), plus kids meals, desserts, and refreshing booze-free beverages. Open for lunch and dinner with breakfast service slated to start in October.
423 Elmwood Avenue; 768-1878, eatbigmood.com
Best sushi
Kuni's 
Was there ever any doubt? Kuni's sushi has been second-to-none for decades. The iconic local restaurant opened in 1996, and has been serving the freshest, most elevated sushi offerings ever since. Sushi requires precision, knowledge, and a dedication to quality; Kuni's offers all that and more. 
226 Lexington Avenue; 881-3800, kunisbuffalo.com
Best bowl
Fresh Catch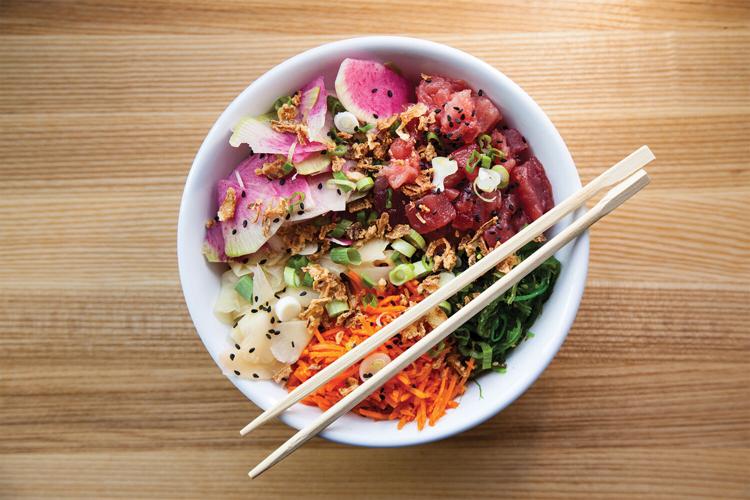 The bowl trend has taken WNY by storm, and we love the bowls at Fresh Catch. Easily customizable on the restaurant's website, they're a perfect to-go for those in a rush. Bowls at Fresh Catch (with Buffalo and Williamsville locations) are made-to-order and always full of fresh, high quality ingredients.
Best barbecue
Fat Bob's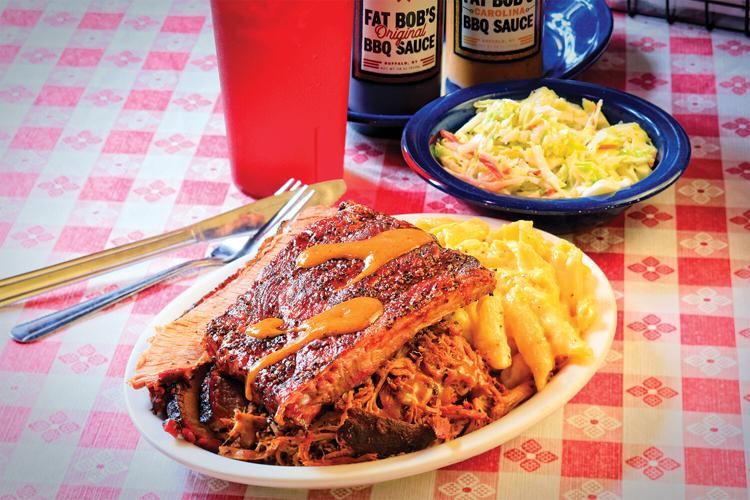 Throughout the past six months, Fat Bob's has been giving pandemic-frazzled barbecue lovers reasons  to be happy. Ordered curbside, enjoyed on the back patio, or responsibly ingested indoors, the pulled pork, ribs, chicken, and, of course, the mouthwatering sides are classic, by-the-book, smokehouse fare. Thanks, Fat Bob's, for keeping smiles on our faces and hearty comfort food on our plates.
41 Virginia Place; 887-2971, fatbobs.com
Best steak 
Giancarlo's Sicilian Steakhouse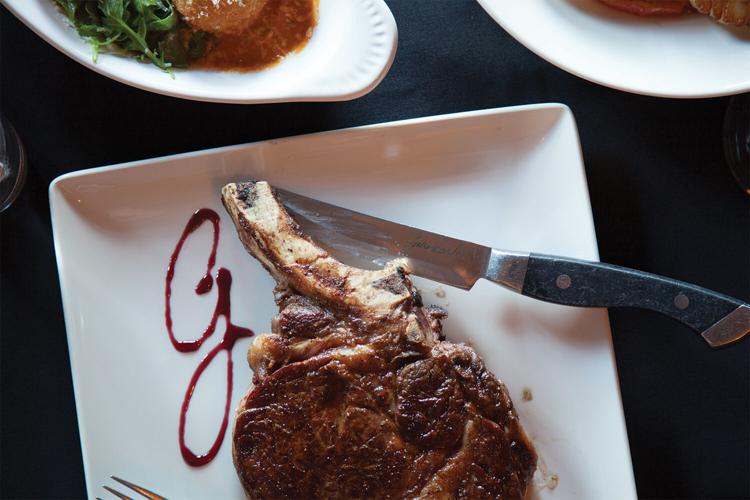 A bone-in ribeye, cooked sous vide before it's seared on a hot grill is a favorite Giancarlo's steakhouse offering, but other cuts round out the menu, with delicious sides for sharing. The Italian-leaning restaurant, led by siblings Gabriela and Anthony Ragusa, is one of the few WNY places executing the steakhouse experience well, but that doesn't negate the alternate paths its menu offers: brick-oven pizza, housemade pasta, big salads, classic scratch soups, and assorted seafood options. 
5110 Main Street, Williamsville; 650-5566, giancarlossteakhouse.com
Best seafood
Remington Tavern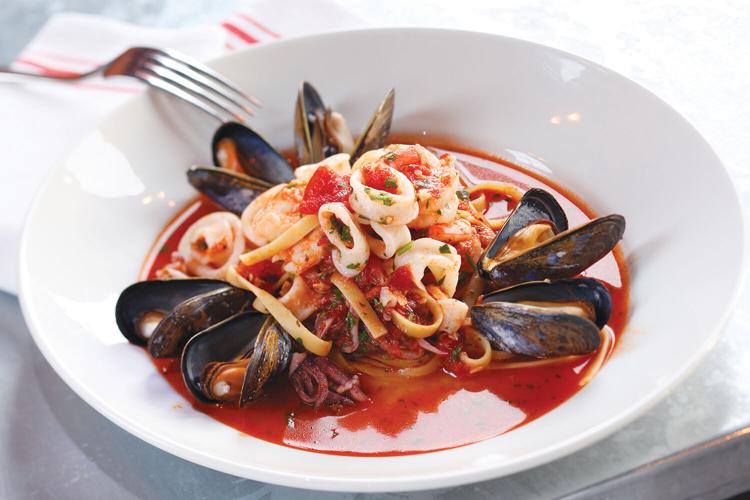 The raw bar in this converted former typewriter factory is a strong draw. Simply put: if you grew up inland and haven't traveled extensively, you owe it to yourself to try the oysters at Remington Tavern. Other specialties, including calamari, clams, and lobster tails, are equally expertly prepared and presented.
184 Sweeney Street, North Tonawanda; remingtontavern.com
Best fish fry 
Hayes seafood house
Fish frys are deeply woven into the fabric of Western New York's culinary history, and Buffalonians defend their go-to to-go fish fry as if it were their favorite football team. Food cognoscenti go directly to the source, and, when it comes to fish in WNY, that's Hayes. Hayes was founded in 1877 and has grown to its position as the largest seafood wholesaler in the Buffalo area. Each week, it trucks over 100,000 pounds of product to restaurants and country clubs, presumably saving some of its best product for its own kitchens in Clarence. Closed Sunday and Monday and only open for takeout the rest of the week, snagging a fish fry from Hayes Seafood House might require some planning. But remember, even pre-pandemic, people would drive to its Main Street location to retrieve a piping hot box of fish only to shovel its steaming contents into their faces the minute they climbed back into the car. No shame in that. 
8900 Main Street, Clarence; 632-1772, hayesseafoodhouse.com
Best bagel 
Bagel Jay's
No need to travel to the greater NYC area to get a great bagel, even if Gotham dwellers swear it's the water that makes their bagels taste so good. Jay makes real bagels: mixed, shaped, risen, boiled, then baked. Inside a crackling exterior, the inside is chewy and dense, perfect for schmear or sandwich. No white-bread rolls with a circle in the middle  here, these are the real deal.
Several locations; bageljays.com
Best hot dog 
Ted's 
Ted's starts with what we all know is the best hot dog ever made—Sahlen's—but what else does Ted's do right? Every. little. thing. Slit the skin of the dog with the turning fork the optimum number of times. Broil over real-deal charcoal. Toast the bun just enough to add an extra layer of flavor and a slightly impermeable canvas for the forthcoming condiments. Most options are no-nonsense classics, but a few require effort you might not bother with at home: finely diced raw white onion or whole slices of dill pickle. Once assembled, if you put your phone down and close your eyes, that first bite reminds you that a Ted's hot dog isn't just really good, it's an epiphanic memory-making (and evoking) experience. Sure, there are other things Ted's does well: wispy crispy fries, shattered onion rings with an ideal breading-to-onion ratio, simple-yet-craveable charbroiled cheeseburgers—and don't get us started on the chili cheese dogs. But it's the classic hot dogs that made Ted's an institution. 
Several locations; tedshotdogs.com
Best wings 
Bar-Bill Tavern
Prior to January, anyone wanting to eat the best Buffalo wing in all of America would have no choice but to drive to East Aurora. Sure, the newer location in Clarence is as equidistant to City Hall as the old, but, on the upside, Bar-Bill's expansion still doubles the number of great chicken wings being produced in WNY, and that's a win. At Bar-Bill, every wing is perfectly prepared and individually slathered with sauce, so remember that no matter which location you choose to visit, good wings take time. 
Best doughnut 
Paula's Donuts
Back when we worked in offices, nothing could activate salivary glands and incite a stampede to the kitchen like the sight of a coworker carrying a white Paula's Donut's box through the cubes. Paula's creates a huge variety of handmade doughnuts served fresh every day, plus some seasonal favorites that we look forward to each year (Pumpkin Cake, we're lookin' at you). Glazed, powdered, frosted, filled with cream, jelly, or fruit, you're sure to find a favorite in this sweet lineup.
Several locations; paulasdonuts.com
Best ice cream shop 
Lake Effect Artisan Ice Cream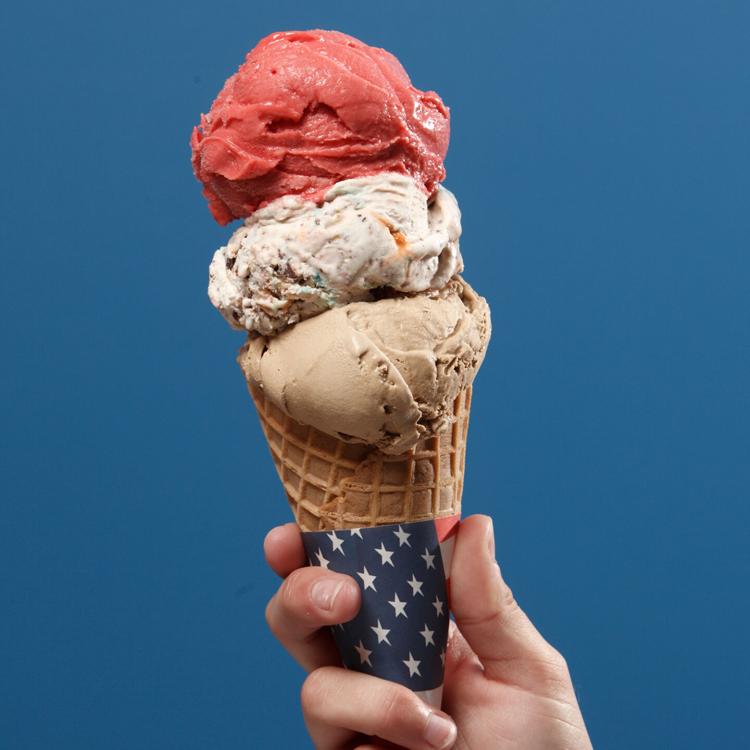 The Lake Effect Ice Cream flavor board routinely features more than twenty-five choices, each one more creative and crave-worthy than the last. Every rich and creamy selection is made in-house from premium ingredients blended into locally inspired combos like loganberry, Revolution coffee, Paula's Glazed Donut, butter lamb, and sponge candy, or worldly scoops with flavors of bourbon, black sesame, Earl Grey tea, and Meyer lemon. Flights of five or nine flavors are great options for those who can't decide. 
Two locations; lakeeffecticecream.com
Best food truck
Lloyd 
The first. The biggest. The best. Lloyd wins a large number of any year's given food truck awards because it is an indomitable beast. Other food trucks might dislike that, but Lloyd pushed itself over a decade into its reigning position with its relentless drive, embrace of risk, and really, really hard work. Its owners fought for the City of Buffalo to have some of the best food truck laws in the country (outside of the overly governed zone known as Buffalo Place), and continues to be a pioneer in its effort demanding better food truck laws all over the region. With its fleet of trucks, successful catering business, two popular brick-and-mortar locations, and a longstanding commitment to innovative and delicious scratchmade food, it's easy to see why Lloyd is a regional favorite and a frequent winner of this award.
Best use of local ingredients 
The Black Sheep
Black Sheep co-owner and chef Steve Gedra was one of Buffalo's earliest adopters of farm-to-table as a way of doing business—the best-tasting, highest quality food arrives fresh from local farmers who care about every ounce of food they toil to produce. Western New York's European heritage and climate feeds Black Sheep's continental menu, coaxing the flavorful soul out of every pork belly, heirloom tomato, or rutabaga Gedra gets his hands on. Black Sheep's menu rotates frequently to showcase the best of what's in season. 
367 Connecticut Street; 884-1100, blacksheepbuffalo.com
Best wine list (bottle)
Oliver's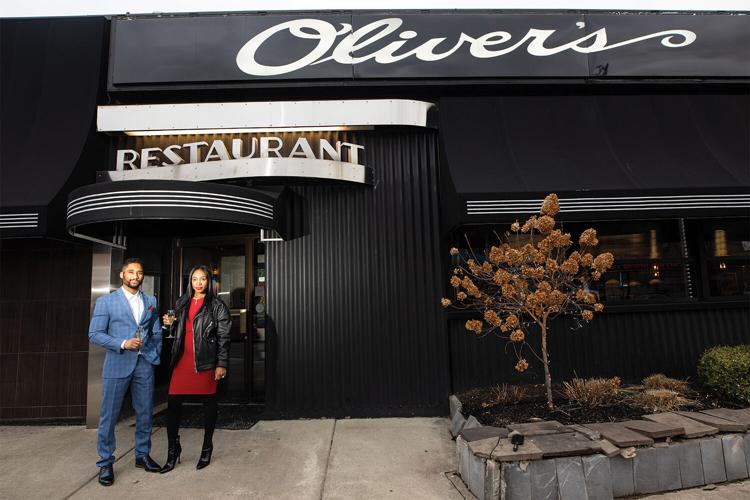 Those who take wine and the pleasures of fine dining seriously always have Oliver's as a top go-to. If you want a full choice among countries, varietals, and styles—with the ability to splurge—this is the place.
2095 Delaware Avenue; 877-9662, oliverscuisine.com
Best wine list
(by the glass)
The Little Club
Here's a list that's always full of happy surprises, perfect for a year that's had plenty of the unwelcome variety. The adventurous list here includes (at press time) narince from Turkey,  zelen from Slovenia, carignan from Chile, grecanico from Sicily, and much more. Buffalo diners are reaping the benefits of Tommy Lombardo's broad knowledge and business savvy. He knows how to make wine fun for the rest of us.
1197 Hertel Avenue; 427-6400, thelittleclub.bar
Best local winery
Arrowhead Spring
All of Arrowhead's wines are made sustainably, using organic methods, but that's just one of many reasons to visit this beautiful Niagara County winery or look for its label at the many local stores that carry it. For more than a decade, Arrowhead has been making prize-winning wines, including pinot noir, reisling, chardonnay, cabernet francs, and a much-lauded Cool Terroir red blend. There's even a port style called LockPORT Red.
4746 Townline Road, Lockport; arrowheadspringvineyards.com
Best local brewery 
Big Ditch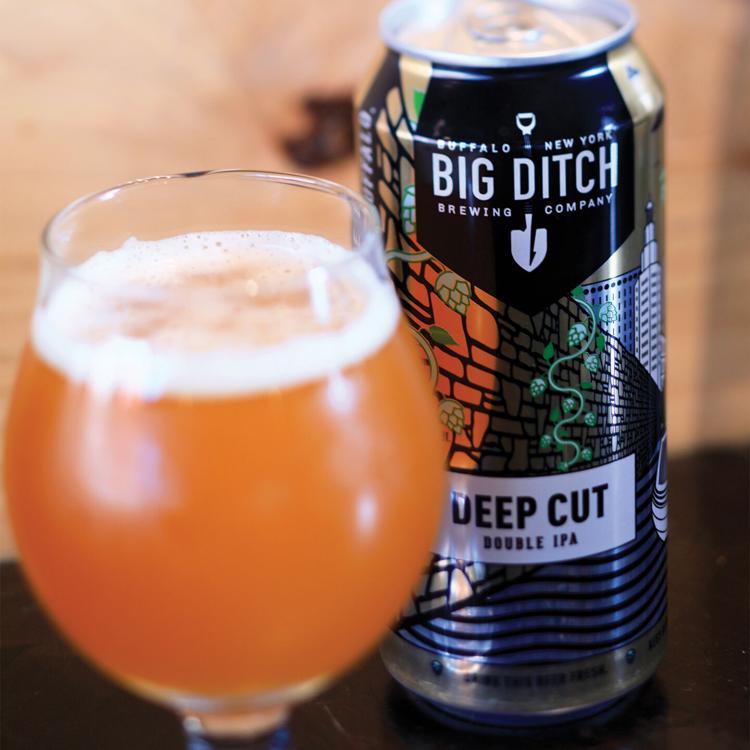 Brewing Company
The name refers to the Erie Canal, connecting, as the song goes, Albany to Buffalo. But it's the latter city that lays claim to this distinctive craft beer brewery. Dedicated, inventive brewers provide quality, innovative craft beers that are eminently drinkable in Western New York and beyond. So drinkable, in fact, that Big Ditch was able to expand to a 15,000-square-foot brewery with a taproom and lively restaurant.
55 East Huron Street; 854-5050, bigditchbrewing.com
Best local distillery
Lockhouse 
Lockhouse Distillery was the first distillery to open in Buffalo since Prohibition. While the bar and restaurant are temporary closed, the distillery is still (slowly and artfully) cranking out its award-winning artisinal spirits with a focus on high quality production and local ingredients. We especially love the cherry blossom Sakura Gin and anything made with Lockhouse Amaro.
41 Columbia Street; lockhousedistillery.com, 768-4898
Best craft cocktails
Ballyhoo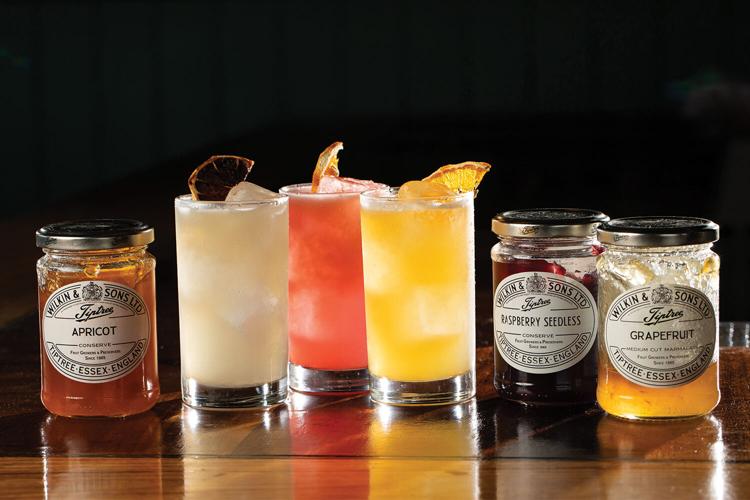 Homemade sausages and killer cocktails? This unassuming South Buffalo spot is known for both. Handcrafted with carefully curated ingredients and concepts, Ballyhoo's libation list runs from dark and bitter to light and fruity with creative takes and cult classics mixed in. Try a Mai Tai, Sazerac, or Negroni, or go bolder with the Penicillin (Scotch, lemon, honey water, ginger, Laphroig float), Paper Plane (bourbon, lemon, aperol, amaro nonino) or Hemingway Daiquiri (white rum, grapefruit, lime, maraschino, simple syrup).
211 South Park Avenue; 240-9901, buffaloballyhoo.com
Best overall beer selection
Lenox Grill 
Buffalo is a beer-lover's paradise, loaded with microbreweries, brewpubs, and thoughtful bar managers who keep their draft and bottle selections fresh. But, for sheer volume, the bottled and canned beer selection at the Lenox Grill is unparalleled. Let's just start by saying there are ninety-seven IPAs, thirty-seven lagers, and twenty-one Belgian styles. The list also includes lesser-known beer types, as well as ciders, seltzers, and meads. 
140 North Street; 884-1700, lenoxgrill.com
Best beers on tap
Colter Bay 
This neighborhood (and beyond) favorite has a super-friendly vibe and is known to have played a role in several lasting love connections, perhaps slightly facilitated by the vast number of beers on tap. (Who knows how many true loves got waitlisted when it was closed for a hot second?)  In addition to the more than thirty handcrafted drafts, Colter Bay has a menu of fortifying pub grub and lots of TVs to watch while you wait for your Prince or Princess Charming to saunter in.
561 Delaware Avenue; colterbaybuffalo.com, 436-5197
Best patio/al fresco [TIE]
Templeton Landing
If you don't have a home with phenomenal water views and expansive and comfortable outdoor seating on several decks and patios, you can still experience that million-dollar ambiance at Templeton Landing. Indulge yourself and someone you're keen on with an amazing meal while the sun sets on the water, and maybe retire to a cozy fire pit for après dinner drinks and some socially responsible canoodling.
2 Templeton Terrace; 852-7337, templetonlanding.com
Frankie Primo's +39
If, on the other hand, you're longing to settle in for some people-watching, this is the place. Located on a bustling Chippewa/Delaware corner, Frankie Primo's has the urban experience down. It also has some of the best pasta in WNY.
51 West Chippewa Street; 855-3739, frankieprimos39.com
Best sports bar 
Sidelines 
If you think a sports bar is a place with tons of TVs, pub food, and lots of beer, you're not wrong. What sets Sidelines apart is its devotion to all things sport with numerous DirecTV sports packages including NFL, NHL, NCAA football, and select UFC fights and boxing matches. If an athlete is going to throw, hit, kick, or punch something or someone, you can catch the action at Sidelines. A comprehensive beverage menu, great party environment, and top-notch food round out the experience on game day or any day. As Tom the Dancing Bug would say, "Go, fightin' ritualized tribal warfare surrogates!"
189 Delaware Avenue; 240-9392, sidelinesbuffalony.com
Best waitstaff/service
Oliver's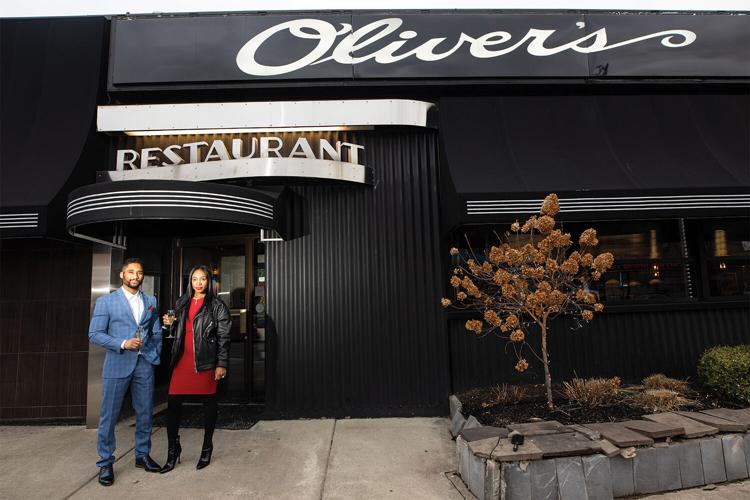 In this time of take-out, curbside service, and food delivery, you might forget how special, respected, and pampered excellent table service can make you feel. If you're longing to feel civilized and cared for while you eat an exquisitely prepared meal and drink a perfectly mixed cocktail or suggested glass of wine, make a reservation at Oliver's immediately. They've been doing this for eighty years, so they know a thing or two about service and creating a lovely dining experience for their guests.
2095 Delaware Avenue; 877-9662, oliverscuisine.com
Best new hotspot
Breezy Burrito bar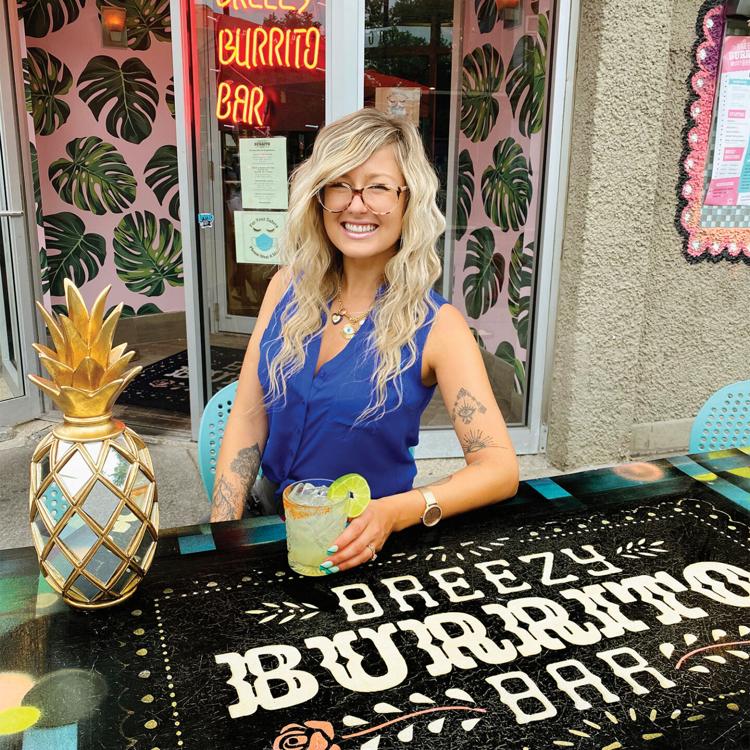 Some say Buffalo has enough Mexican restaurants, to which we say, "Are there ever enough Mexican restaurants? Anywhere?" Breezy Burrito Bar is a standout no matter which way you slice that lime. Breezy's friendly staff, signature cocktail menu, and build-your-own taco and burrito bar make this Tex-Mex place a go-to hangout. The patio is especially festive, and the indoor dining room is large enough to socially distance easily.
1000 Elmwood Avenue; 381-8996, breezyburritobar.com
Best chef (established)
Brian Mietus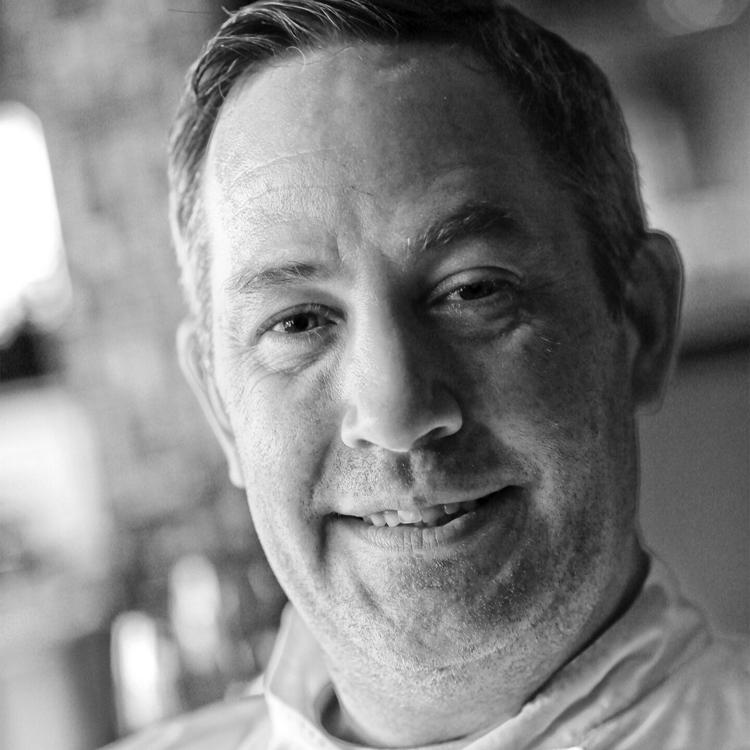 Spree has been covering Chef Brian Mietus for over fifteen years, which, not coincidentally, is when he started as executive chef at Bacchus Wine Bar & Restaurant. We think he's great, but you don't have to take our word for it. The graduate of the New England Culinary Institute has been listed in Best Chefs America, cooked at James Beard House, was a contestant on Food Networks Cooks vs Cons and Nickel City Chef, and is regularly listed in Wine Spectator. But maybe the highest accolade is that Bacchus is Buffalo Chef's Choice of where to eat when they want someone with real cooking chops to cook for them.
56 West Chippewa Street; 854-WINE, bacchusbuffalo.com
Best chef (new)
Mike Thill
The early days of Mike Thill's cooking career includes gigs at the laudable Daniel's in Hamburg and JP's Pub in Lakeview, but he really came into his own under the tutelage of Steven Gedra at the beloved Black Sheep. His culinary point of view seeks to showcase the natural flavors of the best ingredients, something that lines up with his training under locavore Gedra. Currently, Thill is executive chef at 100 Acres inside the Hotel Henry. Diners find that in addition to passion for high quality local and seasonal ingredients, Thill's penchant for Middle Eastern flavors sneaks onto his otherwise New American menu to incredibly delicious effect. We've followed this young chef's career for many years and are thrilled to watch WNY fall in love with Thill. 
100 Acres at Hotel Henry; 444 Forest Avenue; 955-1511, 100acresbflo.com
Best new restaurant (opened in 2019–2020)
Waxlight Bar À Vin
Located in the newly redeveloped Black Rock Chandler Street complex, Waxlight is a beautifully appointed, wine-focused restaurant run by a team of owner-operator sommeliers and chefs (Edward Forster, Tony Rials, Joseph Fenush, Jess Railey, and Jeff Yannuzzi), with innovative menu offerings curated to pair with Waxlight's extensive and enviable wine collection.
27 Chandler Street; waxlightbaravin.com
Best dive bar
Old Pink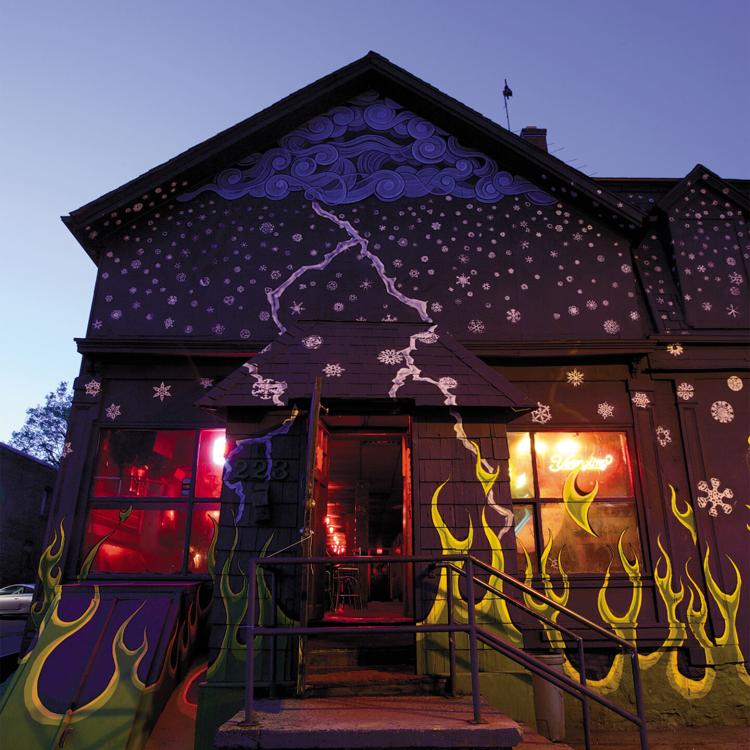 Who's crying that the Old Pink replaced its tilt-a-whirl saggy-sloped checkerboard floor? We're crying. Change is hard. But, in 2020, change is the name of the game. If "modern farmhouse" flooring in our favorite dive bar is insurance that we can go to our favorite dive bar for another forty or so years, we're OK with it. Certainly, over time, the floor will start to scuff and fade, and a new generation of kids will think of that floor as integral to the Old Pink's identity. They'll fall in love, just as we have, with her ability to attract throngs of drinkers and brawlers and bullshitters from every spectrum of humanity and background. They will commune over cold beers and killer sandwiches served by the most-chill bartenders day or night, winter or summer, to the backdrop of the slickest hyper-cultured soundtrack ever spun, just like us. After all, some things never change. 
223 Allen Street; find it on Facebook
Best coffee shop
Spot
SPoT Coffee opened its first shop in 1996 at 227 Delaware Avenue. Now, SPoT operates more than a dozen coffee houses and Express cafés in and around Buffalo (plus several more across New York and in other states); no wonder it garnered so many votes. While the quality of the offerings and service remain constant at whichever SPoT you choose, you'll find that each location has its own vibe, from cozy to funky to collegiate.
Many locations; spotcoffee.com
Best place for a special occasion
Salvatore's
When you want to celebrate a life event, big or small, be it birthday, anniversary, or promotion, from first date to wedding, Salvatore's brings the sparkle. Impeccable and attentive service is coupled with an elegant and varied menu, wine and cocktail list, and decadent desserts. But, you really don't need an occasion to be a guest at Salvatore's. They make you feel special any old day.
6461 Transit Road; 877-456-4097, salvatoreshospitality.com