Best winter patio
Tappo Restaurant (igloos)
For both warmth and pandemic safety, downtown Italian restaurant Tappo's igloo rentals were overwhelmingly popular this past winter. Diners enjoyed quality wine and a full course meal with parties of up to eight, plus an Insta-worthy ambiance (just look at those twinkle lights).
Best summer patio
[TIE]
Britesmith Brewing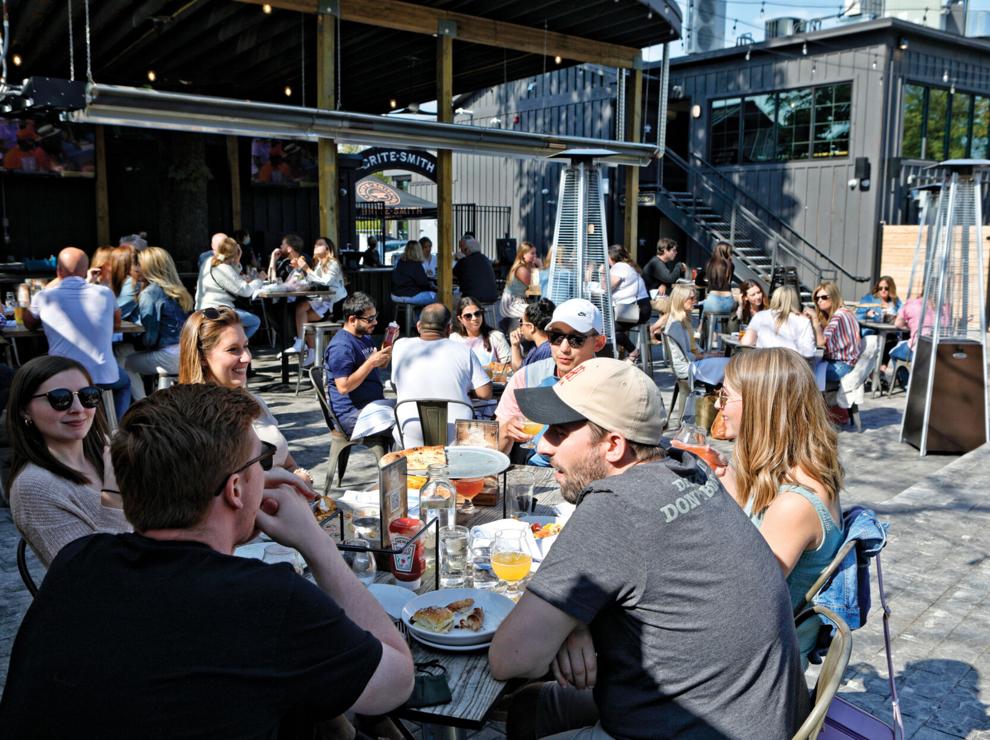 This creekside brewery/restaurant has been one of the hottest tables in town since it opened in 2020. With an outdoor bar, heat lamps for cooler days, and a stellar view of rushing water, Britesmith's patio and beer garden is the perfect place to WNY summer with fresh-brewed beer and menu selections from chef Ross Warhol. 
Frankie Primos +39 (North Tonawanda location)
At Frankie Primo's +39's new location, you don't have to choose between good eats and beautiful ambiance, thanks to its generous patio that's made for—dare we say primo—eating and drinking al fresco. With a vine-covered brick wall, fire pit, string lights, and plenty of flora, we can't wait to kick back and enjoy the view along historic Webster Street in North Tonawanda.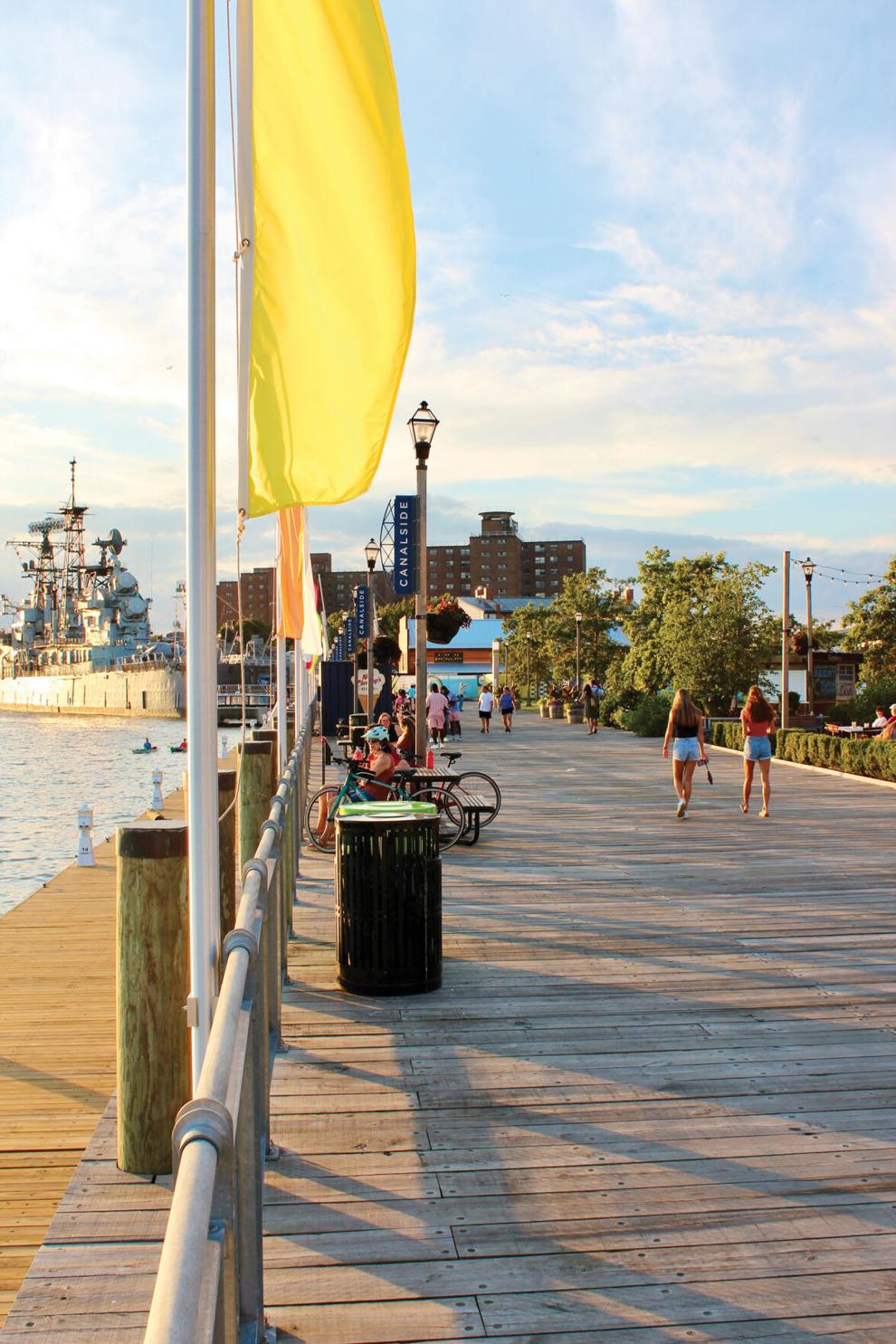 Best family fun (summer)
[TIE]
Canalside 
Canalside hosts hundreds of events all year long, but summer is time to bring the whole family. Take a bike or walking tour, ride the Buffalo Heritage Carousel, participate in an outdoor fitness class, rent a kayak or water bike, or pay a visit to Shark Girl. This thriving waterfront activity hub promises a Buffalo-filled day—or days—of family fun.
Transit Drive-In
Buffalo-Niagara's only remaining drive-in has been providing movies and fun under the stars since 1952. The Drive-in recently changed ownership, but Western New Yorkers were relieved to hear that new owner Michael Clement is committed to keeping this beloved outdoor movie theater open. Bring the whole family down for a double feature (or single, if the kiddos can't keep their eyes open) and fill the car with Drive-in snacks. This summer promises the return of ever-popular Retro Tuesdays. 
Best new art exhibition, large gallery (2021-22)
In These Truths, AK Northland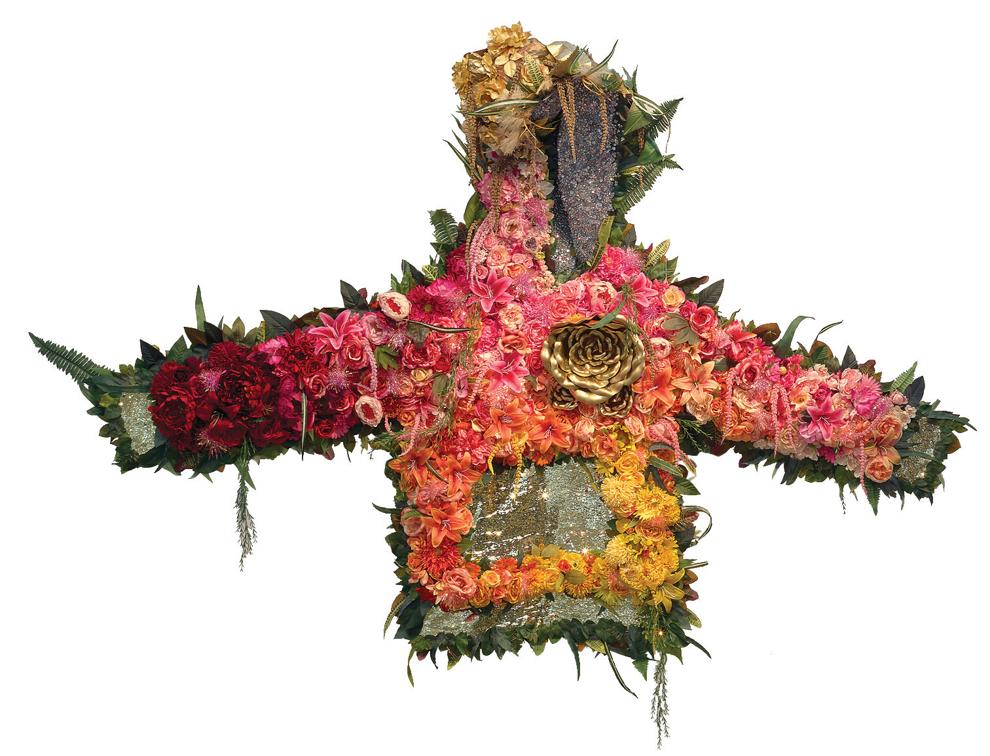 In These Truths opened on February 19
and ran until June 5, 2022 at Albright-Knox Northland. The show's title comes from a paragraph in the Declaration of Independence: "We hold these truths to be self-evident, that all men are created equal, that they are endowed by their Creator with certain unalienable Rights, that among these are Life, Liberty and the pursuit of Happiness." The group exhibit, co-curated by Buffalo artists Aitina Fareed-Cooke and Edreys Wajed with Albright-Knox Curator of Public Art Aaron Ott, presents gorgeous, provocative, and personal artwork by Black artists, emerging and established. This collection of work by two dozen artists was a must-see experience.
albrightknox.org/community/northland
Best new art exhibition, small gallery (2021-22)
new gods, old America, Tommy Nguyen, Buffalo Arts Studio
Brooklyn-based artist Tommy Nguyen created and filled the galleries of Buffalo Arts Studio in Tri-Main Center on Main Street in Buffalo with oversized handmade, mylar people who floated in front of mylar-draped walls. Dramatic, colored lights added to the disorienting and dramatic effect. The undulating and shining figures of familiar shapes but indistinct gender/race/emotion are trapped in time and space to create a powerful dreamscape underscored by lush and meditative ambient sounds. 
Best new arts organization (2021)
The K Haus
The K Haus at 808 Main Street has both gorgeous gallery and event spaces in a meticulously rehabbed Victorian building. David Kimelberg, the man behind the K Haus, is CEO of Seneca Holdings, the investment holding company of the Seneca Nation of Indians: his law firm has its offices in the building. K Art, the gallery portion of the K Haus, presents artwork by emerging and established contemporary Native American artists in solo and group exhibitions. The K Haus has a crisp and mod interior throughout and is open Tuesday-Saturday.
thek.haus
Best virtual fundraiser
Addy's Fine Wine & Spirits with SheCAN of Buffalo: Virtual Wine Tasting
On Thursday, February 10—amid one of the too-frequent COVID-19 surges in 2021—Addy's teamed up with SheCAN of Buffalo to offer a virtual wine tasting for participants to enjoy from home. For $65, tasters received four bottles of wine curated by sommelier Jim Curry, chocolate, wine bingo cards, and wine tasting sheets (even out-of-towners could play). Purchases benefited SheCAN, a membership-based not-for-profit organization that helps women learn and grow through education on mindset, health and wellness, and career development. 
amherstwine.com, shecannetwork.com
Best art/crafts classes
Locust Street Art
Built on the belief that art should be accessible for all, Locust Street Art offers free studio art classes for ages four to adult in ceramics, animation, drawing, painting, photography, and more. There are also low-cost specialized workshops and virtual classes. Many of LSA's classes have always been free and/or online, allowing greater art access.
Best cultural programming
Centro Culturale Italiano di Buffalo
The nonprofit organization Centro Culturale Italiano di Buffalo (CCI) was founded in 2010 by Dr. Francesco Giacobbe and late wife Renata Scognamiglio Giacobbe. In 2021, the CCI opened its permanent space with a full calendar of Italian heritage displays and cultural programming, including Italian and Sicilian language classes, cooking classes in the impressive community kitchen and event space on its lower level, story hours for kids, concerts, and Italian movies. The organization also has a Story Booth where families can document immigration stories for posterity. A gift shop and cafe are open to the public.
Best family fun (winter)
[TIE]
Urban Air Adventure Park
When the weather outside is frightful and the kiddos are less than delightful, Urban Air Adventure Park, located in the Walden Galleria, is the place to let them burn all that energy. Along with the typical climbing walls and trampolines, Urban Air also has  some unexpected attractions such as a Battle Beam, Ropes Course, and Sky Rider, a kid-friendly version of a zip line. With so much to do, don't be surprised if the little ones fall asleep in the car on the way home. 
The Warrior Factory Buffalo
Fitness is fun at the Warrior Factory Buffalo, an indoor obstacle course designed to test participants' physical and mental strength with obstacles inspired by those seen on TV's American Ninja Warrior. With a curriculum that caters to all ages and abilities, the Warrior Factory offers camps, classes, and competitions in addition to open play and birthday parties. There's even a mobile unit to for your next event or celebration
Best farmers market (city)
Elmwood Village Farmers Market
The Elmwood Village Market is a producers-only market, which means none of the vendors are reselling; everything available is made or grown by the vendors themselves. Home to some of the region's most respected farmers and vendors, the market is a place to shop with confidence, plus enjoy musical entertainment and community organization tents.
Best farmers market (suburbs)
North Tonawanda City Market
Established in 1908, this farmers market is one of the largest in the region. Shoppers can purchase local food, imported produce, meat, cheese, preserves, flowers, and much more. Lucky for us, it operates year-round on Tuesdays, Thursdays, and Saturdays.
northtonawanda.org/city-market
Best hiking trail (Northtowns)
Niagara Gorge Trail: Devil's Hole
This moderately challenging hike within Devil's Hole State Park follows the route of a former trolley line built in the Niagara Gorge in 1895. Railroad service ended in 1935 after a rockslide severely damaged the route, but this wooded, unpaved pathway just over a mile away provides a spectacular overlook of the Devil's Hole Rapids. For adventure after you've finished Devil's Hole, visit the Great Gorge Railway Trail and the Niagara Scenic Parkway Trail nearby.
Best hiking trail (Southtowns)
Chestnut Ridge Park: Eternal Flame
Visitors flock to Chestnut Ridge to see the Eternal Flame, a small waterfall with a shale rock base that hosts a seldom-extinguished flame created by a natural gas leak, but hiking at Chestnut Ridge is more than this natural phenomenon. Multiple trails offer hikers of all levels a challenge amidst universally gorgeous scenery. Pro tip: Visit during daylight hours and print a map beforehand if you've never been. 
Best place for a picnic 
Delaware Park/Hoyt Lake
Delaware Park exists on either side of NYS Route 198, and both sections provide idyllic picnic locales. Cozy up in the Japanese garden, spread a blanket in the tall green grass that lines Hoyt Lake footpath, use the Rose Garden as a shelter on a drizzly day, stretch out on verdant soccer fields on non-game days, or dine al fresco at Shakespeare in Delaware Park. The options are limited only by your imagination.
Best tours
Explore Buffalo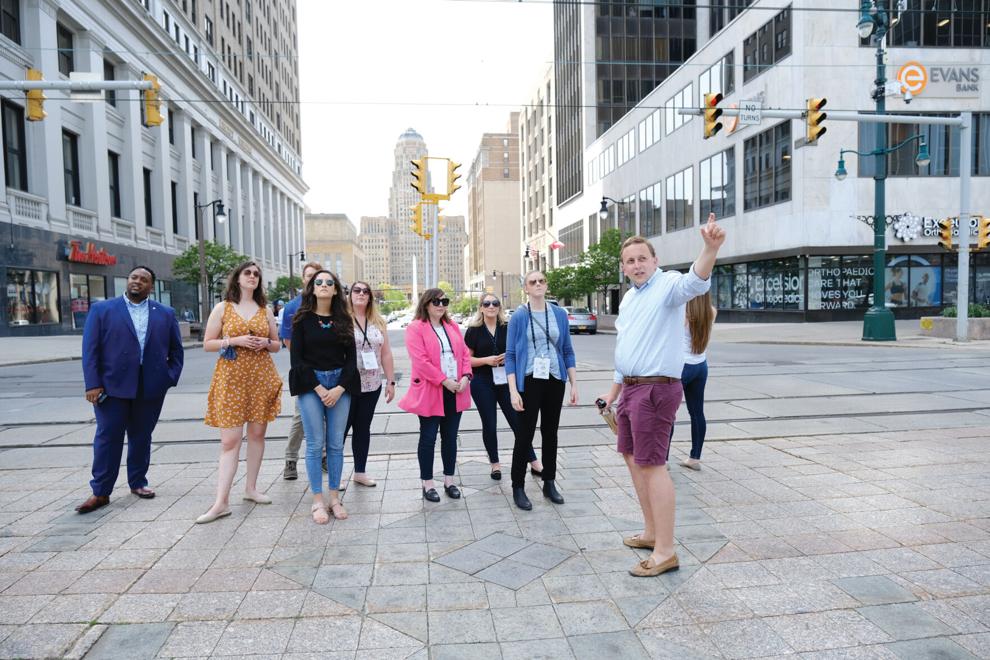 To learn about Buffalo architecture, sports history, public art, or surrounding neighborhoods—or even the less wholesome crime and mob scene—check out the Explore Buffalo schedule. In addition to its more than sixty-five walking tours, it also offers bus and bike tours. The best way to explore Buffalo is with Explore Buffalo.
Best beach
Sunset Bay
Just forty-five minutes from Buffalo, Sunset Bay offers well-maintained beaches, gorgeous lake views, a beach club, a bar and grill, an ice cream stand, and more. Plan to spend the entire day, as there is no shortage of activities to enjoy.
Best production of a classic show
Waiting for Godot, Irish Classical Theatre Company
As part of its mission, ICTC must go back to the well from time to time and, each time they do, the company is called upon to find fresh ways to deliver familiar material. Sometimes the best way to do that is with stellar talent and this production was stacked with it: Todd Benzin, Ben Michael Moran, Brian Mysliwy, and Vincent O'Neill, who was part of the company's original production when it was founded in 1985. Directed by Josephine Hogan, the show was as entertaining as it should be and as clear as it could be. Simply stellar.
Best production of a contemporary show
Hand to God, Road Less Traveled Productions
We've talked before about the many setbacks this show faced in getting to the stage, only to be felled by COVID not once, but twice (when it resumed in November 2021 after its March 2020 shutdown, it lost is final week because of cast illness). Count yourself lucky if you managed to see it, because its confluence of puppet antics and insanely comedic talent isn't likely to come again soon. Special props to lead Dan Urtz, who took home the Artie Award for Best Actor in a Play the week before the show reopened; that's a win that makes history.
roadlesstraveledproductions.org
Best theater education programming 
[TIE]
Shea's Performing Arts Center
Shea's robust menu of theater education offerings includes workshops, arts-integrated classroom learning, Broadway master classes, camps and intensives, performance field trips, school time performances, and, of course, the annual Kenny Awards and Junior Theater Celebration, which recognize middle and high school theater excellence and provides opportunity to learn from professionals. Even better, Shea's works with schools to build and design programs tailored to their needs. The possibilities are endless.
Second Generation Theatre
Second Generation Theatre Academy offers free Saturday workshops and classes in all aspects of theater: performing, design, stage management, writing, and more. There's a weeklong camp in the summer but private customizable coaching is available year-round. SGT also regularly partners with after-school programs and community organizations like Danceability, Providence Farm, and more to bring the joy of theater to as many populations as possible. All SGT teaching artists are professionals who help students connect to the Buffalo theater community. Plus, sometimes adults can get in on the action too; Charmagne Chi's Comedy Writing for Adults was a 2021 hit.
Most innovative theater offerings
Shakespeare in Delaware Park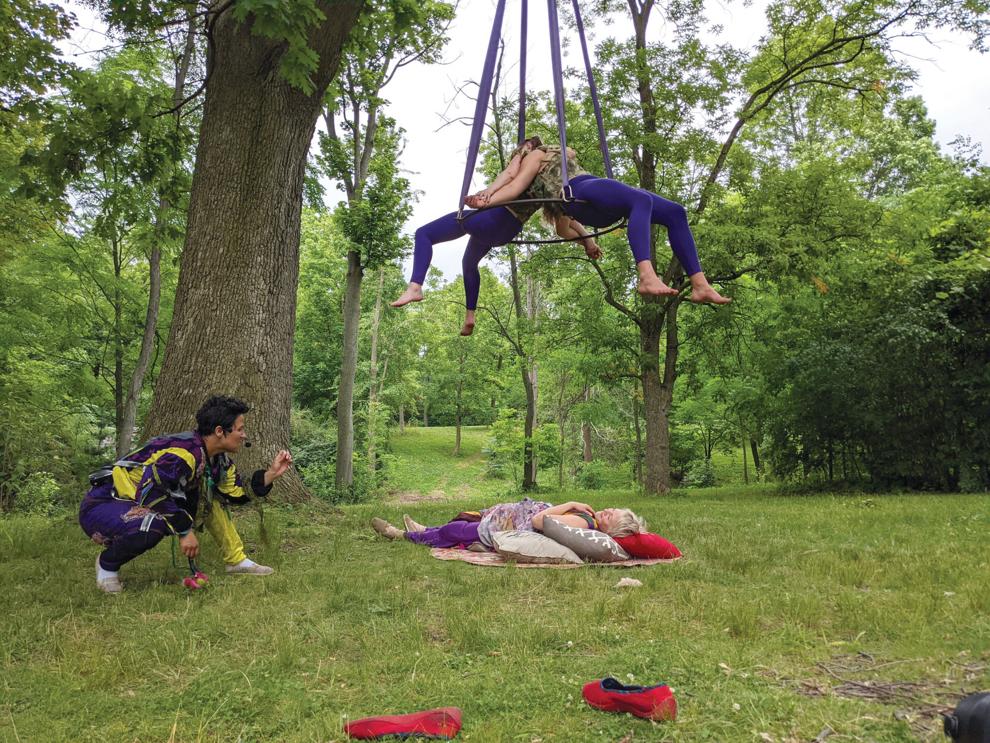 Winner of the Best Pandemic Pivot in 2021, SDP upped its game when, for the second year in a row, COVID precluded its scheduled production of A Midsummer Night's Dream. In addition to a newly created touring show—continuing this summer, this innovation looks permanent—SDP also added A Midsummer Night's Walk, a socially distanced, pandemic-friendly journey through the Delaware woods. Led by Puck, spectators happened on scenes from Shakespeare's popular comedy and teased this summer's full production—which is actually happening. See you on the hill!