Best new clothing boutique 
French Girl Boutique
Add joie de vivre to your day and visit French Girl Boutique. It's like a touch of Paris in the heart of Allentown. After you've made your way past the French champagne, cabernet-filled chocolates, fancy soaps, and candles, you'll discover handmade silk and cotton loungewear, robes, pants, cardigans, and accessories. Owner Dani Weiser, who lived in the South of France, knows how to help customers discover their fashion sense. Ooh là là!
Best custom framer
Picture Your Walls
This custom framing shop prides itself in handling customers' treasures, memories, art, and walls as if they were its own. The wall décor solutions service includes selecting artwork, positioning, and hanging art on the walls, plus anything in-between. For decorating a home, conference room, office, or restaurant, Picture Your Walls will provide eye-catching solutions. Custom framing and photo restoration services are available. For original artwork, visit the gallery of local artists and photographers.  
Best clothing boutique (established)
Half & Half
Mother/daughter team Jennifer and Kilby make shoppers feel like a part of the family, too. With products ranging from rompers and jumpsuits to jewelry and accessories to beauty and wellness, there is something for everyone. Half & Half believes that style is not just what you wear, but what you do and how you show up for your community. As such, Jennifer and Kilby consistently seek out social collaboration. Like the website says, "Women helping women is always in style."
Best outdoor wear (men)/Best sporting/outdoor life store
Gear for Adventure
Gear for Adventure sells high-quality sporty wear for men and women, sunglasses (Goodr and Smith Optics among the offerings), footwear (sandals, hiking shoes, and boots), and durable clothing. Kayaks, paddleboards, and all necessary accessories–life vests, racks—are also available, along with camping stoves, food, and tents. Locations in Amherst and Hamburg are open daily.
Best outdoor wear (women)
Buffalo Fleece & Outerwear
Located in the heart of Elmwood Village, Buffalo Fleece & Outerwear (BFO) carries an impressive number of items for women, men, and kids: coats, boots, sandals, yoga gear, Buffalo-themed tee shirts, hammocks, and much more. BFO also carries an impressive line of bags, luggage, and backpacks by Marmot and Patagonia. Friendly staff are on hand to assist with sizing and questions.  
Best craft/art store
Hyatt's All Things Creative
This family-owned creative haven has been satisfying artistic needs since 1959. Artists, architects, sign makers, designers, and avid DIYers know they can find what they need at Hyatt's. And when you're searching for supplies to make your vision a reality, why not do it at a place with competitive prices and quality customer service? 
Best handmade jewelry
Lynn Schwab Jewelry
Hammered metal, gemstones, organic, and rustic only begin to describe the offerings at Lynn Schwab Jewelry. Schwab works from a home studio, where she finds inspiration in Buffalo's four seasons. Earrings, bracelets, and necklaces range from the exotic to stylish and hip. All pieces come with a touch of class. Choosing just one piece presents a challenge; best buy at least two!  
Best traditional jewelry (city)
Aurum Jewelers
Owner Paul Michaels has more than fifty years of knowledge and experience that he uses to help each customer find—or create—the perfect piece. Aurum offers vintage/estate jewelry and timepieces, contemporary pieces, and custom jewelry, as well as jewelry and watch maintenance and repair, bead and pearl restringing, and appraisal services. Customers feel in good hands here, and they are.
Best traditional jewelry (suburbs)
Brian Michael's Jewelers
Western New Yorkers know they can rely on Brian Michael's Jewelers for custom design, engagement packages, gold buying, repairs, and appraisals—and they have been for more than thirty years. Friendly, knowledgeable staff, extensive selection, and expansive services ensure customer satisfaction. 
Best home décor 
Julie Muscato Home & Gift
For every style from traditional to contemporary and everything in between, clients love the Julie Muscato team for its creativity, collaboration, and attention to detail. At the studio space in Lockport, browse gifts and décor like candles, cards, books, kids' items, and works by local artisans.
Best gift shop (weddings)
Neo Gift Studio
A self-described "chic, unique gifting studio," Neo offers handpicked items from a wide range of designers and countries. Start your search with Michael Aram candles, cocktail napkin holders, and frames. Buffalo-themed items include coasters, barware, kitchenware, plates, and mugs. When table-top and décor items are more your taste, artistic vases, fun fluff pillows, stunning sea glassware, and serving trays with plates beckon. Any bride-to-be would welcome a personal treat from a wide variety of body and fragrance choices.
Best gift shop (handcrafted gifts)
[TIE]
Thin Ice Gift Shop
Thin Ice is devoted to helping local and regional artists sell in their community; there are over 275 local contributing artists, with constant additions. We can't possibly list everything this enticing shop has to offer, in part because it's ever-changing. If you want to see the vast inventory of Buffalo-themed items, jewelry, pottery, handmade cards, handblown glass, mugs, wall art, baby items, bath and body products, books, and more—and you should—you'll have to see for yourself. You can visit online, but we encourage an in-person trip; wandering around the store is half the fun. 
The Rusty Button Shop
When the pandemic brought art festivals to a grinding halt, owner Melissa Buckley recognized an opportunity. The Rusty Button Shop, opened in 2020, created a place for local artists to continue offering artwork to the public. With ever-changing displays and a variety of original work by jewelers, painters, fiber and mixed media artists, sculptors, photographers, furniture markers, assemblage and collage artists, soap makers, wood turners, and more, shoppers are bound to find something special. It's an art festival all year long!
Best new small retail business (2021-22)
Spruce on Main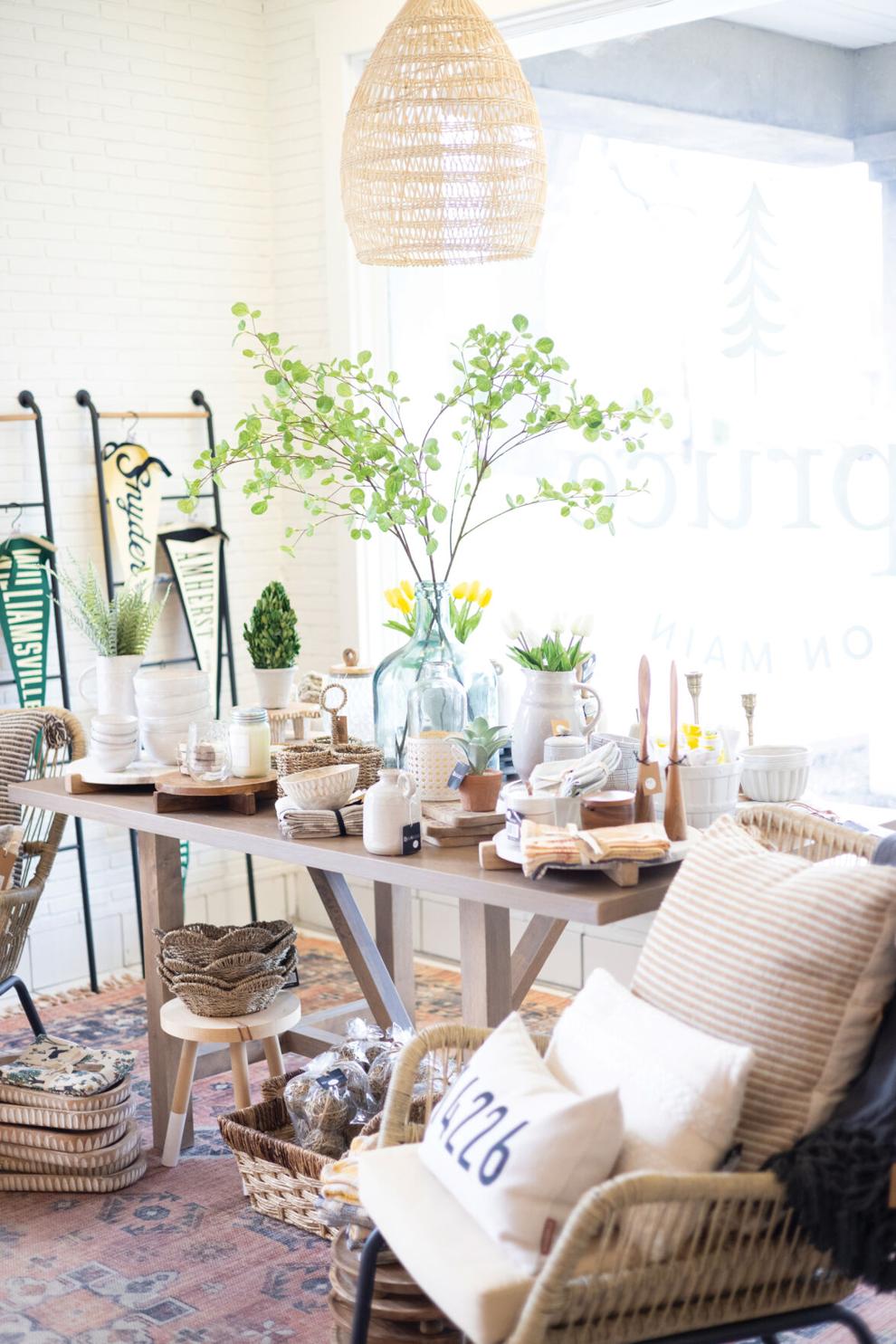 Spruce on Main has you covered with thoughtful items for everyone on your list—including you. With a carefully curated inventory of apparel, food, accessories and WNY-specific items, Spruce on Main is a go-to for teacher gifts, baby showers, and everything in between. Plus, we love the shop's openness to collaborations and fundraisers, which makes it a good neighbor.
Best thrift shop (general)
Amvets
With three clean, well-organized locations in and around Buffalo, Amvets remains a reliable thrifting favorite. Each store features a vast selection of donated clothing, housewares, trinkets, artwork, and more. The best part? Proceeds support programs for local veterans. Pro tip: everything is half-off on Memorial Day, Veterans Day, and a handful of other holidays. Vets receive twenty-five percent discount daily.
Best gift shop
(unique gifts)
[TIE]
Everything Elmwood
Everything Elmwood is indeed on that Avenue of local shops, bars, and restaurants, and is a go-to spot to purchase gifts. Expect to find unique housewares, candles, women's clothing, toys, and an impressive array of jewelry. Signature gift-wrapping is complimentary.
Rustic Buffalo Artisan Market
Rustic Buffalo Artisan Market, located in North Tonawanda, is three buildings teeming with whimsical gift items, housewares, antiques, jewelry, candles, clothing, ceramic art, photography, and more. There is an onsite coffee and bake shop and, on weekends, an outdoor artisan market.
Best furniture (Northtowns)
Calvin's Furniture & Leather Gallery
Buffalo native Calvin Anthony Caruso Sr. went into business in 1952. Since then, customers have trusted Calvin's for the latest in bedroom, dining room, living room, family room, home office furnishings, and leather. Browse online or visit the showroom for a feel.
Best furniture (city)
room
Partners Michael Poczkalski and David Brugh's luxury furniture boutique specializes in classic contemporary home styling. A stunning selection of sofas, chairs, rugs, tables, housewares, and artwork are sold at this innovative shop. Soon, room will be found inside the Monocole at 1235 Hertel Avenue.
Best thrift shop (consignment)
Second Chic
Buffalo's premier consignment shop has two locations, on Elmwood and on Main Street in Williamsville. Both stores carry an ever-rotating inventory of fine clothing and shoes for women and men, as well as purses and secondhand jewelry. Both locations have impeccable displays, not the jumbled vibe of some similar stores. Second Chic donates clothing that they can't accept to local nonprofit Journey's End, which benefits refugees living in Buffalo. 
facebook.com/secondchicbuffalo
Best vintage
Queen City Vintage
Born out of an Instagram call out for lovers of all things vintage, Queen City Vintage caters to both collector and fashionista with its extensive collection of clothing and memorabilia from all walks of sports and pop culture. 1991 Bills sweatshirt? Check. 1980s MTV bomber jacket? Check. When the racks are overflowing at discount retailers with made-to-look-old knockoffs, take comfort in knowing Queen City Vintage sells the real thing. 
Best storefront display 
Spoke & Dagger Co.
Passersby are taken in by the artful display of motorcycle apparel, accessories, parts, and gear in the window of this popular Hertel Avenue shop. Owners Chris and Jodi Drew are just as cool as the window display would lead you to believe, and their action-packed store is worth a visit even from non-riders.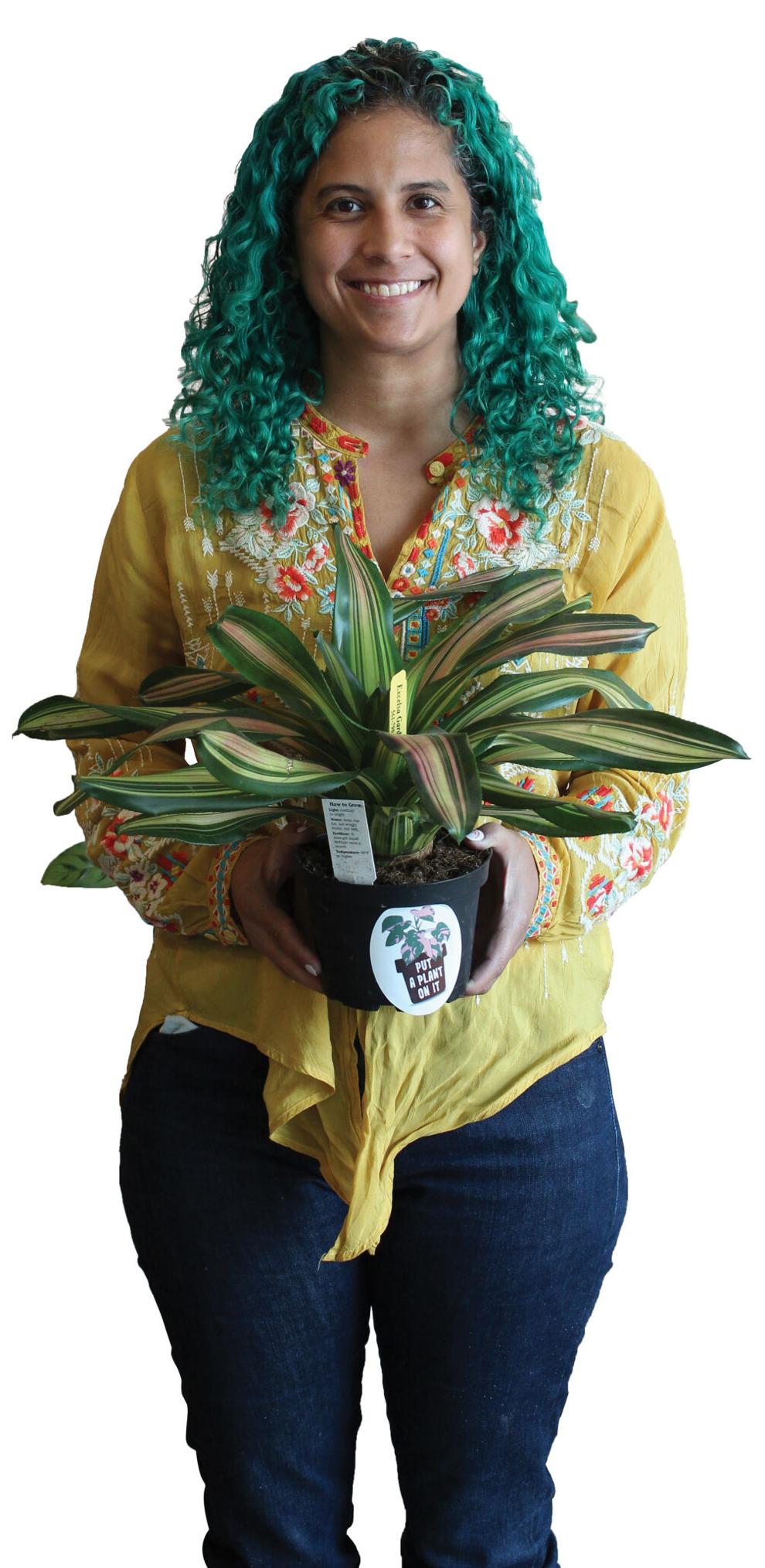 Best houseplant shop
Put a Plant On It
The plantchild of Johanna Dominguez, this Elmwood Avenue shop has developed a loyal following since opening in 2020. It's a place to buy houseplants both common and rare, botanically themed artwork, and gift items. Pots crafted by locals are works of art. Dominguez and staff will pair any plant lover with the perfect plant with consideration to available light, space, and time. The shop, open daily, features a potting station to revamp an existing plant or to put a plant in a new artisan pot.  
putaplantonit.shop
Best small garden store
Urban Roots Cooperative Garden Market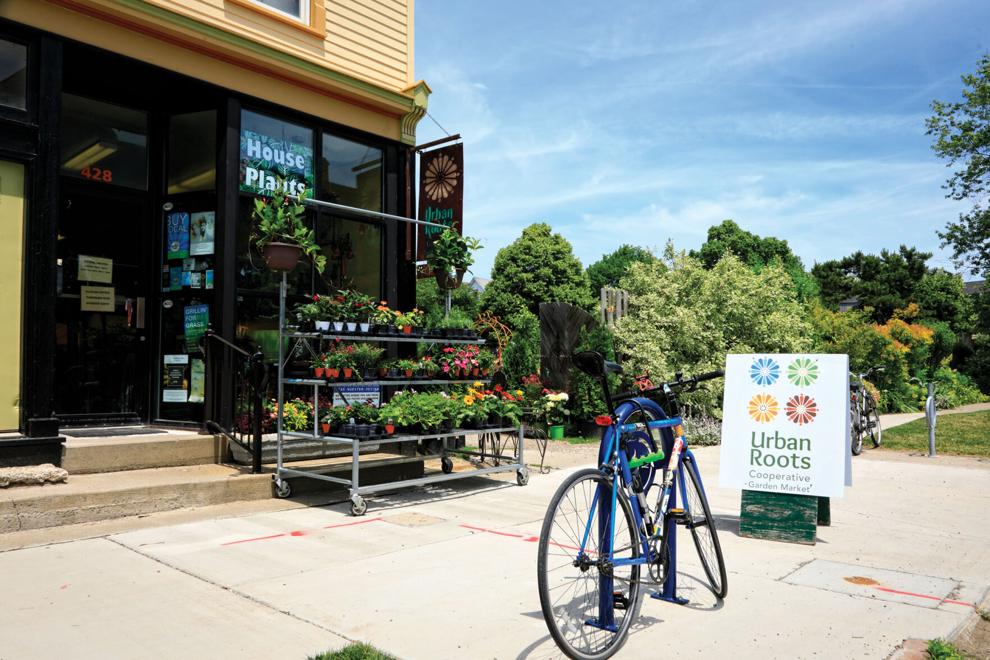 Open year-round, and community owned and operated, Urban Roots is tucked into Buffalo's bustling Five Points neighborhood. Opened in 2007, Urban Roots is a pleasant oasis of flowers, trees, native plants, garden adornments, and gift items. Check out the expansive selection of outdoor plants, houseplants, hand tools, plant foods, mulches, and soils. A colorful selection of quality pots for container gardening and beautiful vases are also stocked. Pumpkins and gourds are sold in autumn, wreaths and festive holiday decorations in winter. 
Best big garden store (Southtowns)
Lockwood's Garden Center
Lockwood's website URL says it all: they know plants. From keeping up with the latest gardening trends to stocking the hottest new plants, Lockwood's never disappoints. Plus, Spree readers love the hands-on classes and workshops and fun special events like the Fall Garden Fair and Christmas Open House. 
Best big garden store (Northtowns)
Lavocats Family Greenhouse & Nursery
A true family operation, Lavocats provides a quality selection of more than 800 plant varieties from favorites to hard-to-find and has the distinction of having WNY's largest selection of houseplants and plant pottery. We love Lavocats' commitment to philanthropy; through its Growing Kindness efforts, Lavocats hosted vendor fairs to help struggling small businesses, environmentalist-led conversation discussions for the public, and donated Tops gift cards to families in need. Lavocats is also kind to Mother Earth and places large focus on sustainability.
Best garden design/landscape
[TIE]
Beautiful River Landscape Design
For more than three decades, Beautiful River Landscape Design has worked to beautify green spaces at homes and businesses across WNY. Specializing in perennial and annual gardens, custom water features, and patio design, Beautiful River is a full-service operation, partnered with Amherst Fence, and Brian's Landscape.
beautifulriverlandscapebuffalo.com
T. O'Donnell Landscaping
For more than thirty years, customers have relied on T. O'Donnell Landscaping for yard and garden design. For those looking to make backyard spaces perfect for summer entertaining, T. O'Donnell specializes in garden, outdoor kitchen, firepit, and lighting. 
Best big liquor/wine store
Premier Wine & Spirits
Premier comprises three independently owned and operated stores in Amherst, Williamsville, and Orchard Park. With assistance in every aisle and offering some of the largest selections of premium wines and spirits in the country, Premier Group stores have what you need.
Best boutique wine/liquor store
[TIE]
Paradise Wine
Paradise Wine, located in the city's Five Points neighborhood, is a woman-owned business with a lovely boutique vibe. In addition to fine wine, organically grown options, and hard-to-find spirits, it carries glassware, decanters, and canned cocktails. The comprehensive website also has seasonally inspired cocktail recipes.
Noble Root Wine & Spirits
Noble Root is downtown Buffalo's first curated wine and spirits shop that explores intersections of craftsmanship, culture, and artistic ambition. To that end, it offers quality wine and stock from local distilleries, as well as frequent tastings. Noble Root's Wine Club and a Cocktail Club—both by monthly subscription—are also popular. Open six days a week, this shop feels like an artist's studio, down to the record player that fills the store with vinyl beats. 
Best customer service
Delta Sonic Car Wash
For affordable luxury delivered with dedication, head to one of Delta Sonic's many convenient locations. The team carefully inspects for dust and debris and is sure to cheerfully let you know if you've left a window open before you enter the wash. In both interior and exterior cleaning, the staff is detailed but well-paced, making the experience brief, but efficient. What more can we ask from a car wash? 
Best sponge candy
[TIE]
Platter's Chocolates
What began as Carl Platter's basement business is now located in North Tonawanda's famous Wurlitzer building. A reliable favorite since 1938, Platter's orange sponge is a known specialty, but it also makes milk, dark, and peanut butter. Platter's loves sponge candy so much, it hosts an annual Sponge Candy Fest, complete with a Sponge Candy 5K, with proceeds donated to a local charity.
Watson's Chocolates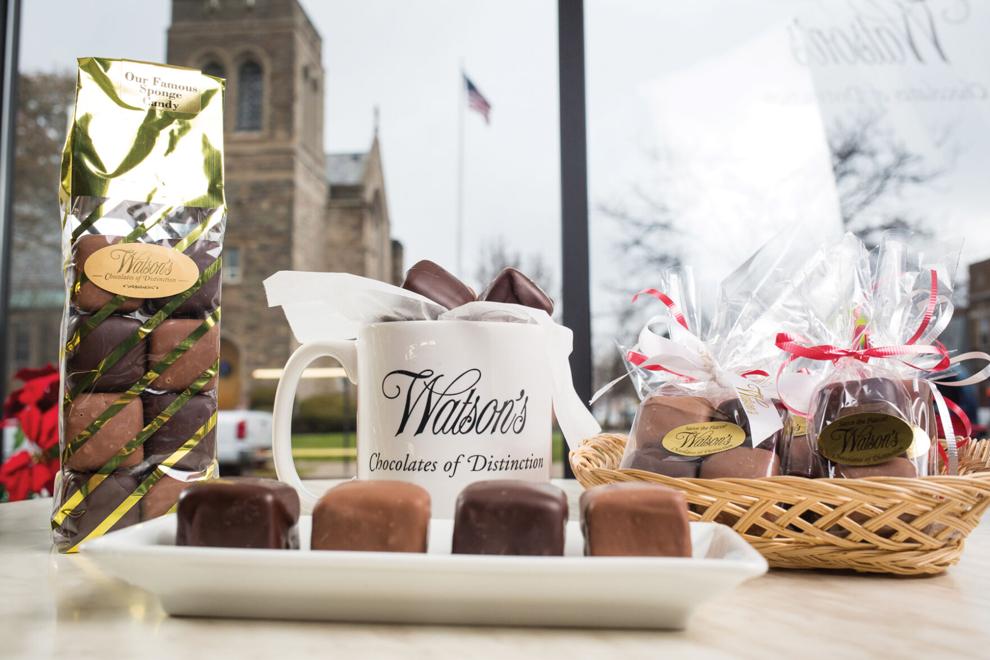 Even with forty tons of sponge candy sold annually, Watson's maintains its commitment to handcrafting in small batches. Since 1945, Watson's has provided crispy chunks of caramelized spun sugar drenched in rich chocolate made from Fair Trade Certified cocoa. Flavor varieties include milk, dark, and orange chocolate. Seven regional locations means quality sponge candy is never far away. 
Best vintage furniture
CooCoou27
If your heart is set on specific lighting, art, or furniture, visit the pros at CooCoou27. When it comes to design, they know what works and what doesn't, and they won't let you to settle for anything that doesn't delight you. With a mid-century modern focus, the store has a range of living room, dining room, and kitchen furniture sure to satisfy your discerning taste. Fans of modern industrial will appreciate the mix of rustic and chic.  Beyond furniture, shop for art from locals and beyond. Even if you aren't sure what you want, CooCoou27 is a great place to browse for inspiration!
Best furniture repair
Furniture Hospital
If you think a piece of furniture is damaged beyond repair, check with the "docs" at Furniture Hospital. They can handle anything from regluing dining room chairs to refinishing a bedroom set. Even a broken chair arm can be rebuilt from scratch. Specializing in sanding, staining, and finishing everyday furniture, they also do colored lacquers restoration to refresh or renew tired pieces. The attitude here is "anything can be fixed." 
873-7168 
Best indie bookstore
Talking Leaves…Books
Buffalo's beloved independent bookstore frequently hosts book signings and author events in partnership with self-published authors and nontraditional publishers from far and wide. The Talking Leaves mission is, "Provide the best books from the past and present, and a safe and welcoming place for readers and writers to meet and engage with the ideas contained in them." Big box this is not, and that's why we love it.
Best shop for organic food
Lexington Co-op Markets
This is the epitome of giving Buffalo back to Buffalo. The Co-op provides healthy options for all dietary needs from more than 100 local providers as well as reliable national brands. Knowledgeable employees at locations on Elmwood and Hertel Avenues are happy to help shoppers locate their usual or find a new favorite organic meat, fair trade tea, or health product.
lexington.coop