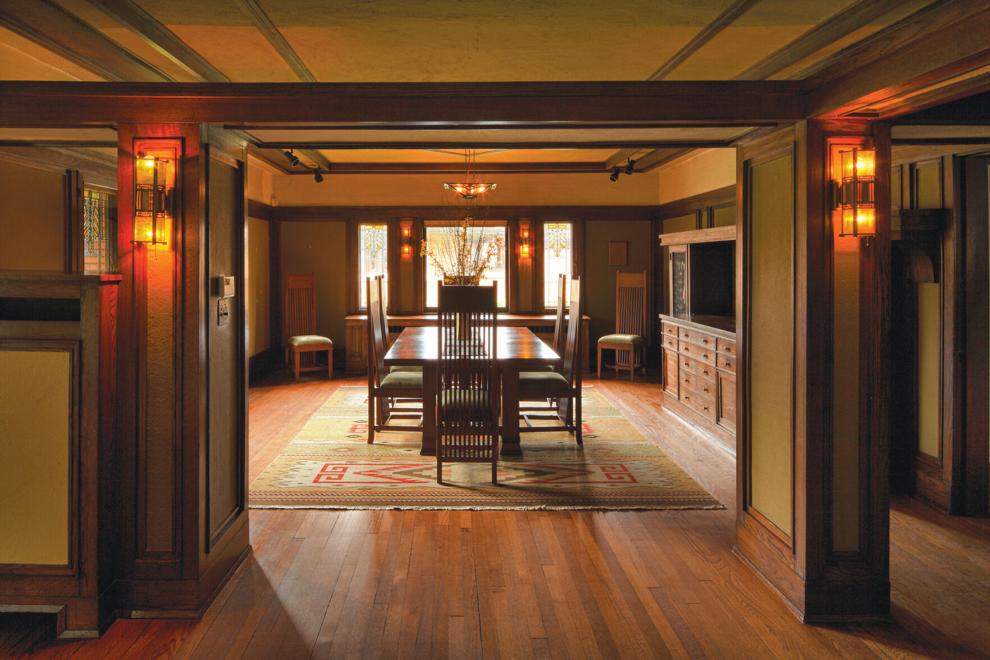 Through September
Martin House offers all tours
Frank Lloyd Wright's Martin House (125 Jewett Parkway)
martinhouse.org, 856-3858
Historic sites such as the Martin House were the last to fully open for tours, but finally all restrictions have been lifted and mixed groups can once again explore the fully restored property. Consider a landscape tour; the original Wright-designed landscape, including the distinctive Floricycle, has been replanted throughout the grounds.
---
Through September
Preservation Passports
A new program from Preservation Buffalo Niagara includes five historic district tours: the Hamlin Park Historic District in Buffalo, the Sweeney Estate Historic District in North Tonawanda, the Park Place Historic District in Niagara Falls, the Broadway Historic District in Lancaster, and the Jamestown Downtown Historic District. Purchase a booklet and all five travelog or invest in a starter kit which includes the booklet, a tote, the travelog, and more.
preservationbuffaloniagara.org, 852-3300
---
September 4–5
War of 1812 Encampment
Learn about life at Fort Niagara during the War of 1812. Includes tactical demonstrations, uniform programs, living history programs, and a lecture by noted War of 1812 historian Richard V. Barbuto. 
Old Fort Niagara
(102 Morrow Plaza, Youngstown)
oldfortniagara.org, 745-7611
September 18–19
Raid and Retribution
A grand encampment of the American revolution takes place all day.
Old Fort Niagara
(102 Morrow Plaza, Youngstown)
oldfortniagara.org, 745-7611
Through September
Buffalo Double Decker Bus Tours
A wide range of themed tours are offered, including Best of Buffalo, Murder Mystery, Queen for a Day, and more.
(1 Marine Drive)
buffalodoubledeckerbus.com, 246-9080
Buffalo History Museum
Guests should pre-register on Eventbrite for general admission to the museum. Enjoy free admission to both the museum and the Resource Center (459 Forest) on the monthly Third Friday, September 17; check website for programs. Exhibits at the museum include Fifty Years of Conservation, Icons: Makers and Moments of Buffalo Sports, Inside Tim Russert's Office, and more. 
(One Museum Court)
buffalohistory.org, 873-9644
Buffalo Science Museum
Medieval to Metal: The Art & Evolution of the Guitar is now open, along with ongoing permanent exhibits. Please note that pre-purchased tickets are required for nonmembers. 
Wednesday through Sunday 10 a.m. until 4 p.m.
(1020 Humboldt Pkwy)
sciencebuff.org, 896-5200 ext. 345
Explore Buffalo
In-person touring is back, including American Masters, Silo City Ground/Vertical, Best of Buffalo, Downtown Murals, and many more, including bike tours. Check the website; reservations must be made in advance. Mask-wearing and social distancing required. 
explorebuffalo.org, 245-3032
Herschell Carrousel Museum
Adults can ride the "Big" 1916 Number One Special Carrousel; there is also a Kiddie Carrousel. Check the website for special events. 
(180 Thompson Street, North Tonawanda)
693-1885, carrouselmuseum.org
Martin House Tours
The Martin House campus is considered one of the great achievements of Frank Lloyd Wright's career. With the lifting of all state restrictions, docent-led tours, including the second floor, are being offered, as well as twilight behind-the-scenes and photography tours. Also new: landscape tours. Register online.
(125 Jewett Parkway)
martinhouse.org, 856-3858
Theodore Roosevelt Inaugural Site

 
Visit the house where Theodore Roosevelt was sworn into office, where the modern presidency began, and where a legend was introduced to the world.
(641 Delaware Avenue) 
TRSITE.ORG, 884-0095