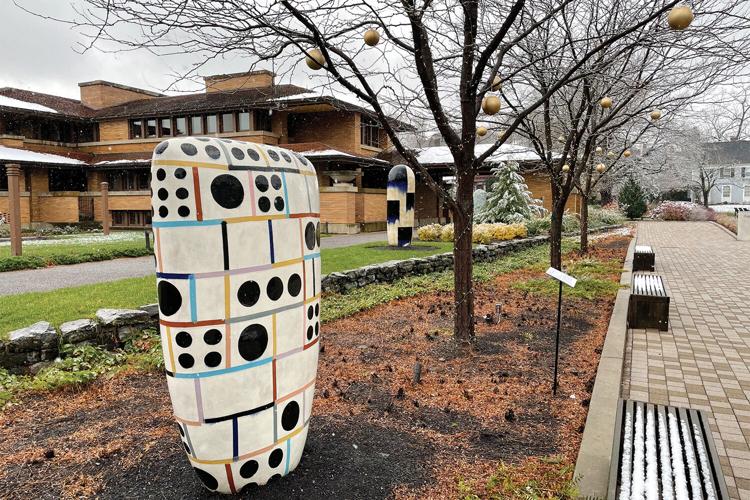 Through January
The Space Between at Darwin Martin House
Take a refreshing winter walk around the Darwin Martin House to explore the Jun Kanoko sculptures as they interact with the changing landscape. This installation, up through October 2021, is part of a collaboration between the Martin House and the Albright-Knox Art Gallery's public art initiative. There is a scavanger hunt and activity guide available on the DMH website. 
Darwin Martin House (125 Jewett Parkway)
martinhouse.org, 856-3858
---
Through January
Theodore Roosevelt Inaugural Site
Step back in time and into the world that TR knew. Walk where he walked, see and hear the challenges he faced, and get a sense of what it was like to lead our nation during a pivotal time in its history. Hourly tours are available with prepaid reservations.
(641 Delaware Avenue) 
TRSITE.ORG, 884-0095
Martin House Tours
Self-guided day and evening tours, private interior and landscape tours, twilight tours, and private photography tours are offered. Advance ticket purchase is required; register online or by emailing info@martinhouse.org.
(125 Jewett Parkway)
martinhouse.org, 856-3858
Old Fort Niagara
Advance reservations are not required, but additional benefits can be made available to groups who schedule a visit more than two weeks in advance.
(102 Morrow Plaza, Youngstown)
oldfortniagara.org, 745-7611
Richardson-Olmsted Complex
One of Buffalo's most iconic buildings and a National Historic Landmark, designed by great American architect Henry Hobson Richardson, the 145-year-old Richardson Olmsted Campus is being renewed after years of neglect. Private tours for guests ages 16 and older are available by pre-registration only; contact beth@richardson-olmsted.com for information on how to book a tour.
(444 Forest Avenue)
richardson-olmsted.com, 601-1150
Buffalo History Museum
Guests should pre-register on Eventbrite for general admission to the museum. Enjoy free admission on Third Friday, January 15; check the website for programs.
(One Museum Court)
buffalohistory.org, 873-9644
Explore Buffalo
In-person touring is back, including downtown landmarks, historic neighborhoods, and much more. Check the website; reservations must be made in advance. Mask-wearing and social distancing are required; there are no interior tours.
explorebuffalo.org, 245-3032