It's the first in a string of events that celebrate sixty years of Buffalo Bills football. A respected contemporary painter has accepted the challenge of interpreting one of the biggest collections of sports memorabilia in the country, and, on October 18, we can see the results.
Donated to The Buffalo History Museum in 2016, the Greg D. Tranter collection of Buffalo Bills memorabilia contains 6,000 three dimensional objects and 100,000 additional archival items. As we reported last May, there are jerseys from every era, including a blue and silver one from 1960; helmets, shoes, and pads galore, all worn by famous players; bobblehead dolls; football cards; holiday items; buttons; seat cushions; photographs; figurines; mugs; glasses; Whammy Weenies; and even a Bills-themed snow blower. It has taken the museum years to sort through and catalog all this; a portion of it was put on display in 2017, as part of ICONs: The Makers and Moments of Buffalo Sports, but work continues on the bulk of the collection, overseen by museum staffer Britt Call.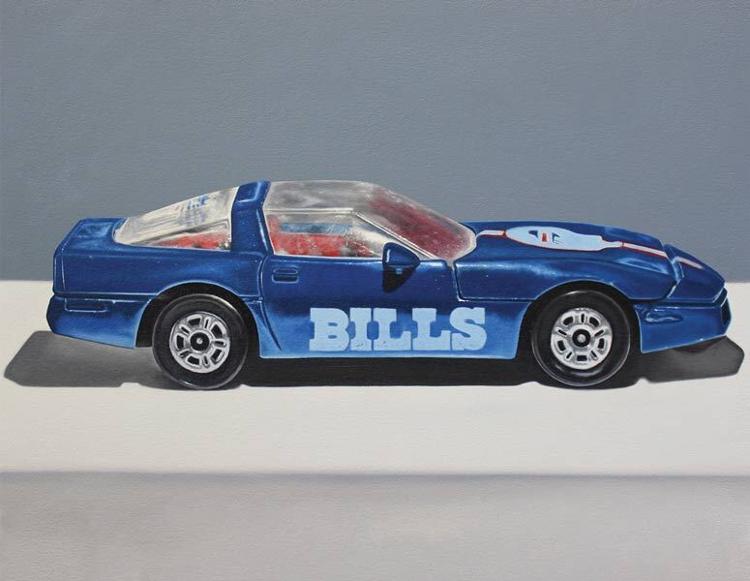 Painter A. J. Fries is known for work that celebrates ordinary objects, including his Fisher-Price Little People, his many paintings documenting food (junk, fast, and otherwise), and his recent 365 series, which included a painting for every day of the year, with no seemingly banal piece of daily detritus left behind. Through his skillful manipulation of light and shadow, his meticulously exact—but never cold—representations, and the deliberate valorization of the objects against carefully shaded backgrounds, Fries creates paintings that endow the everyday with glowing significance.
With the Tranter collection, Fries follows his penchant for the unremarkable, choosing such items as lighters, bobbleheads, and mugs. See twelve of his Tranter Collection paintings this month, in a show called Superfan, October 18, 6-8 p.m. at The Buffalo History Museum, Community Gallery, as part of the Third Friday festivities. You can even tailgate with A. J. before the opening from 3 to 6 p.m., but tickets are required. Other Bills-related events include a Thurman Thomas autograph signing on Saturday, October 26, and Evening with an ICON: Mary Wilson, on Monday, October 28. Call the History Museum at  873-9644 or visit buffalohistory.org.