From cheap ethnic eats, like Peking Quick One's double-fried spicy pork, to what might be the finest steak on earth (Mike A @ Hotel Lafayette), our writers have assembled their list of Buffalo's best dishes at any price. We also have eleven nominees from local chefs, who took the time to step away from their stoves and tell us about their favorite thing to eat on a rare day off.
Finally, our cover image, Bistro Europa's sticky toffee pudding, is consistently a top selection of local industry pros who are asked to name their favorite dish—in the past year, chef interviews gathered for various stories included seventeen poetic odes to this remarkable dessert, and after we tasted it, we knew why.
UNDER $10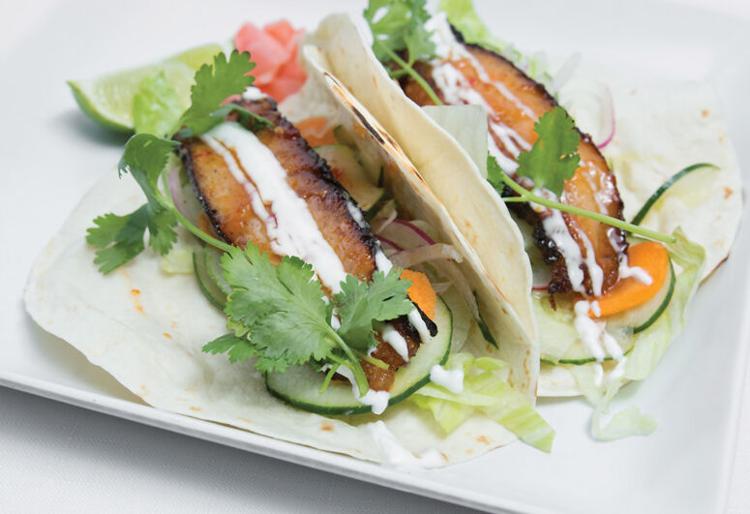 Smoke on the Water's Pork Belly Tacos (photo by Wabi Sabi Foto)
Pork Belly Tacos / Smoke on the Water ($8)
Listed under Starters, Pork Belly Tacos are a great opening to any meaty feast at this canalside BBQ haven. A pair of tacos arrive per order, ready for rolling, and filled with a perfect blending of Eastern and Western flavors. Served with a little heap of pickled ginger and wasabi—the customary sushi/sashimi condiments—succulent chunks of tender pork belly are topped with an array of mouthwatering ingredients, including raw radish, cucumber, cilantro, and lettuce, all piled on gently toasted taco shells. The dish is perfect for one hungry eater or for sharing. The heaps of deliciousness usually overflow the tacos, so you will be grabbing for extra napkins to wipe your smiling mouth. —Nancy J. Parisi
77 Young St., Tonawanda; 692-4227, sotw77.com
Chelsea Lately / Frank Gourmet Hot Dogs ($4)
No one has ever faulted Frank's dogs for their lack of creativity, but the Chelsea Lately pushes the envelope. Buried under a mound of fresh coleslaw, crumbled bleu cheese, and a glaze of barbeque sauce, the delicious Sahlen's wiener is only one element in what amounts to a hand-held hot dog salad embraced by a fluffy, croissant-like bun. The offering's combination of comfort and sass matches that of its celebrity namesake. It's also reasonably inhalable in less than five minutes and perfect with a side of Frank's hand-cut french fries. —Michael Farrell
Food truck; 440-9397, findfranknow.com, @FindFrankNow
Stuffed Dates / Craving ($7.50)
A play on the classic Devils on Horseback hors d'oeuvre, Craving's stuffed dates run the full gamut of taste sensations. They are, at once, salty-sweet-spicy-nutty-smoky good, leaving you wondering if it's too late to change your order so that you can tuck into an entire plate of them yourself rather than sharing the heavenly little nibbles with the rest of your table. Chef Goetz's housemade chorizo—seasoned with chile, paprika, cinnamon, cumin, garlic, and cloves—is stuffed inside succulent, honey-scented Medjool dates and wrapped in crispy bacon. Served upon a stripe of freshly made romesco sauce, pink in hue from its blend of red bell pepper and ground almonds, these jewels are truly addictive. Pair them with a nice, crisp white wine, and you may consider ordering another round of them in place of dessert. —Christa Glennie Seychew
1472 Hertel Ave.; 883-1675, cravingbuffalo.com
BLT / The Black Market Food Truck ($7)
Forget about the plain-Jane BLTs of your past—this one beats them all. The Black Market Food Truck takes great care in preparing its amped-up version of an American staple. The boys aren't stingy with the thick, richly peppered butcher bacon, branding their BLT with a bold-lettered "B." Be cautious while gorging on the sandwich al fresco, lest a single slice tumble to the ground—someone might see you picking up and eating the errant bacon anyway. The BMFT uses only fresh, homemade ingredients: sweet tomato and red onion marmalade; basil aoli, adding an Italian flair; and fresh greens (no iceberg here). What truly takes this BLT to the next level is the massive, made-from-scratch cheddar buttermilk biscuit, golden brown and loaded with sharp cheddar cheese; it completely alters the sandwich's flavor. "We started serving it on a ciabatta roll and then we thought, 'We can make this better,'" says co-owner Christian Willmott. The end result: perfection. —April Diodato
Food truck; the bmft.com, @theBMFT
Double-Fried Spicy Pork / Peking Quick One ($8.50)
This tasty dish is prepared by first simmering pork belly and then, after chilling it and slicing it thin, frying the pork in oil. Get your chopsticks ready, because chances are that those quickest on the draw will fare best in securing the rich, flavorful Sichuan twice-cooked pork. And there will undoubtedly be many vying for these tender and delectable morsels, because the bright, salty, and spicy flavor is unforgettable. The accompanying bowl of white rice allows you to balance each bite of rich pork with added texture and control the spice level. If you want a dish that perfectly captures the essence of Sichuan cooking, you'd do well to try this. —Rachel Fix Dominguez
359 Somerville Ave., Tonawanda; 381-8730
Hot Hot Hot / Kuni's ($10)
Bits and pieces of raw fish are tossed in an intense chile sauce that's just as long on flavor as it is on heat. The fiery mixture gets a welcome crunch from cubes of cucumber and garnishes of shredded cabbage and asparagus spears. Truth be told, it's a sushi chef's job to market the trimmings, and chef Kuni Sato nails this small plate by tapping into our local fascination with all things spicy. Be sure to specify how many "hots" you want—you only get so much cabbage to quench the heat. —Jeff Biesinger
226 Lexington Ave.; 881-3800, kunisbuffalo.com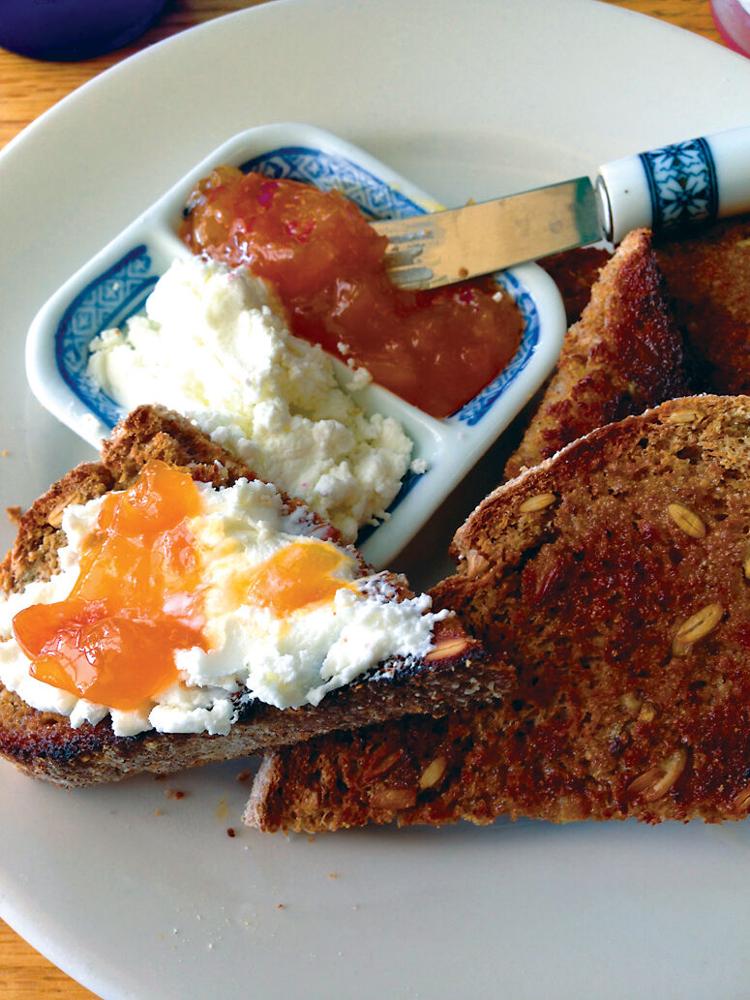 Five Points Bakery's Power Toast (photo by Christa Glennie Seychew)
Power Toast / Five Points Bakery ($5)
It seems like a punchline—if someone told you a toast café would one day be a popular Buffalo eatery, you might think you had accidentally walked onto the set of Seinfeld. But Five Points Bakery has engendered a devoted clientele base since introducing its locally grown, handmilled, and handmade loaves to city dwellers a few years ago. Since then, the little bakery has quietly transitioned its sales counter and coffeeshop area into the front of a toast-themed restaurant, offering breakfast and lunch to its loyal customers. Toast options include a variety of sweet and savory preparations, from rye with a hardboiled egg to cinnamon raisin with fresh peanut butter. My favorite is the Power Bread with Goat Cheese. The bread itself is fortified with a golden raisin puree and packed with protein through the inclusion of toasted sunflower seed flour (say that ten times fast). Once toasted, the nutty, crispy bread is a superb method of transport for the creamy and sour chévre. I often up the ante by ordering a side of Sarabeth's peach-apricot preserves and a Gimmee coffee with whole milk. The jam's sweetness and the bitterness of the coffee work harmoniously with the toast and saliferous goat cheese, delivering a nearly perfect breakfast. Add a cold November day and a warm beam of sunshine streaming through the bakery window and the experience nears transcendence. —Christa Glennie Seychew
426 Rhode Island St.; 884-8888, fivepointsbakery.com
Wood-Fired Brick Oven Pizza / Elm Street Bakery ($8)
Compact slices of thin, chewy crust with a hint of char hold just the right amount of creamy tomato sauce, a mixture of Parmesan and mozzarella cheeses, basil, and your choice of other toppings. For an authentic Neapolitan experience, try the Margherita. If you're feeling more adventurous, order one of the other featured pizzas, which include Pesto Farmer's Harvest and Kalamata White. Pizza is served from noon until close. —Rachel Dobiez
72 Elm St., East Aurora; 652-4720, elmstreetbakery.com
Tea Leaf Salad / Sun Food Market ($6)
This light and refreshing side salad from the Burmese offerings on Sun's menu is a lovely combination of salty and sweet tastes and chewy and crunchy textures. Its other name is Le Peth Thoat, which, according to a Sun server, is Burmese for "a little bit of everything." The delicate tea leaves are pickled and entwined around crisp chana dal peas (which taste much like raw peanuts). The little heap of ingredients also includes garlic, slices of tomato, raw cabbage, and fried diced garlic. Lime wedges and a pile of scorchingly hot peppers are served on the side. —Nancy J. Parisi
1989 Niagara St.; 447-0202, suncuisines.com
---
FROM $10 - $20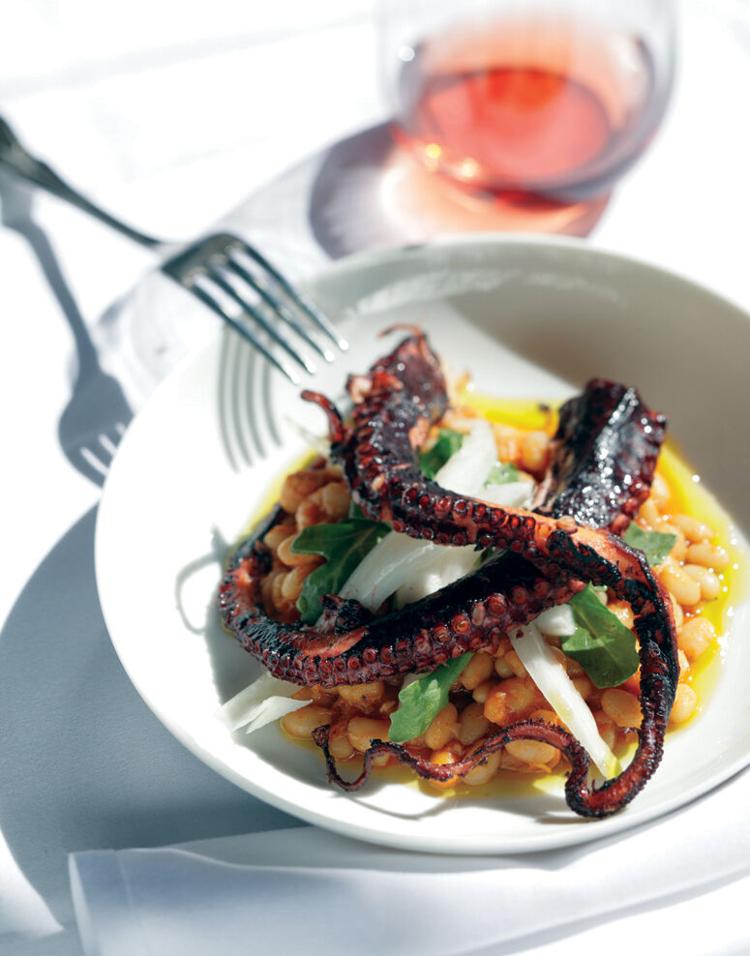 Ristorante Lombardo's Grilled Octopus (phot by kc kratt)
Grilled Octopus / Ristorante Lombardo ($13.50)
Served with smoky white beans, fresh arugula, and pickled fennel, the central ingredient is surprisingly tender and rich. Dare to close your eyes, and you might have to guess what kind of delicious meat you're eating. The octopus is not simply grilled; rather, it's tenderized and then poached in a broth of water, white wine, red wine vinegar, pickling spice, and some aromatic vegetables. The difference is clear in the taste and texture. There is also a serious barbecue flavor, and just the right amount of char to play off the other ingredients, making beautiful music with the smoked paprika of the beans and the sweet and sour flavors of the fennel. Use your knife to scrape that last bit off the plate. —Nina Barone
1198 Hertel Ave.; 873-4291, ristorantelombardo.com
Steak and Eggs / Bacchus ($12)
As an ode, of sorts, to his teenaged career at Pano's first Elmwood location, Bacchus's chef and owner Brian Mietus's carpaccio appetizer may bear the name of a diner breakfast special, but there's nothing lowbrow about it. Beef tenderloin is pounded into paper thin, nearly transparent rounds that are gently shingled upon a plate and topped with a sunny side egg, curled Parmesan shavings, and a small, lightly dressed salad of arugula and sliced fennel. Finished with just a hint of truffle oil (something I normally frown upon, but it works perfectly in this application), the dish is a delight of flavors and textures. You might think the beef plays second fiddle here—and perhaps it does, depending on the composition of ingredients in each forkful—but you won't mind a bit. The salty cheese and the minerality of the beef balance the rich, luxurious egg yolk, and the truffle oil lends fragrance and enough pleasant muskiness to round out the experience. Making the affair more appealing to the eye, the bright and peppery salad also lends a delicate floral note to the dish. —Christa Glennie Seychew
56 West Chippewa St.; 854-9463, bacchusbuffalo.com
Chicken and Waffles / Seabar ($17)
A few years ago, when Seabar expanded from a sushi bar to a full-service restaurant with entrées, a soul food offering certainly wasn't in the plans. But one day, after whipping up a quick staff meal of crunchy fried chicken and waffles served with a glistening pool of maple butter sauce, chef Mike Andrzejewski knew he had a keeper. Chicken and waffles soon  moved from the specials list to the regular menu, where it has remained ever since. What—besides its heavenly salty-sweet sauce—makes Seabar's interpretation so special? The chicken. Prepared using a battering technique that's more Chinese than anything else, each juicy, tender boneless thigh is gift-wrapped in a crispy, firmly adhered batter. Four thighs are served atop warm buttermilk waffles strewn with chives, which add just a hint of vegetal, herbaceous flavor that becomes pronounced when eaten with the dish's side of al dente green beans. —Christa Glennie Seychew
475 Ellicott St.; 332-2928, seabarsushi.com
Pittsburgh Steak Sandwich / Hutch's ($13.95)
"Want to know the secret to great steak?" my grandfather used to ask (and answer). "Buy good meat." That's the core appeal of this indulgent handful, which somehow rides under the "Small Plates" menu banner. It's not thin-griddled steak, but a thick and seared slab, which will arrive truly rare if you order it so. Hutch's cooks are old hands at setting a cut of meat through its paces, and you'll taste it in every giving bite. A mild coleslaw subs in for lettuce and mayonnaise and adds crunch, while mozzarella is a perfect moist and subtle cheese layer. The fries in the thin sub roll? They're the "Pittsburgh" part, and you should keep them in there. —Kevin Purdy
1375 Delaware Ave.; 885-0074, hutchsrestaurant.com
Eggplant Stack / Siena ($13.95)
A perfect combination of classic Italian ingredients, the Eggplant Stack almost looks too good to eat when it arrives. Piled high on a bed of arugula, it resembles a colorful, culinary Tower of Pisa that will quickly topple with the first bite—after which it will be voraciously devoured. The dish is a carefully crafted contrast of flavor profiles and textures. The warm, crispy eggplant, panko-breaded and flash-fried, is juxtaposed with the cool, creamy fresh mozzarella, made in-house. The layers of tomato add acidity while the aged balsamic drizzled on top lends sweetness, finished off with a lemony basil chiffonade garnish. It's big enough to share, but why would you want to? —April Diodato
4516 Main St., Snyder; 839-3108, siena-restaurant.com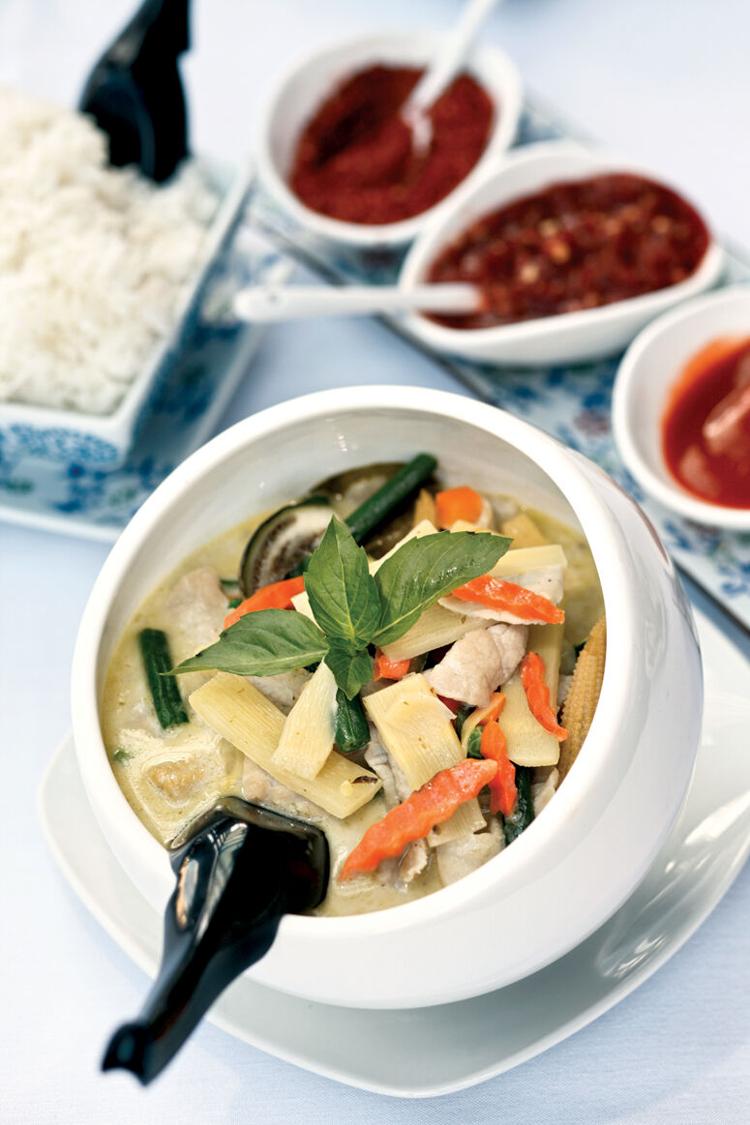 Taste of Thai's Green Curry Pork (photo by kc kratt)
Green Curry Pork / Taste of Thai ($10.95)
The Ghang Kheo Wan at Taste of Thai is a thing of beauty. This dish has many layers, from the coconut milk that is used as the base of the sauce to the basil and chili that add depth of flavor to the thin slices of pork and the cornucopia of vegetables that comprise the bulk of the dish. A side of jasmine white rice accompanies all this, adding yet another dimension to an already-complex flavor profile. Large portions mean you can share with others at the table, or guard your leftovers and bring them home for the next day's lunch. This is one of those meals that tastes just as good—if not better—the following day, when the flavors have deepened and the sauce has pleasantly permeated every last bit of the squash, green beans, Thai eggplant, bamboo shoots, baby corn, peas, and carrots. —Rachel Fix Dominguez
1460 Hertel Ave.,  833-8423
Fiery Shrimp Udon / Papaya ($18)
Located on the first floor of the nearly-always-full Hampton Inn at Chippewa and Delaware, Papaya is a favorite of out-of-town hotel guests and those who mob its bar during the restaurant's popular happy hours. The Southeast Asian fare fits with the sophisticated décor and sleek vibe, and though relatively unchanged for many of the establishment's eight years in business, the menu remains varied enough to suit the palates of its diverse clientele. Among the more favored dishes is the Fiery Shrimp Udon, available with shrimp, chicken, beef, or tofu. Since this dish is best paired with sparkling wine, I'd suggest the shrimp, which picks up subtle heat from the softly spiced broth, and marries well with the ropy, chewy buckwheat noodles, and assorted stir-fried vegetables. It's hard to beat udon, as its texture is meaty and gratifying. Slurping sweet and spicy noodles laced with the scent of seafood in between sips of chilled and effervescent Prosecco makes for a fun and truly delicious meal. —Christa Glennie Seychew
118 West Chippewa St.; 856-2444, papayarestaurant.biz
Southwest Burger / Ruzzine's Rock Bottom ($11.99)
It comes in two sizes: big and huge. It deftly negotiates the intersection between a burger and its toppings. The meat is seasoned with a secret combination of ingredients that give a huge burst of flavor. It's moist, even when ordered medium, and the exterior is charbroiled to a dark, crispy delight that you'll want to experience again and again. Super-thin twirls of fried onions, along with a copious amount of bacon help lend the burger smokiness and texture, and pepper jack cheese adds a little kick and is smooth and creamy. This burger's got its own special sauce, too, a mild ranch dressing that helps pull all the flavors and textures together. The bun is just large enough to contain the meat and toppings without being too bready or otherwise getting in the way. You won't need ketchup, but you will need a lot of napkins.
Served with chips; fries are $1 extra. —Alan Bedenko
6261 Transit Rd., East Amherst, 204-4004, rockbottomeatery.com
Foie Gras Torchon / Rue Franklin ($18)
Pure foie gras (not paté, bloc, or mousse) usually comes two ways: seared, or as a torchon, which is a tightly rolled tube of lightly seasoned fresh duck liver lobes that is then poached, cooled, and sliced. There are diehard fans of the seared foie and diehard fans of the torchon—I belong to the latter group. At the Rue, this simple and ancient preparation has been perfected. The lobes have been painstakingly cleaned, so that no off-flavors intrude on the ultrarich, slightly sweet taste. The texture of the perfectly round disk is smooth and buttery, easy to spread on the toasted brioche squares that accompany. Plums, a prune/port wine purée, and almonds provide contrasting textures and fruity counterparts to the opulent foie. This dish alone easily justifies Rue Franklin's continuing reputation as the place to go for classic French preparations. —Elizabeth Licata
341 Franklin St.; 852-4416, ruefranklin.com
Polenta / Carmelo's Restaurant ($17)
If the polenta you're used to eating comes in a solid tube from the "Italian" section of the grocery store, have I got a treat for you. Carmelo's locally sourced polenta is sweet and creamy, made with just enough butter to round out the flavor and keep it airy and smooth. It's topped with an oyster mushroom ragout, in which dense, earthy mushrooms are sautéed with sage and garlic onions, deglazed with Marsala, and finished with a bit of grated Parmesan and mascarpone cheese. A fried farm-fresh chicken egg is nestled on top and the whole business is drizzled with Sicilian extra virgin olive oil. It sounds simple, but the layering of flavors and textures—sweet, creamy polenta, chewy, toothsome mushrooms, a rich, crisp-edged fried egg—elevates this dish beyond comfort food to something both sophisticated and nourishing. —Wendy Swearingen
425 Center St., Lewiston; 754-2311, carmelos-restaurant.com
---
$21 & OVER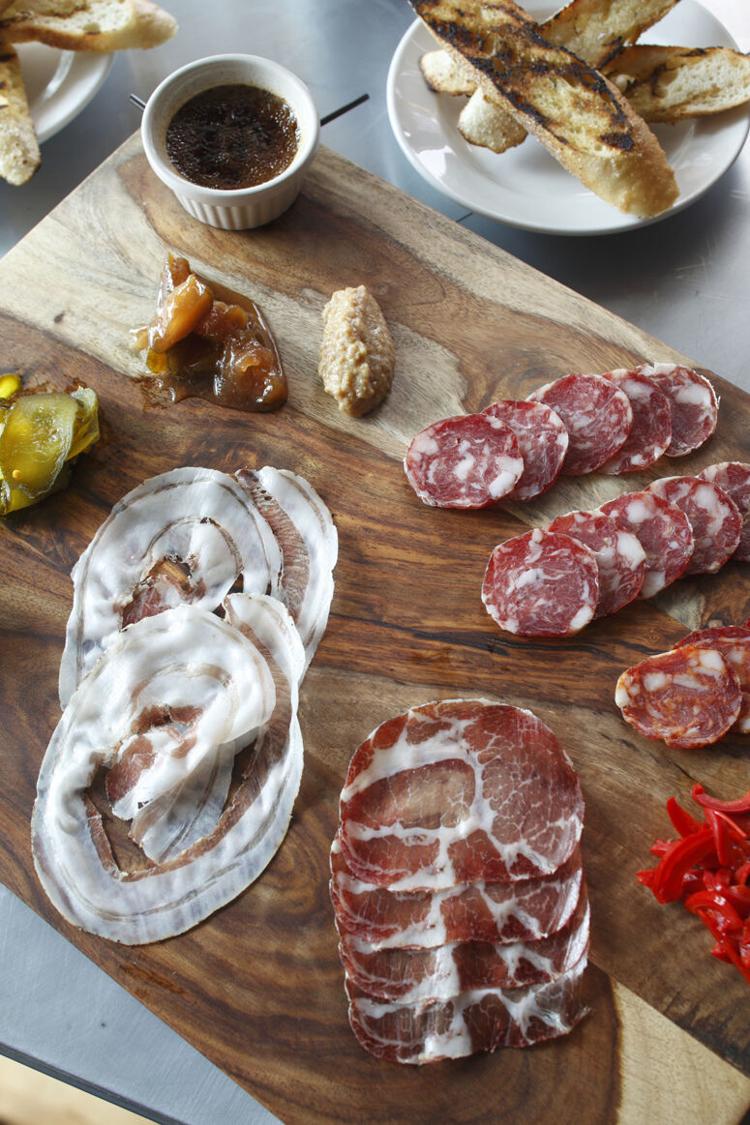 Tabree's Board of Housemade Charcuterie (photo by kc kratt)
Charcuterie Board / Tabree ($30)
A showcase for the ranging skills of local charcuterie expert, chef Bruce Wiezala, this selection of cured, pork products rotates, but whether it's salami, salumi, lardo, emulsified sausage, or pate, expect nothing short of decadent bliss. It starts with fine local pasture-raised pork from T-Meadow, which is treated with salts and spices, then guided through a long slow transformation process that distills and intensifies the flavors. The board comes complete with mustards and pickles to help keep things lively as you transition between the meats. —Jeff Biesinger
4610 Main St.; 844-8477, tabreeonmain.com
Paparadelle Bolognese / Caffe Espresso ($21)
The noodles are housemade, tender, and wide, ideal for standing up to the hearty meat ragu. It's the classic three-meat blend, cooked in deep red sauce, heady with aromas of onions and garlic. It has carrots for natural sweetness and cream for richness; then it's covered with generous shavings of Parmesan cheese and plenty of fresh basil. The flavors are perfectly balanced. This hits all the right comfort receptors, and it's just as good the next day, if you have the restraint to save any. —Jeff Biesinger
4401 Transit Rd, 626-2233, ristoranteespresso.com
Grilled Branzino / Tempo ($36)
Nestled in an herb-infused broth with cherry tomatoes so soft they're ready to burst, this dish can best be described as delicate. The savory fish (packed with flavor from the broth) surrenders to your fork with the gentlest prod. It is served over potato gnocchi, which are delightfully big and billowy. The quintessentially Italian preparation is straightforward, with every ingredient on display for the diner, but a touch of mystery comes in the sweet fennel tucked beneath the fish—it adds depth, making each bite count. —Nina Barone
581 Delaware Ave.; 885-1594, tempobuffalo.com
Agnello Grigliato / Trattoria Aroma ($26)
Aroma's two locations (one in the city on Bryant near Elmwood, the other on Main Street in Williamsville) are equally popular, but couldn't be more different. While they both share excellent wine lists featuring Italian bottles of all kinds, their menus have distinct points of view. While the Bryant location is quite modern, the Williamsville location focuses on rustic preparations. The dish selected for inclusion in this feature is from the Williamsville location's menu of offerings, and is as straightforward as its name: Agnello Grigliato translates to the overly simple "grilled lamb." In this preparation, a rack of lamb is grilled after being smothered with a coating of bright whole grain mustard and fresh herbs. Wilted swiss chard—usually from a local farm—is seasoned and served perched beside the accompanying bed of risotto bianco, made with Arborio rice, rich stock, finely diced onion, white wine, Parmesan cheese, and a knob of butter. —Christa Glennie Seychew
5229 Main St.; 631-2687, thearomagroup.com
Prime Rib of Colorado Lamb / Oliver's ($45)
Well recognized for its storied position as one of our region's finest restaurants, Oliver's recently underwent a change in ownership. How that may impact the restaurant is yet to be seen, but the staff remains the same, and Lennon Lewandowski is closing in on his fifth year as the venerable establishment's executive chef. Oliver's sources much of its produce locally and changes its menu seasonally, so regular visits remain full of surprises. This year, as the chef transitioned to the winter season, a new lamb entree found a place on the menu. The succulent and tender Colorado lamb on offer at Oliver's is some of the best money can buy and it tastes like it. In this preparation, it is served medium rare and perched upon a rectangle of rich bread pudding. Made with lamb drippings rather than butter, the pudding lends an important hint of earthiness to the overall dish, acting as a splendid counterpart to the tart and deeply colored huckleberry sauce. Served with sautéed spinach and edible flowers sourced from a city farm, this meal is both a delicious and substantial way to celebrate the winter season. —Christa Glennie Seychew
2095 Delaware Ave.; 877-9662, oliverscuisine.com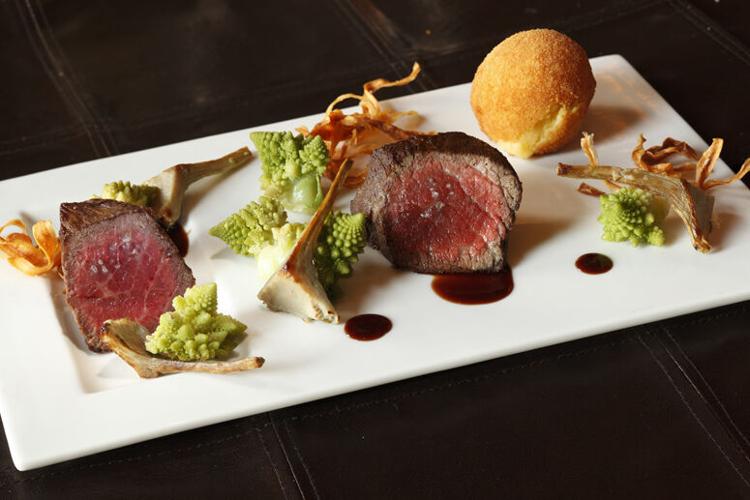 A seasonal preparation of Kobe beef, served at Mike A's @Hotel Lafayette (photo by kc kratt)
Kobe Beef / Mike A @ Hotel Lafayette (Market Price)
You can find the word "Kobe" anywhere. It doesn't mean a thing; I'm sure McDonald's will offer a Kobe burger any day now. It's no wonder the American food industry latched onto the term and abused it, because real Kobe beef earned its reputation by simply being one.of.the.most.amazing.things.you.could.ever.hope.to.eat. Until mid-2012, you couldn't import beef from Japan into the United States, no matter how rich you were, and even now it is quite cost prohibitive. That ubiquitous "Kobe"-christened $11 burger you got at the pub, or the steak you paid $35 for at the fancy pants joint around the corner? Not real Kobe—not then, not now, and never will be. Unless you're at Mike A @ Hotel Lafayette (and then your Kobe steak is definitely not $35). Though the rest of the menu is competitively priced, Andrzejewski's choice to import and sell a select amount of premium beef from Japan is based on what he feels is "the most exciting and noble aspect of his profession"—sharing examples of the world's finest, most impeccable ingredients with his customers. And for anyone who has sampled a cut of true Kobe beef at Mike A (or in another city), there is no question that it embodies that level of distinction. Though the chef's preparation can range from a traditional steakhouse presentation that includes potatoes, vegetables, and sauce to a Japanese take featuring braised daikon and shumai, the precious and pristine Kobe at the center of your plate arrives perfectly seasoned, perfectly cooked, and well worth all the trouble Andrzejewski and his team go through to bring it to you. —Christa Glennie Seychew
391 Washington St.; 253-6453, mikealafayette.com
Grilled Steak Frites / Remington Tavern ($35)
I have no problem blowing my entire daily allotment of fat grams and calories on a single dish when it means tucking into this fourteen-ounce New York strip steak atop a mound of hand-cut french fries. The Meyer Angus beef is humanely raised, free from antibiotics and hormones, and allowed to mature naturally, which translates into a supremely flavorful and tender steak. (The only reason you need a sharp knife is to guard your meal from your companions.) This hunk of meat is perfectly seasoned, grilled, and dressed simply with herbed butter and cracked black pepper. The fries are fresh and super crisp, perfect for sopping up the resulting juices. Served with a side of tangy aioli, because—why not?
—Wendy Swearingen
184 Sweeney St., North Tonawanda; 362-2802, remingtontavern.com
Creole Bouillabaisse / Shango Bistro and Wine Bar ($24)
This delectable mélange is for the indiscriminant seafood enthusiast. Instead of one focus, it delivers a bowl of catfish, crab, scallops, and jumbo shrimp amid a sea of seafood-tinged tomato broth, topped with succulent mussels. Mixed in with the baguette-ready broth and between the aforementioned fare is a generous balance of complementary fennel, onions, peppers, and large red potato wedges. More smooth than spicy, this requires a fork and a spoon—a perfect entrée for the crisp weather of fall and winter.  —Michael Farrell
3260 Main St.; 837-2326, shangobistro.com
Quaglie del Contadino / San Marco ($25)
Quail is the fowl equivalent of crab: it takes a bit of work to get a bite, but the rewards are great once your fork passes your lips. A seemingly delicate bird, it can actually soar in a hearty setting. Chef Nancy Grimaldi's rustic Quaglie del Contandino (quail "of the farmer") plate centers on two semiboneless quail pan-sauteed in cognac and shallots and finished on the grill until the skin is deliciously crispy and the meat is perfectly done (a feat in itself given the small size of the bird). Quail lands somewhere in the middle of the taste range between white and dark meat with a slightly nutty flavor that deserves to be savored in small bites. The herb seasoning brings out the flavor—meat is the star of this dish—with red peppercorns adding the right touch of heat. Served with a rich wild mushroom risotto accented with sun dried cherries, grilled portabello mushroom slices, and seasonal vegetables, quaglie del contadino will transport you to a rural Tuscan villa on a cool autumn evening. Accompanied by a glass of hearty red wine, it's a dish that invites you to slow down and enjoy the moment, right down to nibbling that last quail leg. (You'll set aside your table manners and gladly use your hands just to get a final bite of this dish.) —Bruce Eaton
2082 Kensington Ave., Snyder; 839-5876, sanmarcobuffalony.com
---
CHEF FAVORITES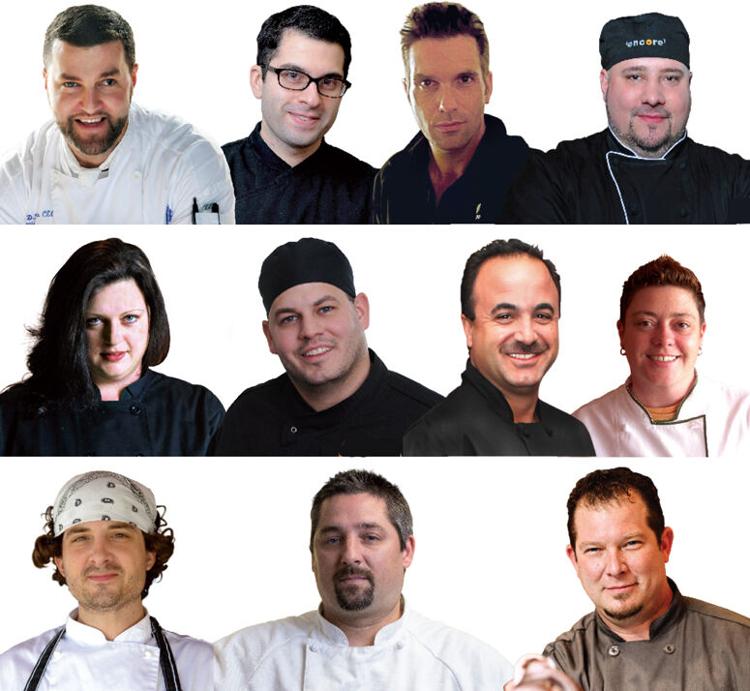 Row One (from left to right): James Roberts, Christopher Dorsaneo, Martin Danilowicz, Christopher Daigler. Row Two: Jennifer Boye, Frank Mercado, Mark Sciortino, Kate Elliott. Row Three: Keith Dulak, Michael Obarka, Jeffrey Cooke. (All photos courtesy of Nickel City Chef, with the exception of Danilowicz (Facebook) and Cooke (kc kratt).
James Roberts
Executive Chef, Park Country Club
"I really like the Tempura Shrimp Udon at Seabar. I order it as an appetizer before sushi. The noodles are good and the broth has all my favorite elements of taste: salty, spicy, and aromatic. Who doesn't like fried shrimp?"
Chris Dorsaneo
Executive Chef/Co-Owner, Lloyd Taco Trucks
"I really like Fuji Grill and eat there often. I suggest the October Roll. It's not on the normal menu, but order it anyway and thank me later. BBQ eel, spicy shrimp, spicy crab, and squid salad are topped with two types of salmon, Japanese toasted sesame seeds, and finely shredded nori."
Martin Danilowicz
Executive Chef/Owner, Martin Cooks
"An absolute must for me is Taj Grill's Chana Saag. This Northern Indian dish is comprised of spinach sautéed in traditional spices, with some chickpeas. At Taj Grill however, instead of simply relying on ubiquitous dried red peppers for heat, they add green chile peppers, which add depth to the flavor and ups the heat .They also substitute coconut milk for the cream, making the dish lighter and lending another element of subtle flavor. [Please note that this is a special order that must be requested.]"
Christopher Daigler
Executive Chef, Encore
"I love Fast Food 99's heaping bowl of Traditional Pho—whenever I am feeling a little under the weather, I make my way to 3398 Bailey Avenue and order this. The soup is huge, filling, and has a rich wonderful broth that works better than medication. The mix of broth, noodles, veggies, is perfect, but you can make it even better by adding your own mix of condiments from the lazy susan on the table."
Jennifer Boye
Executive Chef, Mansion on Delaware Avenue
"Bistro Europa's Bread Basket! I love it because it's always changing. Sometimes there's focaccia; sometimes there are soft pretzels. You may get butter as a condiment, or you may get local lard that's been peppered and whipped. But there is always one constant, and that is that the bread at Europa is always fresh and baked in-house."
Frank Mercado
Executive Chef, M&T Executive Dining Room
"Because I work a lot, I don't get many opportunities to go out to eat. The one place I often visit for a great burger is Wellington Pub. Their burgers feature very consistently well-made hand-formed patties, which they top will all kinds of fresh ingredients. My burger always arrives cooked the way I ordered it. They are also open late and have great beer on tap."
Mark Sciortino
Executive Chef/Owner, Marco's Italian Restaurant
"My favorite affordable meal is the Prosciutto & Arugula Pizza from Pizza Amore on Grand Island. It's wood-fired, and just like homemade—super Italian!"
Kate Elliott
Executive Sous Chef, Conference and Event Center, Niagara Falls
"Nickel City Cheese and Mercantile is one of my faves. I always try something new, but I often go for Bellavitano Gold, Delice de Bourgogne, and aged goats' milk Gouda. Some cured prosciutto and speck, a loaf of fresh bread, and good Luques olives and I'm set. I love eating with my hands, and when I can do it at home with a nice bottle of wine instead of over a garbage can in a hot kitchen, well, that's a bonus."
Keith Dulak
Executive Chef, Trattoria Aroma on Bryant
"The Vietnamese Pancake at Saigon Bangkok. Stuffed with pork and shrimp, it's also  covered with a light sauce. It has good, intense flavors. Everything on the menu is made with quality ingredients and is a great price. Plus, every meal there is consistently good."
Michael Obarka
Executive Chef, Ristorante Lombardo
"I love Bistro Europa. Anything Steve (Gedra, chef and owner) makes with pork works for me, but I especially like the charcuterie board. They cure all their own stuff and it's fantastic. I really like being able to get really good food in a casual setting."
Jeff Cooke
Executive Chef, Osteria 166
"One of my favorites is the Bistecca alla Fiorentina at Tempo. Of course the steak is going to be great at Tempo, but what I really love are the deep-fried gnocchi that come as garnish—they are light pillows of awesomeness."