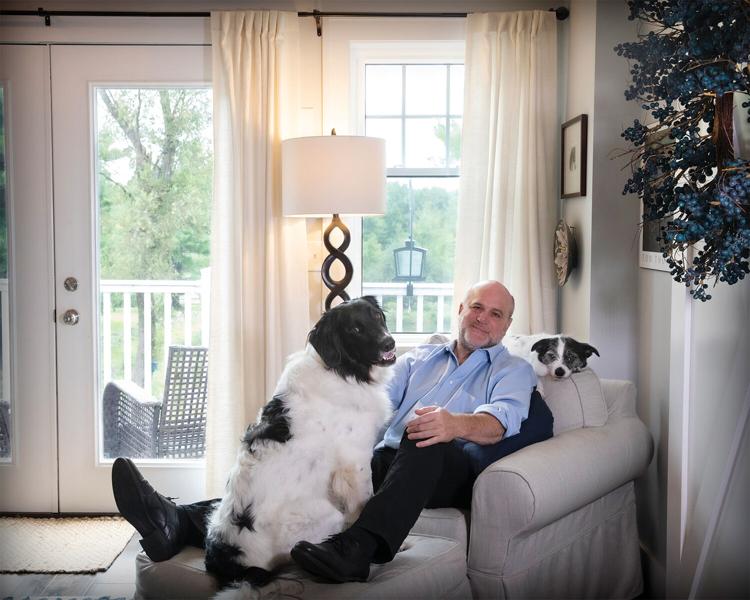 It's slated for an episode in a six-part Netflix docuseries as well as a nationally televised public television program this month. Death Is But a Dream, a book by Hospice CEO Dr. Christopher Kerr,  is receiving international attention. The Penguin Random House title was written by Kerr, CEO and Chief Medical Officer of Buffalo's Center of Hospice and Palliative Care, with Carine Mardorossian in 2020. It originated with a TEDxBuffalo Talk in 2015, and nobody was more surprised than Kerr when his talk led to numerous national articles, which led to the book, which blossomed into a life-changing, international discussion about the experience of dying—specifically the subjective, experiential dimension of dying, which includes inward-looking experiences such as dreaming.  
In Death Is But a Dream, Kerr does not report supernatural phenomena, nor does he pitch any particular religions or philosophies. His focus is on the dreams of the dying, and what they mean to people who are experiencing their last life adventures. The data—dream phenomena—reported in the book are not interpretations of what patients have told physicians. Rather, Kerr and fellow researchers conducted seven carefully monitored studies, including more than 1,400 interviews (many filmed) with hospice patients and their families. The first study used daily questionnaires of patients (previously sceened for delirium or confusion) in their final days; ninety percent reported dream experiences that became more frequent as death approached. Most of the dreams were comforting, especially when departed loved ones offered reassurance and diminished the fear of the unknown. The interviewees and their life stories differ dramatically, but the quality and themes of pre-death dreams are remarkably similar. 
Starting with the doctor
A hospice patient named Doris (whose story is included in the book) asked Kerr, "What do my dreams have to do with my breathing? What kind of doctor are you anyway?" Kerr's answer is not typical.
Kerr was born in Canada, but came to Buffalo as a cardiologist, at first moonlighting for Hospice Buffalo to pay a few bills. He recalls himself as an inexperienced but confident young resident, approaching the charge nurse to recommend fluids and meds for a forty-year-old endstage AIDS patient, "to buy Tom more time." 
Charge nurse Nancy knew better: "Too late. He's dying." She explained, "He's been dreaming about his dead mother." Chuckling inwardly, the young doc thought that sounded crazy, and replied, "I don't remember that class from medical school." Nancy put him in his place: "Son, you must have missed a lot of classes." 
That story illustrates a broad gap in the ways we approach dying in the United States, both medically and socially. As described in Dr. Atul Gawande's best-seller, Being Mortal (Metropolitan Books, 2014), the medical profession has excelled at managing diseases, repairing body parts, and extending life, but doctors often withdraw when there's "nothing more we can do." The tendency is to duck or disdain choices that support spiritual needs and the quality of lives that are ending. Kerr phrases it: "In many ways, we have lost our way in dealing with dying; it's easier now to live longer than to die well." After learning from nurse Nancy and other dedicated people, he committed his life's work to palliative care.
What dreams may come
Shakespeare's Hamlet dreaded "…what dreams may come… when we have shuffled off this mortal coil." But Kerr and his researchers learned that most of the dreams reported during  peoples' last days are nothing to fear. They are also universally different from "normal" dreams, both good and nightmarish, in one way: near-death dreams are absolutely real, clear, and true, as experienced by the dreamer. Reality (as most know it) and the dream state blur—and it doesn't matter. Almost all the dreams brought ultimate clarity and peace, even if the content could be disconcerting to a listener. 
Three common themes dominate the dreams included in Kerr's research:
Traveling, preparing to go somewhere
One-third of interviewees reported travel as a recurring theme, whether or not the person had traveled much in life. Destinations were usually undefined. The patients took trains, planes, taxis, buses, and cars. Others started walking, even attempting to leave their beds. Many reported that deceased loved ones arrived to pack up suitcases, saying things like, "We'll come back for you soon."
Seeing departed loved ones
As death neared, reporters found that dreams of the deceased began to win over dreams of the living. Some dreams recalled people who had been nearly forgotten. Long-repressed memories reemerged. Stillborn babies came back to their mothers' arms, relatives visited who had died decades ago, and long-lost pets cuddled in the hospital beds. Children especially found solace in joyful reunion with deceased pets. Widowed men and women were often reunited, as in the story of Joan and Alfred. Just after their fifty-seventh anniversary, Alfred died, and soon Joan was seeing him in her room and calling out, "Alfred, come and get me." She went to join him within two months. In a similar story, eighty-nine-year old Beverly danced again in dreams of her ballroom-dancing husband, every detail clear, even to the colors of her dresses.  
The dream researchers reported that most of the patients' dreams produced emotional healing or resolution, even when relationships had been destructive or hateful. Feeling forgiveness toward oppressors, or seeking forgiveness from victims, is typical. To be seen in the future public television special, one unforgettable patient named Dwayne had "lived on the street," hurt many people, and been incarcerated. Toward the end, he wept, saying he'd been a sick and terrible person, and acknowledged that "the bad things… all caught up with me." But something remarkable happened: he became a good father, giving peace and comfort to his daughter who had suffered greatly. After bad lives or good ones, people seem to find near-death dreams as great equalizers. 
Remembering trauma—war, abuse, horror
Dreams toward the end of life may be nightmares, especially for those who suffered trauma in war or in terrible personal circumstances. John, a WWII veteran who had survived Omaha Beach, had never spoken of the trauma until his last weeks, when he vividly relived the horrors, in a true state of terror. Over many nights, he saw and spoke of floating limbs in the water, a bloodied beach strewn with bodies, and "…nothing but death, dead soldiers all around me." Undesirable as that experience sounds—something that some would assuage with mind-numbing drugs—it resulted in a great transformation. John finally had dreams of reward, his friends coming to take him to safety. He found peace. In Death Is but a Dream (page 59), the authors summarize, "John's story exemplifies the process through which even the most difficult dreams can provide substantial psychological or spiritual benefits to the dying patient."
Why are these dreams not just brain cells malfunctioning, the equivalent of drug-induced hallucinations, or clues to bodily breakdown? The hospice and palliative care team has answered this question consistently: first, these dreams are reported as "absolutely real," even when interviewers asked the dreamers to report the level of reality on a scale of one to ten. The tens were the norm; they had no doubt.
Second, the experience of the hospice patients' dreams is qualitatively different from hallucinations. In delirium, people are often agitated and terrorized, so different from the clear dreams reported here.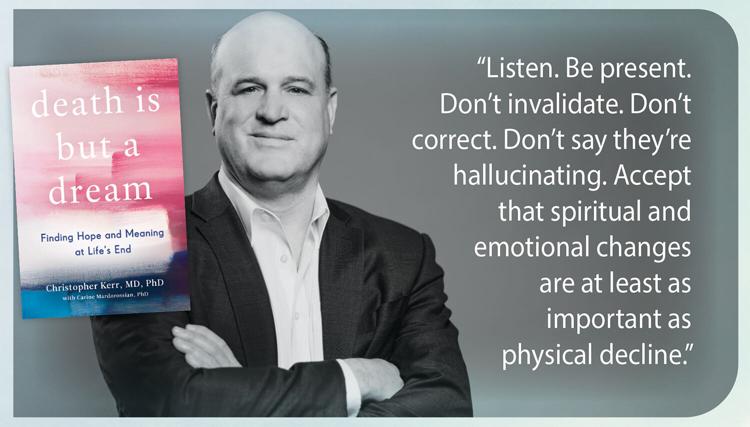 Questions for Dr. Kerr
After reading Death Is But a Dream, and seeing the Ted Talk and video, I visited Kerr on his farm, where he relaxes with his horses and dogs. (Providence Farm is also a collective farm where immigrants from several nations grow food for their Buffalo communities: providencefarmcollective.org.)
Where does religion come into it? Are many patients concerned about heaven and hell, or God?
Really, not the case. Hospice has a wonderful chaplain, and a non-denominational, non-judgmental approach to all belief systems. But beyond institutional religion, remember that religions are first spiritual, and the basic tenets of religions are love and forgiveness. So, even cross-culturally, we may be saying the same thing. At the end of life, most people's concerns go back to everyday life: family, love, pets. Death is a full circle, enclosing the whole human experience. We die as we lived.
Why do you think the medical community often (perhaps typically) disengages in the end-of-life spiritual processes? 
Medical training doesn't include these topics mostly, and the systems we've set up, the huge body of medicine that doctors must absorb, the time available—it all contributes to a brushing aside, an avoidance of the spiritual aspect of dying.
What do you want to tell family members and partners about hearing their loved ones' dreams and concerns?  
Listen. Be present. Don't invalidate. Don't correct. Don't say they're hallucinating. Accept that spiritual and emotional changes are at least as important as physical decline. And don't interpret; the time for therapy is past. It may feel awkward to talk or hear about death, but just be there. 
What do you think about people dying at home versus in an institution or hospital? 
Some conditions require a medical facility. Isolation is the worst suffering for dying people, and that can happen at home, too, so there may be times that an institution is more supportive. It's an individual situation, so families should talk.
What about telling a dying person
the truth about the time left, and pending death?
People want to know and have the right to know. Families often want to spare the dying person the truth, as if it's comforting. Usually the patient knows anyway. But we see the worst deaths in people who didn't know it was coming, even rage, a feeling of abandonment and betrayal. I have observed children, especially, coming to terms matter-of-factly about their mortality, and then moving on to enjoy the life that's left. Give people their truth.
A topic for the living
Death Is But a Dream is a book and topic for the living. It is neither depressing nor sad to read or view the stories and interviews with hospice patients. Humans often live as if death is out there somewhere far away, and many in our culture treat the subject as taboo. But these patients and their dreams suggest otherwise: none of us will avoid the death of loved ones, and we are all going to pass through that stage ourselves. Let us embrace the end-of-life experience in all its richness. 
Unforgettably, a ninety-year old patient named Patricia, in the videos and book, says: "[Dying] is the most interesting thing I've ever done!" She had lived a rich and varied life, but her predeath experience was equally exciting. She lamented that now, "Nobody wants to talk about it!" Fortunately, Kerr and his team did, and we can all benefit.
Sally Cunningham was attracted to this topic after a wonderful experience with Hospice staff who visited her mother. Jean Seibert, age 102, shared her life and died at home with her two daughters present.