Each day, thousands of motorists drive on the Kensington Expressway, the Scajaquada Expressway, and Main Street, three of the four boundaries of a historic neighborhood within the city of Buffalo. Yet, few are aware of the existence of this community, one that has achieved the distinction of a listing on the National Register of Historic Places. The community is Hamlin Park, a place that derives its name from a family who once used the area to create a horse racing track and driving park near what is now East Ferry Avenue, the area's southern boundary. Cicero Jabez Hamlin raised celebrated harness racing horses, or trotters, in East Aurora, and built a grand Italianate villa at 432 Franklin Street that still stands and bears his name on its façade. Hamlin entertained his friends in what was then the country meadows north of the village of Buffalo and is now Hamlin Park.
The sad story of the destruction of Humboldt Parkway, the most majestic of Frederick Law Olmsted's Buffalo boulevards, has often been told in these pages and elsewhere. Like Bidwell and Chapin Parkways, but longer and wider, Humboldt's grassy median with its magnificent maples and elms and bridal path stretched all the way from Delaware Park to then Humboldt, now Martin Luther King Park. One Hamlin Park resident awoke on a morning in 1958 to the "godawful noise" of chain saws attacking the trees in front of her Humboldt Parkway residence. Residents in Hamlin Park, Trinidad, and other neighborhoods along the parkway were given no advance notice that their bucolic surroundings were about to be demolished and replaced with expressways. In Hamlin Park, residents were enraged.
"The old pictures of the parkway make one understand how the rage came about," says Esterphine Greene, recording secretary of the Hamlin Park Community & Taxpayers Association (HPCTA). "Rage directed can give rise to movements. And that directed rage is what happened in Hamlin Park. The HPCTA has been a driving force in the neighborhood for sixty-four years, and it came out of a movement that was filled with anger, disgust, and determination that it would never happen again. We will always have a seat at the table. We missed it when they tore up Olmsted's parkway." As for her neighbors, Esterphine says, "Now, we have diversity here. Not just African Americans. Not just old people. I would say that eighty percent of Hamlin Park a few years ago was an aging population. All of the kids were grown. Now, there are younger people coming into the neighborhood with children. Non-black people coming in. Non-American-born people coming in. I see all these changes as for the better."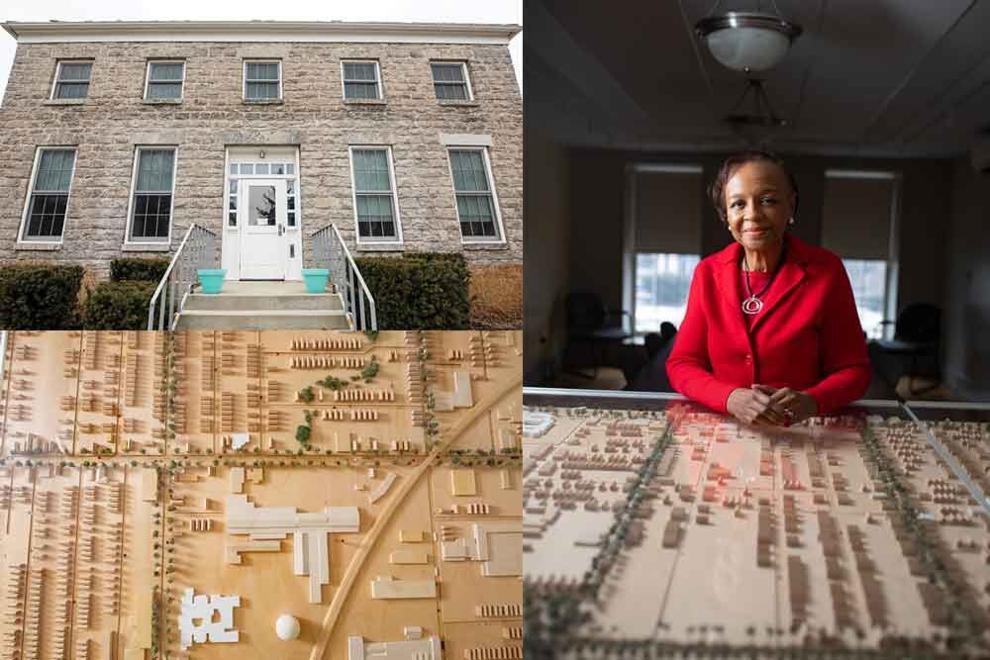 Pat and Billy Sandora-Nastyn are thirty-something residents who moved from New York City to Buffalo five years ago and bought a house in Hamlin Park in 2016. Billy travels by train to work downtown every day and points out that there are two convenient subway stops on Main in the neighborhood—at Delavan and Humboldt. "This is such a huge asset for people who work downtown," says Billy. "Watching the changes in the neighborhood and seeing the number of people riding and interacting on the train is great. I just notice the subway camaraderie that wasn't there when we first moved into the neighborhood." Pat, who is now corresponding secretary of the HPCTA, says, "I think, overall, we love this neighborhood, and anytime we see houses for sale we'll blast it out to friends who may be house hunting to come and check it out."
Carpenter and builder Elijah Moses grew up in Hamlin Park, left to spend eight years in Washington, DC, then returned to raise his family. His grandmother, who moved here from the South in the 1950s, still lives in the community, where she has become an esteemed elder. "Despite all the changes, I can still walk out my door and say hi to neighbors who watched me grow up," says Moses. "I see my children and people on the street saying hello to my grandmother. It's an interesting place, because it really is a neighborhood where people know each other and generations of children are taking on the properties of their grandparents or their parents."
Every resident contacted for this community profile expressed enthusiasm for the friendliness, livability, and pride of community within Hamlin Park. Mike Puma is a partner at Preservation Studios in Hamlin Park and a resident who bought his house for one dollar under the now discontinued Urban Homesteading Program and carefully restored it. Puma, like most residents, is unstinting in his praise for the community: "I think the area is on the rise, but I think it's fair to say that it's always been solid. And it's certainly because of the continued work of the Hamlin Park Community Taxpayers' Association. It has been active for over sixty years and is the driving force for why the neighborhood has stayed so nice. Its  pushback against Canisius was what spurred the National Historic District to be created."
A high rate of homeowner occupancy
In 1912, Canisius College outgrew its campus on Washington Street in downtown Buffalo and expanded to Main Street within the boundaries of Hamlin Park. Relations between the college and the neighborhood were cordial and mutually beneficial until Canisius announced its intention in 1995 to expand and demolish the former St. Vincent DePaul rectory on Eastwood Place, just off Main. (The church was converted to the Montante Cultural Center in 2001.) The HPCTA and other preservationist groups were successful in obtaining landmark status for the handsome building and, around the same time, the association gained a local historic district designation for Hamlin Park. In 2013, with the assistance and support of Preservation Studios, the community achieved a listing on the National Register of Historic Places.
Preservation Studios, a preservation consultancy and the largest commercial enterprise in Hamlin Park, opened in its current headquarters on Florida Street in January 2018. In addition to the company's offices, the refurbished building, now known as the Mattress Factory Apartments, is home to thirty-four apartments. The name reflects the building's former use by the George A. Otis Bed Manufacturing Co.
"We started considering the move here in 2014," says MFA president and CEO Jason Yots. "We talked about whether it might make sense to do an adaptive reuse project and decided that housing was the most feasible thing to do here. We were able to leverage some historic tax credits for the project without which we would never have been able to pull this off. We cobbled the rest together through state and bank loans and built twenty-eight two-bedroom and six one-bedroom apartments. We've been almost completely occupied for the past year. One of the things that attracted me to Hamlin Park was the high rate of homeowner occupancy. You could just sense the value here. I think it had been undervalued for a long time. Our goal from the beginning was basically not to gentrify the area."
Other businesses in Hamlin Park include the Maasai Consignment Shop on Delavan and Kat Tyler's EM Tea Coffee Cup on Oakgrove, where black and white glossies of the old neighborhood line the walls. Although the café is a popular gathering spot for locals, its regular clientele comes from all over the city. "A lot of people in the neighborhood know that they can come to me if there's something they want to find out about the community," says Tyler. "If someone's having a problem, they know that I know someone who can steer them in the right direction.
"Hamlin Park has always been a diverse neighborhood since I was a kid," she continues. "There were a lot of Irish in the neighborhood then. As I was growing up, it became more of an affluent African American neighborhood. Your next-door neighbor could be someone from Bangladesh or Buffalo. So, it's just a huge melting pot and a nice neighborhood. When I was growing up, people could walk across the parkway from Trinidad [the neighborhood now east of the 33] to Delaware Park. There were bakeries and ice cream stores. Everything was right here in this neighborhood."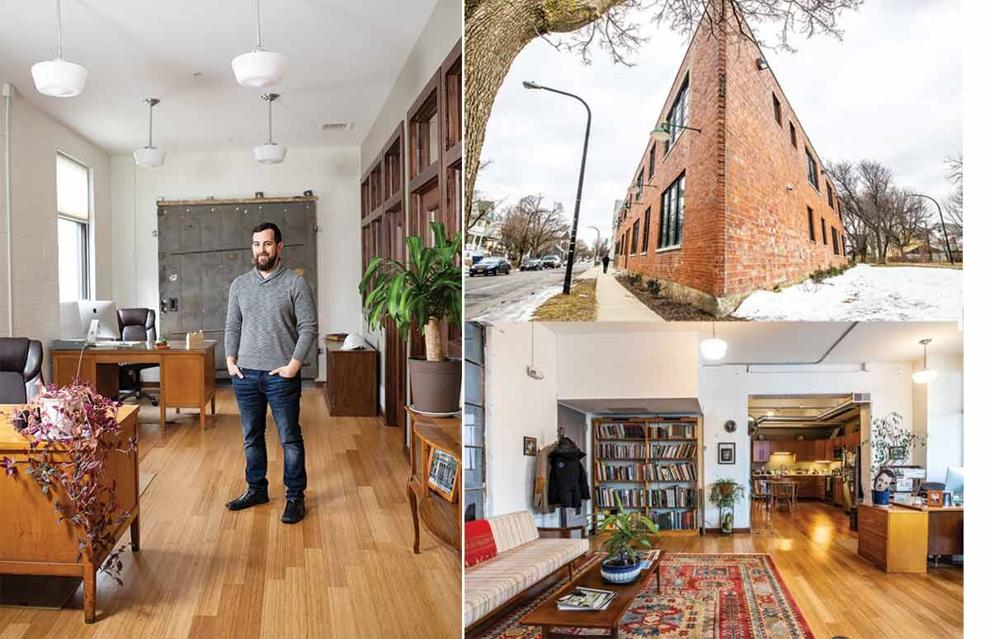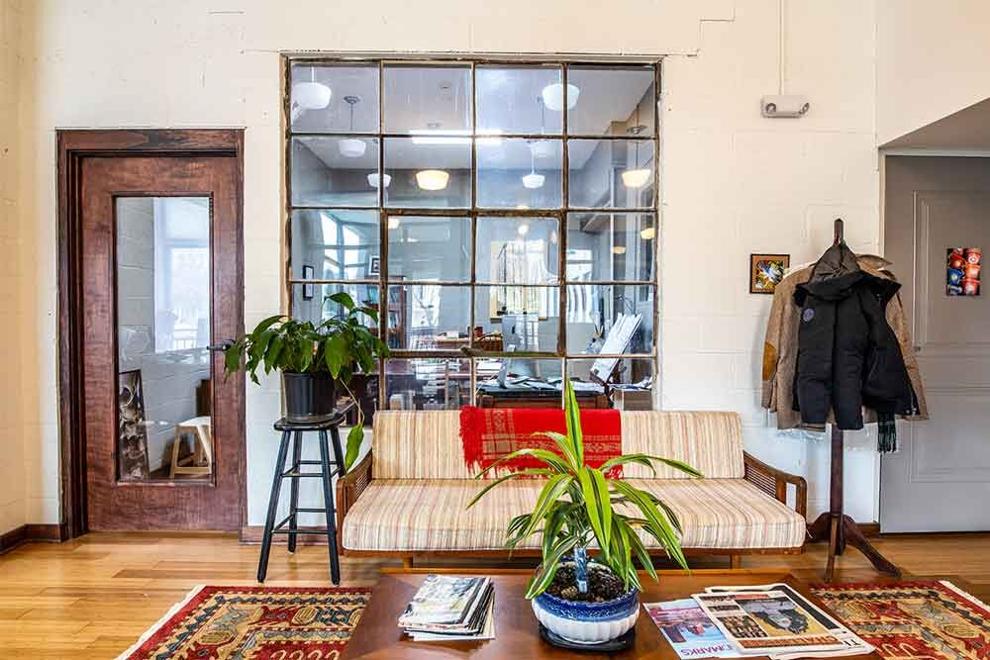 A close-knit community
Although Mike Puma bought a house in Hamlin Park for a dollar, he wasn't the first to do so. That distinction belongs to community advocate and youth mentor De'Yron Tabb. The twenty-seven-year-old AmeriCorps VISTA volunteer restored his two-family home in just over two years, did all of the work himself, and now lives with his family in the upstairs unit. "What I appreciate and love is that this is a very, very close-knit community," says De'Yron. "I grew up in all different parts of the city, but once I came to Hamlin Park, I realized what a strong community and advocacy group there is. We kept our historic nature and our value, and it was because of the advocacy of the preservation board and the HPCTA."
Regarding the destruction of the parkway and the building of the expressways, De'Yron refers to the strength of the black residents who have been Hamlin Park's majority since the 1960s. "There's a beautiful resiliency to my people in general. The African Americans have an extremely long legacy of survival regardless of the destruction and dilapidation that happened inside the neighborhood. Regardless if it's the 1921 bombing of Tulsa, Oklahoma, or the post-emancipation destruction of families through sharecropping contract leasing, we, as a people, generally come together, regroup, and figure out what we need to do, then implement a plan to survive. The 33 was devastating to our community. And right now, we have high levels of breast cancer and different respiratory diseases associated with carbon monoxide poisoning. But we, as African Americans, say, 'I'm not going to allow that to distract me or deter me.' I try to guide and steer all of the young men that I know—who may be privy to criminal activity or know someone who is—onto a different path."
Covering the 33
The idea of covering the 33 was proposed by a Hamlin Park resident in 1977 and, since then, the idea has gained traction among groups and neighborhoods surrounding both the 33 and the 198. Although both Governor Cuomo and New York State Assemblywoman Crystal Peoples-Stokes support the idea, there is a division between residents who want to cover the expressway and those who would simply like to see it filled in. Chrissy Lincoln, another young professional and homeowner who has lived in Hamlin Park for five years, is one of the latter.
"Personally, I'm not in favor of the cap," says Lincoln. "I think we should fill it in. That's what our radials are for. That's what we had when our population was at its highest. If we want businesses to come back to Fillmore and Jefferson and some of our surrounding commercial corridors, then filling it in is the only way to do that. There are cities all over the country removing their highways right now for the same reasons. Because neighborhoods were split in half and because it was a stupid decision. And we're just starting to realize how devastating it was. Other places seem to have the will to change that."
"The destruction of Humboldt Parkway is the equivalent of going to Paris and taking down the Eiffel Tower," says Buffalo architect David Stieglitz, a board member of the Restore Our Community Coalition. The vision of ROCC is to restore the historic Humboldt Parkway as a green boulevard and promenade that "will serve as a vibrant community gathering place." Stephanie Barber Geter, the chair of the ROCC board, says, "We're working with churches and other groups to cover the 33, a sixty-year old mistake. Many people who lived along the 33 have died from upper respiratory infection. We're also working in partnership with our people in the Scajaquada corridor on subjects like traffic flow."
"ROCC is just focused on the 33," says Lincoln. "I would say its core is probably Hamlin Park residents but, obviously, the 33 impacts a lot of different neighborhoods. We're kind of boisterous with something we feel strongly about. But that's why this neighborhood has fared so differently from a lot of the other neighborhoods on the East Side. I got a great house in a great neighborhood for a price I could afford. So I feel really fortunate to be here. I work in Broadway-Fillmore and I live in Hamlin Park. I like to think I'm kind of an advocate for the East Side in general. There are a lot of good people and really great neighborhoods on the East Side. It really hasn't got its fair share of positive attention."
They've still got that fight
Barber Geter, who's also president of the Hamlin Park Community & Taxpayers Association, has the last word. "The Association is sixty-four years old with a good mixture of people who are over seventy-five and under twenty-five," she says. "Many of our people are in their eighties, and they've still got that fight. They take nothing for granted. We will show up at the mayor's office and make him do it. And he lives in our neighborhood.
"Hamlin Park is a unique place. We've got almost everything available from the whole city. We are a few blocks from Elmwood. We are close to the entrances leading to the airport. We are also at the back end of Delaware Park and Forest Lawn Cemetery. And we are right along Main Street. So we are richly positioned. We are a preserved neighborhood, and the preservation of communities like Hamlin Park is essential to our future. If we really are committed as a city for Buffalo to come alive again, we have to look at it broader than just a collection of houses. We've got to be committed to diversity—all ages and cultures."