Along the suburban street where Tivo Rodriguez and partner Angie Zimmerman live in a modest post-war ranch, it's unlikely you'll notice anything unusual—unless you happen to glimpse the hatchet target, fire hydrant, garden chandelier, and industrial scale in the backyard. But if you step through the front door, you'll know for certain you're not in Kansas anymore.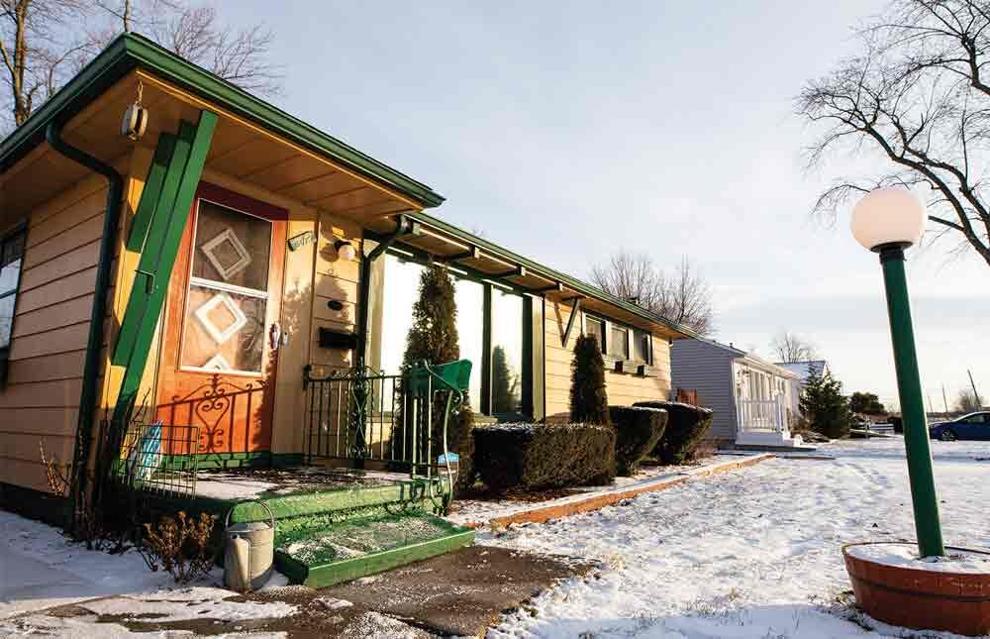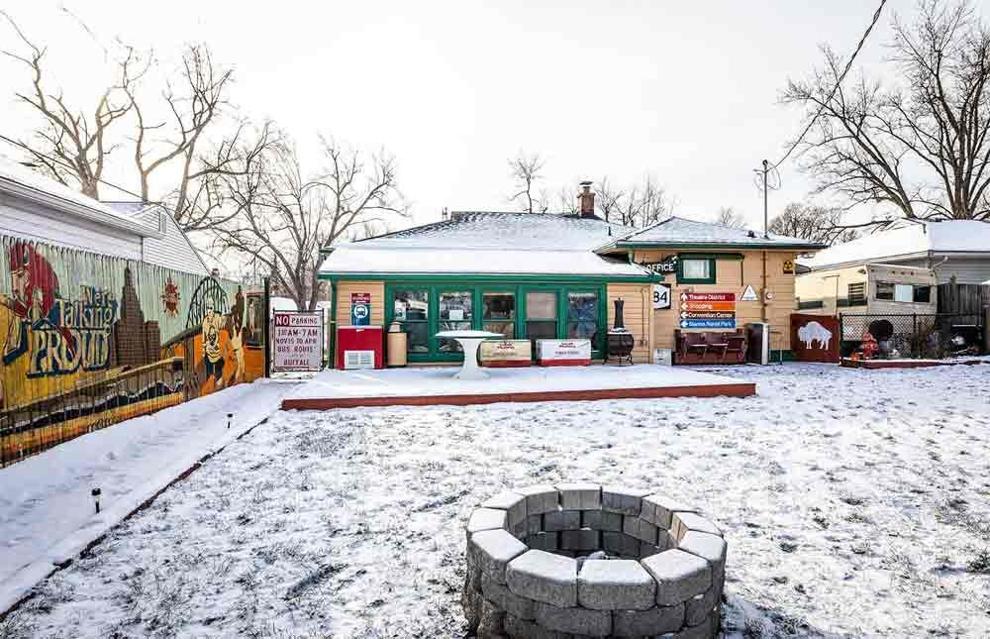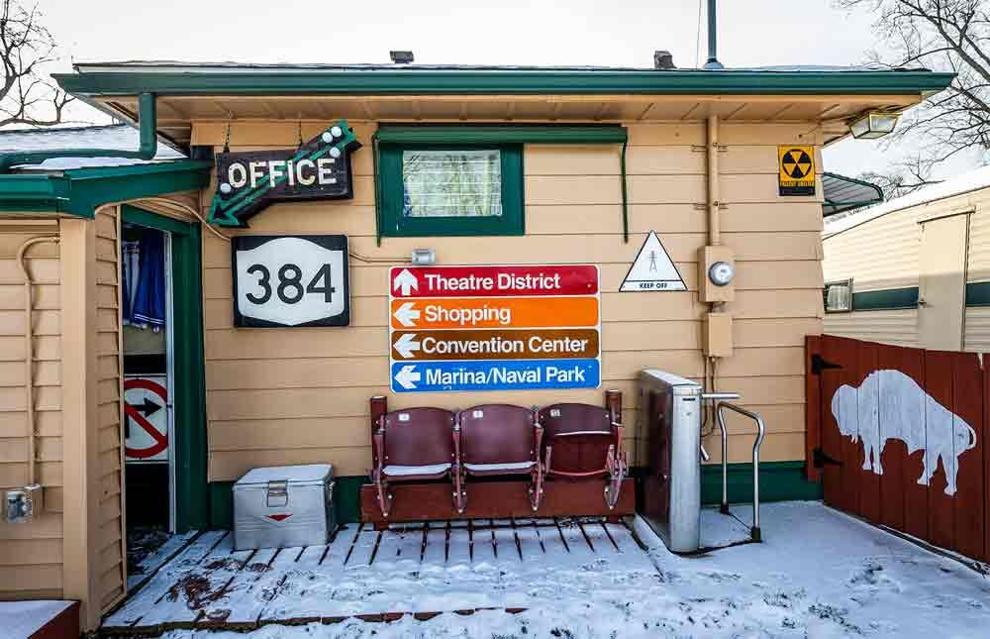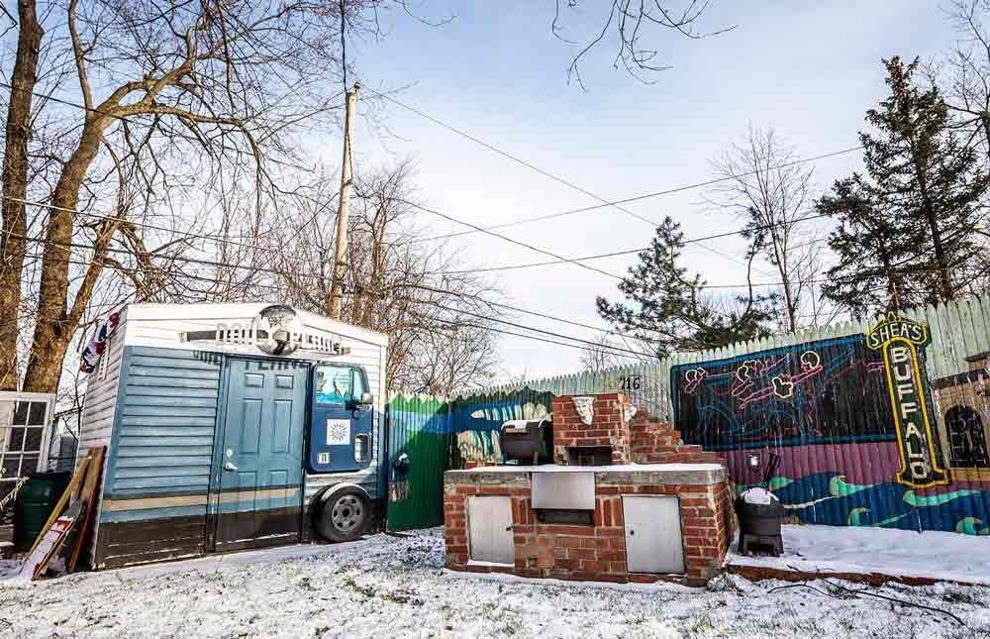 The entrance is furnished with a stocked Courier Express newsstand, accompanied by hanging seller aprons and a carrier bag, just some of the Buffalo-themed memorabilia Rodriguez collects. Beyond, a glorious assortment of gadgets, gizmos, and gewgaws complement vintage pop décor, like a twentieth century cabinet of curiosities.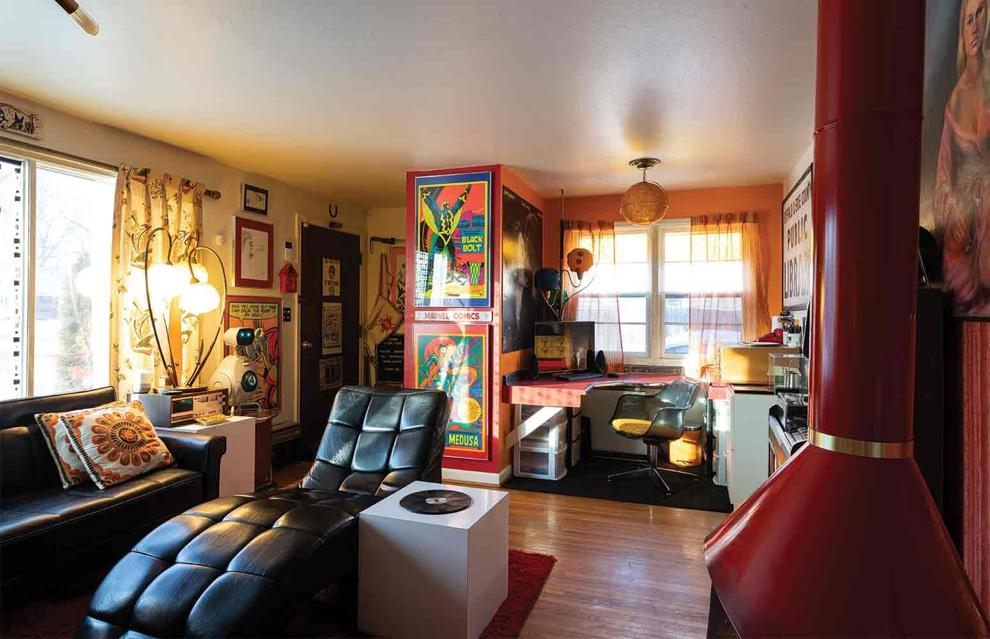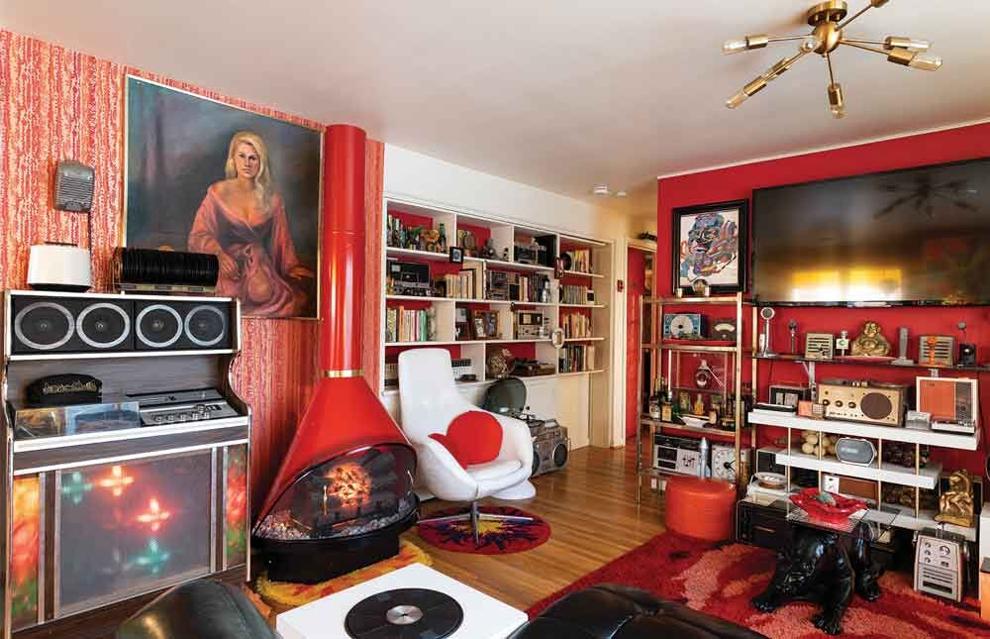 In a living room alcove, a wraparound Formica diner counter and transparent midcentury molded plastic chair serve as a computer station. Your eyes jump from a Scandinavian spaghetti globe table lamp atop a vinyl woodgrain cassette deck, to a modern black leather couch and lounger, then to a mirror-covered coffee table with black ceramic panther base.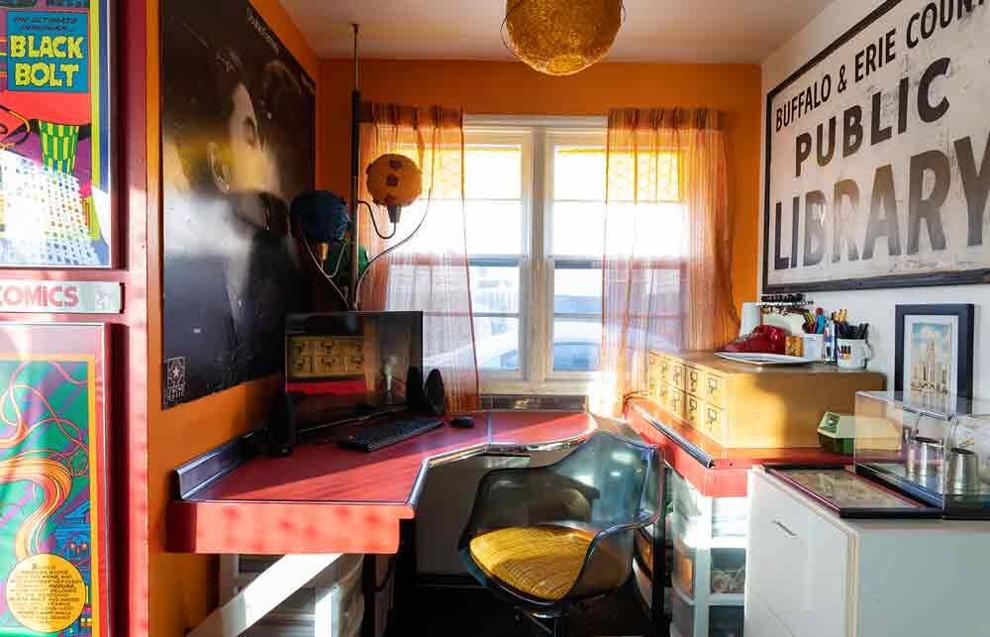 A Kurt Vonnegut drawing is easily overlooked among the visual abundance. Modern bookshelves display vintage electronic equipment: Bakelite radios, tape decks, boomboxes, model rockets, a toy Space Patrol helmet, and an EKG machine. Another wall displays vintage microphones, globular TVs and radios, a reel-to-reel tape recorder, and more. Rodriguez swings out a painting to reveal a secret wall safe, because doesn't everyone want a secret wall safe?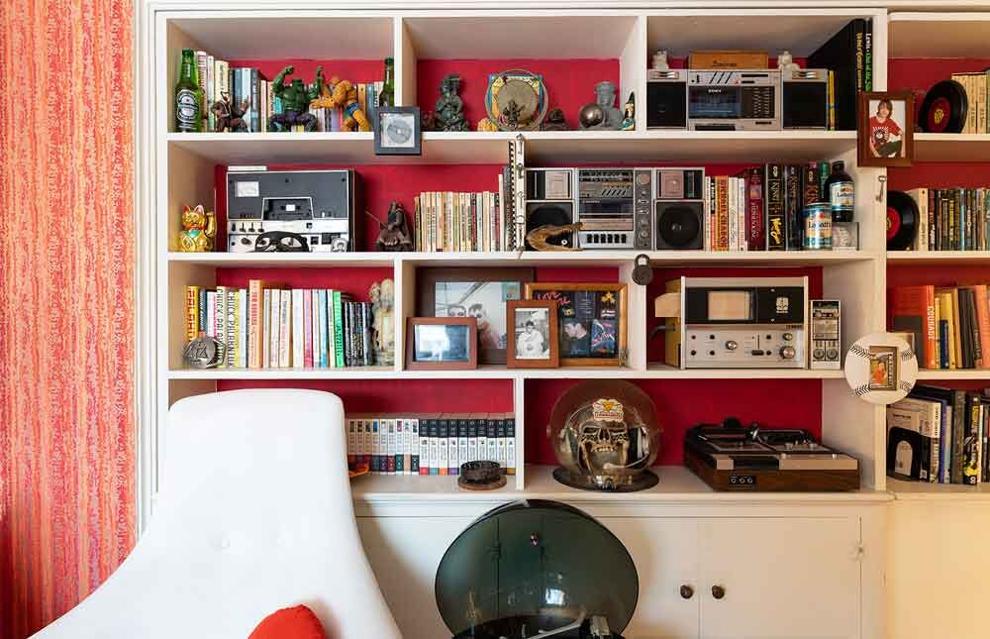 An avid antique enthusiast, Rodriguez caught the collecting bug as a boy accompanying his grandparents on weekend trips to Super Flea; he still makes weekly excursions. "Each week, I go to every thrift shop in Erie County," he says. "All the estate sale people know me." Rodriguez doesn't just accumulate things, he luxuriates in the steady flow of objets d'art that come and go, some "washing up" in lesser used rooms, some resold. He acknowledges there's no specific theme to his collecting—though mid-century modern prevails. "Your personality eventually takes over," he says.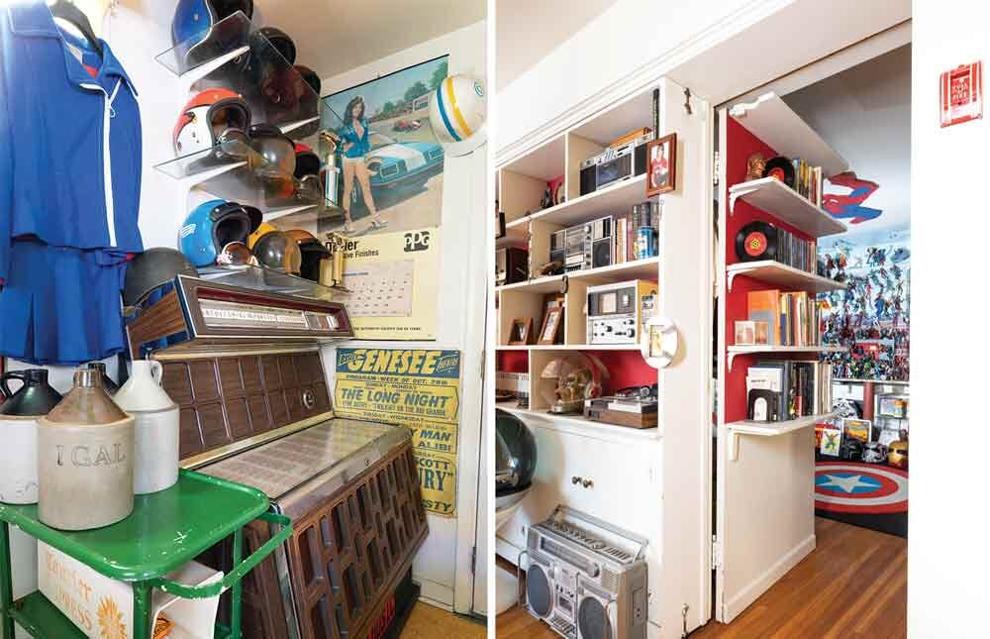 Posters and knickknacks reflecting comic book culture are scattered throughout. "I've been collecting comics since I was a kid," says Rodriguez. This leads to one of the more whimsical features of the house—and there is no shortage of whimsy. Rodriguez pulls a wall-mounted commercial fire alarm and, like something out of Scooby-Doo, a hidden bookshelf door swings open to reveal a secret room containing a treasure trove of comic fantasy. It's just for fun, says the curio curator, though one wall is covered floor to ceiling with valuable framed comic art commissioned from the original artists. "Half these guys have already died," he says.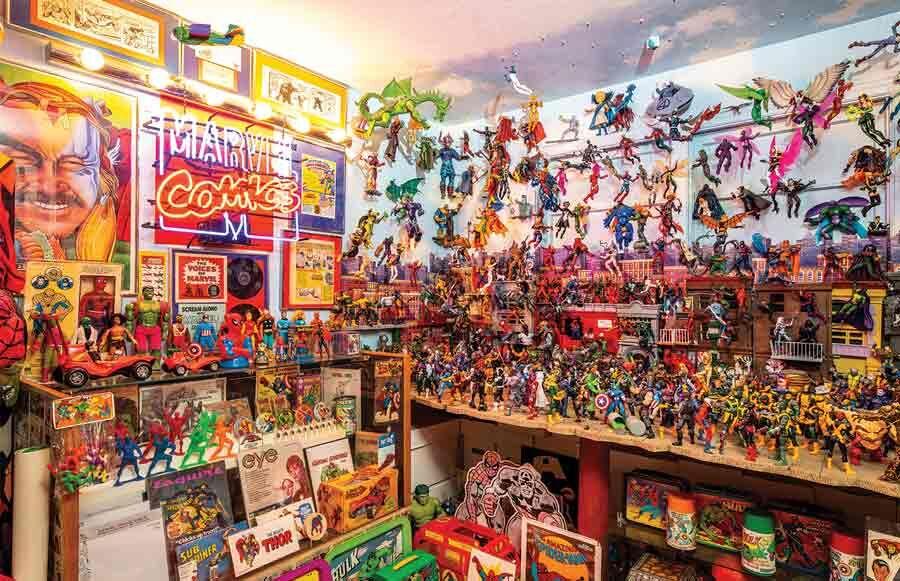 The comic vault is packed with highly sought collectibles, including a full-size cast Spiderman figure. The room's focal point is a tabletop battle scene comprising innumerable superhero action figures, dozens of which "fly" suspended from fishing line. The displays were inspired by museum dioramas he saw as a boy, "cowboys fighting Indians, stuff like that," he says. "Most people that collect action figures keep them in the boxes. I don't see any use in that. It doesn't seem like a lot of fun."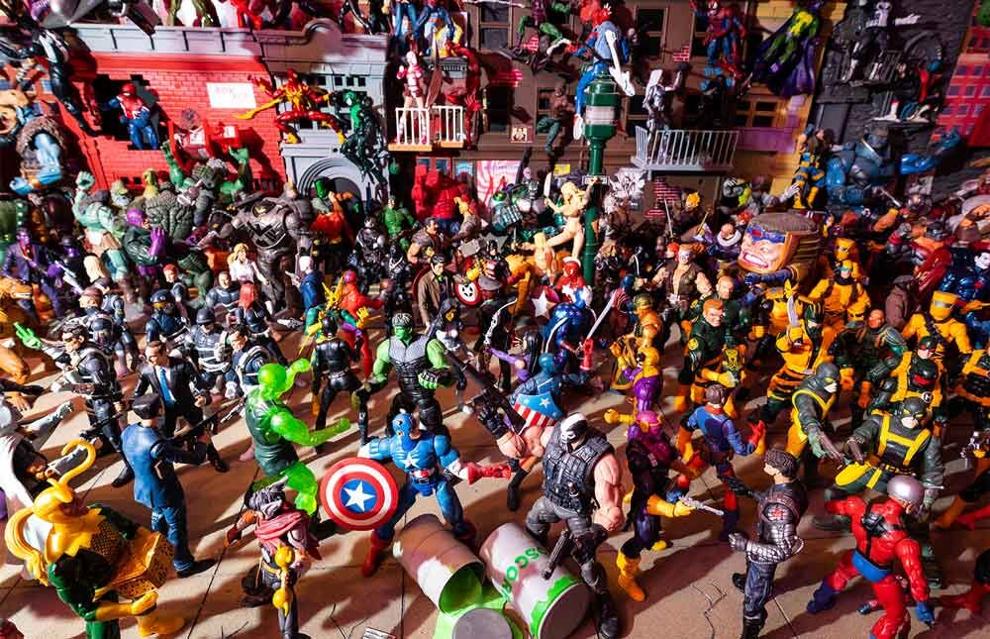 Back in the real world—if "real" is ever apropos here—the master bedroom features a kitschy old-school masculine vibe. Classical nude charcoal renderings dated 1938 hang next to a framed vintage strip club poster. Unidentified portraits and folk art by Haitian painter Henry Thezume intersperse with circular antique mirrors. Assorted chalkware tchotchkes and a cologne bottle collection add eclectic charm. Then there's the velvet painting of Rodriguez as Elvis, "done by a guy in Mexico," he says.   
Though Zimmerman moved into the house long after the thematic décor was established, her dressing room reflects a parallel aesthetic. Art Deco furniture is accessorized with vintage clothes, antique jewelry, and "feminine" collectibles. Vintage newspaper fashion ads are collaged onto the wall and, in the spirit of the house, there's an assortment of Wonder Woman memorabilia.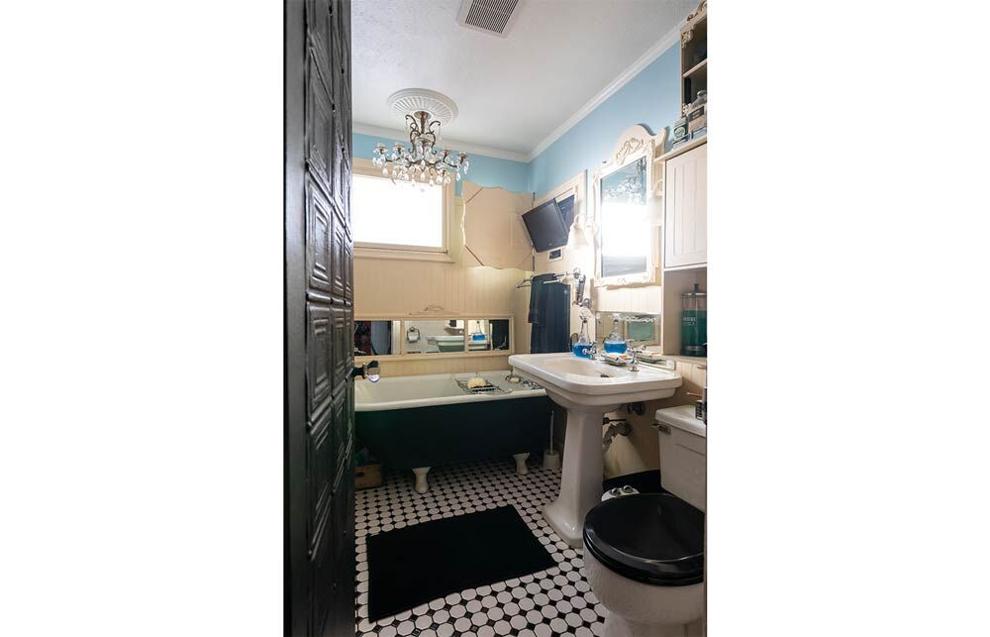 The retro bathroom features a three-section antique mirror mounted above a clawfoot tub. For long soaks, a hinged wall panel hides a flat screen TV. The kitchen décor was inspired by the original 1952 yellow plastic wall tiles. The real estate agent who sold Rodriguez the house told him he could remove them; instead, he leaned into it, and the tiles became the basis for the kitchen's cheerful yellow and teal color scheme. A Formica dinette with tabletop jukebox sits below a window lined with Buffalo-made beverage bottles and ceiling-mounted diner numbers. An old chrome-framed supermarket food ad hangs near a sign advertising a "Complete STEAK DINNER." A wall phone echoes back to a time when phone numbers started with letters.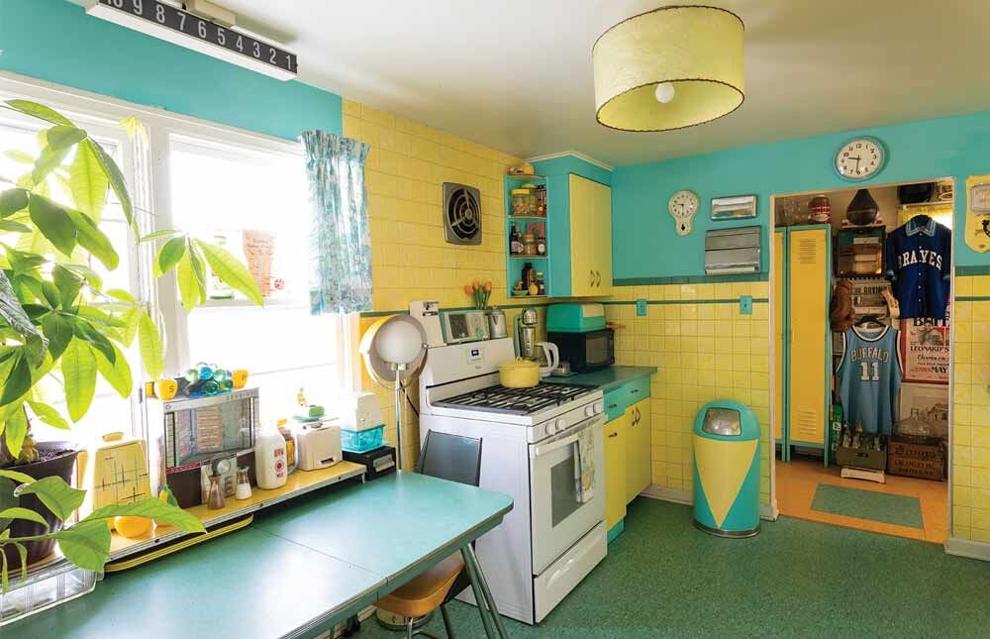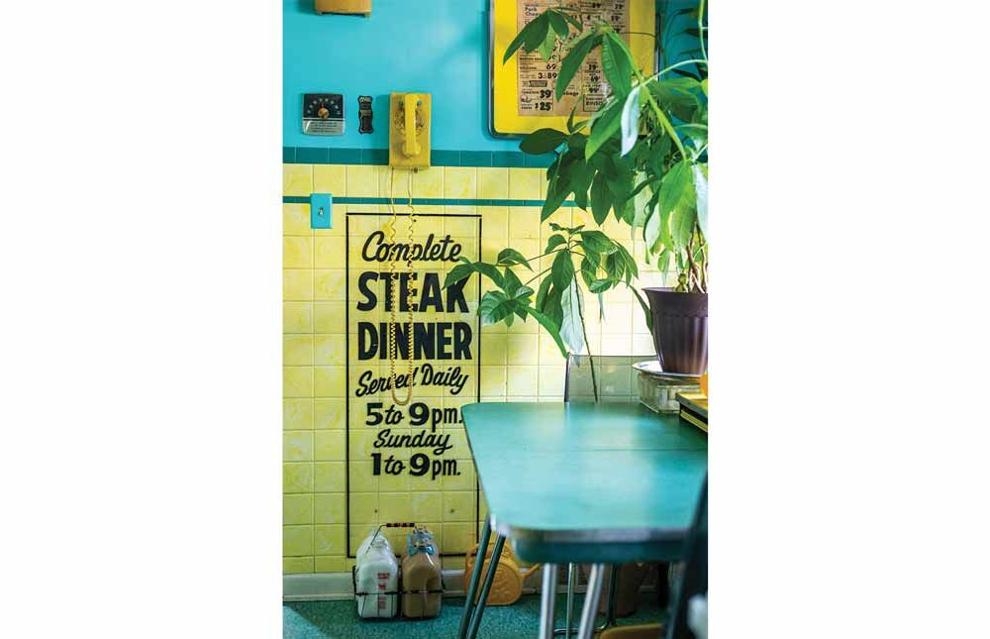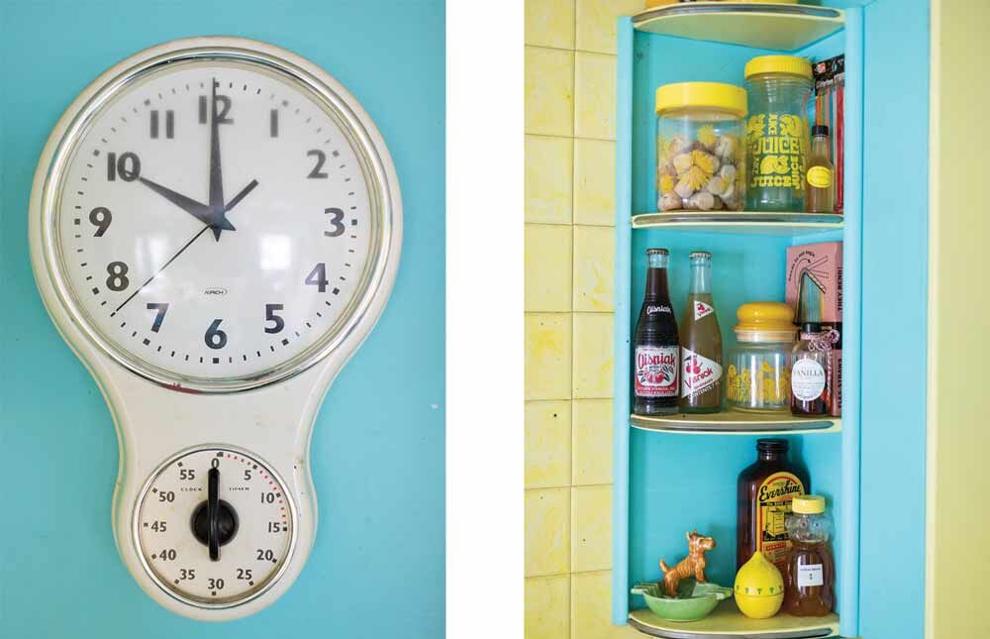 An enclosed sports-themed patio in the back boasts several working arcade games, a full-size jukebox, and a phone booth containing a "Talking Proud"-clad mannequin. Vintage Sabres, Bills, boxing, and wrestling collectibles are on display, including a darkly amusing O. J. Simpson action figure. At this point, one wonders how the house is so spotless. "Oh, I'm super OCD," says Rodriguez. "I just walk around all day cleaning."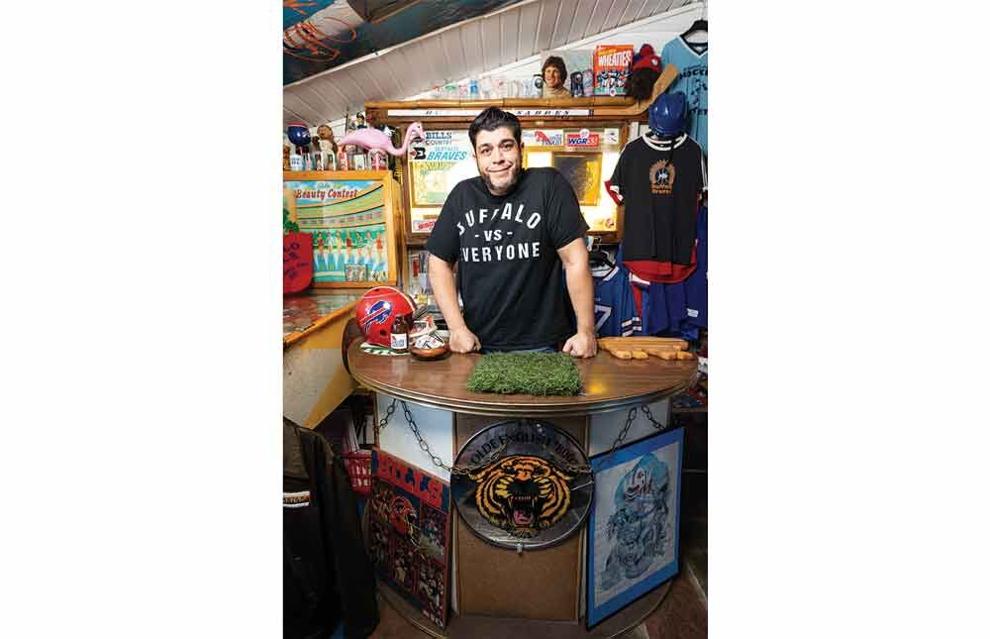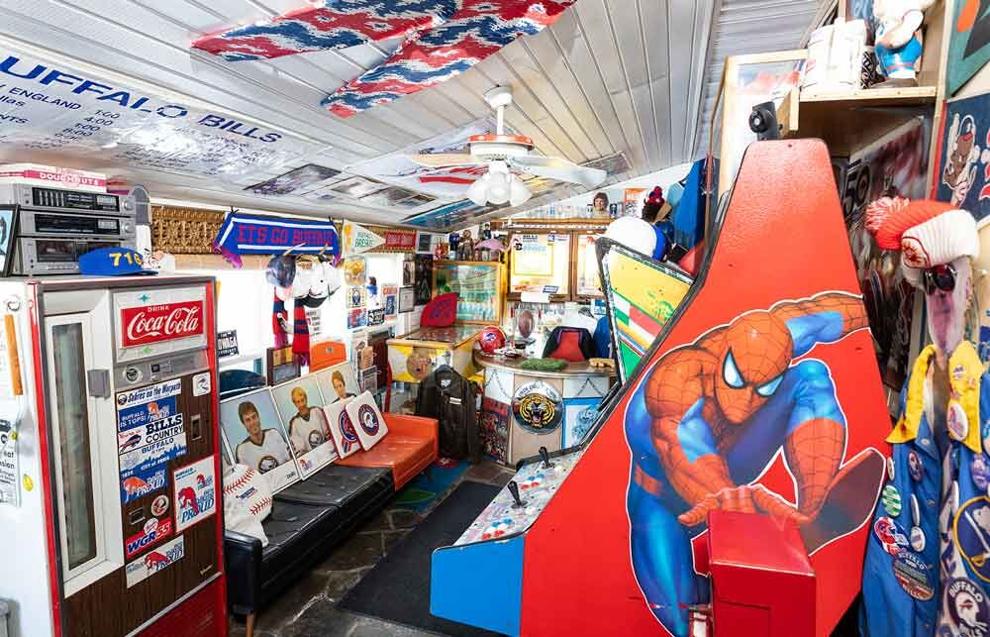 In the basement, Rodriguez has turned one finished room into a simulated comic bookstore, complete with working register, comic racks, superhero toys, and display cases stocked with sundry items. "I kind of always wanted to have my own comic book store," he says, "but I'm not going to sell anything." Across from the store, an old-style rec room includes an arcade bowling machine and pool table. Vinyl LPs line the wall, with vintage record players, rock music mementos, and another collection of classic radios and electronic equipment.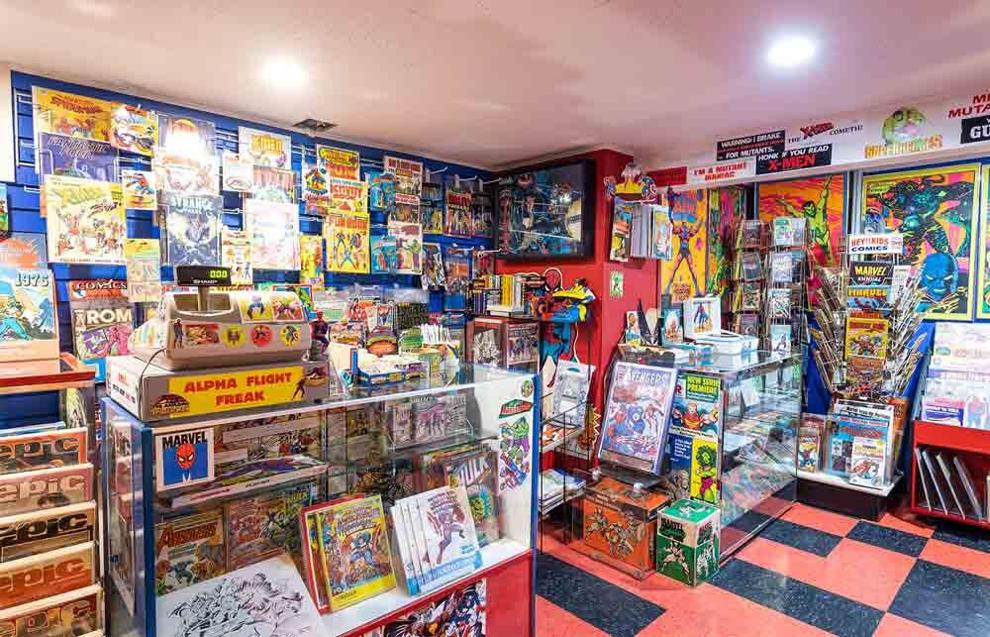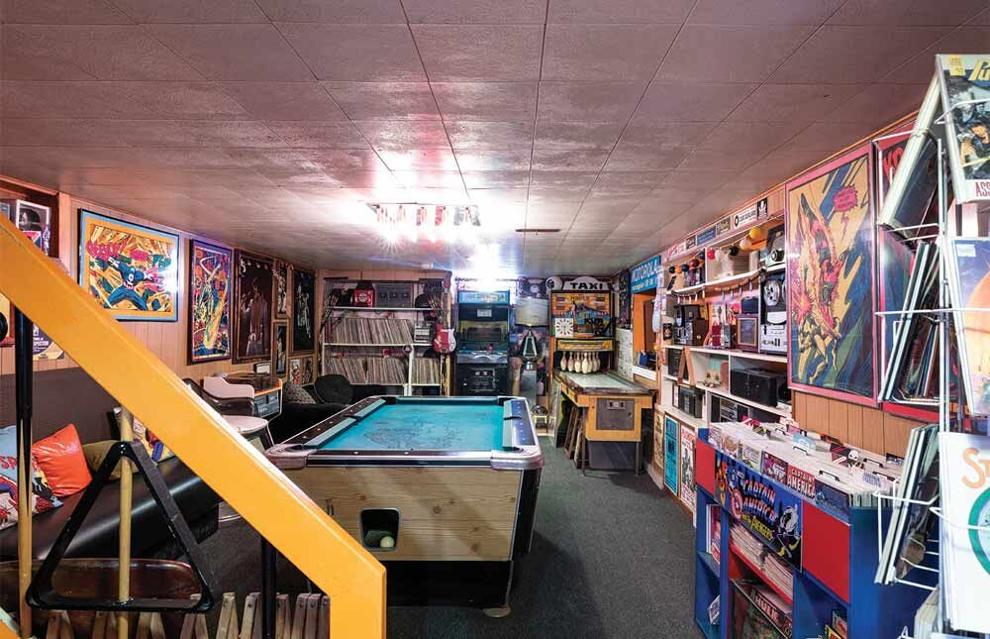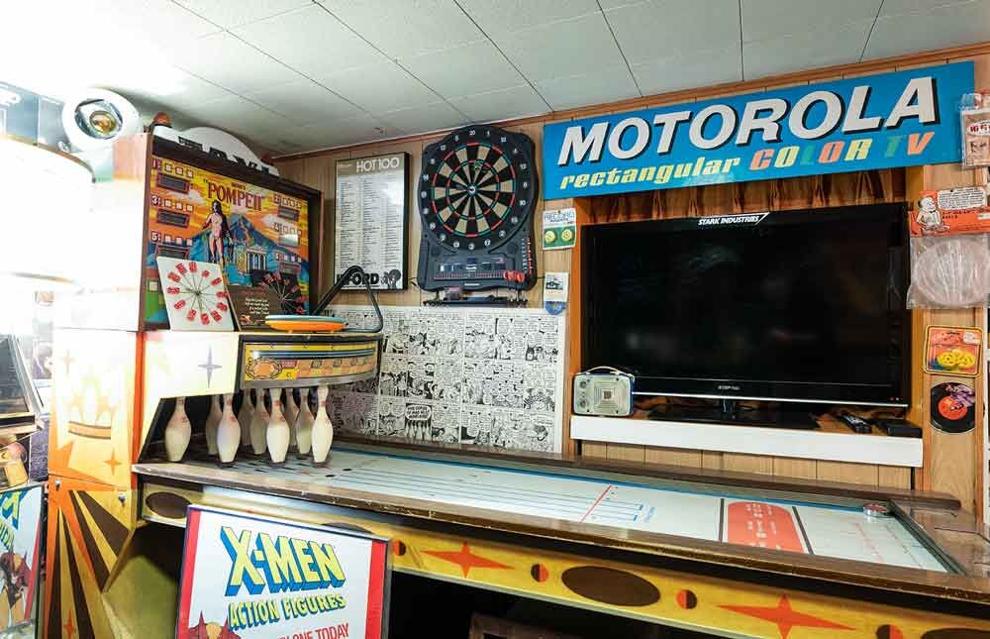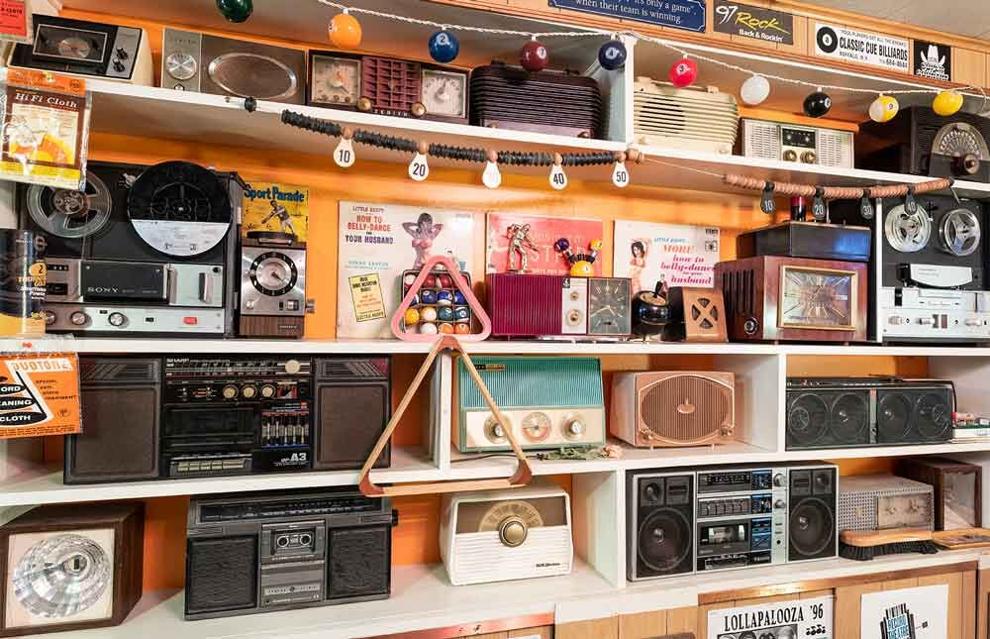 Rodriguez offers no advice or explanation beyond, "The time to buy something is when you see it. I always say, 'I can make sixty more bucks, but I'll never see that radio again.'"