Ask Jim Charlier to describe a Buffalo-style garden and he'll use the words quirky, one-of-a-kind, personal, and eye-catching—which also exactly describe his new hand-crafted garden totems. These and other garden pieces by regional artisans will be on offer at the Buffalo-Style Garden Art Sale. Glass flowers, copper dragonflies, wooden sculptures, artfully painted repurposed chairs, pottery, nature-inspired décor, and all-things-butterfly-pleasing will stimulate your creative juices and spark excitement for your summer garden. 
The what, why, and how of garden totems
Graphic designer, photographer, and writer Charlier struggled with the name for his pieces, particularly in wanting to avoid cultural appropriation.  Authentic Native American totem poles, attributed first to Northwest and Alaskan Indian artists, are distinctive, stylized, and meaningful—representing emblems of animals and creatures with spiritual significance, as well of the histories of tribes and families.
Yet most garden shoppers, including Charlier, have spotted all kinds of so-called totems, many mass-produced using vinyl and PVC plastics. Charlier would not advocate for those, but the word totem was already out there, which meant stake, spike, post, or vertical pole didn't cut it, so garden totems they became. Their purpose is decorative; their intention is to offer gardens splashes of color, focal points, whimsy, and individualistic expression.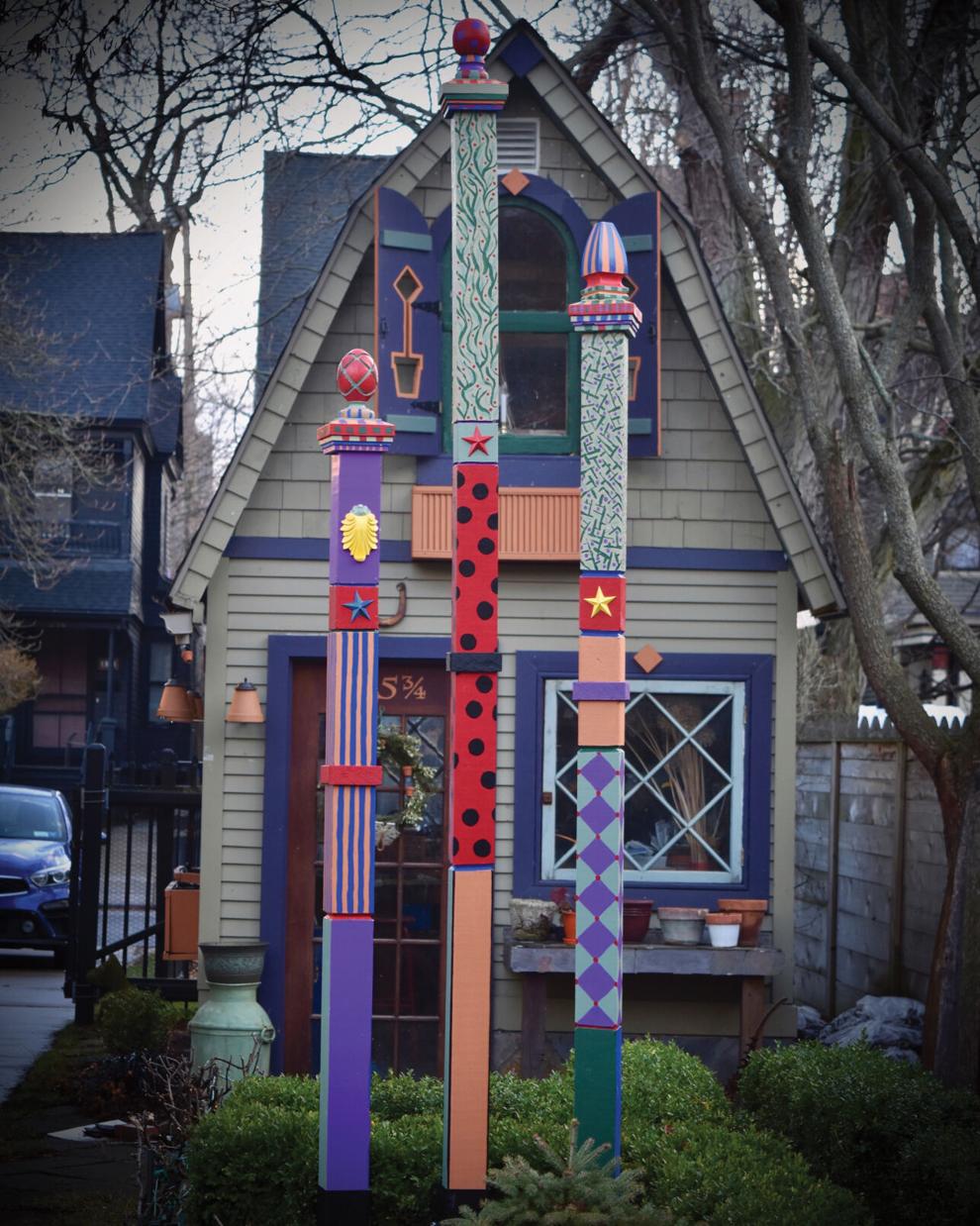 Like many gardeners, Charlier turns creative energy into garden-themed projects when the weather turns cold, which was especially helpful for peace of mind this past winter. (He says the painting experience was "very Zen.") He began in his basement with four-by-four-inch Southern Yellow Pine posts, caps, and finials, all pressure-treated to resist rot or insect damage. He used a router to cut bands into the poles then embellished with wooden ornaments both nailed and glued. Charlier painted original designs with acrylic-based exterior house paints—three coats minimum—and finished them with multiple coats of a UV-protecting marine varnish. The pole ornaments come with a spike base for installation.
"That's all there is to it," Charlier says to people who might want to give them a try. (Charlier won't disclose how many hours he spent per pole, but I suspect even those with Charlier's artistic talents will not make these themselves.)
Charlier's treasures are available in three sizes: five feet, six inches; six feet, six inches; and eight feet. During Open Gardens and Garden Walk Buffalo, you will see them in his Lancaster Avenue yard in sets of three (one of each size). None are identical, but as he uses the same color palette, they are design compatible. A trio at the end or bottom of a garden pulls eyes and visitors toward them. In smaller spaces, one pole is enough for a bit of drama. Kept outside all winter, these garden objets d'art have dramatic impact, especially when seen from inside on an all-white or all-gray day.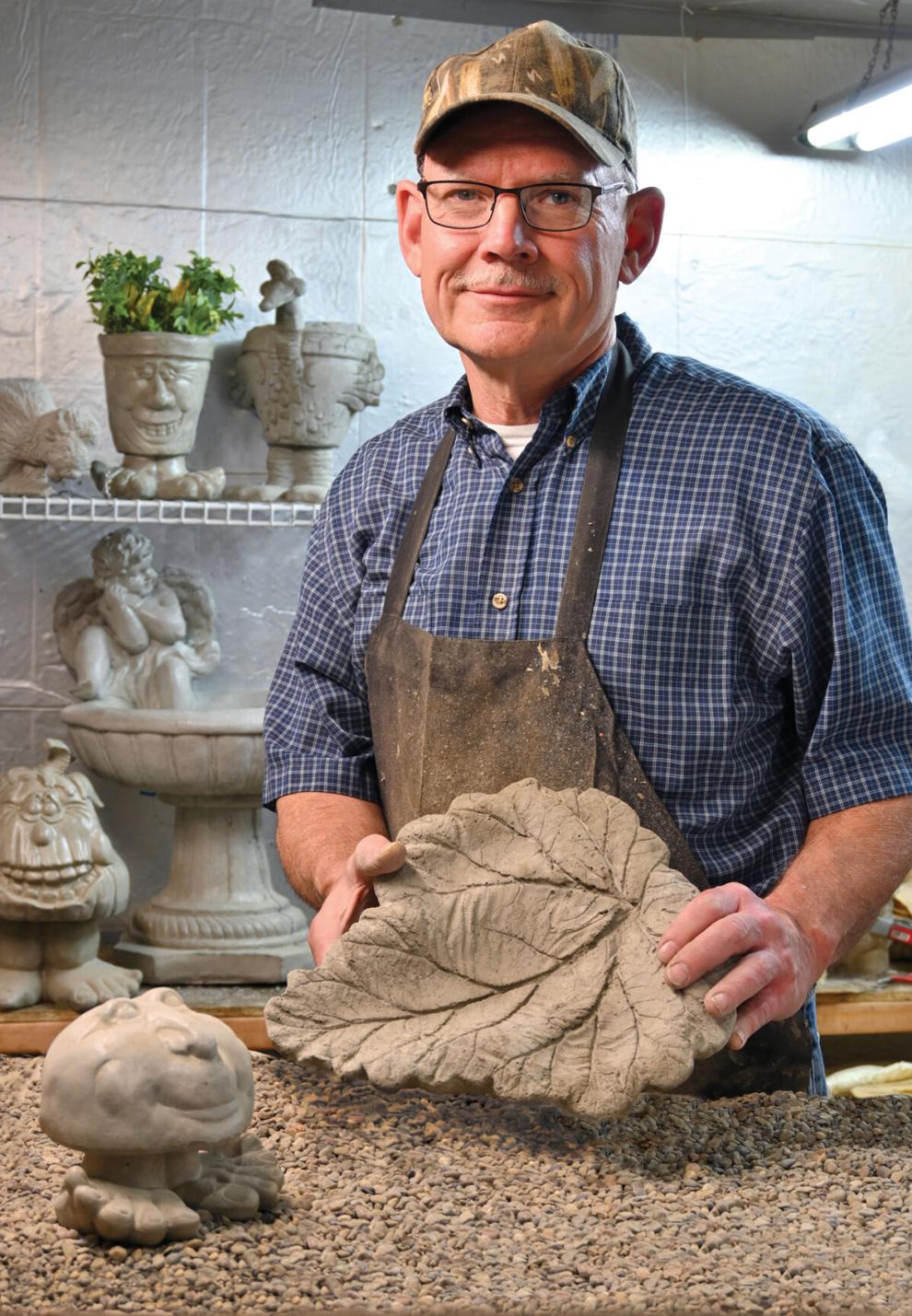 So many artists, so many ways
Sticks and Stones' proprietor Bonnie Finkbeiner has been offering nature-inspired items since way-back-when at the Fall Garden Faire on Cooperative Extension Grounds in East Aurora, and at Lockwood's Greenhouses. The small business, owned by three sisters, offers one-of-a-kind driftwood lamps, river rock vases, gourd art, leaf castings, bee houses, and more. I am always pleased to watch the evolution of their taste and products. 
This year, the focus is barn quilts, and "You don't need a barn!" says Bonnie. The quilts have long roots in American history and are often used to honor loved ones. Completely weatherized, in customized shapes, sizes, and patterns, the quilts can hang on a shed, house, barn, or porch. Sticks and Stones exemplifies the persistence, growth, and creativity of local artisans.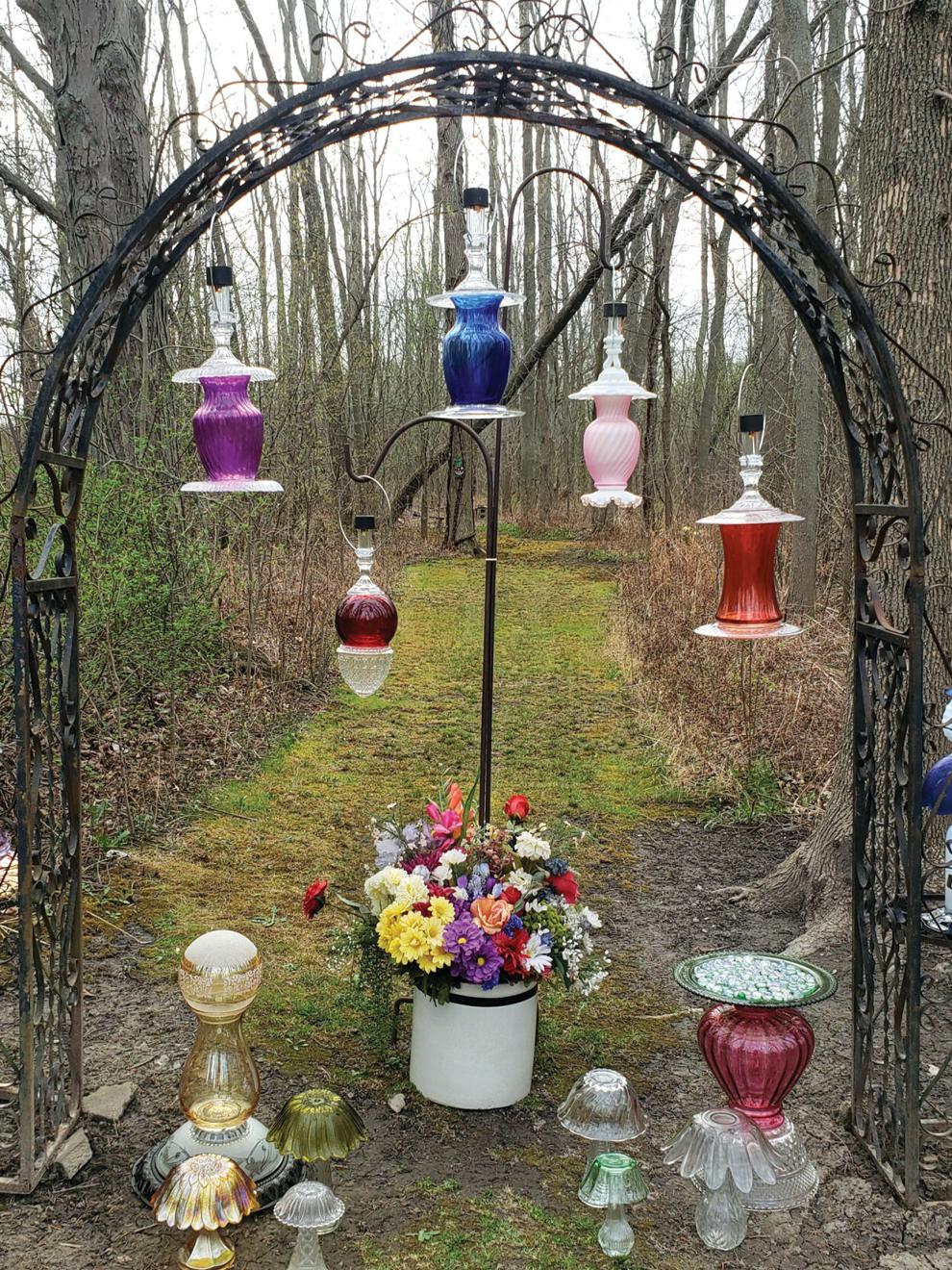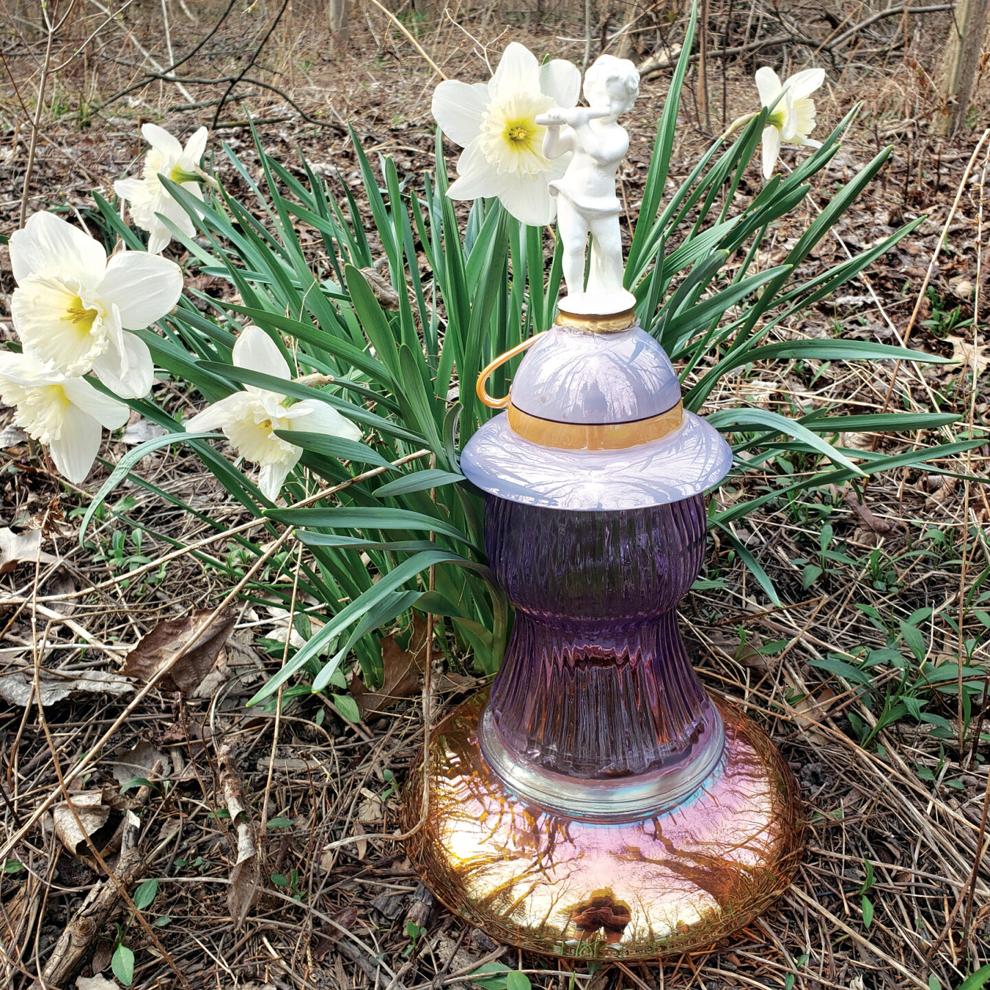 Also dedicated to nature-themed creations, Paul Dziejman of Concrete Gardens started as a gardener, growing flowers from seed in a greenhouse. He was committed to supporting butterflies, bees, and birds, and developed themed décor showing frogs, turtles, and whimsical rock heads. For weather tolerance, he sometimes uses a concrete sealer on those.
When Dziejman realized that living creatures needed more than the flowers he was growing, he designed shallow dishes or birdbaths—often in leaf shapes—to provide water for the beneficial insects and birds. This year's special item is a "Butterfly Rhubarb Leaf," a concrete leaf on a pedestal. The master latex mold was made from a large rhubarb leaf, which is shallow to benefit small pollinators. Dziejman leaves concrete pieces in their natural state, not painted or stained; while they will chip or flake over time, they present no risk to living things. These items are sedate, dignified, and appropriate for any garden.
For forty years, Alan and Bonnie Leising have collaborated on distinctive garden art pieces that involve metal work (Alan), painting (Bonnie), and a great deal of splashing water! Their Copper Creations offerings are "functional sculptures with a twist—literally."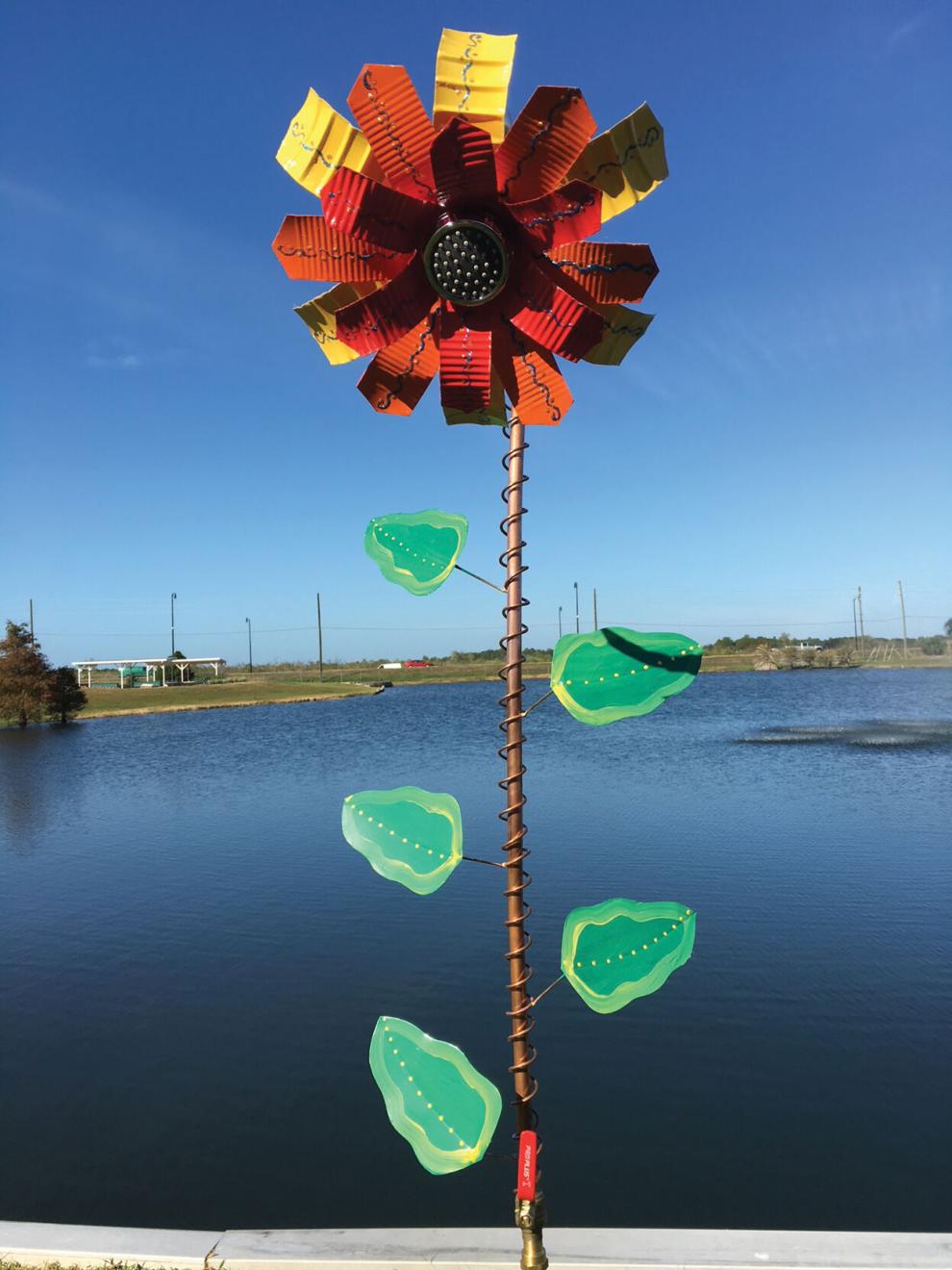 Most dramatic is the Flower Shower—a seven-foot tall sunflower with a twelve-inch flower head—whimsically painted with bright colors. An undeniable art piece, it also does the job of a traditional poolside or outdoor shower.  For pleasing plants as much as humans, the five-foot Dancing Sprinkler sprays and splashes, providing water for flowers and vegetables. For container gardeners, the Leisings also design charming, petite, brass flowers to complement pots. 
At this month's Garden Art Sale, you'll see original art that could add interest to your garden or patio. We can be proud of our regional artists for their persistence, creative energy, and passions, so be sure to say thanks for the fun and beauty.
Where plant-a-holics, experts, and artists meet
Often the least celebrated, acknowledged, and appreciated participants in shows and events are the members of plant societies, garden walk committees, and garden clubs, yet it's they who turn the wheels that make events run. Among them are Kathy and Mike Shadrack of the well-established WNY Hosta Society and Buffalo Area Daylily Society; they've carried the plant-passion torch through decades of events and shows. Another Art Sale Committee worker is Allison Malikowski, who has done double duty for this show. Not only has she contributed youthful, tech-savvy intelligence to the committee, she dared to make true-to-cultivar paintings of hostas on rocks (her business is Painted Rocks) for the show, under the very noses of hundreds of hosta-philes—no easy feat!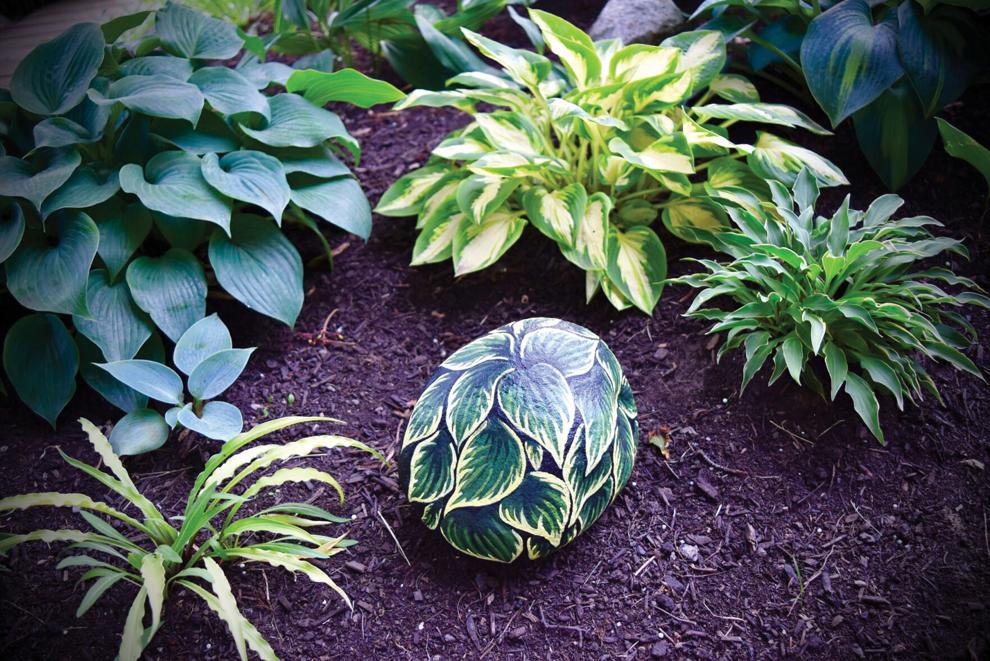 Meet them and so many other stalwart perennial volunteers—too many more to name—on the Avenue of Plant Societies. The smiling people (even if they're wearing masks, trust they are smiling beneath them) in those chairs can answer (almost) anything. 
In the words of Vice President Erin Grajek, "No garden is complete without art and the grounds of the Botanical Gardens are the perfect place for the Buffalo-Style Garden Art Sale. We are proud to host this event and invite you all to share this glimpse of our amazing gardening community."