With a strong aesthetic, deep interest in history, and the focus of an academic, Lisa Berglund has artfully revived one of Buffalo's grand historic homes—with a decidedly modern twist.
A professor of English at Buffalo State specializing in eighteenth century literature, Berglund is also on the board at Opera-Lytes, an amateur theater company for which she is also costume shop manager and principal stage director. This is to say that she's a hands-on person who digs deep into whatever topic, project, or activity with which she's involved. These traits served her well when she decided in 2004 to purchase the lower Linwood Avenue home she'd lived in since she moved to Buffalo three years earlier. The 7,000-square-foot house, built circa 1877, had been owned by her landlord, a doctor who owned the main building and carriage house (added after the original construction), until he decided to retire.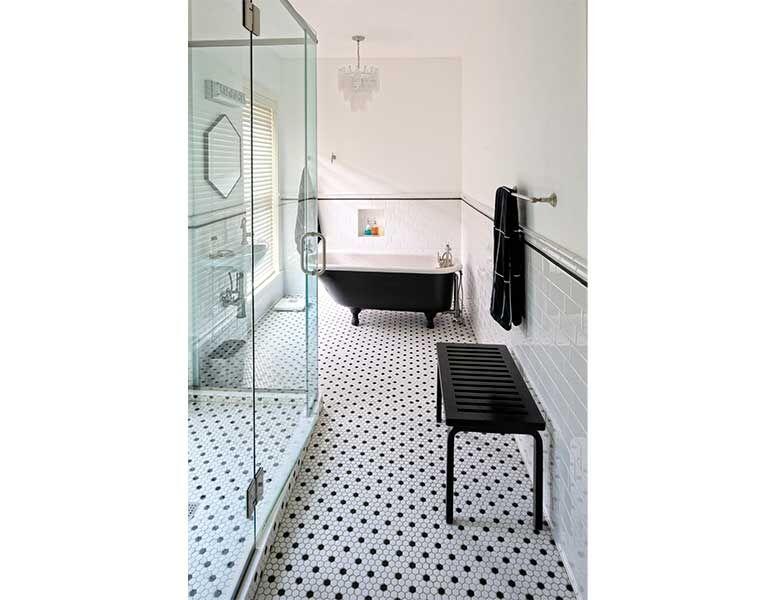 Decisions about what to renovate and what to restore were clear to Berglund, who knew she wanted to preserve the original lines in the front "living" portion of the house, even as the back area—including the main kitchen, which had been previously and somewhat haphazardly gutted—needed to be completely redone. To unify the newly rebuilt and freshly restored sections, Berglund kept the moldings the same color throughout.
The earliest projects were mostly structural, like replacing the slate roof on both buildings, repairing or replacing all the outside decorative window frames, and ripping off the ivy that was eating its way into the exterior brick wall. She renovated the house's third-floor apartment—which had always had a tenant—with a remodeled kitchenette, and new laundry room and carpeting. She divided the carriage house into two units and moved her mother into one of them.
By 2013, these projects, plus careful planning and budgeting, had laid the groundwork for Berglund to move "full steam ahead" on her own living quarters, which occupy the first two floors. To walk through the space with Berglund is to experience her visual sensibility as well as her attention to detail. "I'm always looking at the vestigial leftovers of the building," she says.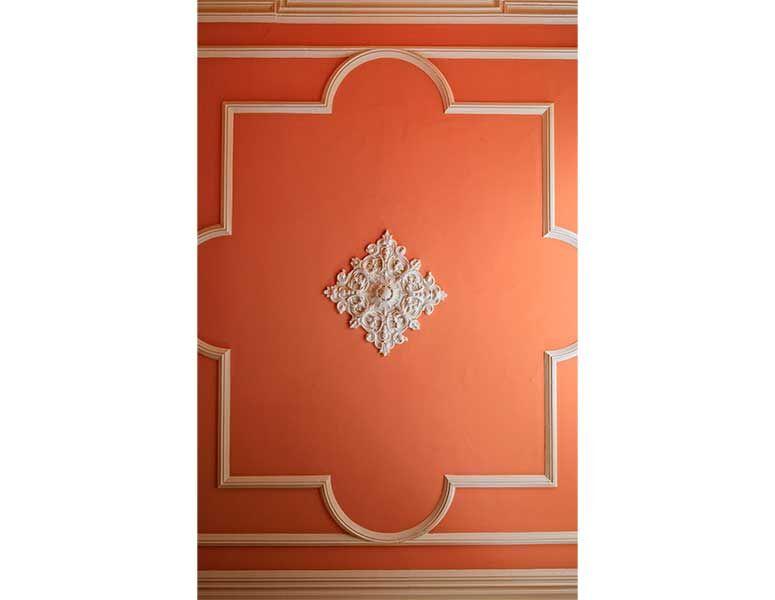 Her observations have led to many discoveries, including "remainders or reminders" of fireplaces; where possible, she creatively enhanced them by leaving the few tiles or frame in situ. (Unusually, the house has no remaining fireplaces, though she also found evidence of a "fire pit" in the middle of the floor in her bedroom.) Books are everywhere, artfully displayed. Her collection of children's literature is arranged on each step of the "stairs to nowhere," the only area of the home that couldn't be brought back to useful life.
The décor and color scheme—an eclectic blend of mostly inherited mid-century modern furniture, as well as items acquired from her travels—offer more evidence of Berglund's connections to history. Color consultant John Vogt helped Berglund select paint shades—mostly by Benjamin Moore, inspired by Wedgewood and pulled mainly from the palette of a favorite piece by Minneapolis-based artist Ginny Herzog that hangs in the living room.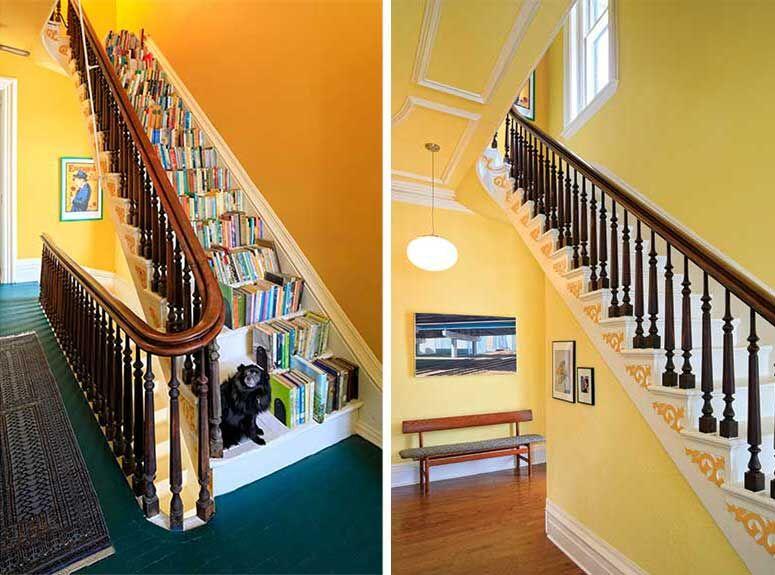 "Before the whole renovation, John helped choose the Slate Blue and Succulent Peach for the living room and dining room," says Berglund. "That gave me confidence to do some fun things with color throughout the house." In the downstairs hallway, she ended up with Hawthorne Yellow; its lemony hue contrasts with the richer Stuart Gold upstairs.
Much of the artwork was acquired from her parents, including a huge poster by American artist Lillian F. Schwartz that was originally commissioned by New York's Museum of Modern Art in the mid-eighties.
The eat-in kitchen, a sleek, funky blend of charcoal walls, graphite cabinets and distressed gray pressed/faux wood from Buffalo Hardwood, was designed with Kitchen World's Don Cotler. It includes glass and open shelving to display vintage punch bowls, copper pots, and Berglund's Le Creuset collection.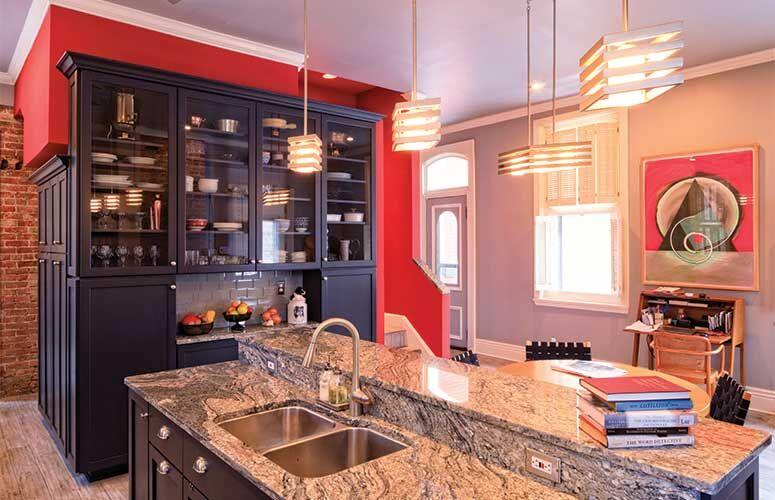 Architect Kathleen Kinan, says Berglund, "figured out how to make it all work," but Kinan is quick to return the compliment. "The process was easier because Lisa's aesthetic was well defined," says Kinan. "Though we didn't hit on solutions immediately, she asked lots of questions, and, if the answers didn't suit her, she asked different questions. Working with Lisa is refreshing because of her ability to articulate her likes and dislikes. I didn't have to guess what she was thinking even though we were discussing design, an abstraction."
"Anybody who's had anything to do with the house has become very invested," says Berglund with justifiable pride. "Even my principal house cleaner feels proprietary; as she was showing a new assistant around, she pointed out some of the improvements."
Berglund admits the improvements never end, and she points to a door that could use refinishing and confesses to plans for a back deck: "A project like this could go on forever."