The most beautiful views in Buffalo: that's what sold Dianne Bennett and Bill Graebner on the two-story Elmwood Village penthouse they bought in January 2018.  From multiple windows on the eighth and ninth floors of their post-World War II high-rise, the retired attorney and professor enjoy a unframed canvas of cloudscapes and rooftops. The most spectacular panorama is visible from three outdoor terraces facing north, south, and west; depending on the direction, the view offers downtown Buffalo and Lake Erie, the Richardson Towers, the Niagara River, the Niagara Falls skyline—with mist from the great cataract—and, on the clearest day, Toronto in the distance.
"When we first saw this, we were both blown away," says Bennett. "I did not know there was a place like this in Buffalo." That's high praise from a couple of global adventurers who spend a few months each year in Rome, where they enjoy renting apartments in different neighborhoods. They also spend part of each year in Los Angeles, where they own an apartment close to their older son, who is married with two boys; another son lives in London with his wife and two girls.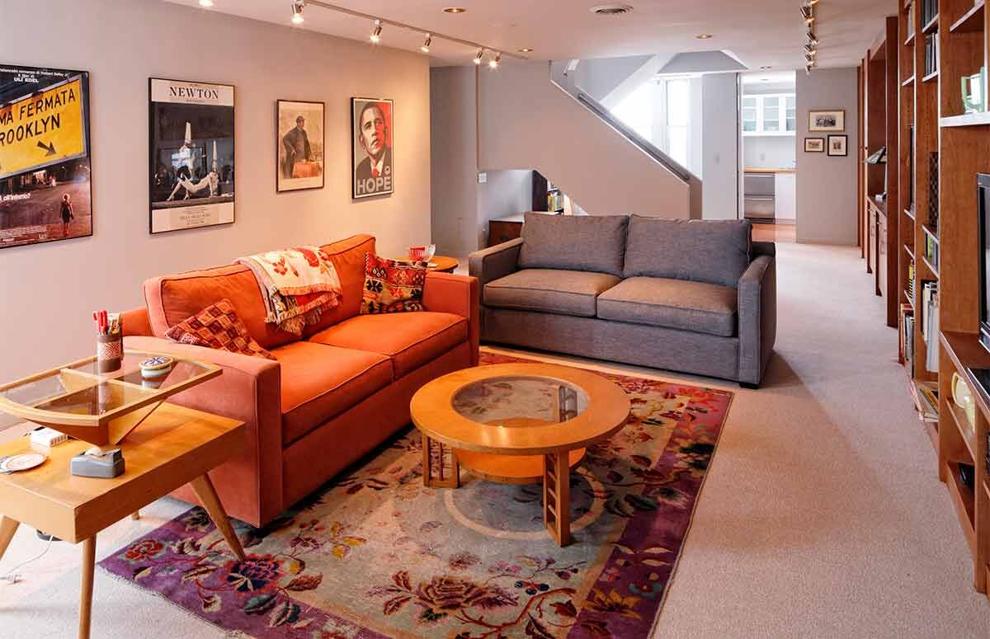 The family is well-traveled, but their Buffalo roots run deep. This is their third home here; their first was on Chapin Parkway, where they raised their boys and lived for twenty-five years. Next was Mayfair Lane for fifteen years, where they became empty nesters and stayed longer than planned; it was comfortable, unique, and well-suited to the life they'd crafted. "We'd always wanted to live in a place that was high modern," says Graebner.
A year to look around and consider new living options seemed like a good plan. So did putting in an offer, quicker than anticipated, on this amazing move-in ready penthouse, outfitted with multiple built-ins and storage galore. A whole-house stereo and air conditioning system tucked into a closet sweetened the deal for music-loving Bennett. Graebner thought the eat-in kitchen, with butcher block counters and stainless appliances, was just fine for his culinary efforts. In all the bathrooms, the forties-era tile, in sherbet shades, was left intact as a nod to enduring good design.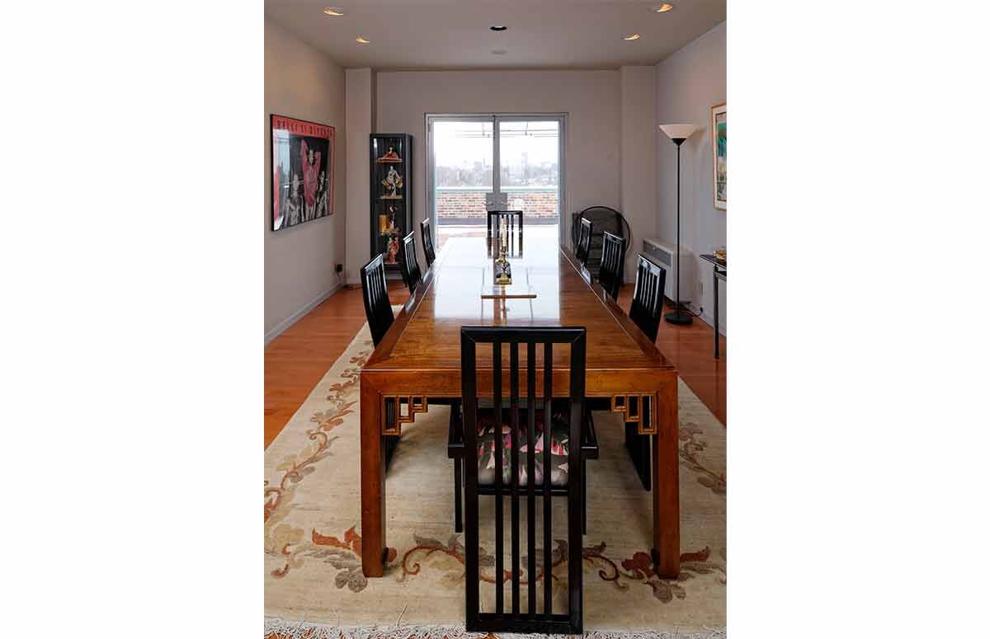 Their art collection and furniture, including several stunning rugs with global pedigrees,  seemed to fit right in. "Over the years, we've accumulated a fair amount of mid-century modern pieces," says Graebner. "We had the sense that our pieces would not look odd here."  They even brought some bookcases they'd had built, though the previous owner had put a wall of bookcases on the eighth floor in an office space. The new residents each have their own offices; Graebner's is on the eighth floor, while Bennett commandeered a spare room on the ninth.
Bennett and Graebner recognize the benefits of the work done by the previous owner, an architect who transformed two apartments into a modernist masterpiece, showcasing the play of light from every direction in a floorplan that maximizes easy flow. Great gatherings are easy in the 2,700-plus-square-foot space; the couple hosted an impromptu Fourth of July party last summer, just months after signing the contract and fresh back from visits in Rome and LA.
With hardly any furniture in place, they invited friends over for a BYOC (Bring Your Own Chair) bash, and christened the terraces, which ensured the party was a success.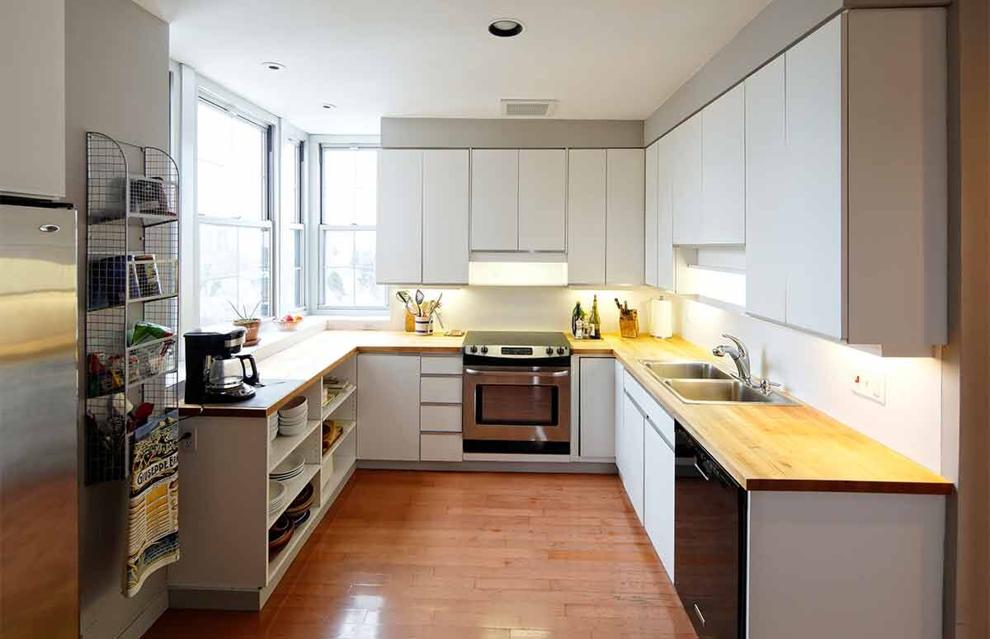 It's also easy to hunker down here, two by two, in chairs around the gas fireplace in the upstairs living room, as dusk deepens, and the sun is setting; that's the kind of entertaining Bill Graebner prefers, the kind where real conversation cooks. Or sit together, as this couple often does, watching TV in the second living room, down a connecting flight of stairs to the eighth floor.  This space, with full kitchen, two bedrooms, and two baths, is perfect for guests, visiting family and friends from out of town—all of whom marvel at what must surely qualify as Buffalo's best views.