As Western New York summer beckons us outside, we're still living, to some degree, home-centered lives. As such, many of us want a yard, a garden, a patio, or an outdoor entertaining area—perhaps more than ever before. What can homeowners expect when they turn their eyes—and apportion their budgets—to landscaping and outdoor living this season?
Sluggish start
The construction side of the landscaping industry—think retaining walls, walkways, patios, and pergolas—is normally underway long before plants can even be put into the ground. But with a giant pause button still pressed well into the spring, landscapers were restricted to basic property maintenance like weeding, edging, pruning, and turf care.
"We'll be behind the eight ball by at least two months," says Kevin Regan, co-owner of Regan Landscaping at the border of North Buffalo and Kenmore. "And that's if everything goes right. We might have a rainy summer, which could delay things even more."
The slow start to the 2020 work season could mean landscapers can handle fewer jobs this year, notes Phil Tripi, owner of Blasdell-based Tripi's Landscaping. "There is the potential you won't get on somebody's schedule if you're waiting till the last minute," he says. "But, on the flip side, there may be less work out there because of the way the economy is, so it may not affect the homeowner at all."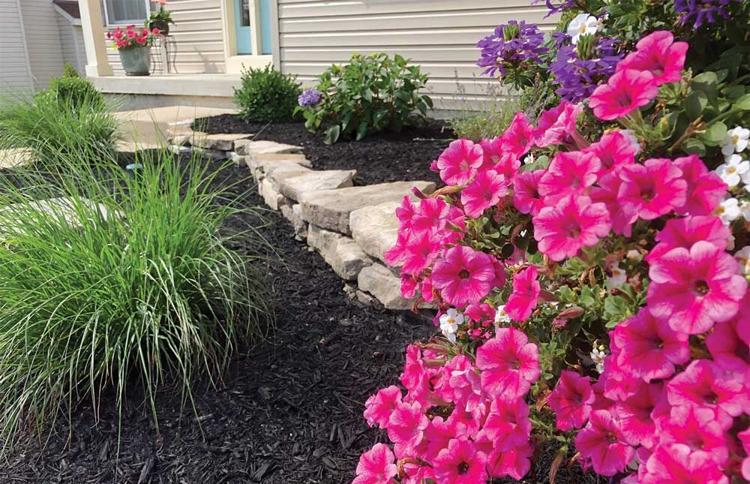 On the rise
The work that does get done this year is likely to reflect trends in homeowner preferences, designs, and approaches that Tripi and Regan have watched develop.
"Hardscape generally in Western New York has been on the up," Regan says. "Our design/build branch has, especially over the past twenty-four months, really taken off. In our service, we are a want, not necessarily a need. So, in a good economy, we benefit from it."
That may not be the case right now, but it does suggest people want to invest in professional help to primp their properties, a trend Tripi notes he's seen prevalent in first-time homeowners: "Every year, I'm getting younger and younger clientele who are really valuing what their buck is getting them on an experienced contractor."
Regan notes that growing environmental consciousness is driving homeowner decisions. "I see an uptick in edible gardens," he says. "People are much more environmentally aware. Native planting is something my team has seen quite a bit of growth in, which we all really appreciate."
Tripi notes that many homeowners are looking for minimal care options. "People are constantly wanting to do less and less, and they're pushing less and less maintenance," he says. "It's kind of bottlenecking stuff, because you're having a hard time finding stuff. Anything in landscaping requires some maintenance.
"The flip side of that," he continues, "is people wanting stuff that's very simple, but they want to add their own things into it. They want something a little bit different, that their neighbor doesn't have, so we've gotten some requests that would be a slightly different avenue than we're used to. They're wanting to incorporate something like steel and iron work, or certain types of rocks placed a certain way—personalization that will help them make it their own."
Anyone remember stamped concrete?
"Everybody wanted stamped concrete for a while, and now people are realizing there is a value in pavers," Tripi says when asked what's fading out. "We couldn't sell pavers, and everybody wanted stamp concrete because it's cheaper, it was cooler, and there were different colorings. Now I think people are realizing that concrete cracks."
Personal space
It's too soon to see any evidence, but with our newfound concern over density in gatherings of human beings, one has to wonder: will this impact outdoor designs? "People are still going to have some kind of entertaining in their backyards," Tripi says. "And you may have more spots and more things built just for individuals, maybe for a husband to sit and read the paper every morning, or a wife to have a reading nook, or maybe to have a little more cooking area for themselves. You may not have, 'I need a fire pit where I can fit fourteen people.'"
The shelter effect
Like so many things this year, planning and budgeting for landscaping work can vary widely depending on a homeowner's situation. But with so much uncertainty looming, reluctance to pull the trigger on that landscaping overhaul is natural. "I have seen some hesitation, and rightfully so," Regan says. "People are scared, and that's normal."
The good news: there are ways to move forward with a project and achieve the transformation you seek while scaling back the price tag. Keep the hardscape, the pavers, the base that holds the hardscape together but bring the cost down by omitting "the disposable things," Regan says. "You'll see them cut out some landscape lighting. They may cut out some mature plants, like a five-gallon multi-stem birch, to a smaller plant."
Talk to your designer. You may want a certain look right now, but you can get serious cost savings by opting for a plant that hasn't been grown professionally for a handful of years. Before you know it, you'll have what you and your designer envisioned.
And do you really need a TV outdoors? Just saying.
All we need is a little patience
Buffalonians should plan seasons ahead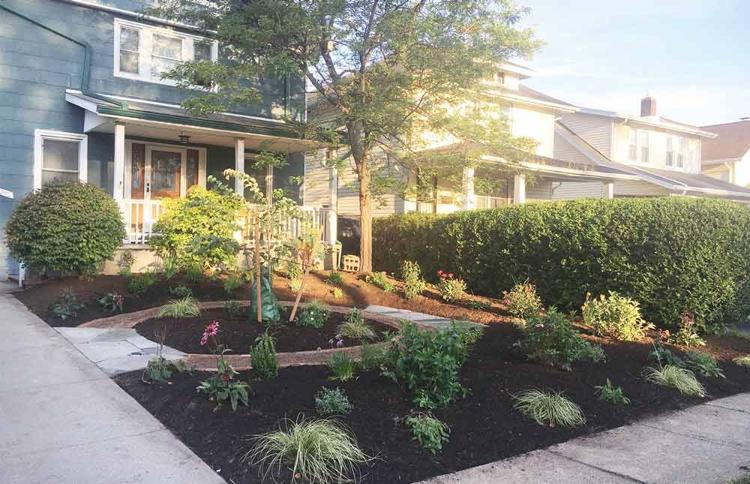 Inspired? Ready to dive into a design/build landscaping project? Note: it's a marathon, not a sprint.
"Patience" is the one-word advice Regan gives for homeowners looking for instant gratification. "My designer goes through the five senses, which really helps people paint a picture of what they're looking for in their backyard," he says. "I think if they just go with that process, it allows them to get a better vision of what they're looking for at the end, which allows the process to go a little faster."
Regan notes the design phase usually takes two to four weeks, although that can vary by complexity. "Human beings in general, but especially Buffalonians, seem to live in the seasons," he observes. "When it's sunny out, we think, 'Okay, I need to get my landscape done.' And some may call in August or September and say, 'Hey, I want to get my landscape done tomorrow.' Well, it depends on how elaborate that design or installation or whatever they are looking for is, and that could drag over through the winter season."
There's never a bad time to work on the design process—no one says you can't get a head start through 3D computer modeling in the snowy months—but, as Tripi puts it, "Realistically, the growing season is still the growing season."
And don't get too antsy if we have another mild winter like the past one. "Just because it's available at the nursery doesn't mean you should be running out and throwing it in the ground right away," Tripi cautions. "Just because you had a mild winter doesn't mean Mother Nature won't throw you a curveball and give you a frost the first week of May."