North Buffalo:
Del Denby's
1553 Hertel Ave., Buffalo
Some of the best neighborhood bars can look a little frightening on the outside. Darkened windows. Shabby exterior. Maybe a few old timers cranking Camel regulars off the front stoop.
Del Denby's has certainly fit this description for much of its existence on Hertel Avenue. But once inside, visitors find the outwardly ramshackle place resplendent with quirk and charm, that includes its Triple Strike shuffle bowl-hosting arcade alcove, elaborate bottle cap wall art, and regulars ready to buy the house a round—strangers included. Combine these items with $4 servings of top-shelf liquor and one of the city's most underrated (and hidden) back patios, it's no wonder the locale has remained comfortable for those not so quick to judge a book by its cover.
For those who'd rather down their neighborhood drinks in the presence of natural light, good news: Del Denby's spent last fall replacing its previously ragged façade with large glass windows and a front patio, which fits in a bit better with Hertel's stretch of thriving spots. These changes may diminish the alluring sense of danger, but no matter. It's the inside that counts, and Del Denby's is just as accommodating within its four North Buffalo walls as it's ever been.
Black Rock:
Rohall's Corner 
540 Amherst St., Buffalo
A bar's name isn't always emblematic of its interior profile. Black Rock's Sportsmen's Tavern is rarely filled with fly fishermen. Walking into Allentown favorite Colter Bay is not like taking a stroll through Wyoming's Grand Teton National Park. But Rohall's Corner? Perfect. Since 2011, it's been owner Greg Rohall's domain, and he's maintained the former Our Grill as a comfortable staple for those looking for an alternative to the cacophonous watering holes of Chippewa, Elmwood, Allen, or Hertel. Walls are lined with classic beer trays and German steins. Polished wood tables are illuminated by candlelight; barstools welcome patrons' conversation under the reasonable volume of soul classics. In-house piano performances join occasional acoustic shows and vinyl nights, and Sundays provide in-bar movie marathons for those who prefer Utica Club or an imperial pint of Ommegang Hennepin with their film study.
And isn't this the role of the neighborhood bar? To provide a third space away from the constraints of home and work? To be the relaxed corner retreat adults need to take a breath from responsibility? If so, Rohall's Corner is the model, and its brethren should take note.
Old First Ward:
Gene McCarthy's
73 Hamburg St., Buffalo
Buffalo's recent craft beer boom has left many drinkers with a conflict. Most traditional neighborhood watering holes lack an elaborate selection of modern-day beer, whereas the unpacked craft locales lack the inherent tradition, grit, and genuine article of the street-corner tavern.
Here's the solution: Gene McCarthy's. Steeped in the First Ward lore of its late namesake, stocked with bottles of Genny, yet attached to its own on-site brewery—Old First Ward Brewing Co.—the Hamburg Street address links Buffalo's grain-scooping past with its reinvigorated present. Neighborhood Irish arrive for Notre Dame games on Saturdays, while bikers roll in off rides along the Buffalo River's edge for a taste of OFW's This Is Not A Pale Ale or H. O. Oats Oatmeal Stout. 
Outside, the bar's seasonal beer garden is perfect for those interested in sampling brewery creations as the sun sets over the distant waterfront. But inside McCarthy's barroom, an eclectic mix of blue-collar laborers, muralists, and urban revivalists share the same space, often under the same fiddle-aided Celtic rhythms that have colored both the bar and surrounding immigrant-built neighborhood for generations. Call it communion and craft comfort, all with a pleasing green hue. 
West Side:
Mackey's Essex Street Pub
530 Rhode Island St., Buffalo
Listening to music alone in your house, apartment, or bedroom can be boring. Sure, you may be the only one who wants to listen to the varied tracks on nineties compilation disc No Alternative, but enjoying Buffalo Tom, Pavement or Soul Asylum's greasy take on Marvin Gaye's "Sexual Healing" among other people can be more comforting.
This is what a neighborhood pub can do, and this is what Mackey's Essex Street Pub—with its tremendous juke selections, including the aforementioned—offers every night of the week.
Perched at Essex and Rhode Island near Richmond Avenue, the circa-1986 draft beer and burger haven offers young and old entrants all the essential accompaniments necessary for a neighborhood ale oasis. Its side bar area offers privacy for small parties and solitary drinking, while its attached poolroom and back dining room provide space to relax with friends, win a Buffalo's Best Beard contest, or simply lose your mind amid late-night karaoke. 
Most important is the glorious jukebox, illuminated and waiting for you to flip its pages, feed it dollars, and find a piece of your past—if only for a song.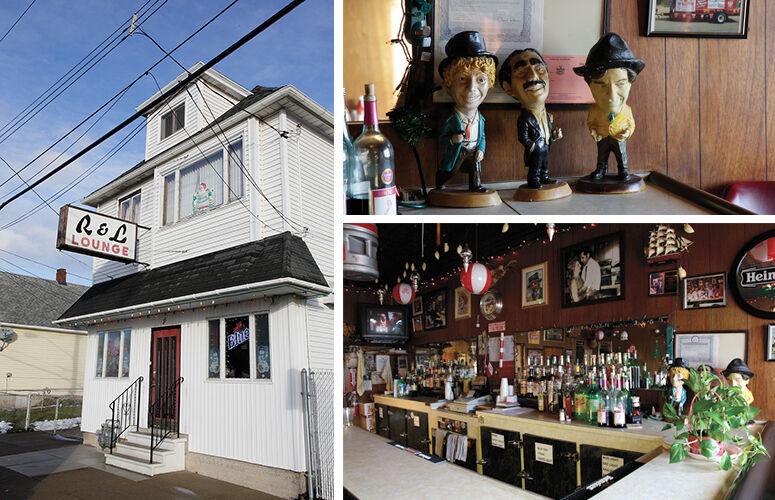 East Side:
R&L Lounge
23 Mills St., Buffalo
There aren't many city bars left that require their bartenders to pause from hand-making pierogis in order to serve drinks. 
And this is just one reason the off-Broadway R&L Lounge remains not only a staple for Dyngus Day visits or happy hour shots of Krupnik, but also for neighborhood patrons to sit on their dupas inside a place that feels like home. The forty-seven-year-old locale—still owned and operated by Ronnie and Lottie Pikuzinski, who just celebrated their fifty-eighth wedding anniversary—doesn't look like much, but it doesn't look broken down, either. Despite beer signs from decades past and an unreliable 45s-playing AMI jukebox, the bar doesn't feel old so much as accommodating, just like its owners want it to be. 
It's the Pikuzinski's place, and they want you to feel comfortable--whether you're from the East Side or not. Lottie dons a flour-stained apron, makes pierogis that taste like potato-stuffed crepes, and doles out advice like she's your well-meaning grandmother. Ronnie serves Genesee and Tyskie for $2 a pop while polka spins on the juke. And the customers? Anyone interested in shedding their expectations of a modern bar and, instead, retreating to the comforting time when the corner tavern was neighborhood clubhouse, town hall, and Zywiec-serving therapist's office. 
Read about neighborhood favorites, north and east, here.
For more on Lounges, Pubs, Taverns & Dives — including selections of Karaoke bars, bars with games, live music venues, and more — pick up the current issue of Spree at a location near you. Or, make sure you don't miss an issue — get a subscription today!