LIVING IN A PANDEMIC WORLD CAN TAKE A TOLL. Increased uncertainty creates stress, and stress makes coping difficult. Indeed, more than half of American adults currently report negative impacts on their health. 
Accepting things we cannot control and looking for pleasant distractions seems to help, or so we're told so by moms and wellness professionals. Here's how some creative Western New Yorkers have maintained a semblance of sanity.
For Lauren Baynes, VP of Portfolio Management for 43North, baking is a newly discovered passion that has helped her slow down, release stress, and join the Chandler Street Market vibe that came alive this summer.
"Before the pandemic, I don't think I had ever baked a loaf of bread, but when a friend sent me a blog on creating a sourdough starter, I decided to give it a try," says Baynes. Not realizing that sourdough was about to become a quarantine trend, she began her journey with Artisan Sourdough Made Simple, by Emilie Raffa. After baking, tasting, and gifting nearly every recipe in the book, she collaborated with her friend, Mansi Demla of Tulsi (an Indian fusion pop-up) to sell Indian-style bread at the Chandler Street Market. Colleen Heidinger, founder of Space on Seneca Yoga Studio, introduced Baynes' baked treats to outdoor classes over the summer, and she's got a new partnership with a local farm share in the works.
Bread has changed Baynes. "I used to run from the gym to work, to an event, and then to bed. Quarantine and sourdough baking have forced me to slow down," she says. "The dough takes six to eighteen hours to rise and another two to four hours to proof once shaped. From the light, bubbly crumb of focaccia to a crusty, chewy bagel, the hydration levels, timing, and percentage of levain (leavening agent) can create so many different types of bread from the same three ingredients—water, flour, salt. Some people do yoga, some meditate. I think breadmaking has become a similar release for me."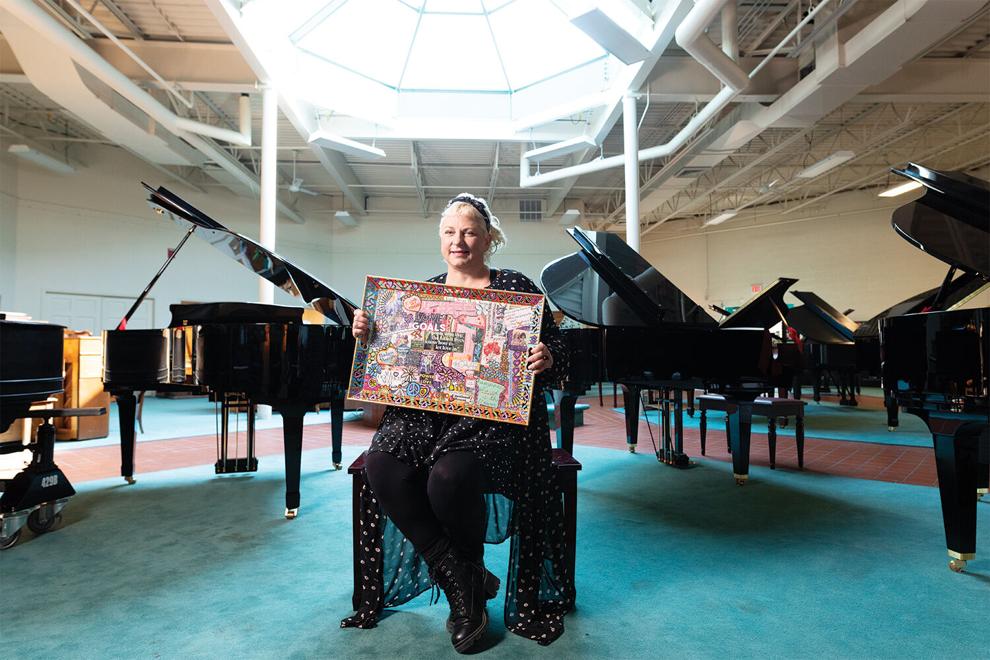 Michelle Trimper, Vice President, Denton Cottier and Daniels, lives in Tonawanda with puppy KD—near the water, her mother Georgia, and boyfriend Tom.
Trimper credits her new-found interest in painting and decoupage with keeping her sane during lockdown. "Tom suggested I try the techniques I'd been using on furniture for smaller items, and it only took one breakfast tray to officially hook me," she says. Four months of upcycling later, her vases, flowerpots, crosses, boxes, and bowls were featured in The Art of Quarantine exhibit at Boho Siren gallery/shop in Olcott. More of her work recently found its way to Funkytown Vintage Antiques in Williamsville.
"The pure joy that people share when viewing something I've created is absolutely wonderful," says Trimper. "I am slowly reintegrating into society, but I've found that I love doing this so much, I'll probably never stop." 
To see more profiles plus more strategies to make the most of life, subscribe to Buffalo Spree today.