Update, Aug. 2013: Michael Wilson has been arrested in Toronto on U.S. charges.
The skies were gray and the ground damp on a late December morning in 2008. No snow stuck to the vast lawns or hundreds of trees on the fourteen acres surrounding the extravagant Hamburg lodge-style home, purchased one month earlier for a record-setting $3.3 million. It didn't matter; snow or no snow, twenty-one-year-old Michael Wilson, new owner of the region's most expensive residence, was moving ahead with the version of Christmas he'd hastily arranged for a class of Catholic school kids. A central part of that plan was his arrival, like a one-man cavalry, on horseback.
Dressed in white and navy uniforms, some of the grade-school students were petting a small herd of llamas, sheep, and billy goats outside the lodge, a Tudor-style ranch that can comfortably hold 600 people. Others were occupied with reindeer hired from a local breeder. A trio of young women in red-and-green elf outfits arrived in a sleigh. And Wilson's attorney, working overtime as Santa, would soon hand out gifts to boys and girls Wilson had never met.
But first, Michael Wilson would make his entrance. Tall, broadly built, and sporting a neatly trimmed square of a goatee under a black wide-brim hat, he looked more classic outlaw than town-saving hero. Still, he rode his horse to the front door, accompanied by a triumphant Western theme pumped from the stereo of a nearby Volkswagen. He holstered his white-handled fake pistols, shook the kids' hands, and with that, the festivities in the ornament-decked great room of the lodge—home of Wilson's New Frontier offices—began.
One person hired to help with the party was taken aback—at the massive rooms of the lodge, at Wilson's even grander mansion (the region's second most expensive property at the time), at the generosity. More than that, he wondered why a bunch of rich guys in their early twenties were throwing a kids' Christmas party with reindeer and school kids instead of a grownup bash with limos and booze. So he asked one of the young men what kind of business New Frontier was in.
"It's a trust," the young man replied. "We work for a trust."
The response is at the same time vague and accurate. New Frontier hinged on the trust that many people put in the twenty-one-year-old Wilson and his company to handle lots of money and property. In less than three years' time, Wilson bought a half-dozen properties around Buffalo and took in at least $8.2 million in potential investments, mostly from people who had never met him. Wilson convinced wealthy investors that he was a man with access to market-beating investments. He looked like a risk worth taking to private mortgage lenders, at least in a time of easy credit and home flipping. Before his name was even known, he garnered a media reputation as a financial whiz kid who was putting down roots in his newly adopted town. And he did it all without a college education, investing experience, or business connections.
Then he disappeared.
Now twenty-five years old, Wilson is likely in Canada, and sought by the U.S. on forty-seven counts of federal fraud and money laundering, as well as a minor gun charge. Prosecutors say Wilson owes at least $3 million to investors he intentionally misled. His younger brother, William, faces three similar federal charges. Whatever judicial conclusion is reached, many questions remain: How could Wilson have brought in the kind of money prosecutors want to reclaim? Why would he buy the area's two most expensive homes if he was trying to stealthily accumulate funds? Why would he persist in trying to buy prominent real estate, even as his funds and cover stories were allegedly disintegrating?
Going back to the beginning—before the mansions, the guns, the FBI raid, and the flight from justice—might provide some clues. Back then, it seemed a quiet, hard-to-read kid from suburban Cleveland only wanted to fix up a few smaller houses around Buffalo.
Wilson comes to town
Wilson's first foray into Western New York business came in early 2007 when he purchased four suburban homes with his mother Rosemary, who co-signed on all but one. Deeds for the properties were transferred to a new limited liability entity, New Frontier Homes, after which Wilson and New Frontier borrowed far more than the houses were worth from private mortgage and rehab lenders. According to Erie County records, Wilson secured a total of $463,794 on four properties purchased for $247,600, plus another $22,000 on Rosemary's own home.
Whether or not Wilson ever intended to renovate or rent out the properties, it didn't happen. One lender filed a lien for its full loan just seven months after it was signed; the others quickly followed suit. But cascading defaults didn't stop Wilson from trying to buy two of Buffalo's most prominent buildings just a few months later.
At twenty-nine stories, Buffalo's third-tallest building is the Rand, which features a trend-setting design some historians claim was the inspiration for the Empire State Building. In October 2007, Wilson and three other young men spoke with David Sweet, president of Main Seneca Corporation, which owns the Rand. The men identified themselves as "New Frontier Development," and handed Sweet an unimpressive confidentiality agreement.
"I had no idea how solid they were or weren't," Sweet said in a 2012 interview. "[Wilson] just wanted to get into the office building business, it seemed. First he wanted to buy the Tishman building; when that didn't work, he thought he'd try the [Rand] building next door."
According to the Buffalo News, the nascent New Frontier team members had toured and discussed purchasing the twenty-story Tishman building, but were unable to reach a deal with the owners, who wanted in the area of $2.5 million for the underlying land. New Frontier also entered a sealed bid on the Tishman during an auction a few months later, to no avail.
After the failed house and office building ventures, Michael Wilson started spending late nights on the Internet, as Rosemary Wilson later told someone who worked for her son. Michael allegedly told his mother he was working with traders in Asia, says the source, who spoke on the condition that a name would be be withheld.
By the summer of 2008, Wilson had apparently regrouped and expanded his ambitions in a big way. Despite lack of experience, credentials, or, seemingly, major capital, he and his New Frontier team started telling people they worked for one of the country's largest private investment firms. He began looking for a home and an office location, perhaps to make that claim seem plausible.
Christmas 2008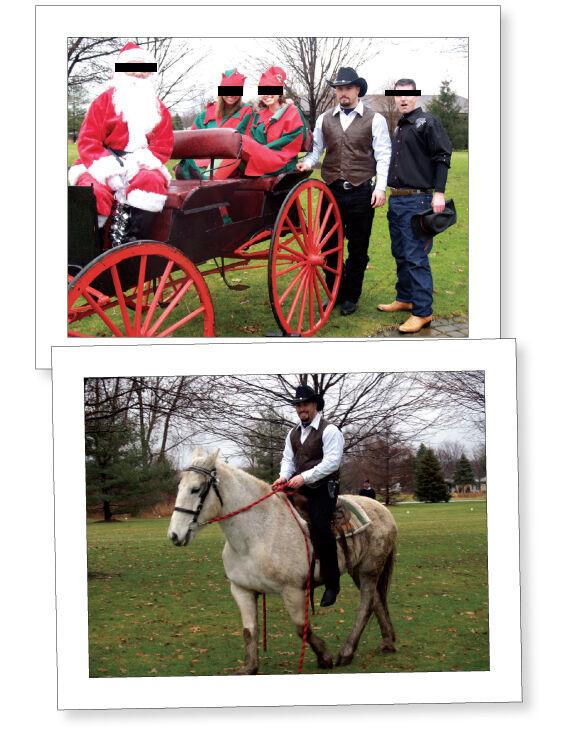 Homes fit for a millionaire
Wilson hired Susan Lenahan, a well-known figure in Buffalo's real estate market, and told her he wanted to look at "bigger homes." Wilson looked at a few different properties, Lenahan recalls, but eventually honed in on two offerings on Boston State Road. Those sweeping properties, totaling more than 32,000 square feet of indoor space set on fourteen contiguous acres, were the most expensive ever listed in Erie County. They were owned by John A. Russo.
The Russo name isn't well-known outside Buffalo, but Sorrento is. The Italian cheese company, founded in 1947 by Louis Russo and two partners, had grown to more than $100 million in sales when it was acquired in 1992 by France-based Groupe Lactalis, the world's second-largest dairy company. A frequent local event sponsor, Sorrento remains one of Buffalo's largest manufacturers.
John Russo, Louis Russo's son and a former Sorrento president, built his two-story house at 6523 Boston State Road in 1985, and extensively remodeled it in the mid-1990s. In its 2008 listing, it was cited as the area's "most exclusive" and "most exquisite" property. Set back 500 feet from the road, the more than 15,500-square-foot English Tudor mansion is surrounded by acres of lush grass, trimmed trees, and four ponds, one of which features a brick lining and a central fountain.
Inside the mansion's Tudor-style walls are seven bedrooms, nine bathrooms, an indoor pool and hot tub, a greenhouse, at least two full bars, a covered patio, an 1,800-square-foot finished basement, a walk-in closet in which one could turn a full cartwheel, and a walk-in pantry, among many other rooms. Marble and granite are everywhere. The master wing has entire floors made of cocobolo, a rare tropical hardwood usually reserved for higher-end guitars and pistol grips. There's central air conditioning, a central vacuum, an intercom system, and ten covered parking spaces in the attached garage.
The other residence at 6553 Boston State Road, the lodge where the party was held, was built and remodeled around the same time. John Russo used the 17,000-square-foot, one-story building as offices and event space for his post-Sorrento businesses. Russo stored his classic cars in the large showrooms, and kept a model train display worth more than $1 million in a room of its own.
John Russo put the mansion up for sale for $3.41 million in early 2007, and listed the lodge at around the same price. At the time, listing agent Mary Zulawski told Business First that, at twice the price of the largest home ever sold in the area, she wasn't expecting many calls from around Buffalo. "You are not just buying a house, you are buying a lifestyle," she said.
Wilson and Russo negotiated a price—$3.3 million for the lodge, and $3 million for the mansion up the hill—and a private mortgage for the purchases. The private mortgage was neither a precondition for the sale nor uncommon for larger deals, as it spaces out taxable income. It helped that Wilson seemed comfortable putting down $2.5 million in down payments on the $6.3 million purchase.
"He seemed like a very successful young man. Very eager, just a very, very driven young man," Lenahan says. Still, she points out, a purchase that large, without deeper asset investigation, is much less likely these days.
At twenty-one, Wilson was set to buy the most expensive homes in town. Now he just needed the $6.3 million to pay for them, as well as the not-too-cheap things one puts inside a mansion and a few showrooms. So Wilson went to work that summer, gathering money for what he told clients were investments, but which prosecutors allege were thinly veiled money grabs.
Closing the deal
Neither Wilson nor New Frontier was registered with New York State, the federal Securities and Exchange Commission, or the Financial Industry Regulatory Authority by the end of June 2008. That didn't stop New Frontier from soliciting clients and marketing itself as a prominent investment firm.
On July 1, Wilson put down a $200,000 initial deposit on the mansion. Coincidentally or not, that was just a little less than the extra amount he borrowed on four homes in early 2007. According to court documents, he also put $200,000 down on the lodge a week later—the same day he was wired $200,000 from a New Frontier client, Titanium LLC. A few weeks later when Titanium wired another $150,000, Wilson added a similar amount to his down payment. That pattern became the basis for most of the charges against Wilson: following receipt of investment funds to New Frontier, similar-sized down payments were made on the Hamburg properties.
In September and October of 2008, New Frontier gathered $1.4 million from four different investment groups, according to court documents. Wilson had clients wire two of those payments, worth exactly $1 million, to Edward A. Pace, an Orchard Park attorney and town justice who had previously worked for Wilson. Pace wasn't expecting the money, and later told FBI investigators that Wilson contacted him immediately after the transfer, told him it was a mistake, and asked him to send it on to Russo's attorneys, who were expecting $1 million in down payments. In other words, prosecutors claim Wilson used Pace as an unwitting money launderer.
Wilson closed on the Russo mansion by the end of October 2008. After that, Wilson lined up $1.1 million from New Frontier investors, then paid $1.1 million on the lodge home to secure it, according to court documents. Both homes were sold to Phantom Holdings, a limited liability company Wilson had set up that summer, too recently for incorporation records to be available to anyone looking.
So while the multi-million dollar sales were celebrated for, as one news outlet put it, their "potential to put a spotlight on the Buffalo area's stock of high-end homes," their mysterious buyer was identified only as a "hedge fund trader" or, even more nebulously, a "financial professional," in his early twenties. Reporters could not locate or even guess at any Cleveland-based traders or bankers under thirty with the kind of success that would make such purchases possible.
Backstory with a wallaby
Then again, Wilson wasn't from Cleveland. He was born and raised in Pepper Pike, an affluent town thirty miles due east of the Ohio city. His parents, Thomas Wilson, a Canadian citizen, and Rosemary O'Connell, a Western New York native, met and married in Buffalo in 1978, then moved to Ohio. Thomas was an executive for the Hanna Mining Co. and General Motors. The family lived in a four-bedroom brick and dark wood home Thomas bought in 1986 for $355,000, six months before Michael Wilson was born.
Wilson played football at Orange High School, and was later described by an attorney for his brother as a "tremendous athlete." But Wilson didn't seem to have wide social circles, if any. One former classmate says the only person who might know him well enough to talk was David Smith, his best friend and eventual New Frontier associate. Another classmate, Scott Wolfhope, says most would remember Wilson for his pet wallaby, which he frequently brought to school.
Wolfhope recalls Wilson going absent for long stretches (supposedly to take care of his wallaby), and that he was the subject of two rumors. The first has Wilson being cut from the Orange High football team due to the wallaby's presence, the second that he played a role in a stunt that caused so much electrical equipment damage that the school was temporarily closed.
Rosemary filed for divorce from Thomas in 2004, when Michael Wilson was seventeen. It was a contentious divorce that dragged on for years, with Rosemary accusing Thomas Wilson of having a violent temper, and specifically noting that Thomas was likely to move and conceal his assets. At least a half-dozen police calls came from the Wilson home after the divorce filing. Eventually, Michael's younger brother William moved in with Thomas, Michael stayed with his mother, and the latter two moved back to the Buffalo area.
The art of investment fraud
How could a twenty-one-year-old with little-to-no verifiable investment experience garner millions from wealthy investors? If it happened the way prosecutors allege, it's likely a common mix of greed, persuasion, and a lack of due diligence.
Court documents say that New Frontier sold its first investor, Titanium LLC, on a "Private Leveraging Agreement." Once the agreement was made, Titanium LLC would wire money to New Frontier. New Frontier would then obtain a "SWIFT MT-760" using Titanium's funds; this designation meant that Titanium's funds were held for investment projects—construction, business, or for other New Frontier connections—and could be accessed by New Frontier as necessary.
The value of New Frontier, as suggested by prosecutors, was the alleged ability to find overseas businesses and projects in need of "blocked" money and willing to pay substantial interest and bonuses on it. Wilson's indictment doesn't detail the specifics, but Louis Straney, a published author and consultant on investment fraud, notes that such pitches are a form of "private placement" that involves "medium-term notes." Such deals are less structured, and far more risky and unregulated, than traditional business-to-business loans or multiyear bonds.
In recent years, fears about traditional investments and the economy at large have sparked more interest in unregulated private investments and generated more fraud, Straney says. "You play on the exclusivity of [your deal]," Straney explains. "The pitch goes along the lines that, 'This is the kind of thing that big banks are doing all the time. It's offshore, it's complicated, but, hey, through me, you can get that access.'"
Wilson seemed to have the requisite charisma for selling exclusivity. Over six feet tall with his football player's build intact, he generally wore a neatly shaved head, trimmed goatee, and smart business casual clothes in meetings. One person who worked with him says "you could see thinking he was a stockbroker type" when he wore a suit.
Those who spoke for this article generally describe him as charming and confident, if cautious. Asked to choose adjectives for Wilson, a former co-worker says, "Guarded—charming, pretty smart, but guarded." And more than one person said he looked older than he was—"more like thirty-two than twenty-two," one observes.
Given his client list, Wilson's charisma and salesmanship (and chutzpah) would have mattered more in his alleged crimes than his financial sophistication. The average victim of investment fraud actually has a higher-than-average level of education and financial literacy, according to Gerri Walsh, vice president of investor education at the Financial Industry Regulatory Authority. Because they believe they are immune to common persuasion tactics and fake numbers, however, their defenses go down and they become more susceptible to risky ventures.
"Everybody knows the line about 'Sounds too good to be true,' except an [investment] criminal has, as their number one goal, making whatever they're offering sound both good and true," Walsh says. "They bombard their target with influence tactics. Eventually, [the marks are] under the ether, because the criminal has created an emotional longing, while also boosting their confidence."
As for finding potential targets, that would be fairly easy. "Mooch" or "sucker" lists, filled with the names and contact data of previous high-risk investors, are readily bought and traded. There are also countless conferences, blogs, and private web forums centered on a high-yield investment subculture, Walsh shares, "even though it's a completely fictitious world."
Wilson and New Frontier certainly weren't drawing clients through web marketing. New Frontier Trust didn't have a website until late November 2008, after the Russo homes were secured. When it appeared, it had just one image of snow-covered mountain peaks and a few pages of awkward copy. The site claimed the Buffalo-headquartered New Frontier Trust was "one of the largest Private (sic) holding companies in North America." Clients could expect "complete anonymity," and could only become a client by referral from an existing client—though New Frontier conveniently offered a "Sponsoring Service," complete with an email contact. Every page stated that New Frontier "uses only FDIC insured institutions."
It's also possible, given the story of one unlikely client who almost gave Wilson $5 million, that old-fashioned referrals and networking built the bulk of Wilson's client list.
The investors
T. Anthony Gill, known as Tony Gill, is a Hawaii labor attorney and member of that state's prominent Gill family. Tony Gill is the son of former Hawaii congressman Tom Gill, a major figure in the Civil Rights Act of 1964 and Hawaii's lieutenant governor in the late 1960s. Members of the Gill family have, among other ventures, founded the state's Sierra Club, owned a sixteen-story Honolulu condo building, helped preserve 4,000 acres on Oahu, and filled a number of Hawaii's city and state offices.
Tony Gill heard about New Frontier through an investment adviser who was "familiar with Wilson and perhaps his mentors," he says. After preliminary talks, Gill wired $5 million from a Gill family trust in late December 2008, but not before hiring a Buffalo-area attorney to monitor the deal.
New Frontier promised "if we would front some money, the principal would be secured by a line of credit, with returns to follow," Gill recalls. But New Frontier's representatives were unconvincing and he didn't trust their reports, Gill says; a few weeks later, he asked for the money back. Court documents suggest that at least $100,000 was withdrawn from the Gill account while New Frontier held it, but Gill says the full $5 million was returned to his family trust.
But for a short while, around the time of the 2008 Christmas party, Wilson had $8.24 million from at least eight investors, according to court documents. It's possible the figure was even higher. Scott Albert, identified in the Buffalo News as a Dallas-based businessman, said he and other New Frontier investors believe the firm took in $30 million. And on a Buffalo-based web forum, one aggrieved investor said they "knew for sure" that 200 people had put in money.
All this would have been deemed an unqualified success, if Wilson did none of what he's accused of doing: immediately  spending big money on sizeable down payments and the pricey toys often coveted by suddenly wealthy twenty-one-year-olds.
Living large
In August 2008, Michael Wilson let William Wilson cut a check for $27,142—from the Titanium investment account, according to court documents—to buy a black 2005 Cadillac CTS-V, with an upgraded eight-cylinder engine and race-ready suspension. William Wilson's former lawyer described the car as a kind of thank-you from Michael for help with an investment, as William wasn't a paid member of New Frontier.
That fall, after Wilson closed on the first Russo home, he bought a white 2008 Land Rover LR3 for $50,000, according to court documents. Five days after that, he bought another 2008 Land Rover for $104,764, this one a black "Supercharged" model built with chrome, leather, and a premium engine that could accelerate the nearly three-ton vehicle to sixty miles per hour in just over seven seconds. Prosecutors allege that Wilson later picked up a silver 2005 Mercedes Benz ML500 luxury SUV and a yellow 2005 Hummer H2. Nearly every car was registered in Rosemary's name.
Meanwhile, workers—mostly young contractors and workers who knew each other—were onsite in Hamburg shaping Wilson's mansion to satisfy its owner's whims. Liens filed later claim that Wilson ordered materials and designs for a home theater, nearly $100,000 in furniture (much of it shipped in from Chicago's famed Merchandise Mart), and major improvements to the indoor pool, including an indoor water slide, grotto, and pool bar.
Wilson then turned to the lodge property, seeking plans for squash and racquetball courts, and a gym and training room. One immediate project had contractors building a loft bedroom area for his mother in the lodge, despite the ample space available for her in the mansion, even a separate wing if she wanted one. Then again, Wilson had a girlfriend during his time in the Russo home, someone who had first worked for him, according to other outside contractors Wilson hired.
Wilson later paid $23,000 for an oil painting by urban impressionist Michael Flohr and a bronze wildlife sculpture by Frank DiVita, according to court documents. He also added thirteen more pieces of artwork to his homes, along with seven flat-screen televisions, and a wireless universal remote system for the house, so that heating, lights, and entertainment in any room could be controlled by a phone or touch-screen device.
The goods likely didn't do much to make the sixteen-room home feel cozy, and the prevalent wood, marble, and hunter green decor seemed an odd fit for Wilson and his young entourage. It felt, says one person who saw the home, like the kind of places NFL players buy in their newly adopted cities: big, expensive, and empty.
Wilson and a core of three employees—best friend Dave Smith from Pepper Pike, the other two from the Buffalo area—worked from the lodge space. Prosecutors allege that one more person was essential to the operation, and served as the highest-level operative with whom an investor could speak. His name was George Possiodis, and he wasn't real.
Ghostly George
When New Frontier clients phoned to check on their investments, they got George Possiodis, and almost never Michael Wilson. When representatives from the Gill trust and another investor came to the lodge for a meeting on January 2, 2009, they had to speak with Possiodis by speakerphone. But Possiodis promised he was personally involved with their funds, and occasionally forwarded documents showing hefty returns on their investments, according to court documents.
Possiodis had a LinkedIn account, naming him head of investor relations with "NFT." New Frontier employees spoke with Possiodis on occasion, but at least one had concerns about Possiodis and Wilson never being on the same calls or in the same room. So Wilson made a dinner reservation in late January 2009 to introduce Possiodis to the New Frontier staff.
A man claiming to be George Possiodis did show up to that dinner, but he was an actor, hired from a local talent firm for $1,800, according to prosecutors. The Possiodis everybody knew from phone calls was nothing but a voice—and apparently a deflecting persona—affected by Michael Wilson. According to Tony Gill, Possiodis was a "flaming idiot," unable to answer simple financial questions on the rare occasion he was available. "I'd be glad to know he wasn't real," Gill says. "Otherwise, he was a flake I wouldn't want to believe was successful."
One disgruntled poster on a Buffalo web forum suggested there may have been other personalities inside New Frontier, real or constructed, not referenced in Wilson's paper trail. "You can't speak to anyone in charge," the poster wrote. "Michael Wilson is the trader, George Possiodis, Dean Portman is someone they claim is in charge, Daniel Rice is the man that hides George and the other's (sic) and you can't even speak to Daniel Rice."
Diminishing returns
In mid-February 2009, checks stopped going out to workers on Wilson's properties, despite nearly $100,000 being owed to at least one contractor. Yet less than a month later, Wilson had his team vet a 40,000 square-foot downtown office building for possible purchase, owner Anthony Trusso told the Buffalo News.
New Frontier landed another $250,000 from a client in March 2009, according to court documents. Although liens were appearing on his home, Wilson again "came close to agreeing on a price" with the Tishman building owners and submitted another auction bid in April 2009, again to no avail, the Buffalo News reported. Court documents claim Wilson cut a check that month for $41,000 to buy David Smith a bright orange 2006 Chevrolet Corvette for his birthday. In retrospect, it seems like Wilson's last hurrah.
John Russo was expecting Wilson's first $1 million mortgage installment on May 1, 2009; it never came.  Foreclosure proceedings started in mid-June and then, somewhere around 2 a.m. on July 1, 2009, local FBI agents headed down Boston State Road.
Downfall
About a dozen vehicles, including a small SWAT team, drove up to Wilson's properties. Agents served a search warrant under seal and said little to the press. U.S. Attorney Kathleen M. Mehltretter told one Buffalo News reporter that agents were "taking a look and tracking the money that investors sent, to see what happened to it." Agents pulled several computers and thousands of pages of documents from the homes, and seized all the cars and off-road vehicles.
Agents also left with three guns including one—a slim, cheap, .44-caliber "Bulldog Pug" five-shot revolver—that was not properly registered to Wilson. The revolver and a box of ammunition, with one spent casing inside, were handed over to local police, and Wilson was later charged with a misdemeanor criminal weapon possession.
Wilson was free during the search itself, and spoke briefly to one TV news crew, off-camera. "I'm innocent unless proven otherwise. I was not charged with anything," he said. He also commented on the enigmatic holding entity, Phantom Holdings, stating, "I know it sounds mysterious, but [Phantom] is just the name of my pet, my dog." And that was true, according to people who spoke with Wilson about the deceased dog, who'd never lived on Boston State Road.
The raid of the area's most extravagant houses by federal agents made news in Buffalo, Cleveland, and on the web. It was a timely headline, as news of Bernard Madoff's $65 billion Ponzi scheme had shaken the world markets less than seven months before. It was the first time Wilson's name was made public and connected to the mansions, as well as to New Frontier.
Wilson hired attorneys Robert L. Boreanaz and Paul J. Cambria, the latter one of the area's most well-known and outspoken defense attorneys. Cambria told the Buffalo News at the time that Wilson "absolutely denies any wrongdoing," and that investors like Wilson's "go into it thinking they're going to make millions, [then] blame the person who invested it for them." Boreanaz told the News that Wilson had "gotten to where he is by being very smart and taking risks that other people are jealous of him for taking."
Wilson was arrested by Hamburg police on the weapon possession charge on September 3, 2009, but released the same day. The Wilsons vacated the homes soon after. By October 16, 2009, Russo's foreclosure was finalized. The Boston State Road properties were again listed for sale, at a slightly reduced price, and were still available at press time.
Wilson's mother, and possibly Wilson himself, eventually moved to a rented home not far from the Russo properties, with a security gate bearing a "Beware of Dog" sign. Robert Boreanaz, Michael Wilson's attorney, last heard from his former client in early December 2009. Wilson failed to appear on his weapons charge on May 20, 2010. But Wilson, as George Possiodis, was still taking in funds, prosecutors claim, with  with the help of younger brother William.
Starting over?
A local brokerage account for Zodiak Capital was opened in April 2010. Zodiak described itself on a website set up soon after as an "established private asset management firm with holdings spread across the globe." The site included a familiar caution that new clients could only come from referrals.
In mid-July, Zodiak Capital sold a client on a $71,875 "Global Master Securities Lending and Borrowing Agreement," according to court documents. An escrow firm was given details of the deal in documents signed by "R. O'Connell" and "Will Wallace," with George Possiodis listed as a Zodiak principal.
The escrow firm tried to reach Possiodis numerous times, but was told he would not speak on the phone. Meanwhile, Zodiak associates told the escrow firm that funds on hold for the client had moved from Banco Santander to Barclays Bank, with a total of $5.75 million on deposit, prosecutors claim. Zodiak quickly changed the deal again, stating the bulk of the client's investing money should go to a bank account in the name of Rosemary Wilson, because she had bought a "SWIFT MT-799" from the client's line of credit, according to court documents.
Prosecutors claim the real reason for the shuffle was that Wallace—actually Michael's brother, William, whose middle name is Wallace—knew that $18,000 in Zodiak's account had already been frozen under a criminal investigation. After an email from Possiodis, money was indeed wired to Rosemary's account, only to be frozen again. The Wilsons could only withdraw a total of $1,550, according to prosecutors.
Loose ends
In August 2010, U.S. Attorney William J. Hochul, Jr. publicized the court-ordered seizure of goods taken during the previous summer's raid. The government now owned David Smith's birthday Corvette, William Wilson's college Cadillac, the many vehicles technically belonging to Rosemary, and most of the artwork, electronics, and other high-end items. All of it would be auctioned to pay back investors.
Four months later, one year and five months after the FBI raid, Hochul announced a forty-seven count indictment against the Wilson brothers. Michael Wilson is charged with wire fraud, money laundering, and conspiracy to commit wire fraud. William Wilson, an Ohio State University student at the time, was arrested on three charges of wire fraud and conspiracy related to the alleged Zodiak deals. Each count of wire fraud is punishable by up to thirty years in prison, and each money-laundering count by up to ten years.
Thomas Eoannou, who formerly served as William Wilson's defense attorney, said in February 2012 that William believed Michael's financial dealings were complicated, international affairs, and trusted they were above-board, as with others in Wilson's orbit. Eoannou also notes that William never officially worked for Michael: "Their relationship was more of a, 'Hey, do me a favor' scenario," he says. Eoannou suggests William's charges were mainly leverage to encourage Michael Wilson to surrender.
William Wilson's attorney at press time, Edward C. Cosgrove, has a different take on the case. The true story behind the Wilson brother's actions is "not shallow, as it has been portrayed up to this point," Cosgrove says. Cosgrove notes the long delays in charging the Wilsons, and asks why none of those who worked for Michael Wilson locally reported concerns of fraud.
After surrendering his passport in December 2011, William Wilson posted a $100,000 bond, cosigned by his mother. He was scheduled to submit a plea in March 2012, but instead changed counsel and now awaits a trial.
Prosecutors seek to reclaim a total of $3.3 million from Michael Wilson. Frantic phone calls and emails in the relatively small Zodiak deal would indicate that investors' funds are mostly gone, but the true count of Wilson's holdings may never be known. Unnamed investors who feel duped may never come forward, suggests Timothy J. O'Connor, an Albany attorney specializing in securities fraud.
"It's common for a high-net-worth individual, the type who can give someone a quarter-million dollars and not sweat too much, to just go away," O'Connor says. "They don't want their names anywhere in the system. They look back, see how god-dang silly and obvious it was, and they just feel disgusted."
Exile
Cosgrove says Michael Wilson, a Canadian citizen through his father, is living in Toronto, and that Canadian authorities have declined to extradite him. Assistant U.S. Attorney Paul J. Campana, who declined to comment on any other matter in the case, says there has been "no comment by any authority, either way, regarding any extradition matter." William Wilson's former attorney, Thomas Eoannou, suggests Michael Wilson could seek to leverage an international prison transfer treaty if he surrendered, reducing his total incarceration by up to a third.
Michael's father, Thomas Wilson—who owes substantial debts on legal bills, a credit card, and years of taxes in Ohio—is believed to live just over the Canadian border from Buffalo.
Cosgrove says Michael Wilson moved to Canada on business matters, and has since been the subject of heavily biased news coverage. Asked why Wilson hasn't returned to face his charges, Cosgrove comments: "Perhaps because others have already judged him."
Perhaps the most compelling question of Michael Wilson's short stint as Buffalo's flashiest businessman is whether or not Wilson had any long-term plan to do what he is accused of doing, the way he allegedly did it. Could Wilson have believed, like Madoff and others like him, that he could eventually pay back or assuage investors? If it was a simple short-term money grab, why would he buy such highly visible properties, remodel them, and consider buying more? Was Wilson simply one of many swept up in the frenzies of the time—easy credit, booming real estate, and overzealous investing?
Given his speedy departure, nobody had the chance to ask Michael Wilson any of these questions. Even if he returns, the issue of trust will compromise any answer he could provide.
Other components to this story can be found here:
The Phantom King: Investing with swift MT-760 and how it works
The Phantom King: Property & Vehicles
The Phantom King: An annotated timeline
BuffaloSpree.com Web Exclusive - The Phantom King: The Web Trail
Freelance writer and TEDxBuffalo founder Kevin Purdy is a frequent contributor to Buffalo Spree and Buffalo Spree Home.
Rosemary Wilson at first declined to speak for this article, stating she would call the reporter after March. She could not be reached for comment before this article went to press. Michael Wilson's girlfriend and his father, Thomas Wilson, could not be reached for comment. Other parties, including prior attorneys for Wilson and those who had dealings or contracts with him, did not return calls for comment. Numerous attempts were made to contact New Frontier associates, but those people either did not return numerous calls and emails or could not be located. Some are identified only by initials in the Wilsons' indictment; David Smith was unnamed, but later identified in U.S. Attorney press releases. As this article went to press, William Wilson's case was pending in federal court in Buffalo. Michael Wilson remains wanted on federal charges, and prosecutors state they are seeking his location and extradition. The properties at 6523 and 6553 Boston State Road were listed for sale at the time this article went to print, for $2.3 and $1.9 million, respectively. Chicago Blackhawks star and South Buffalo native Patrick Kane recently purchased a nearby home for $2.6 million in March, making him the buyer of the region's first or third-most expensive home, depending on how you consider Michael Wilson's purchase.