Meet two patio home dwellers  
Nancy and Howard Craig have lived in the Greythorne Patio Home community for about four years. Leaving behind an older single-family Amherst home that required constant maintenance, they looked forward to the ease of living in new construction. They also felt ready for a one-floor plan, especially one with an attached garage. 
Theirs is a lovely two-bedroom home, with open concept living room/dining room, volume ceilings, a den, and an enormous full basement. The central living space (often called a great room) has sightlines into the kitchen (at the front of the home) and back through to the porch at its rear.  Privacy is enhanced by many beautiful deciduous trees and evergreens.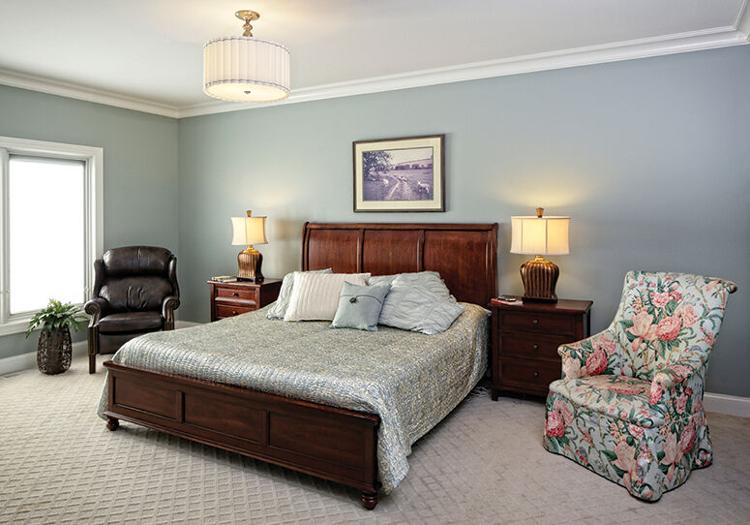 The Craigs' home is decorated in a blend of what might be described as transitional/traditional. Working with Karen Bialkowski of Kittinger Gallery and Design Studio, they selected furniture that's a perfect dynamic of size, proportion, and texture. In patio homes, the primary rooms tend to be spaces that are used every day, so they must combine aesthetics with comfort. A gas fireplace is a focal point of the great room with a wall-mounted curved-screen smart television above it. That television is often the source of music throughout the day.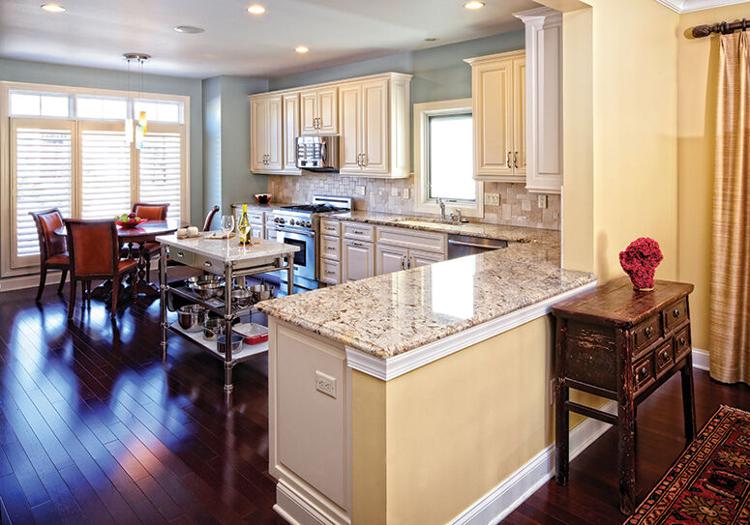 The expansive kitchen belies the concept that "downsizing" means everything is smaller. In fact, the spacious work surfaces, stainless steel appliances, and handsome granite countertops, are a cook's delight. Traditional cream color cabinets use a painted and glazed finish that adds to the airy and light feeling. Nancy Craig is a gourmet cook who loves to entertain and enjoys every aspect of food preparation in this wonderful space, which is big enough for a round table that can expand to accommodate more people in its comfortable setting. A granite peninsula borders the more formal dining table so that service to that area is easy and efficient. 
Elsewhere in the home, Brazilian cherry hardwood floors form a beautiful backdrop to oriental carpets. The walls are Biltmore Buff, a soft golden beige that smartly contrasts with white woodwork and deep crown moldings in the volume ceilings. There's a king-sized master suite and master bath with walk-in shower along with a guest room with its own en suite bath.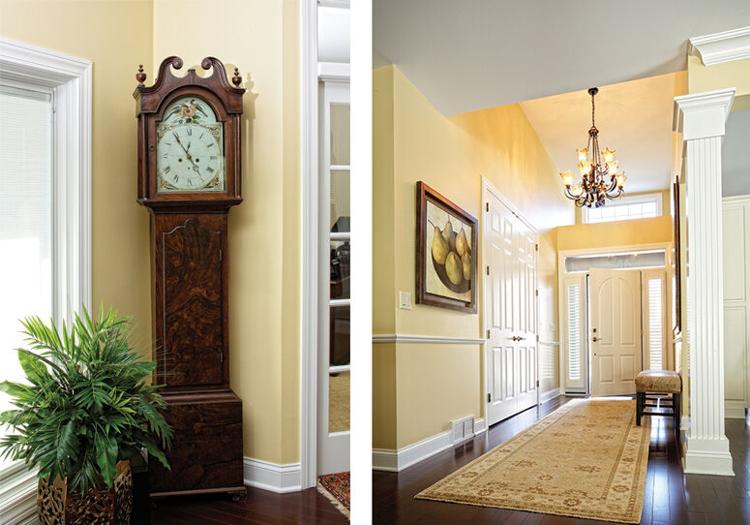 The longcase grandfather clock in the living room is a treasured family heirloom built in 1795 by J. Stewart, an Edinburgh clockmaker. It's a grandfather clock in size and style but—more literally—Craig's paternal grandfather actually brought the timepiece to Batavia from Scotland in 1906. The beautiful tulip wood case still houses its original pendulum-driven mechanism with vintage weights and chains.
Additional special details abound and add an interesting eclectic mix to the home. The beautiful gemlike paintings in the entry hall are from Sue Copley's Paisley series (acrylic and gold paint on panels). A small Ch'ing Dynasty chest, approximately four hundred years old, rests on long wood legs in the dining room, contributing another historic element. The owners also treasure the piece hung above their living room buffet: Anatole Krasnyansky's Performers, a vividly colored painting on textured paper that brings a bright surrealism to the room's composition.
There are many patio home communities in Western New York to be discovered and visited. Some are new construction with models open for inspection, while others are only available as resales. The list here includes the communities we could identify as of press time, but be advised that they may not include every local example of this increasingly popular housing trend. 
Barry A. Muskat is Spree's architecture critic, who's been lured by city living, but clearly is in the demographic to whom patio homes appeal.