What makes one piece of sponge candy better than another? We guess most Buffalo natives prefer whichever sponge candy they grew up with, but in an attempt to assess the region's favorite confection as objectively as possible, a panel of tasters was assembled to create a rubric and assess the sponge candy of WNY sweet shops.
The methodology
First we examine the sponge, also known as honeycomb. Is it airy or compact? Does a cross section of it reveal sporadic air-filled hollows or a uniform texture? Will the pressure of a bite result in a crunch, or does it become compact, folding in on itself and sticking to the teeth? Is it dark golden yellow or a pale tone? Does it possess the subtle floral notes present in well caramelized sugar or is it simply sweet? Does it seem fresh?
Next we look at the chocolate coating on each candy piece. Is it glossy or dull? Does the chocolate have depth and nuance or is its flavor profile overly simple? Is the thickness of the chocolate enrobing even around the sponge, or dispersed in more irregular fashion?
Finally, and perhaps most importantly, we consider how well the sponge and chocolate complement one another both in flavor profile and texture, but most of all in ratio: is the amount of chocolate and sponge available in each bite balanced?
It's hard to believe sponge candy has as much variation as it does. When we set out to taste all of the sponge candy in Erie County, none of our tasters anticipated we'd find such radical differentiation between the candy produced by our area's many chocolatiers. We'll get into the nitty gritty of our favorites soon enough, but first a little background information.
Unexpected discoveries
We were surprised to learn that not all Western New York candy shops make their own sponge candy. Some buy it from a central wholesaler, and, to be honest, we found time and time again that we didn't care for that sponge candy very much, no matter who we bought it from.
We also learned that some candy shops don't make their sponge from scratch but rather buy the honeycomb online, ship it to the shop, and then enrobe it in chocolate themselves. There are good reasons for this; making sponge is not an easy task. The process and the final product are highly sensitive to humidity, and results can be very unpredictable, even in the hands of a seasoned professional. That said, we can't help but think some of the freshness and flavor is naturally diminished by shipping in the central component.
Not every sweet shop is forthcoming about its methods, and we can hardly blame them for that, but it's fair to say we are doing our best to focus on shops we believe are making sponge candy from scratch.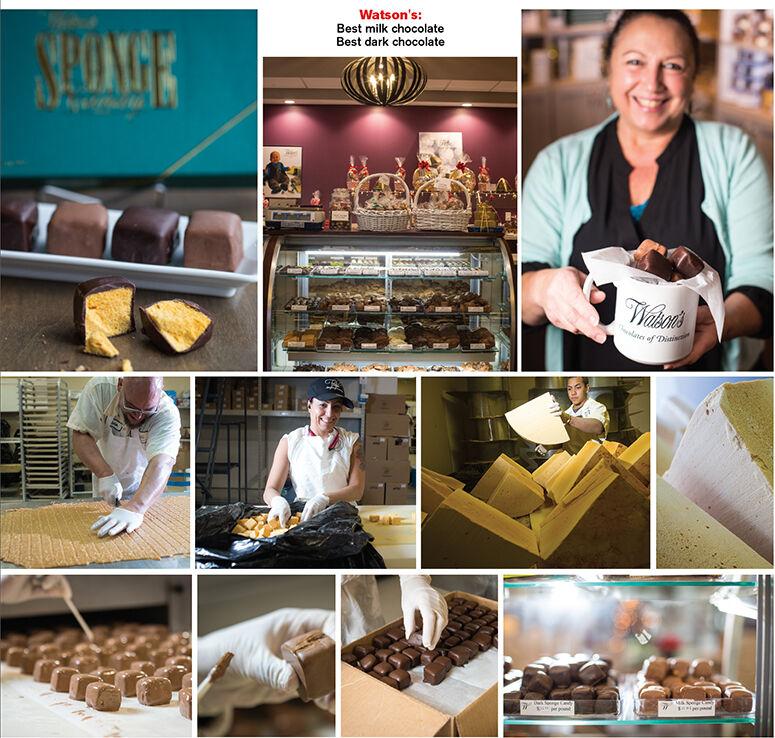 Best milk chocolate sponge candy (top three)
Watson's Chocolates
multiple locations
888-875-6643 or watsonschocolates.com
Watson's is likely the first name that comes to mind when any repat thinks of sponge candy. Sometimes Buffalonians confuse nostalgia for quality, but Watson's scores in both areas. In all of our taste tests, Watson's came out on top most often, in both the milk chocolate and dark chocolate categories. Its pieces of sponge candy are generous and uniform in size. Inside, the honeycomb is consistently crisp and light as air in the very best way, as well as being deftly matched to its chocolate exterior in both proportion and sweetness. Watson's sponge candy is so balanced that it's hard to eat just one piece, an option many of our judges would have found impossible with the tooth-achingly sweet sugar levels found in some of the lesser quality candies we sampled.
Watson's has been preparing and serving confections in Western New York since 1946. The family's foray into chocolate making began in the back kitchen of its one-time Kenmore location, a soda fountain and luncheonette located on Delaware Avenue. In 1971, retail and manufacturing facilities were added. Watson's prides itself on its practices, which include the use of Fair Trade Chocolate as well as carefully maintaining standards through small-batch production. All in all, three generations of the Watson family have contributed to the company's success, which today includes eight retail locations and a healthy wholesale business.
Oh Pour L'Amour Du Chocolat
4476 Main St., Williamsville
240-9815 or ohpourlamourduchocolat.com
No sponge candy sampled for this article was more refined and delicate than that found at Oh Pour L'Amour du Chocolat. The ice cream parlor and sweet shop is known by fans for its commitment to quality and its ability to successfully (and deliciously) replicate favorites as well as create new chocolate confections for its customers. Oh Pour's modestly sized sponge candy is exceptionally good, largely because it gets the balance right and is also made with a high-quality chocolate that's a real stand-out when stacked up against its peers. Each piece we sampled was incredibly fresh, and while its milk chocolate version was our favorite, if you are a true fan of dark chocolate, Oh Pour's is not one to miss.
Attorney Howard Cadmus and wife Tara own and operate Oh Pour L'Amour du Chocolat, as well as Sweet Jenny's Ice Cream, and 1811 Comics, all located in Williamsville's historic mill. All three stores carry the couple's chocolates, which are made in the French tradition, as well as a tempting range of brightly colored vintage and gourmet sweets.
Mike's Homemade Candies
2110 Clinton St., Buffalo
826-6515 or mikescandies.com
For years, we've heard diehards tout their affection for Mike's in online sponge candy conversations; finally, a handful of us were able to sample this tiny Clinton Street shop's wares. We even caught a glimpse of the massive floor-mounted copper pot, used for heating sugar to high temps, behind the counter. Mike's sponge is crispy crunchy and the chocolate, while not picture perfect in its application, was melt-in-our-mouths smooth. The size of each piece varied radically; we really preferred the larger pieces.
Stepping into Mike's Homemade Candies feels familiar, even if you've never been before. Founded by Greek immigrants in the sixties, the vibe of the whole building reflects the old Buffalo that many say they're missing these days. Walking up the stoop and into the small storefront, lined with linoleum floors and simple, narrow shelves, made us glad no one had come through in the nineties and replaced everything with less interesting "upgrades."
Given the coverage it's gotten from Jane and Michael Stern's Roadfood, as well as the August 1999 issue of Gourmet magazine, perhaps we shouldn't have been as surprised by Mike's sponge candy prowess as we were. If you don't find yourself in this neighborhood often, let us assure you the company's sponge candy is ample reason to venture out.
Best dark chocolate sponge candy (top three)
Watson's Chocolates
multiple locations
888-875-6643 or watsonscholates.com
At the outset, we never expected first place in both the milk and dark chocolate category to be held by one company. What makes a piece of dark chocolate sponge candy spectacular is rather different, in subtle but very distinct ways, from what makes milk chocolate sponge candy good. In our minds, this means a candy shop's entire staff would need to be aware of the complexities of the product, mindful of the details and focus required to pull it off, and precise in all of its efforts. That's asking a lot!
With milk chocolate sponge, a candymaker is of course trying to make sure each component is perfect, but also working to keep the overall sweetness in check while also ensuring that the flavors of the chocolate and the sponge don't detract from one another. With dark chocolate sponge, it's more about marrying opposites. Quality and integrity of ingredients is, again, the first consideration. It's also important that the bitterness of the dark chocolate and any of its inherent flavor notes should play up the molasses essence found in a good sponge. However, the chocolate must also be mellow so it doesn't diminish the sponge's delicacy or sweetness. So the approaches for milk and dark sponge candy are fundamentally different, or at least they should be.
But Watson's hits this one out of the park—just like it does the milk chocolate sponge—again getting that balance just right. Here we see that the uniformity of its pieces, its ethereally delicate sponge, and the high gloss of its chocolate make Watson's dark chocolate sponge candy as uncommonly delicious as its milk chocolate sponge candy. Given Watson's eight locations, we can't help but wonder why you're still sitting here, reading.
Antoinette's
5981 Transit Rd., Depew
684-2376 or antoinettesbuffalo.com
Antoinette's was founded by William Morphis, who immigrated to the US in 1910. He'd worked in a candy store, saved enough to open a small shop on the East Side, and, later, in 1934, with winnings from an Irish sweepstakes, established Antoinette's. Morphis, his family, and the shop moved to its new Transit Road location in 1958, earning attention with signature creations like its unparalleled hot fudge sauce. Customers still clamor for the warm ice cream topping, but the shop's sponge candy is right up there among its favorites, and for good reason. The sponge pieces are uniform in size, but stand only about a quarter-of-an-inch thick, rather than the cube shape we found almost everywhere else. The top coating of chocolate is thicker than that which lines the sides, but it has a real snap to it when you bite down. This, when combined with the brittle sponge, really works. The dark chocolate jacket in which each piece of honeycomb is dressed is glossy and so dark that it's almost black, yet it's surprisingly without bitterness, making it a delight to eat, especially when paired with a good cup of coffee.
Alethea's Chocolates
8301 Main St., Williamsville
633-8620 or aletheas.com
Great grandmother Alethea would undoubtedly be proud of the business her family runs today. Located in an old farmhouse on Main Street, Alethea's is as popular for candy as it is for its extensive soda fountain menu (pro tip: the hot butterscotch is hard to beat). Shelves and shelves of carefully packaged sweets await shoppers. The luxe-feeling multiroom shop features anything from individually wrapped hard candy to old fashioned meltaways and fruit gels. Its famous chocolate drizzled popcorn is here, too, along with massive cases of chocolates in varying sizes and types. In a jar on the counter near the register, you'll find the sponge candy.
There's no skimping on the chocolate at Alethea's, and the big cubes of sponge boast a thick bittersweet blanket rendering each piece a luxury. Puffy blonde sponge adds more to the texture then the flavor here, but you can't discount its participation in the overall harmonious edible experience.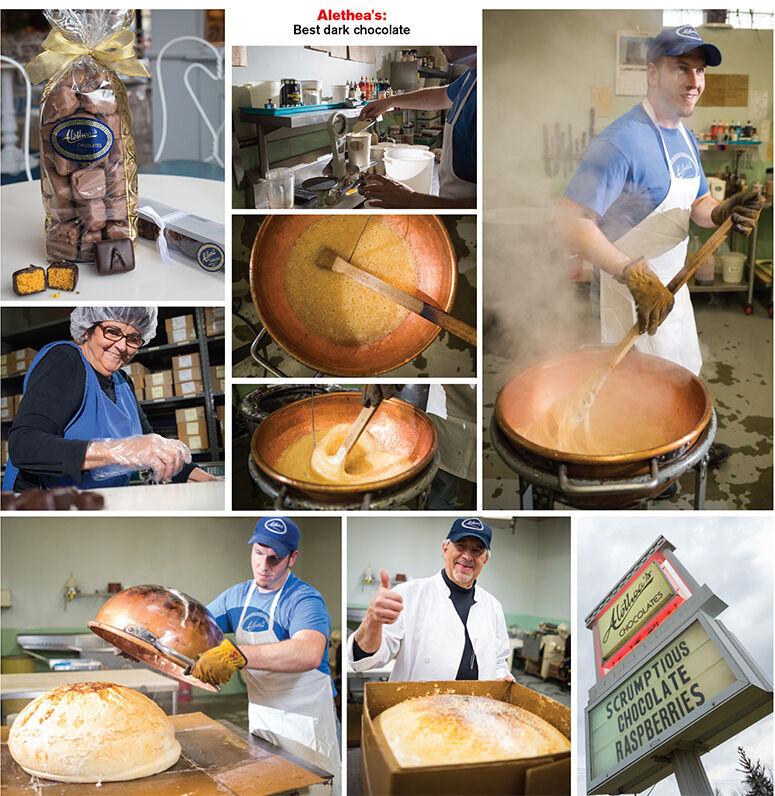 More sponge candy venues
Family Chocolate Shoppe
Clarence
Family is the only shop still owned and operated by the Fowler family.
Fowler's Chocolates
multiple locations 
Fowler's has been in business since 1910. Tour the Fowler's factory if you want to see just how hard it is to make sponge candy's unique honeycomb interior.
Henry's Candy & Gifts
Alden
Did we ever think we'd drive to Alden just for sponge candy? Nope, but it was worth it. Henry's is one of the most charming candy shops in WNY and we really liked its sponge candy.
King Condrell's
Kenmore
Well-known for its old fashioned scoop shop, it might be hard to remember that Condrell's also sells a fair amount of chocolate candy.
Ko-Ed Candies
Buffalo
Owned by Gary and Sandy Whitt for many years, Ko-Ed was recently purchased by Platter's Chocolates. Ko-Ed has been in business since 1947.
Park Edge Sweet Shoppe
Buffalo
A favorite of many of our testers, Park came close to making the top three for its dark and milk chocolate sponge.
Parkside Candy
Buffalo
We love this shop so very much, especially since it's gotten a little architectural tender loving care. The Natural even filmed a scene here. 
Platter's Chocolate
multiple locations
The folks behind both buffalospongecandy.com and spongecandy.com, you can also find Platter's for sale in many places throughout the region.
Wahl's Candies
Cheektowaga
People really love Wahl's orange chocolate—and, of course, its orange chocolate sponge candy.
Yia's Yia's Chocolates
West Seneca
This place makes a peanut butter sponge candy.              
For more on sponge candy, read Christa's sponge candy facts or "What's in a name?" (the history of sponge candy) here.
Christa Glennie Seychew is a freelance writer who worked as food editor of Spree for many years.
Judging all of the sponge candy in Erie County required the assistance of a dozen tasters, chief among them chef Jennifer Boye, a frequent contributor to Spree, and Amanda Pitrelli, a self-proclaimed sponge candy addict kind enough to volunteer her services.