Stuffed peppers have been around hundreds of years. Ask the Mexicans or the Hungarians if you don't believe me. But the stuffed pepper made famous by (and often credited to) chef Andrew Divencenzo, owner of the former Lovejoy restaurant Billy Ogden's, is a different sort of stuffed pepper. Buffalo's Italian-American themed pepper carries a flavor profile the Queen City has come to consider her own, along with chicken wings, beef on 'weck, and sponge candy. (Dissenters, I submit the preponderance of stuffed pepper soup and stuffed pepper pizza available in WNY to the court as evidence.)
In the days before celebrity chefs with endorsement deals, Divencenzo's cheesy peppers brought him fame. He and his recipe were featured on a variety of TV shows, in magazines and newspapers, and, for a decade, his reputation netted him an invitation to cook at the annual Taste of the NFL, a national chef showcase of sorts. When Divencenzo passed away in 2004, Louise M. Slaughter made tribute to him in front of the US House of Representatives and the city mourned the loss of a respected, high-profile local chef and charitable business owner.
As a transplant, I have to be honest and tell you that I never understood the lure of Buffalo's beloved stuffed pepper. To be fair, it may be because I never had them at Billy Ogden's. However, in the many renditions I've sampled, it seems to me that the sometimes oily stuffing slides from the pepper too easily and that said stuffing is occasionally of good quality but is more often a chewy glob of partially molten shredded mozz. And the peppers themselves, known as Hungarian or banana peppers, are recognized for their unpredictable heat index, meaning that it isn't until diners take their first bites that they learn whether or not this particular order of peppers will be patently dull or a harrowing way to begin a meal. It's safe to say that, while it may have taken some time, I eventually learned to appreciate—or at least respect—most of WNY's favorite foods but I could never sort out why people from Buffalo liked these waxy, cheese-stuffed peppers so much.
Most people would shrug this off, but as a food editor, I felt duty bound to try to understand what made Buffalo's second favorite appetizer so cherished. Like many regional foods across the country, I suspected that it was once a truly delicious menu item that had simply been poorly interpreted by restaurants eager to offer something people were familiar with but less eager to do it the right way. Too harsh? Don't believe me? Go sample ten Philly cheesesteaks at ten random sub shops in Philadelphia or scarf down ten Chicago dogs in the Windy City, or even nosh ten wings at random pizza joints across WNY. What you'll find is that most of the places offering those items are doing so because it's expected, because of demand, not because they care about it or want to make it better than anyone else. In my heart of hearts, I'd hoped this was the tale of the stuffed pepper. So I asked around to see who might be able to steer me in the right direction. That line of questioning led me not to a corner bar or red sauce joint, but instead to a top-notch kitchen in one of Buffalo's most luxurious locations.
Bourbon & Butter's chef, Christopher Daigler, worked with Divencenzo and has made the popular pepper dish at Divencenzo's side more times than a layperson can imagine. Sitting in the heart of the Hotel Lafayette at the restaurant's bar, a single pepper-related question launches Daigler into a dramatic pantomime of the recipe's process, hand motions and all. He remembers every little detail, despite the amount of time that has passed since he's worked the pepper shuffle. After learning the simple technique required to create Divencenzo's version of the stuffed pepper, it's safe to say, I'm leaning toward conversion. 
In honor of Divencenzo and one of Buffalo's favorite flavor profiles, Spree asked chef Daigler and Steven Gedra (chef and owner of the Black Sheep), to conjure up a new and refreshed stuffed pepper for Buffalo. On the following pages you'll find Daigler's interpretation of the famous Divencenzo stuffed pepper (because, as he says, only Andy and Andy's grandmother had the real recipe). You'll also find his and Gedra's contemporary riffs on the classic. Using quality ingredients and made with care, these newfangled peppers are easy to replicate at home.
Buffalo-style stuffed peppers
A note from chef Daigler: "What Andy did differently was that he didn't bake his peppers in the oven. He used a smoking hot pan to sear the peppers until they were blackened on one side. As soon as the stuffing started to ooze from the pepper, we'd remove them from the pan. Then, using the same oil—because it's got all those delicious browned bits of stuffing [also known as the fond]—we'd hit the pan with coarsely chopped garlic and parsley and then brown it. Then we'd dump that oil right over the pepper. It's that technique that made them so good."
Pepper ingredients
6 banana peppers
1 tablespoon garlic, chopped
1 tablespoon parsley, chopped
¼ cup olive oil/canola blend*
stuffing (recipe below)
Pepper stuffing 
1 cup cream cheese
½ cup mozzarella, shredded
½ cup Parmesan, grated
½ cup Romano, grated
½ cup mascarpone
½ cup crumbly blue cheese, preferably gorgonzola
2 teaspoons ground white pepper
1 tablespoon anchovy paste 
¼ cup Italian breadcrumbs
rustic Italian bread for serving
Prepare peppers at least one hour ahead of cooking time.
To make stuffing, combine all six cheeses, white pepper, and anchovy paste using a paddle attachment in a kitchen mixer. Mix thoroughly. Gently fold in bread crumbs until filling thickens. It's key that the stuffing be thick enough that it doesn't seep out of the pepper during cooking. Set aside.
Prepare peppers by snipping the stem ends off and removing the inside ribs and seeds to the best of your ability. Stuff the peppers gently so as to not break them in the process. Once the peppers are stuffed, refrigerate them for an hour or more. This allows the cheese to solidify, further reducing leakage during cooking.
Remove the peppers from the fridge.  Heat a large skillet on high heat. Add the oil blend. Be careful as the oil will spit and the peppers may, too.
Once the oil begins to smoke, add peppers immediately and sear both sides. The peppers will begin to ooze a little, but don't worry because the crispy bits at the end are the best part. Once seared, place the peppers on your serving plate, remove the pan from the heat, and add the garlic. Toast just a little; you don't want it to burn. Add parsley, toss, and then pour the oil, garlic, and parsley mixture over the peppers. Garnish with the rustic Italian bread and enjoy!
*Blending olive and canola oil is a regular practice in many professional kitchens. The olive oil imparts flavor, the canola oil offers a higher smoking point.
---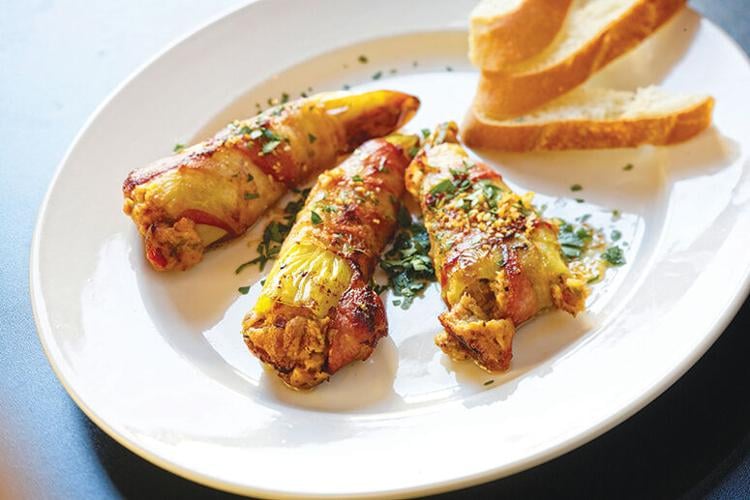 Chef Daigler's clams casino stuffed peppers 
Daigler thinks there are few things more Buffalo than banana peppers stuffed with clams casino. For this recipe, he highly recommends home cooks use bacon from Spar's European Sausage & Meats. 
Pepper ingredients
6 banana peppers
1 tablespoon garlic, chopped 
2 tablespoon parsley, chopped
pan spray
6 wood skewers or toothpicks, soaked in water* 
stuffing (recipe below)
Clams Casino stuffing 
1 large Spanish onion, finely diced 
1 red bell pepper, finely diced
1 green bell pepper, finely diced
2 ribs celery, finely diced
2 tablespoons garlic, chopped
2 tablespoons, shallot, chopped
4 tablespoons butter
24 fresh cooked and shucked littleneck clams in season (preferable)
or 1 51-ounce can chopped ocean clams, strained and rinsed in cold water
1 cup white wine
1 tablespoon tarragon, chopped
1 tablespoon parsley, chopped
2 tablespoons fresh lemon juice
1 tablespoon Frank's Red Hot sauce
½ cup Romano, grated
¼ cup Italian breadcrumbs
2 tablespoon smoked paprika powder
3 tablespoons kosher salt
1 tablespoon black pepper
4 ounces cream cheese
½ cup cooked smoked bacon, chopped, fat reserved
6 slices raw smoked bacon 
Rustic Italian bread for serving
To make stuffing, heat a large skillet on medium. Add butter and warm until melted. Add garlic and shallot and cook until translucent. Add onion, celery, and chopped peppers, and sauté all ingredients until tender. Deglaze the pan with the white wine, lower heat, and reduce sauce by two-thirds. Remove from heat and place the ingredients into the bowl of a kitchen mixer with a paddle attachment. Add clams, herbs, lemon juice, hot sauce, cheese, breadcrumbs, spices, and cooked bacon. Mix on low speed until incorporated. Place stuffing in the refrigerator until chilled completely.
Preheat oven to 400 degrees.
Prepare peppers by snipping the stem ends off and removing the inside ribs and seeds to the best of your ability. Stuff the peppers gently so as to not break them in the process. Wrap each pepper with a strip of bacon. Fix the bacon in place with a wooden skewer or pick. Cover a sheet tray with pan spray. Place bacon-wrapped peppers on it and bake for fifteen minutes. 
Before removing from the oven, check that the bacon wrap is fully rendered. Remove peppers and place them on a serving plate.
Heat a skillet on the stove. Quickly bring the reserved bacon fat up to temperature. Add garlic and parsley and cook until the garlic just begins to brown. Drizzle the infused oil over the top of the peppers and serve with a side of Italian bread. 
*Soaking skewers or toothpicks in water for ten to fifteen minutes before use keeps them from smoldering or flaming up in the oven.
---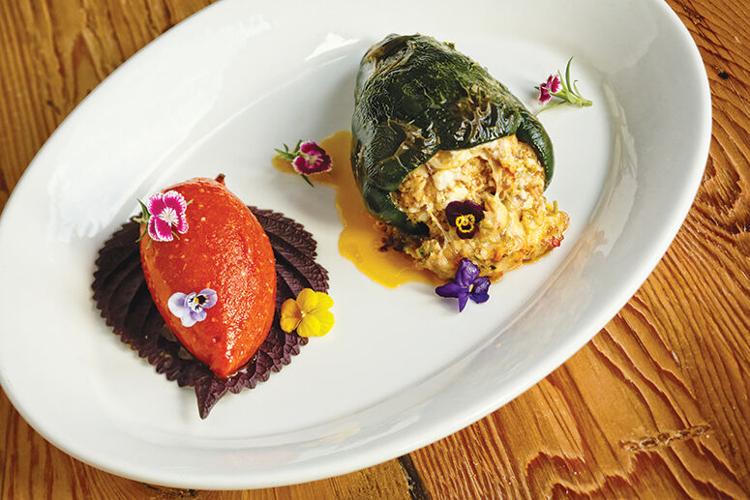 Chef Gedra's super seasonal stuffed peppers
Of Hungarian descent, Steven Gedra seemed like an obvious choice when looking for a chef to reinvent the Buffalo stuffed pepper. As he has a curious treasure trove of spices from across the globe, I was certain he'd render a pepper stuffing as wild as any we'd ever see, perhaps with his Hungarian roots as the dish's backbone. But instead Gedra did what else he's known for; he took what had been dropped off that morning by the many local farms he works with and assembled a dish that screams Black Sheep, or will to regulars anyway. "In the spirit of keeping it seasonal and local," Gedra says, "I chose to beef the stuffing up with squash and zucchini. The squash and zucchini brighten up the jowl flavors and the mushrooms add an earthy essence. The sorbet takes the place of a sauce and allows diners to experience hot and cold temperatures in the same bite, which I always enjoy.  I really love the result, as did the guests who bought them the night we offered the dish as a special." 
This recipe requires that the jowl be refrigerated for a full day and the grated squash and zucchini sit and drain for a few hours before the stuffing is made, so, as with any recipe, we recommend cooks read ahead and plan appropriately.
1 zucchini
1 summer squash
1 pork jowl (guanciale is an acceptable substitute)
6 cups stock
6 cloves garlic, peeled and smashed
2 sprigs fresh rosemary, chopped
salt
1/8 cup smoked paprika
3 poblano peppers
1 lb swiss cheese, grated
1 lb shiitake mushrooms
aleppo pepper, to taste
4 shiso leaves, to taste (Thai basil is an acceptable substitute)
Place jowl in a stockpot over medium heat and cover with stock. Add salt (to taste), garlic, and rosemary. Simmer until soft. Once the meat is cooked and tender, remove it from the pot and coat evenly with paprika. Refrigerate for 24 hours. Pick the meat from the jowl. Dice, chop, or grind.
Grate zucchini, squash, and mushrooms. Add salt and toss. Let sit one hour. Drain and spread onto a paper towel-lined tray in the refrigerator for an hour or two until dry. 
Preheat oven to 400 degrees. In a bowl, combine shredded vegetables with the cheese and jowl meat. Add aleppo pepper and chiffonade of fresh shiso leaves. 
Remove tops of the peppers and clean out the seeds. Stuff carefully with the mixture and place all peppers on a lined sheet tray. Bake until soft (the length of time varies based on the overall size and thickness of the peppers, but check after fifteen minutes).
For the sorbet:
12 tomatoes (Gedra uses Cherokee Purple heirloom tomatoes), juiced and blended to create 12 ounces of tomato juice
simple syrup, ½ cup sugar and ½ cup water, cooked until sugar is dissolved and then cooled
Add twelve ounces of tomato juice and two ounces of simple syrup to an ice cream machine and spin. Once the mixture achieves a firm texture, place in the freezer until ready to use.
Editor's note: fresh zucchini, summer squash, and tomatoes were in season when this article was researched; obviously, they are not locally grown in March. 
Christa Glennie Seychew is a former Spree editor and owner of Feed Your Soul.