When the horse-drawn carriage glides down city streets, everyone stops wide-eyed to look. It might be the wooden-spoked wheels and ornate white vis-a-vis that stand in stark contrast alongside sedans and SUVs. Or the red velvet seats that seem like a stage for royal behinds. Or that somehow, passing in front of nineteenth-century stone mansions, the horses and carriage become part of a Victorian storybook picture that's unsettlingly appropriate. It's hard not to smile.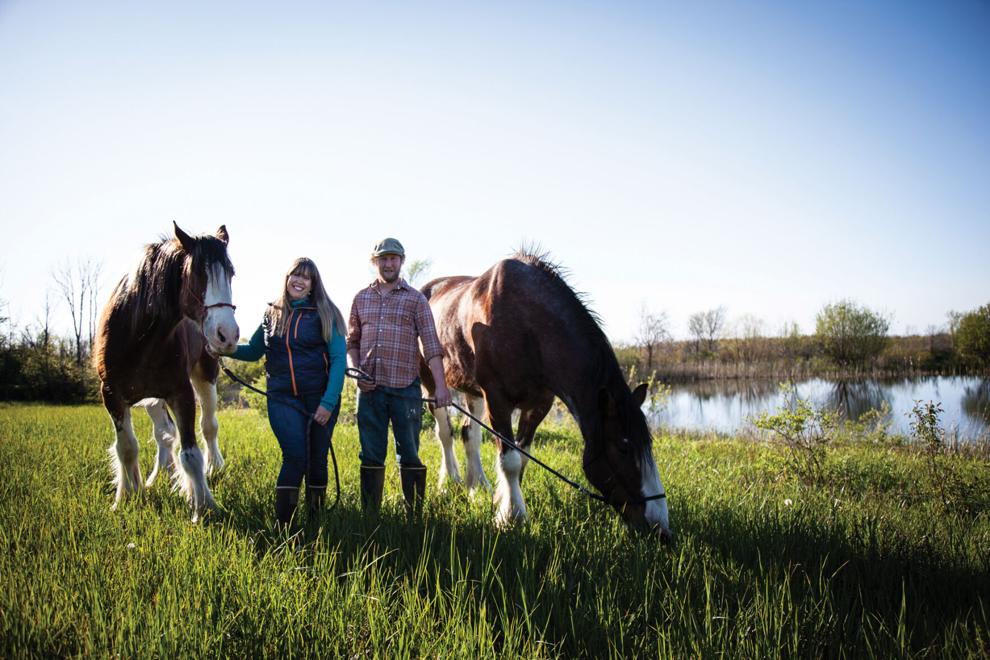 The horses, carriage, and smiles are courtesy of Erika Abbondanzieri and Jonny O'Loughlin, the owners of Banner Farm in Cattaraugus County and the coachpeople perched in the drivers' seat. 
Abbondanzieri met O'Loughlin while traveling in Ireland, where the latter was born and raised. He joined her in the United States and the two were married a few years later. At the time, O'Loughlin worked as a theater production manager, Abbondanzieri was an architect, and they lived in the Elmwood Village dreaming of the country life complete with land and horses. So they went for it. They sold their city house and bought a 120-acre farm in Perrysburg.
"When I first saw the listing, I never heard of the town," recalls Abbondanzieri. "Over a hundred acres seemed like too much, and it felt too far from my office."
"I looked at the listing and thought this was the place," says O'Loughlin. "We got out here and she agreed." 
A white 1840s farmhouse sits close to the road; beside it, there's a long, low red barn backed by a paddock. A meandering gravel road winds from the street past the barn and downhill past a reed-lined pond and into vast, green pastures rimmed by rows of forgotten apple trees and dense woodlands. Standing at the height of the land and looking out over the fields, the Buffalo city skyline and mist from the falls are visible over forty miles away on a clear day.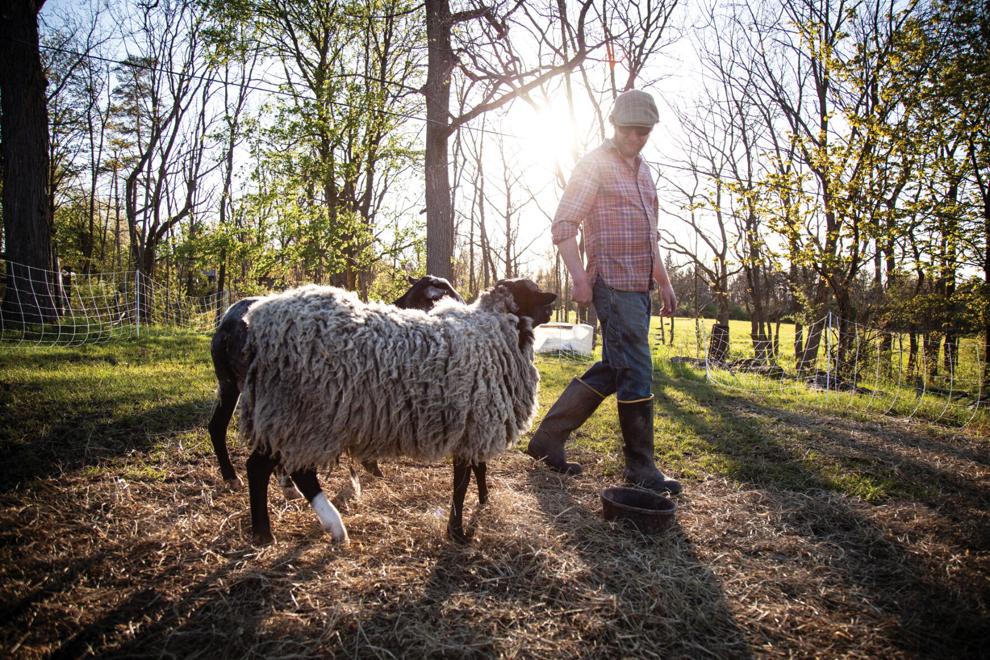 They named their new home Banner Farm after O'Loughlin's homeland in County Clare in Ireland, known there as the "banner county," and set out to ready the farm for a herd. Fifty acres of the farm's pasture were set up to rotationally graze heifers in the farm's previous life, but they hadn't seen a snout in years. The fields had been hayed for several seasons, but the soil hadn't been fed. There were thousands of linear feet of fencing to fix before any four-legged residents could be turned out to roam. 
"It's a lot of acreage to build up, so we're doing it gradually," says Abbondanzieri, who grew up with horses. O'Loughlin did not, but love was a strong reason to become a horseman himself. Together they tackle the never-ending task list of operating a carriage business and farm while Abbondanzieri continues to work full time as an architect. 
The farm's most well-known horses are the carriage-pulling pair Bonnie and Jake, two massive, muscular Clydesdales from Canada who will both turn seven this year. Bonnie, born and trained in Saskatchewan, arrived full of poise and manners. Jake, on the other hand, came to Banner Farm with his own ideas and could barely be led. But with Bonnie's leadership, Abbondanzieri's training, and O'Loughlin's patient reins, Jake has become half of the team that makes the farm run. 
On select weekends, the pair pulls an ornate white vintage carriage that takes riders on tours throughout Western New York. Bonnie and Jake have clip-clopped down Lincoln Parkway for sold-out Mother's Day rides from the Rose Garden, Easter outings through South Park past the Botanical Gardens, Buffalo history excursions in partnership with No Illusions Tours, as well as haunted and holiday trips. For wedding outings, the farm's livelihood, Bonnie and Jake deliver couples to their ceremonies and serve as a romantic backdrop for pictures. If the farm can find a carriage that seats more than four people, Abbondanzieri would love to combine her passions and lead horse-drawn architectural tours at some point. Winter sleigh rides are in the works, too. A friend helped build a giant roller to pull behind the horses and pack down a lane of snow around the farm for sleigh runners to glide smoothly. 
"Draft horses are bred for this, to be calm and docile," explains O'Loughlin, who likes to don a driving cap or a top hat for events. "People will drive by and honk to say 'hello' and they aren't fazed by the noise."
As modern technology strives to implement voice-driven vehicles, Bonnie and Jake are way ahead of the game. "Walk up" is their gas pedal. "Easy" slows their roll. "Back, back" throws them into reverse. A low "whoooa" asks them to a stop. "Good lad" is a verbal pat on the bumper for Jake, who's newer on the job and seems to appreciate it. 
Bonnie and Jake get down to business on the farm, too, working the land to produce the hay that feeds the whole herd through the winter. Before tractors and combines, sturdy-legged animals provided the literal horsepower to turn, plant, and harvest every acre of agricultural land in the region. Now, Clydesdales and other working breeds are mostly bred to show in a ring rather than sow in a field, which made the search for able-bodied pulling horses harder for Abbondanzieri and O'Loughlin.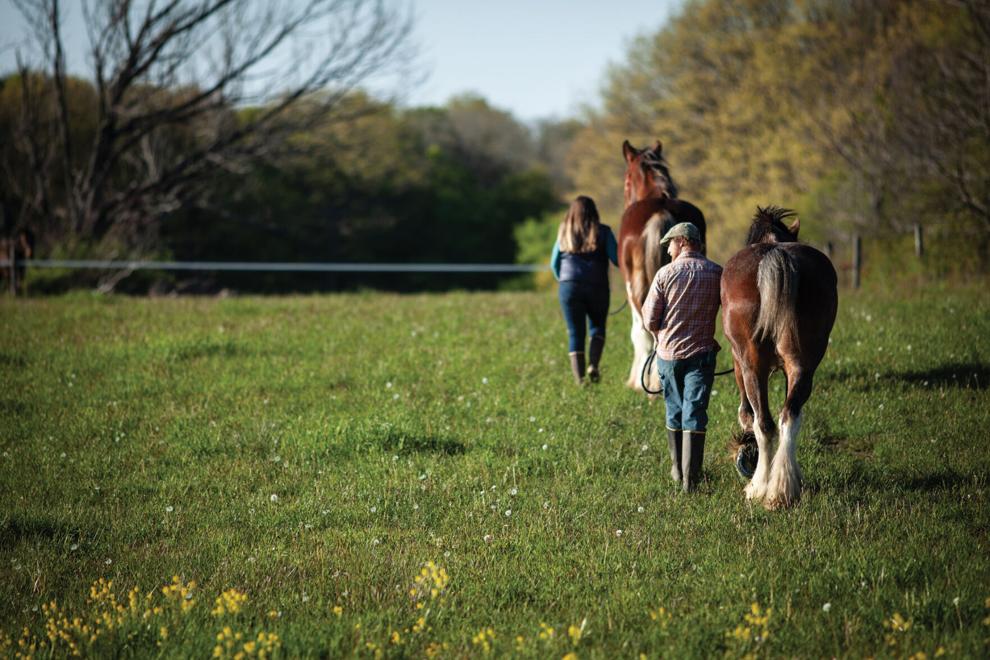 Eventually, the horses will be responsible for all stages of haying to harrow, seed, fertilize, and harvest. For now, they have help from a 1970s tractor, some haying equipment, and a neighbor who helped getting it all to work. In the meantime, Abbondanzieri and O'Loughlin are learning the complex systems of regenerative agriculture to manage the land with natural practices designed to produce an abundance of nutrient-dense, sustainably grown hay.  
"Anything we can do to use the horses instead of machines, we will," explains O'Loughlin. 
The two Clydesdales have four other equine colleagues. Scout is a white mare, a mustang born in the Nevada wild and gently trained by Abbondanzieri. Scout has a part-time job in traditional Indian wedding baraat ceremonies, where the groom rides a white mare led by his family in a processional with drums and music. Frankie and Image are rescues, whose histories include horse racing and Lyme disease, and whose futures include a lot of wandering free on fresh grass. Dinah the donkey is the sixth member of the herd.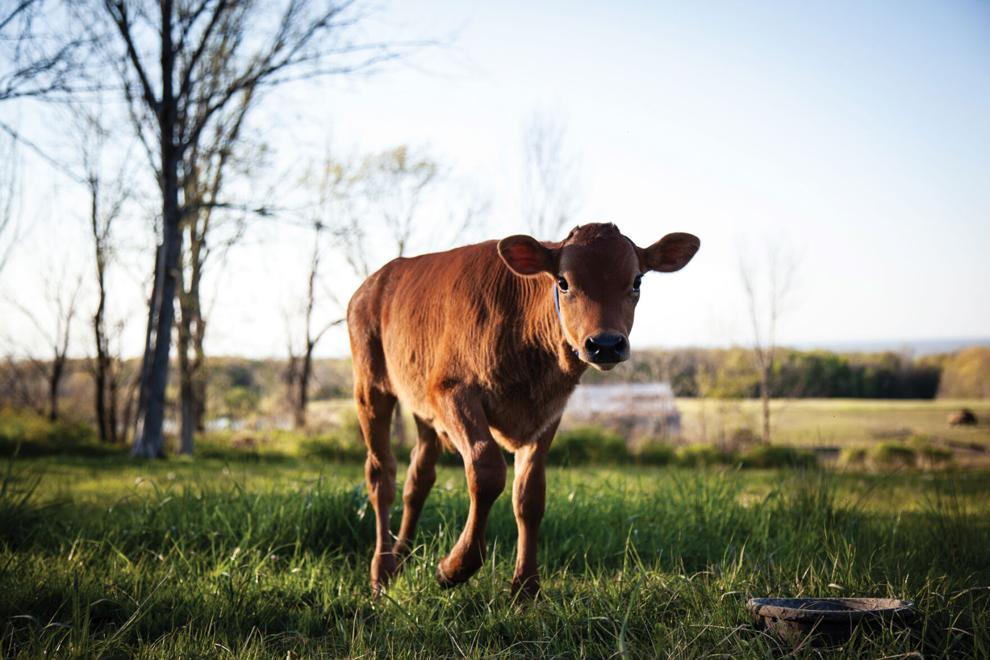 When the horses aren't working (they only pull people and plows a few hours a week), they live in a pasture environment with their herd, which is like family. They have free-choice access to food, water, and shelter, and can usually be found roaming to investigate the tree line or breaking into a gallop just because. The farmers don't stall them unless it's medically required and believe that horses are happiest and healthiest when they can just be horses.  
The horses spend their days out on pasture all year, even in winter. On sunny days, Jake likes to lay down in the snow and take a nap, then roll around in it like a giant puppy. Draft horses grow thick winter coats, and the others get blankets to wear when temps drop below twenty degrees. In the summertime, nobody works when it's too hot and the woods that line the meadow provide plenty of cool shade. There's a covered shelter area where the horses can ride out winds, rain, and sun. 
They share the land with a couple dozen Freedom Ranger meat chickens, thirty-three laying hens, Lily the dairy cow, Lily's calf, a few sheep, and a handful of regal roosters shouting near the shed. The farm is testing the possibility of a roadside stand stocked with eggs and produce from a massive market garden where O'Loughlin grows corn, carrots, squash, beans, radishes, cabbages, and potatoes. 
For now, Banner Farm is putting the carriage before the horse, and the horses before all else. If you happen to be strolling around Buffalo's historic neighborhoods and hear horseshoes clopping on the pavement, it's not your imagination. It's Abbondanzieri and O'Loughlin's. 
Follow Banner Farm on Facebook to see more photos, video, and dates for upcoming carriage rides.