Blue Eyed Baker
33 Elm Street, East Aurora
Colorful macarons, decadent croissants, and sizable scones line the pastry cases at Blue Eyed Baker in East Aurora, and are among the shop's most popular items. Owner and pastry chef Alexandra Robinson started Blue Eyed Baker when she moved back to the Buffalo area in 2015, and opened the doors of her first storefront in February 2020, in collaboration with Kornerstone Cafe & Juice Bar. Her business began with custom orders, weddings, and farmers markets, which eventually led to wholesale pastry sales to businesses all over the region. The impressive list includes Whole Foods Market and several area coffee shops and restaurants.
Although she always had a passion for baking, Robinson began in the corporate world, working at Fisher-Price for five years. While there, she was promoted and moved to the Mattel headquarters in Los Angeles, where her love for pastry exploded as she explored the city's seemingly endless bakeries. She studied with Clemence de Lutz Gossett, owner of the Gourmandise School of Sweets and Savories, who became an influential figure in her journey. "She taught French techniques and methods that I will never forget and that I mirror in my bakery to this day," Robinson says. "She is an icon in the LA pastry scene and does consulting with all of the best bakeries." In addition, Robinson learned from Roxana Jullapat, owner of Friends & Family Bakery in LA. "I feel very lucky to have learned from some of the best female pastry chefs in one of the best food cities in the world," Robinson says. Robinson and her husband also spent time in Paris exploring its pastry shops and classes.
Back to those macarons, though. The churro and funfetti stood out from the many I sampled at Blue Eyed Baker. Not to be overlooked is the grande lemon macaron. Visually appealing, like a little cake (decorated and all), it is ideal for sharing. Turns out it's also satisfying to eat a giant macaron with a fork.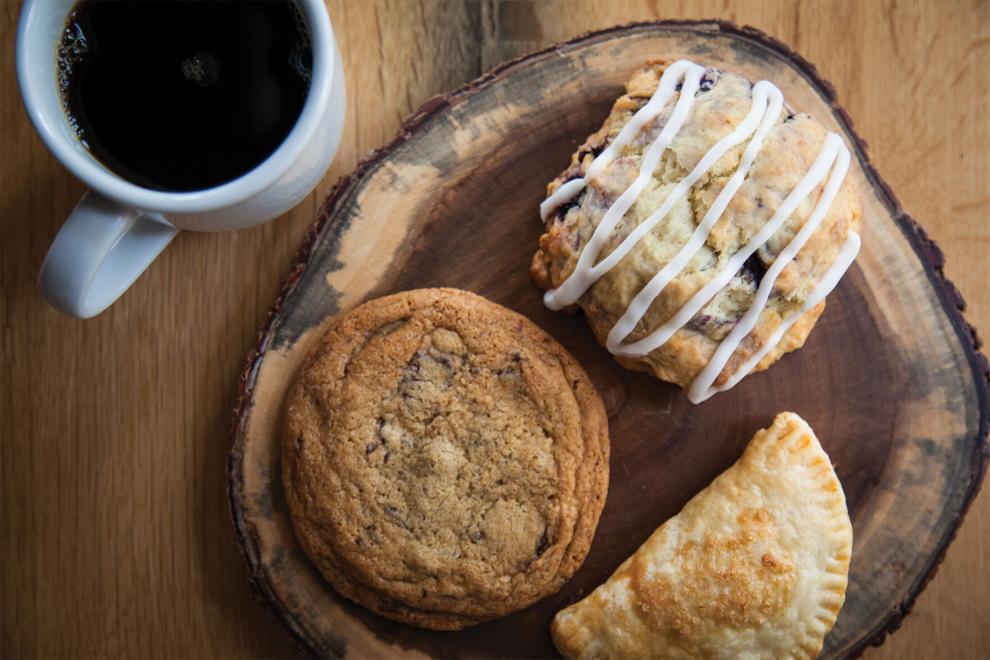 Of the pastry I sampled, the croissants were exceptional. Flavors include the usual plain, chocolate, and almond, but BEB also offers cinnamon, bacon cheddar, chocolate hazelnut, and more. The prosciutto asiago croissant is a perfect savory pastry. Salty prosciutto and melted asiago are tucked inside perfect buttery layers. Robinson uses European butter in her croissants.
A seasonal favorite, zucchini, is abundant from Buffalo summer gardens, farmers markets, and CSA shares. Zucchini makes amazing bread, muffins, cupcakes, and even cookies; think carrot cake, but with zucchini. Enter BEB's take: made with local zucchini and complete with brown butter frosting, this delicious treat becomes decadent thanks to nutty undertones from the rich browned butter. If you're less adventurous, go for chocolate chip cookies, packed with Barry Callebaut Belgium chocolate. They're the best I've had from an area bakery.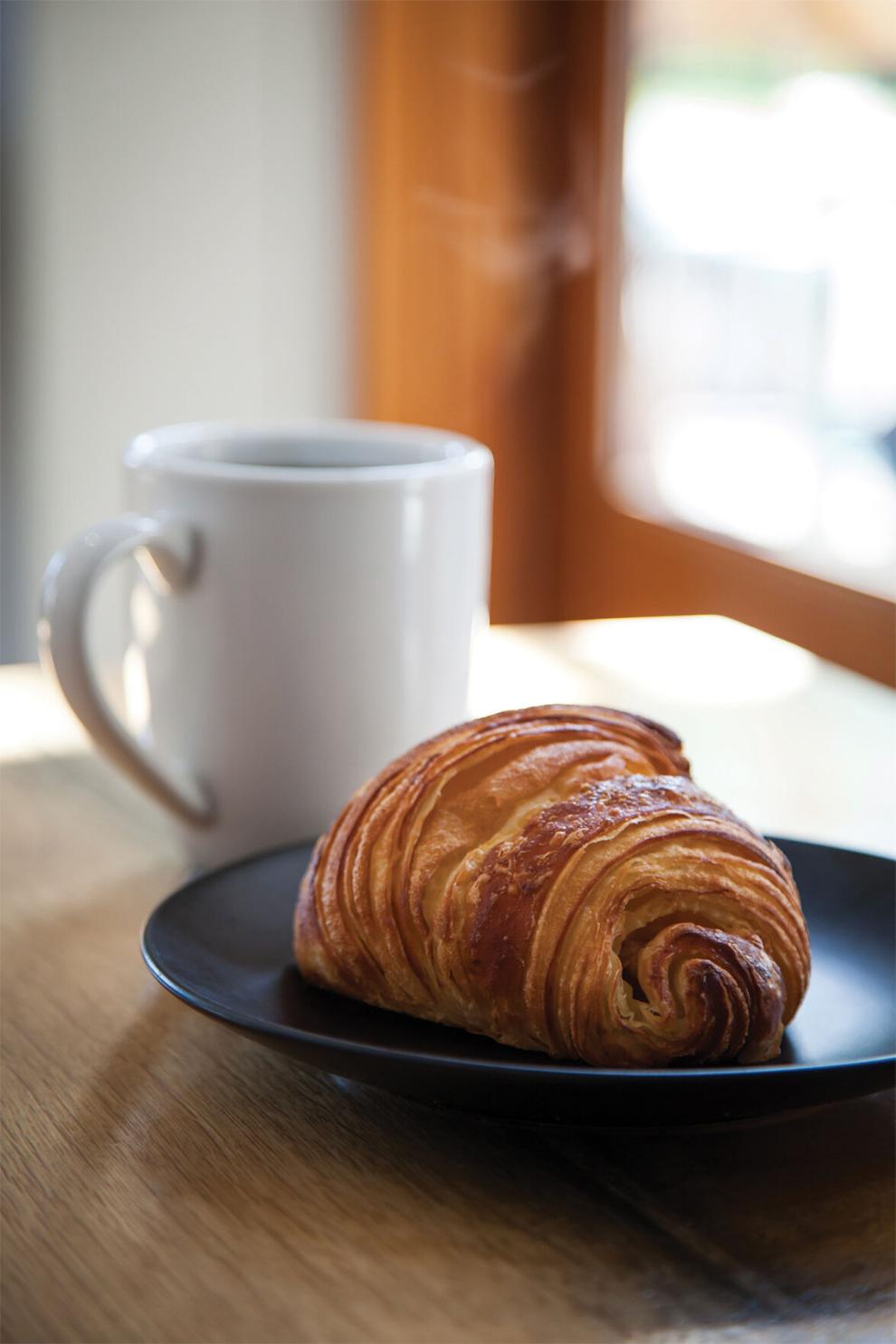 Robinson sources locally as much as possible. "We love being a part of the East Aurora farmers market and have created relationships with the farmers to incorporate local fruits, vegetables, dairy, and eggs," she says. "Our breakfast sandwiches were originally created as a concept to bring together vendors at the market—to use a collaboration of local products in one sandwich." Her other favorite ingredient is local flour sourced from Ithaca.
If, like me, you were a kid who preferred hand pies over Twinkies, Blue Eyed Baker's throwback, cherry almond hand pie, is not for the faint of heart. The honking-sized pastry pockets are stuffed with fruit pie filling. The buttery crust is comforting, but the almond extract takes the cherry flavor from good to great.
Cinnamon roll fans need to get their hands on the brioche cinnamon rolls. These mammoth pastries are showstoppers. Hunks of brioche dough swirled with cinnamon sugar and topped with sumptuous cream cheese frosting piled nearly as high as the bun itself, they can satisfy even the most demanding sweet tooth.
BEB's scone flavors range from blueberry lemon to pumpkin spice, apple cinnamon to vanilla bean. The blueberry lemon has the right amount of ridges and mix-ins, is generous in size, and doesn't overwhelm with sweetness.
The bakery also takes special occasion orders for confections and cakes, but if you're interested in a slice of celebratory dessert or want to make a statement, consider the cakelette. It's an adorable, mini layered cake, complete with fancy sprinkle decorations and a macaron atop.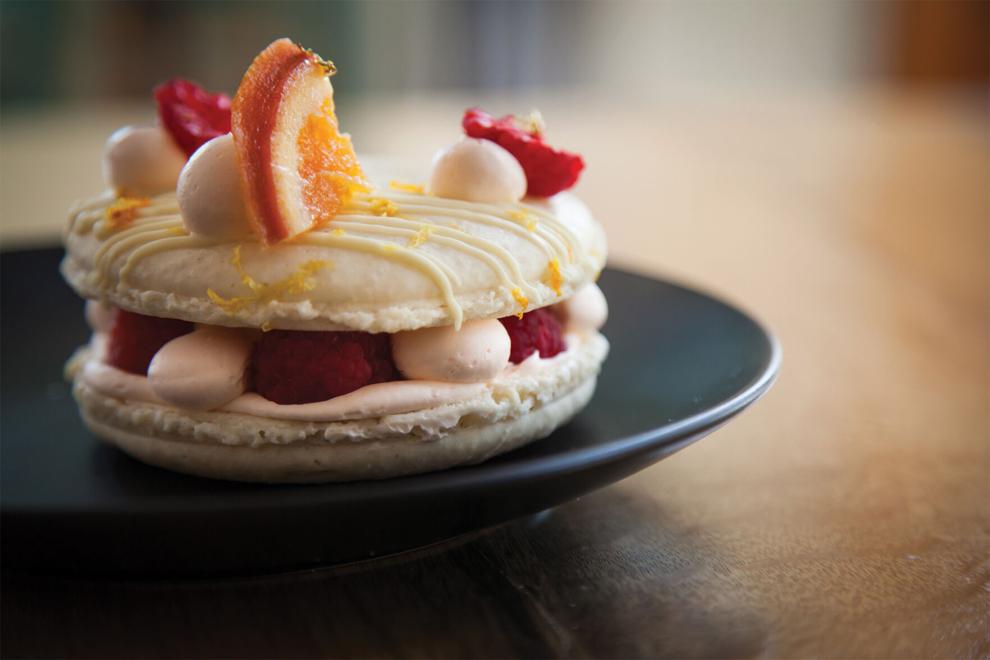 "I love bringing people together with pastries," Robinson says. "Food has always been a big part of my Italian family's culture, and ever since I can remember, I've dreamed of opening a bakery."
Being a startup business comes in handy when figuring out how to operate in a pandemic, Robinson says. Following all health and state guidelines, the business immediately came up with a plan to serve the public by offering curbside pickup on the weekends. Every week, they huddle and evaluate what is working and what isn't. While sales are not where they were pre-COVID-19 due to the loss of Broadway market business (a significant portion of their spring revenue), weddings, and special gathering orders, BEB has been able to sustain through curbside pickup, farmers markets, and other operations. Robinson's passion for sharing her food with others shines through everything she presents.