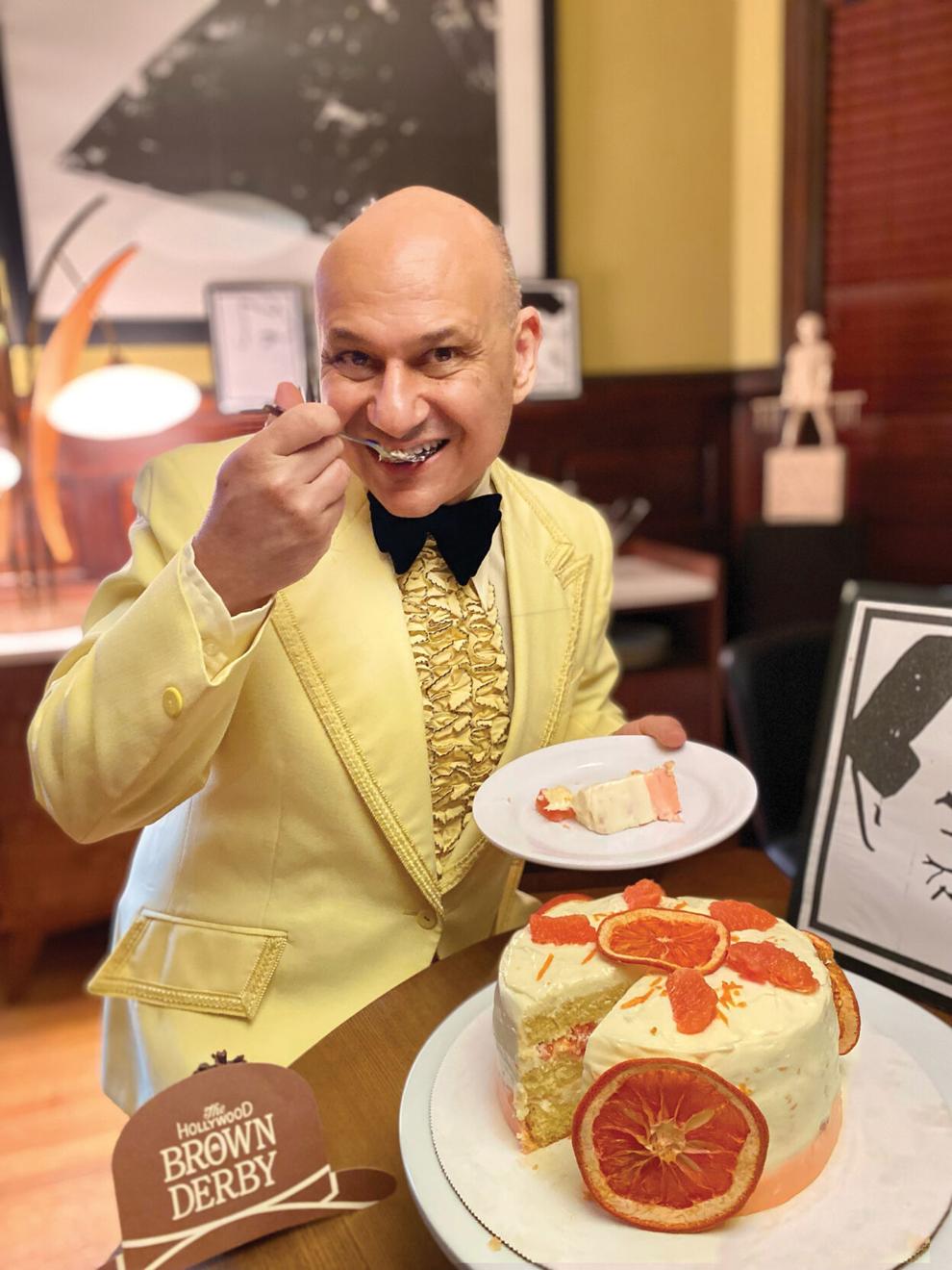 This is how I imagine the scene played out. It was the Brown Derby, circa 1936, and Chef Robert Cobb was overseeing a worker prepare his popular Cobb Salad when he was summoned to Louella Parsons' table. He sighed and snuffed out his cigarette. It was a Thursday evening, the busiest night of the week because "maid's night off" meant nobody was cooking at home.  He briefly rinsed his hands and went to meet her. 
"Robert darling, I implore you…sit," Parsons gushed as he approached; a bright red lipstick smile drew attention to her plump face. The leather booth squeaked as she shifted to make room for him. One of Hollywood's first and most famous gossip columnists, Parsons often frequented this restaurant to meet with her Hollywood friends. Today, she happened to be with Gloria Swanson. Parsons slid the menu over to Cobb. "What do you see on this dessert list I ask you…or rather, what don't you see?" 
"It's Thursday, Lou—"
"I know I know. But look at this menu. Don't you see? You have nothing for a woman looking to watch her physique. Certainly, in that genius culinary brain of yours you can come up with a healthier, less fattening dessert, no?" 
"Tonight?" 
She smiled and fingered the pearls around her neck. "The night is young mon chéri…. I'll be here for awhile…" 
Cobb returned to the kitchen and pulled his head chef aside. He was heard saying over the clanking of dishes, "Make a cake for Louella; she's on another diet. Something healthy with grapefruit or something…why?  Because everyone knows grapefruit is slimming."  And viola! The Brown Derby Grapefruit Cake was born. A cake created just for Louella Parsons remained a popular menu item until the restaurant closed in 1975. 
Here we are in 2021 and I'm in my little kitchen in Buffalo trying to make this very same dessert.  It's relatively easy but it's also an ugly cake: basically, a nine-inch round, cut in half with cream cheese frosting and grapefruit pieces sandwiched between, then covered in more cream cheese frosting and garnished with grapefruit wedges.    
I thought I'd make it a two-tiered cake garnished with candied or dried grapefruit slices to give it more pizzazz for my Instagram feed. That was my first mistake. Some desserts are not meant to have pizzazz; they're meant to be unattractive, tasty things. I still like a challenge, so first I tried the candied grapefruit slices, but my kitchen was too hot and they were still tacky and gross after twenty-four hours. It looked like it was going to be the dried slices, so I threw them in the oven and let them sit for five hours at 170 degrees. In the end, they were pretty cool looking. 
In its day, the Brown Derby was the place for Hollywood's elite to see and be seen, but, like many famous landmarks in Los Angeles, the original Brown Derby's iconic domed building on Hollywood and Vine is long gone. At one point, there were four Brown Derby restaurants, but now the only remnants have been recreated as fully-functioning restaurants at a few Disney locations. They have the same décor: caricature-lined walls, red leather booths, and actual telephones that were delivered to tables for celebrities to "take a call"  (as seen in I Love Lucy reruns). And they serve the grapefruit cake.  
Structurally, I wanted to make the cake taller because I thought it would be fun to add a "grapefruit pink" ombré (a blended color stripe) around the bottom but I needed a little more height to do that. Mistake number two.     
There was a reason the cake recipe called for a nine-by-two- inch pan: it made the cake thin enough to cook fully through. By using a smaller but taller six-by-three-inch pan, the cake came out undercooked in the middle. I salvaged the best portion and tried a second time using an eight-by-two-inch cake pan and that came out okay. I cut it down to a six-inch-circle to match the first one, split it in half, and stacked it on the first cake, so I now had three decent layers. I spread both tiers with the cream cheese frosting mixed with pieces of grapefruit and it worked just fine. 
The sponge is actually a chiffon cake (egg whites whipped into the batter make it light and fluffy). Chiffon cake was another Cobb creation; he sold the chiffon cake recipe to General Mills for what I can only imagine was mucho dinero. 
My friend Anthony and his wife Christine have Brown Derby-themed parties where they make this cake and decorate the house with printed cartoon character drawings and provide commemorative box of themed placeholders and even miniature velvet Brown Derby hats. They were nice enough to send these items for my photo shoot; I wore a vintage tuxedo from After Six with a clip-on tie and snap-on ruffles. 
I have to admit this is a refreshing and delicious cake. The tangy grapefruit combines perfectly with the cream cheese and fluffy chiffon cake and I love the history of old Hollywood behind it;  it makes me wish I'd been alive back in those days. A trip to Disneyland is the closest I'll get now.