Name: Jim Papapanu
Age:  43
Where do you work? Shamus in Lockport. During the week I have a career in IT as a Solution Architect.
"Our body is a machine for living. It is organized for that, it is its nature. Let life go on in it unhindered and let it defend itself." —Leo Tolstoy
Where do you call home?
Lockport, New York. I lived in Rochester for seventeen years between '98 and '15. It's hard to not to also think of that as home, too.
Corporate during the day, and drink slinger at night. How does that flow?
When people at the bar find out about my day career, I think they're pretty surprised. My two roles seem like night and day. I actually think there's quite a bit they share in common. Providing outstanding customer service and building relationships are paramount to both. I have many different stakeholders on any project that I'm working on, all with their own needs. Being able to understand and bridge those different personalities to build consensus is critical to what I do. My projects span months, sometimes years, so there's time on my side when cultivating those relationships. At the bar, you make or break your interaction with a customer in a matter of minutes.
Which cocktail reminds you most of your childhood?
I grew up in a largely dry household. My best friend growing up was from an Italian family, and he introduced me to Sambuca at an earlier age than I should have been. My extended family on my father's side is Greek, so there was ouzo there, too. Maybe that's why I enjoy Sazeracs so much. The way you pick up anise on the nose from the absinthe or Herbsaint wash, and some of those same licorice notes in the Peychaud's.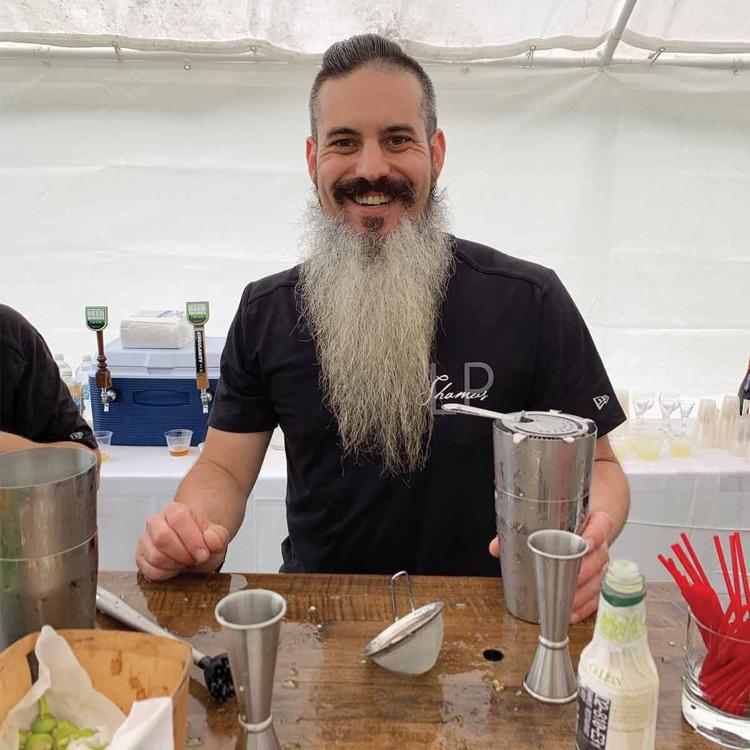 What was the drink that inspired you to jump into the industry?
The restaurant was Good Luck in Rochester, it was maybe a dozen years ago, and the drink was called Electric Relaxation. That was the first true craft cocktail I ever had, and it was a gamechanger. It was essentially a gin sour, though I wouldn't have thought of it in those terms at the time. It was made from Ransom Old Tom Gin, Yellow Chartreuse, honey, pickled star fruit, and I don't know what else. The Ransom Old Tom completely stood how I had previously thought of gin on its head. That drink blew my mind.
Why Lockport?
That was more by happenstance than anything else. The CliffsNotes version is that I hung out at Shamus for long enough that they put me to work there. The longer version is I was living here, and frequented Shamus as a customer. I loved the food, the drinks, the service, and the warmth of all the copper and brick in the bar. I developed a good rap with Stacey Stoll, one of the bartenders at the time, and she suggested that I work a guest shift with her one night. Ann Murphy, the proprietor, went along with it.
Pick a celebrity. Alive or dead. Now make them a drink. Who and what?
Honestly, I'd love to be able to pour a couple of cold beers for myself and Gord Downie. But if we're talking cocktails, I'll say Winston Churchill. I'd fix us both Old Fashioneds and I'd smoke ridiculously oversized cigars with him.
Imagine your dream cocktail program. What album would it be?
My "right now" dream cocktail program would be classic Tiki. At a beautiful island themed bar down at the lake, watching a blazing sun set over the water, drinking in the summer breeze with a laid back and intimate crowd all living without a care in the world. The album? Getz/Gilberto, by Stan Getz and João Gilberto. You know, "Girl From Impanema," "Quiet Nights of Quiet Stars," and all that. Pure nighttime at the beach vibes and relaxation right there. It takes you somewhere, even if it's a place you've never actually been. I think we could all use a serious f-cking dose of that escapism from the reality going on around us right about now.